It is almost picnic season time, and that means one thing – Fried Chicken!!!
Every large family gathering that we go to or host, there are always 3 or 4 buckets of fried chicken on the table for everyone to enjoy.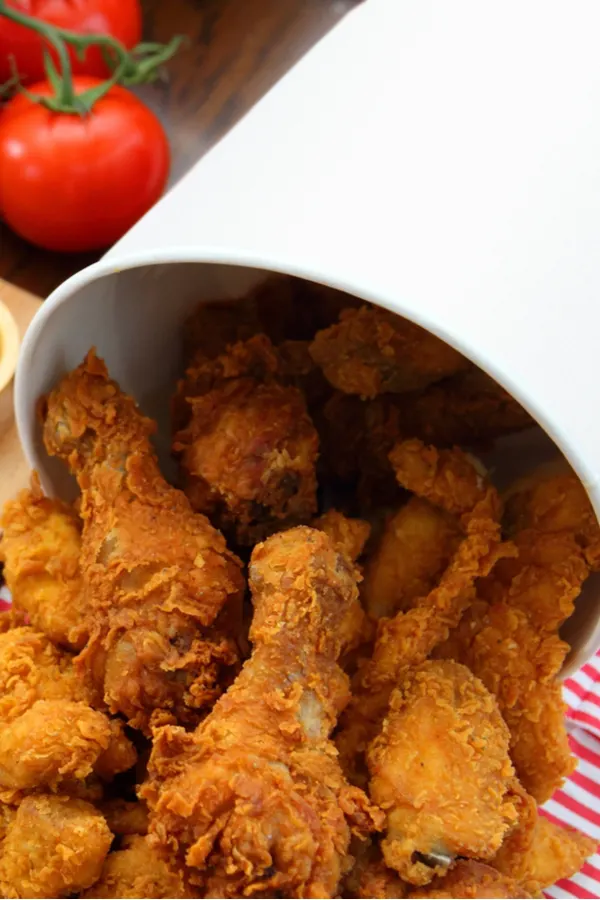 There is typically a bucket of extra crispy chicken for those hard core fried chicken lovers to consume. And of course, there will be 2 or 3 buckets of KFC's original recipe fried chicken.
By doing a quick internet search you can find many versions of the 'secret' 11 herbs and spices that is found in the breading.
With a little practice, okay, maybe a lot, I came up with the combination of spices that tastes just like the original recipe.
And in efforts to make this a little healthier, I decided that I would bake the chicken rather than drown it in steaming hot oil. You can also make Instant Pot Crispy Chicken if you have a pressure cooker.
It took a few attempts, but with the help of some very hungry and critical food reviewers, we found the perfect combination of ingredients and cooking techniques.
The Keys To Oven Fried Chicken
However, there are some critical steps that you don't want to miss when making this copycat fried chicken recipe.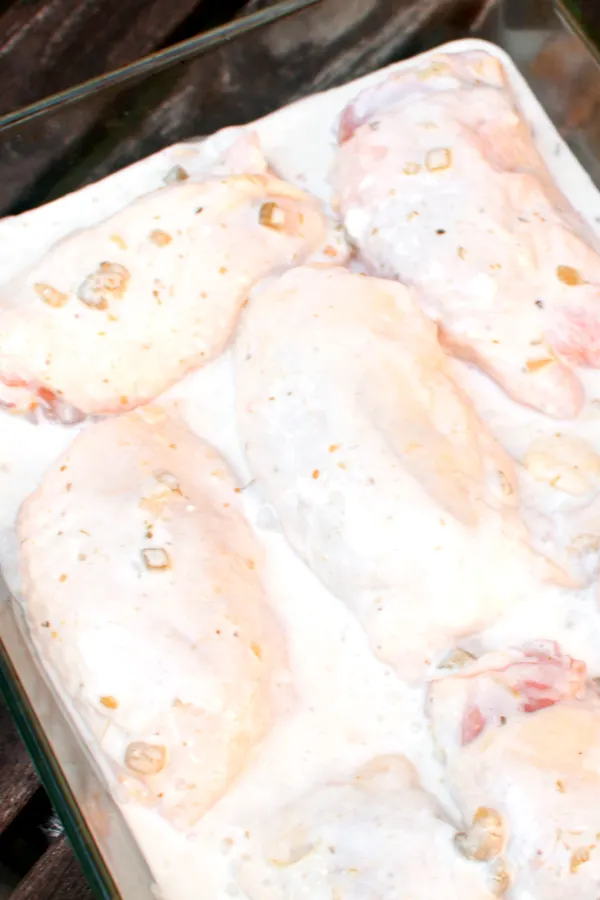 First of all, do NOT skip marinating the chicken in buttermilk. The buttermilk penetrates the chicken and prevents the chicken from drying out when baking. If you don't have buttermilk, add 1 tablespoon white vinegar to 1 scant cup of milk.
The buttermilk also acts as the binding agent to the breadcrumbs and baking powder. This means no dredging the chicken in egg. Which in turn, makes this recipe a little healthier.
Finally, make sure to use a non-stick baking dish for this oven fried chicken recipe. You will be preheating the empty pan and adding cold butter into the scorching hot pan.
If you did that with a glass pan, you run the risk of it breaking due to extreme temperature differences.
This recipe takes less than 1/2 hour to bake, most likely less time than it takes you to run to the store to pick up a bucket of chicken!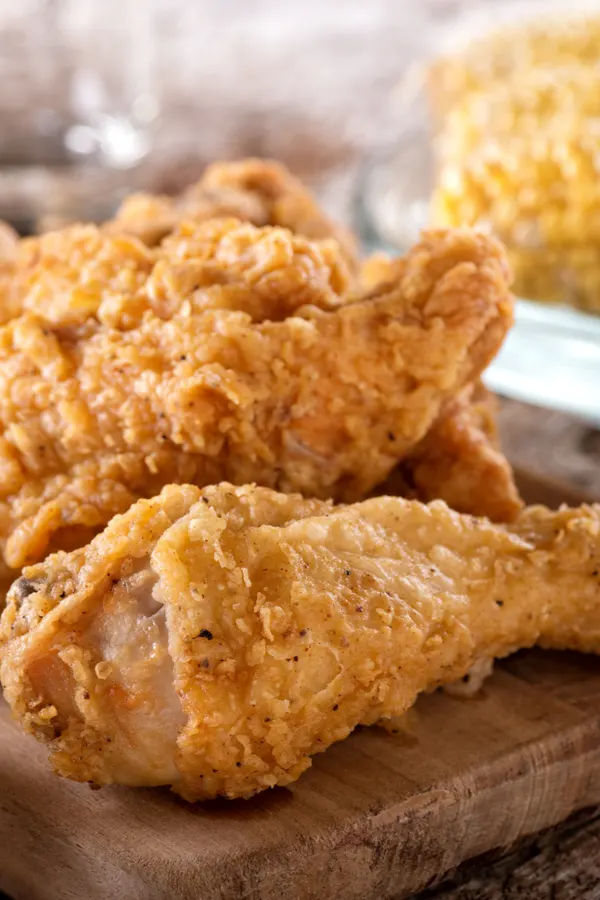 And if you love chicken recipes, be sure try our Air Fryer Nashville Hot Chicken or our Cheese and Bacon Baked Chicken recipe.
Check out the printable recipe below and all of our recipes and let me know what you think!
To receive our 3 Recipe Articles in your inbox each week, sign up for our free email list. You can also follow us on Facebook, Twitter, Pinterest, and Instagram. This article may contain affiliate links.
Yield: 6
Oven 'Fried' Chicken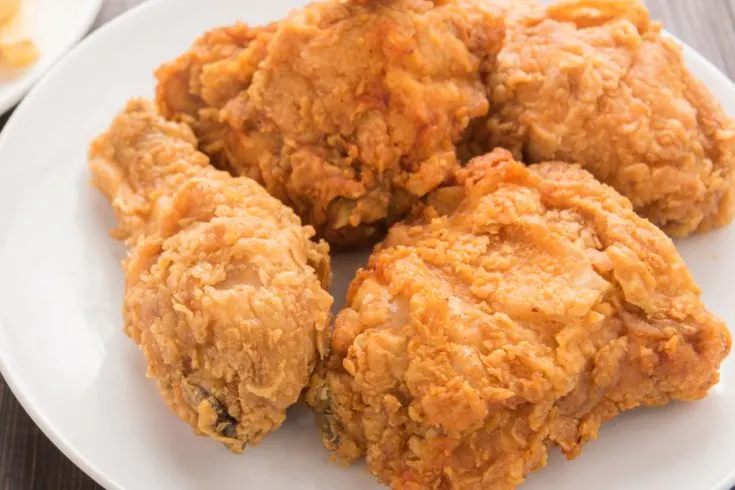 The classic taste of fried chicken with a crispy exterior and a moist and juicy interior, but healthier because it is oven baked.
Ingredients
2.5 lbs fryer chicken pieces
1 cup buttermilk
4 tbsp butter
Dry Ingredients
1 cup all-purpose flour
1 cup Panko breadcrumbs
1/2 tsp baking powder
1 1/2 tsp white pepper
1 tsp ground celery seed
1/4 tsp basil
1/8 tsp oregano
1/2 tsp kosher salt
1 tsp garlic powder
1 tsp black pepper
1 tsp dried mustard
2 tsp paprika
1/2 tsp ground ginger
1/4 tsp thyme
1/4 tsp cayenne, optional
Instructions
Place the chicken pieces in a plastic bag and coat with the buttermilk. Massage the chicken pieces with the buttermilk until every piece is covered. Place in the refrigerator for at least one hour.
Preheat oven to 425°F.
In a medium sized bowl mix together all of the dry ingredients. Set aside.
Place a 13x9" non-stick baking dish (not glass) in the oven to get hot.
Remove the chicken from the buttermilk marinade being sure to shake off excess. Dredge each piece in the flour mixture being sure to coat all sides.
Add the butter to the heated baking dish and wait until melted. Coat all bottom of the dish with the melted butter.
Place the chicken pieces in the pan being sure to leave plenty of room between pieces.
Bake for 12 minutes, turn and bake for another 12 minutes or until internal temperature reads 165°F on a thermometer.
Remove from oven and allow to rest 5 minutes before serving.
Notes
If using boneless, skinless chicken breasts, decrease baking time by 2 minutes per side. Recipe provided by Make Your Meals
Nutrition Information:
Yield:
6
Serving Size:
1
Amount Per Serving:
Calories:

610
Total Fat:

27g
Saturated Fat:

10g
Trans Fat:

0g
Unsaturated Fat:

14g
Cholesterol:

243mg
Sodium:

677mg
Carbohydrates:

33g
Fiber:

2g
Sugar:

3g
Protein:

56g
Nutritional Information is to be used as a general guideline only . Nutritional calculations will vary from the types and brands of the products used.