As much as we like to use our smoker to make Barbecue Brisket, sometimes it is more practical to make it in a Slow Cooker.
You see, it takes a long time to smoke a brisket to perfection. And that requires you to monitor the temperature of the smoker so that it doesn't get too high or too low.
Check out our recipe on: How To Smoke A Brisket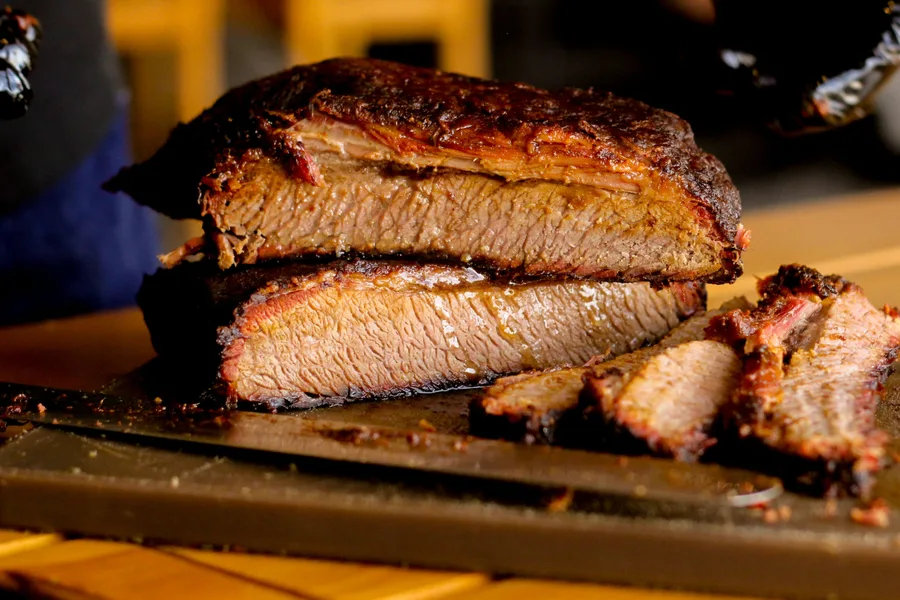 And although there isn't a lot of work that needs to be done during the smoking process, it does require you to be close by.
However, when you put your brisket in a slow cooker you can fix it and forget it! The only thing required is to finish it off in the oven for the last 30 minutes of cooking to get that nice exterior crust and caramelization.
And don't worry, it tastes just as delicious! In fact, it may turn out even more tender and juicy than when cooked in the smoker.
Which Cut Of Brisket To Use
In general, brisket is a tough cut of meat. The only way to cook a brisket so that it turns out nice and tender is to slow cook it.
That is why smoking a brisket and cooking it in a slow cooker both work well.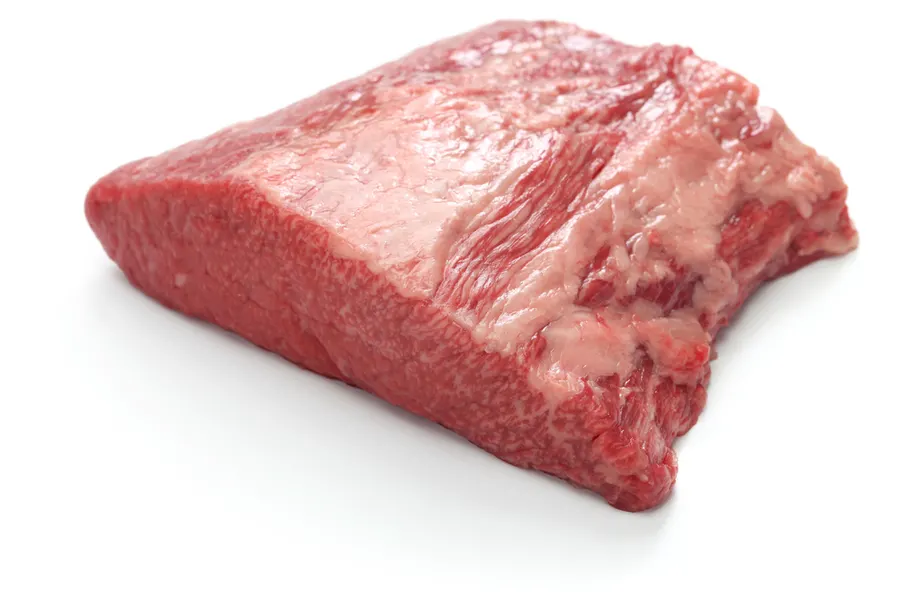 However we tend to choose different cuts of brisket depending on how we cook them.
Brisket is made up of two different muscles: the point and the flat. The point is the thicker cut of meat and contains more fat. And the skinner end of the brisket is called the flat cut. It is leaner and contains less fat.
We prefer to use the point when we are smoking the brisket and the flat for slow cooking. That way the brisket isn't sitting in the rendered fat while being slow cooked.
However, either cut would work just fine. It is simply a preference in our household.
How To Slow Cook Barbecue Beef Brisket
Now that you have your brisket, let's get cooking! We typically purchase a 5 pound brisket to feed our family. That will typically leave us with enough leftovers for the next day to have a sandwich and make our favorite side dish, Southern Skillet Corn.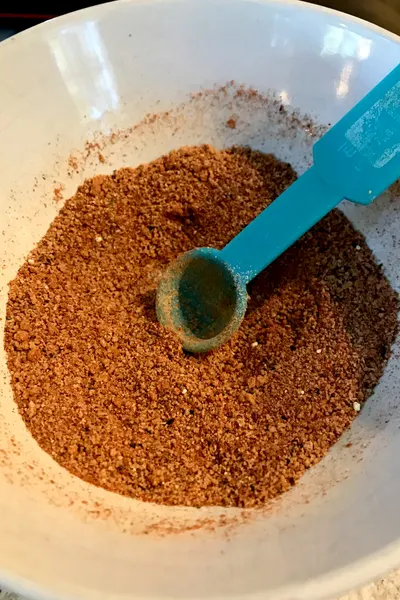 And just like any good barbecue recipe, it all starts with a dry rub. You can use a store-bought brisket dry rub, or we have included how to make our own homemade dry rub in the recipe below.
Simply pat the brisket with the dry rub mixture on every side. Then place the brisket in the refrigerator for at least 30 minutes so that the spices have time to penetrate into the brisket itself.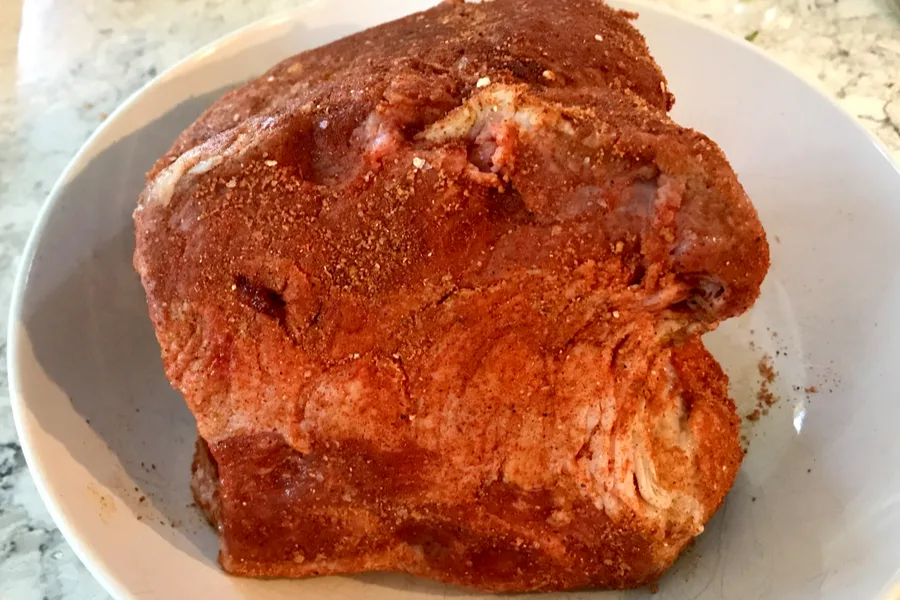 Barbecue Sauce
Then make the homemade barbecue sauce as instructed in the recipe. Yes, by all means, you can use store-bought barbecue sauce instead of making your own. We know time is valuable, and sometimes you don't have time to make a homemade sauce.
Pour the barbecue sauce in the liner of the slow cooker and add your beef brisket. Flip the brisket over several times so that the entire piece of meat has been coated in the sauce.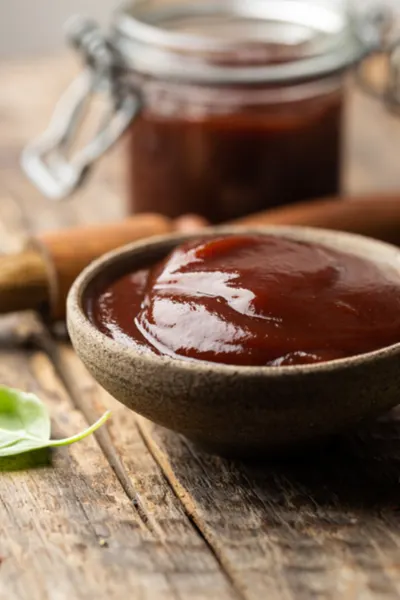 Now it is time to let the slow cooker do the work! Cook on low for 8-10 hours, or on high for 4-5 hours. If you have a programmable slow cooker like our Crock Pot 6 quart Slow Cooker, set the timer for the longer time. It is difficult to over cook brisket in the slow cooker.
You want your barbecue brisket to reach an internal temperature of 180°F before removing it from the slow cooker.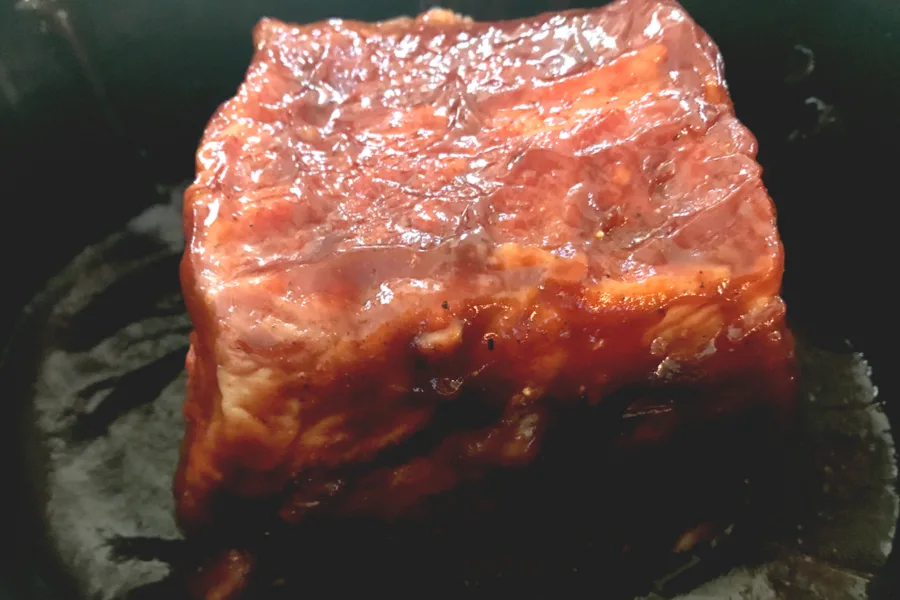 You will then finish it off in the oven to caramelize and reach the final internal temperature of 190°F. That way you ensure that your brisket is nice and tender, yet still juicy.
Serving Instructions
Once you remove your brisket from the oven, give it at least 10-15 minutes to rest before slicing.
Then slice the barbecue brisket across the grain and serve with additional barbecue sauce.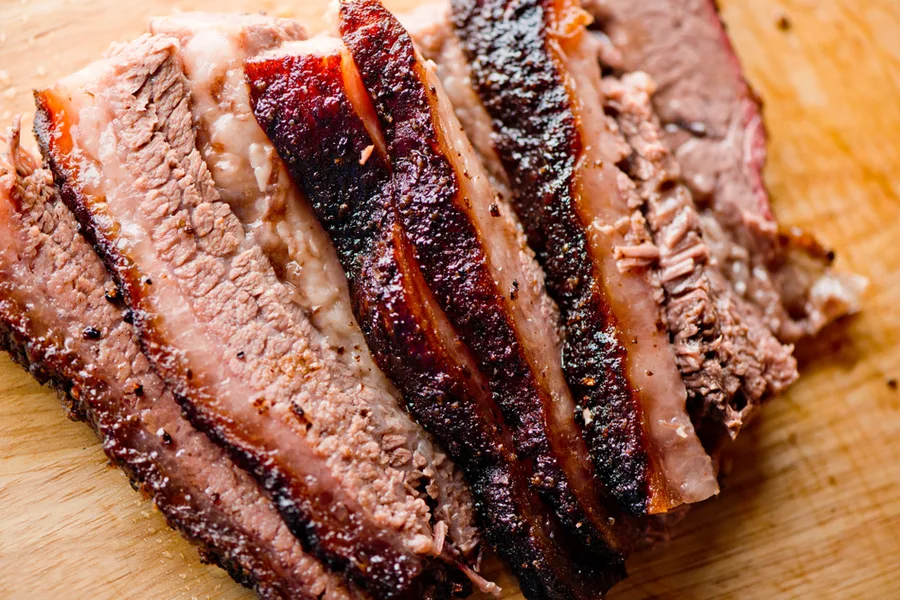 Suggested side dishes:
Enjoy!

To receive our 3 Recipe Articles in your inbox each week, sign up for our free email list located in the middle of each recipe or email me at contact@makeyourmeals.com. You can also follow us on Facebook and Pinterest. This article may contain affiliate links where a small commission is paid if you purchase a product at no additional cost to you.
Slow Cooker Barbecue Beef Brisket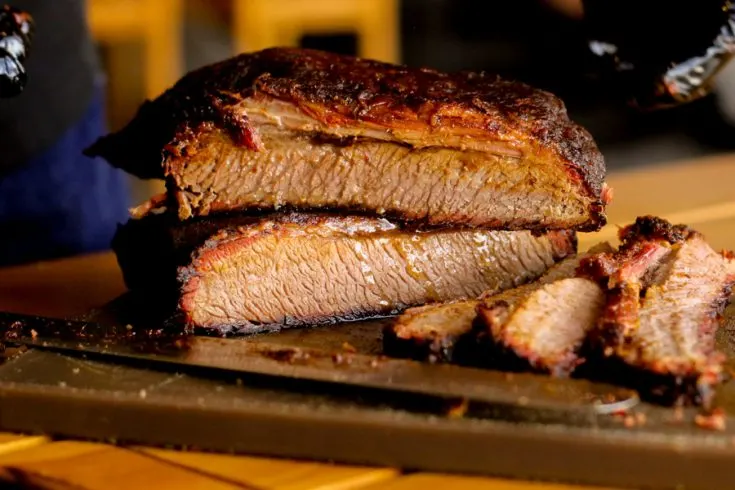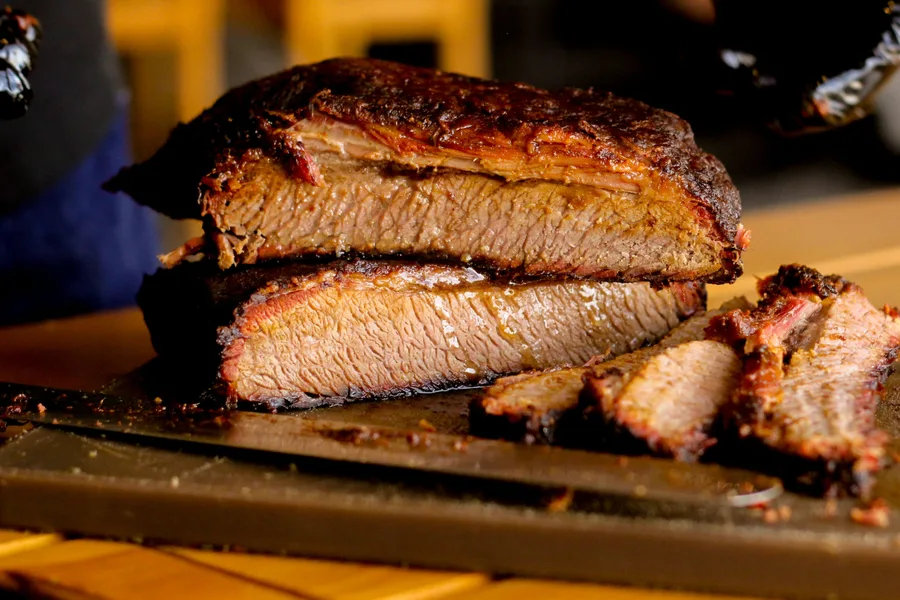 Moist and juicy barbecue beef brisket cooked until tender in a slow cooker and then finished off in the oven for that traditional caramelized barbecue exterior.
Ingredients
4-5 lb beef brisket
1 Tbsp olive oil
Dry Rub:
1 Tbsp brown sugar
2 tsp smoked or sweet paprika
1 tsp onion powder
1 tsp garlic powder
1/2 tsp cumin
3/4 tsp dry mustard
1 tsp salt
1/2 tsp black pepper
BBQ SAUCE:
2 garlic cloves, minced
1/2 cup apple cider vinegar
1 1/2 cups ketchup
1/2 cup brown sugar, packed
2 tsp black pepper
2 tsp onion powder
2 tsp dry mustard
1 tsp cayenne pepper
1 Tbsp Worcestershire sauce
Instructions
In a small bowl mix Dry Rub ingredients together. Rub onto all surfaces of the brisket. Refrigerate for at least 30 minutes, and up to overnight.
Add the BBQ Sauce ingredients in the liner of the slow cooker and mix to combine.
Add the brisket to the barbecue sauce and then flip to coat both sides.
Slow cook on low for 8-10 hours.
Remove brisket onto a baking sheet and preheat oven to 390°F.
Pour liquid in slow cooker into a saucepan. Bring to simmer over medium high heat and reduce until it thickens to a syrup consistency.
Drizzle brisket with oil then bake in the oven for 15 minutes. Remove then baste generously with thickened sauce and return to oven for 5 minutes. Remove and baste again, then return to oven for 5 – 10 minutes until it caramelizes
Slice brisket thinly across the grain and serve with remaining BBQ Sauce.
Notes
Recipe provided by Make Your Meals
Nutrition Information:
Serving Size:
1 grams
Amount Per Serving:
Unsaturated Fat:

0g