During the summer months I make Instant Pot Baked Beans at least once a week.
It seems like we are always heading to picnics, cook outs, family reunions and having pot lucks that require us to bring a side dish.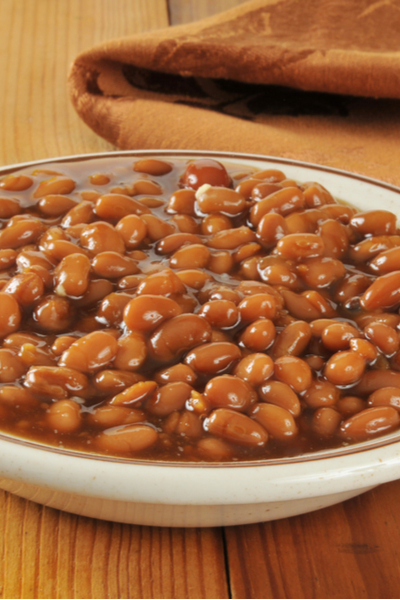 And nothing goes better at a barbecue than baked beans. But not just any baked beans. These baked beans are homemade. I have always made Slow Cooker Baked Beans.
However, one of the main reasons that I bought my Instant Pot 6 quart Duo was the ability of make beans in a fraction of the time that it took on the stove top.
I was one that always bought canned beans because it took so long to soak and then cook dried beans.
However, I hated the preservatives and sodium content that were in those cans along with the beans.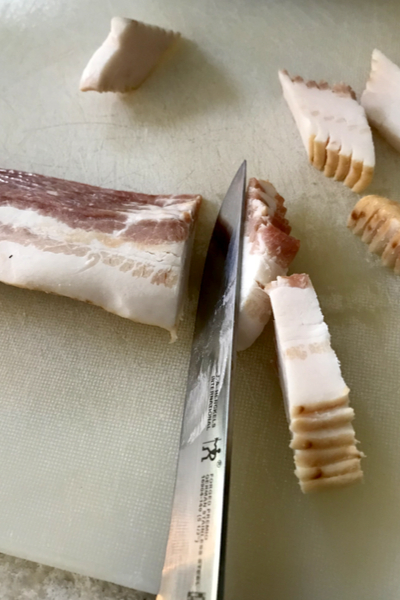 So ever since I got my Instant Pot Pressure Cooker, I have been making all sorts of recipes with beans in them.
But there is nothing better than Instant Pot Baked Beans.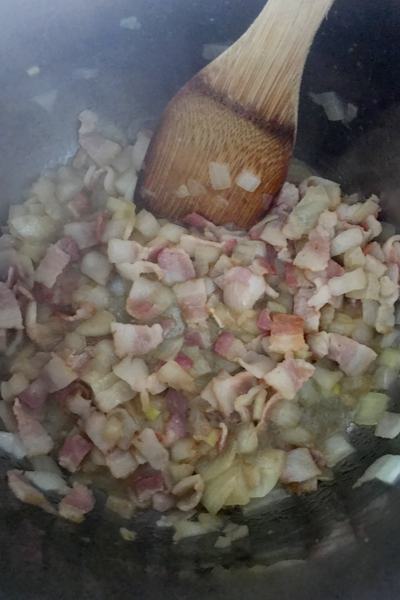 Soak The Beans or Not?
There are three ways that you can make beans in the Instant Pot.
Pre-soak the beans. Soak the beans overnight and then cook them in your recipe.
Quick-soak the beans. This method allows the beans to soften considerably, but does not cook them all of the way through.
Cook them from dried. Just put the dried beans in your recipe and cook them for about an hour under high pressure.
Honestly, since I have purchased my Instant Pot, I have never pre-soaked my beans overnight.
Some people prefer to soak them so, and there is nothing wrong with that.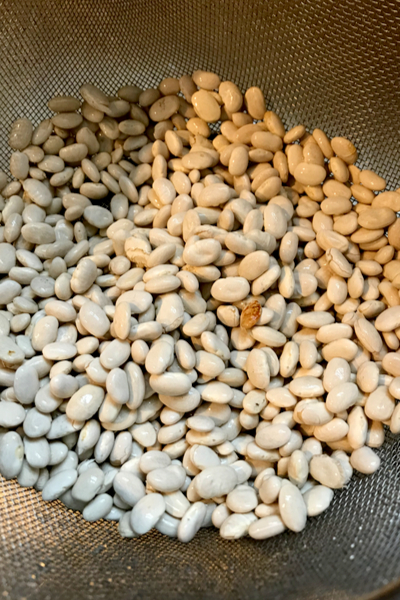 I am just one of those people that either forget to soak them, or I decide at the last minute that I am going to make Instant Pot Baked Beans. Which, of course, doesn't allow enough time for soaking.
So that is when I typically add the beans in straight out of the bag. And I have to be honest, I get mixed results with this method of cooking.
Sometimes the beans cook perfectly.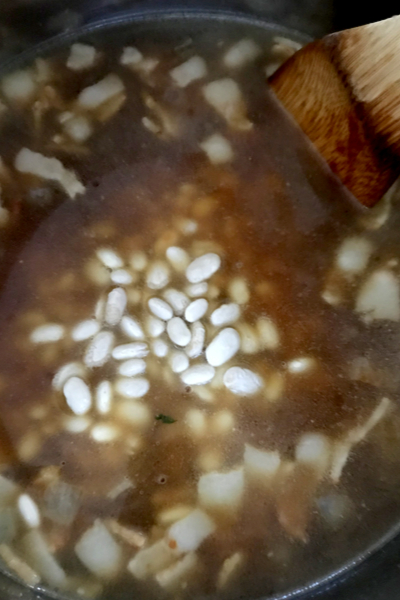 However, most of the time some beans turn out soft and others are still semi-hard.
In order to get consistent results for this Instant Pot Baked Beans recipe, I prefer the quick-soak method.
Although this method requires a little more time, it is well worth it in the end!
Instant Pot Baked Beans
When I first decided to make baked beans, I figured I would have to use kidney beans since the beans are red.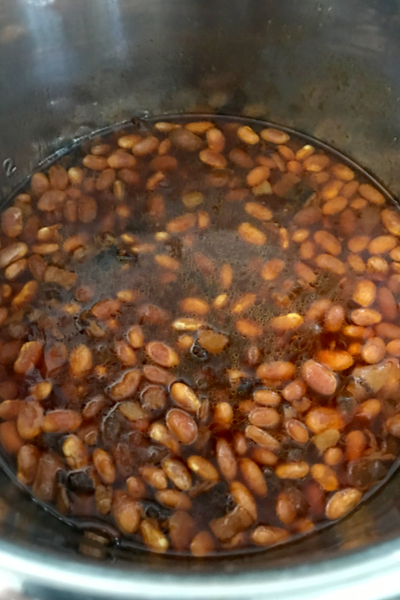 However, baked beans are traditionally made from Navy or White Northern Beans.
It is actually the thick sauce that turns the beans red.
The sauce is sweetened with a combination of ketchup, molasses, brown sugar and pure maple syrup.
And speaking of maple syrup, please use real maple syrup. The quality and taste is much different than the plastic squeeze bottles that you get in the grocery store.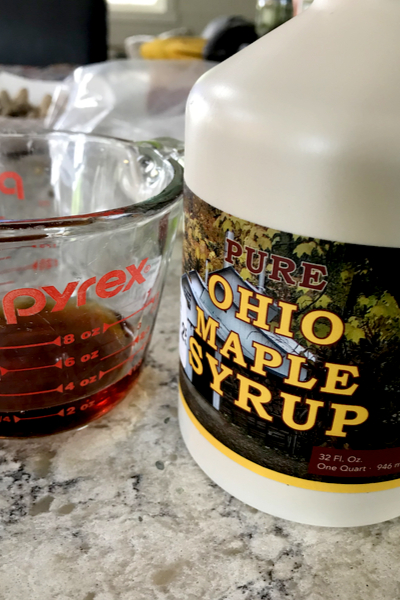 And the final secret ingredient: Worcestershire sauce. The tangy sauce balances out the sweetness of the beans perfectly!
This recipe uses bacon to help flavor the beans. However, if you are vegetarian you can simply skip this step and use vegetable stock or water instead of chicken stock.
Check out the printable recipe below and let me know what you think!
To receive our 3 Recipe Articles in your inbox each week, sign up for our free email list located on the side and bottom of each recipe. You can also follow us on Facebook and Pinterest. This article may contain affiliate links where a small commission is paid if you purchase a product at no additional cost to you.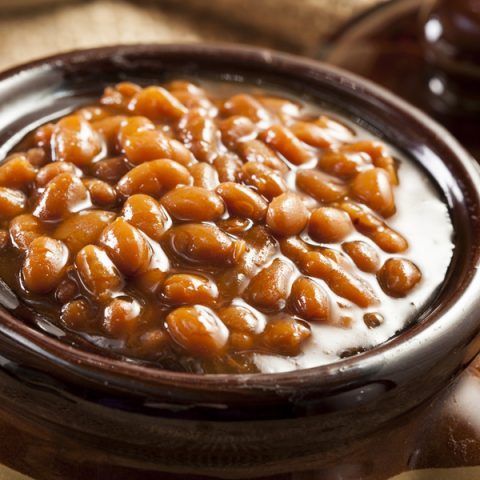 Instant Pot Baked Beans
Homemade baked beans made from dried beans using the quick soak method in the Instant Pot and then pressure cooked with bacon, onions in a thick sweet sauce.
Ingredients
2 1/4 cups dried Navy or White Northern Beans, approximately 1 lb.
2 tsps kosher salt
1/8 tsp baking soda
1 tbsp olive oil
6 cups water
6 slices bacon, diced
1 medium yellow onion, diced
3 1/4 cups chicken stock or water
1/3 cup ketchup
1/3 cup molasses
1/4 cup pure maple syrup
1 Tablespoon Worcestershire Sauce
1/4 cup light brown sugar, packed
1 1/4 teaspoons dry ground mustard
1/4 teaspoon ground black pepper
Sea salt, to taste
Instructions
Quick Soak Beans
Rinse and sort beans, removing any debris.
Add the beans to the pot, then add the water. Remove any beans that float.
Add the salt, baking soda, and olive oil and stir.
Add the Lid and set the pressure release valve to the Sealing position. Pressure Cook/Manual on HIGH for 1 minute.
Once cooking time has completed, allow the pot to do a full Natural Pressure Release "NPR". This will take approximately 35-45 minutes.
Once the NPR has completed and the pin has dropped, open the pot.
Drain and rinse the cooked beans in a strainer, set aside.
Clean the pot of any debris on the sides or bottom.
Baked Beans
Select Sauté and wait for HOT to appear on the display screen.
Add bacon and onions and cook until bacon begins to render, scraping brown bits from bottom of cooking pot. Add 1/4 cup of stock and continue cooking until water has evaporated and onions are tender.
In a small bowl mix together the maple syrup, Worcestershire sauce, brown sugar, mustard, and black pepper.
Add the stock, beans, molasses, ketchup, and maple syrup mixture to the pot and stir.
Lock the lid and place the pressure valve in the Sealing position. Cook at high pressure for 30 minutes. When beep sounds, wait 10 minutes and then carefully release the rest of the pressure.
Add the salt.
Select the Sauté or Browning function and simmer until desired consistency. Beans will continue to absorb liquid as they cool.
Notes
After cooking is complete: taste a couple of beans for tenderness and sweetness. Add more Molasses or brown sugar, if a sweeter taste is desired. If beans are still hard, cook for another 5-15 minutes.

*This recipe can also be done without the quick soaking of the beans, however the beans may have a variety of textures. Instructions for this method begin at the Baked Beans section and increase cook time to 70 minutes.

Recipe provided by Make Your Meals
Nutrition Information:
Serving Size:

1 grams
Amount Per Serving:
Unsaturated Fat:

0g
Instant Pot Baked Beans Recipe – Using Dried Beans