I first tasted Skillet Corn when it was served as a side dish at a barbecue restaurant in the South.
It was a Meat & Three type of establishment. Being from the North, I was unfamiliar with this term. However, I quickly caught on to the concept.
You order a main dish from a list of available meat options. Then of course you pick out 3 side dishes to accompany your meat.
In the south you can almost always guarantee that there will be potato salad, coleslaw, collard greens, mac n cheese and green beans on the list, along with several other options.
One of the other options that day was skillet corn.
When I ordered it I was anticipating creamed skillet corn. The kind that has crushed corn mixed with milk and butter and seasonings.
However I was pleasantly surprised when I took my first glance at the skillet corn that they brought out. The presentation alone was beautiful.
A ramekin filled with bright yellow corn with intermittent specks of green, red and brown throughout. Those additional colors had me curious.
What was in skillet corn? I quickly identified the diced red and green peppers. And I could tell there was a little sautéed onion in the mixture as well.
But what in the world was the other ingredient? One taste and I fell in love!
They added their famous beef brisket to the mixture. Soft tender bits of smoked brisket giving the skillet corn another depth of flavor.
And don't forget the melted butter drizzled on top!
Are you hungry yet?
So when I decided to recreate this dish at home, I had to be practical. Although I would have loved to add smoked brisket in the recipe, I just didn't have any on hand.
It's not every day that I pull my smoker out and make brisket.
The most practical substitute – bacon! In fact, I used hickory bacon to give it more of that smoked flavor.
The key to this recipe is to use the same skillet for the entire dish. And you don't want to use pre-cooked bacon. The bacon grease is what makes this recipe so delicious!
And whenever possible use fresh corn on the cob to maximize flavor. Or if you do need to buy pre-packaged corn at the grocery, go for the frozen variety rather than canned corn.
Check out the printable recipe below and all of our recipes and let me know what you think!
To receive our 3 Recipe Articles in your inbox each week, sign up for our free email list. You can also follow us on Facebook, Twitter, Pinterest, and Instagram. This article may contain affiliate links.
Yield: 6
Skillet Corn Recipe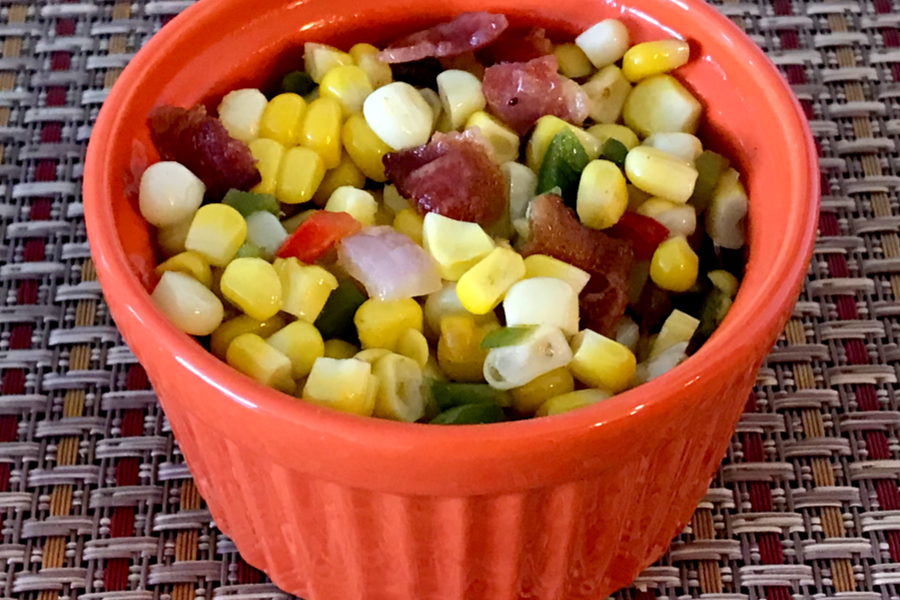 A southern side dish that takes corn on the cob and kicks it up a notch with bacon, peppers and onions.
Ingredients
6 ears of fresh corn on the cob, or 1 bag of frozen corn
4 slices of bacon
1/2 green pepper, diced
1/2 red pepper, diced
1/2 jalapeno pepper, diced
1/2 medium onion
2 tablespoons of butter
Salt and pepper, to taste
Instructions
Shuck the corn and cut the kernels off the cob.
In a large skillet over medium heat, cook the bacon until brown. Set aside to drain.
In the same skillet with the bacon grease add in the diced peppers and onion. Cook for 4-5 minutes until slightly tender.
Add in the corn and continue to cook over medium heat for 15-20 minutes, stirring frequently. *If using frozen corn, turn the heat down to low before adding, being sure to add slowly to prevent grease from splattering.
Right before serving, add the butter and stir until melted. Season with salt and pepper to taste.
Notes
Recipe provided by Make Your Meals
Nutrition Information:
Yield:
6
Serving Size:
1 grams
Amount Per Serving:
Unsaturated Fat:

0g