Prime Rib has always been a favorite 'special occasion' meal for my husband.
He would order it when we would go out to a restaurant for our anniversary and Valentine's Day. And the look on his face when it is served at Christmas party is always priceless.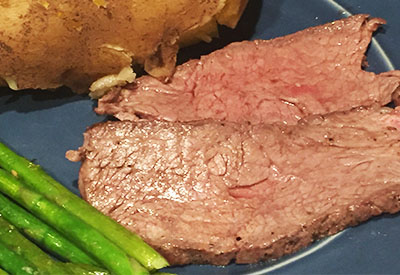 So this year I decided that I would surprise him and make Prime Rib for dinner at home.
The first hurdle was trying to find a Prime Rib Roast at the grocery store. Beef is categorized into three grades: prime, choice, and select. It is very difficult to find prime cuts of beef in the common grocery store, as these cuts are of superior quality and are sold primarily to high-end restaurants.
So, off to the butcher I went in hopes of finding a true Prime Rib Roast.
Because the meat is of such high quality, the price per pound can be costly. So I decided on a 2.5 pound cut of beef.
The Keys to Perfect Prime Rib
It is extremely important when making prime rib to let the beef come to room temperature before cooking. This usually takes 3-4 hours after being removed from the refrigerator.
It is also important to wait to salt the meat until you are ready to put it in the oven. Salting it too early will draw out the moisture, drying out the meat.
The exact cooking time will require a little math. Take the exact amount of pounds of the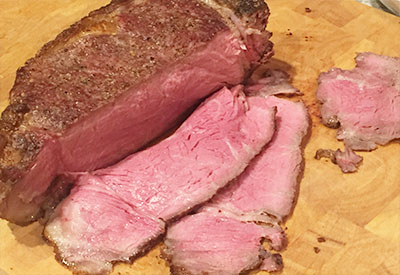 Finally, once you turn off the oven, DO NOT open the oven door for 2 hours. As much as you will want to check on your delicious dinner, keeping the heat inside the oven in crucial! Just one little peek will ruin it all.
The recipe instructions below will result in traditional medium-rare prime rib. If you like yours a little less pink, you will want to increase the cooking time.
And for dessert – Instant Pot Lava Cakes!
Check out the recipe below and all of our recipes and let me know what you think!
To receive our 3 Recipe Articles in your inbox each week, sign up for our free email list.
You can also follow us on Facebook, Twitter, Pinterest, and Instagram. This article may contain affiliate links.nbsp;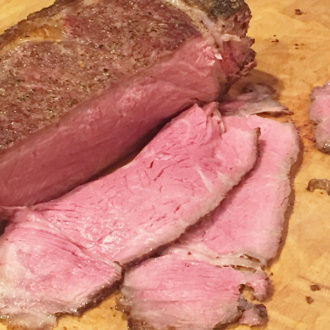 Restaurant Style Prime Rib Roast
Melt in your mouth prime rib cooked in your own kitchen that tastes like it was made by an executive chef in a high quality restaurant.
Ingredients
Prime rib roast

room temperature

1/2

cup

unsalted butter

room temperature

1

tablespoon

freshly ground black pepper

1

teaspoon

Montreal Steak Seasoning

kosher salt
Instructions
Bring rib roast to room temperature.

Preheat oven to 500 degrees F

In a small bowl combine butter, pepper, and Montreal Steak Seasoning and mix well.

Spread butter mixture evenly over the entire roast.

Season entire roast generously with kosher salt, doubling what you think is too much salt.

Roast the prime rib the preheated oven for 6 minutes per pound, rounding up to the nearest minute.

Once time is up, turn the oven off and leave the roast in the oven with the door closed for 2 hours.

Remove roast from the oven, slice, and serve immediately.
Notes
This recipe is for medium rare prime rib. For medium prime rib, increase cooking time to 8 minutes per pound.
Recipe provided by Make Your Meals
Easy Prime Rib Roast Recipe -Melt In Your Mouth Goodness