These Holiday Pretzel Treats are always a huge hit with both adults and kids! The best way to explain them is to picture individual mini pretzels topped with slightly melted Hershey Kiss candies with an M&M pressed on top.
Then they are placed in the refrigerator until the chocolate hardens. And with just one bite you will see why they are so delicious and addicting!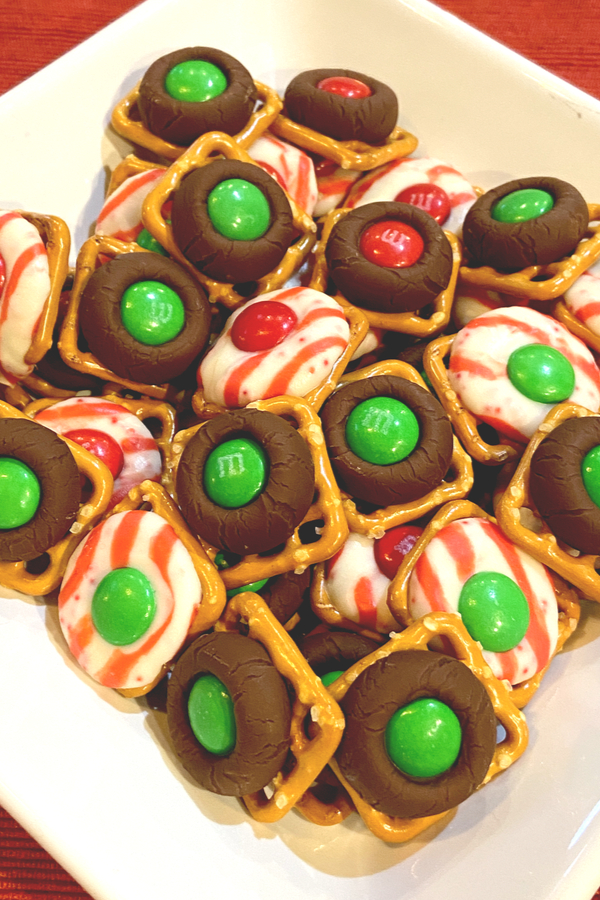 They contain the perfect balance of salty and sweet flavor. And best of all they are super easy to make!
In fact, if you have any little helpers in the kitchen with you, this is a great recipe for them to get involved.
Holiday Pretzel Treats
Ingredients
Mini Pretzels
Hershey Kiss Candies
Red and Green M&M's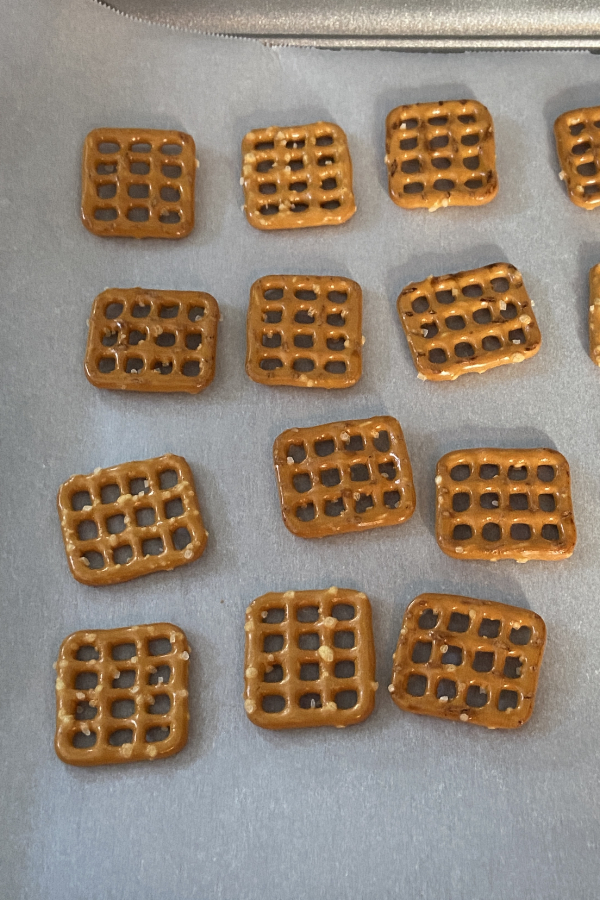 Instructions
The first step in making these Holiday Pretzel treats is to preheat your oven to 175° F. If your oven doesn't go below 200°F that is fine. Just use the lowest setting possible.
Then line a baking sheet with parchment paper and place individual pretzels on the baking sheet. It is okay if they are close to each other, you just don't want them touching.
Now place an unwrapped Hershey Kiss on top of each pretzel. This will be the most time consuming process of this entire recipe. And this is where those little helpers can come in handy!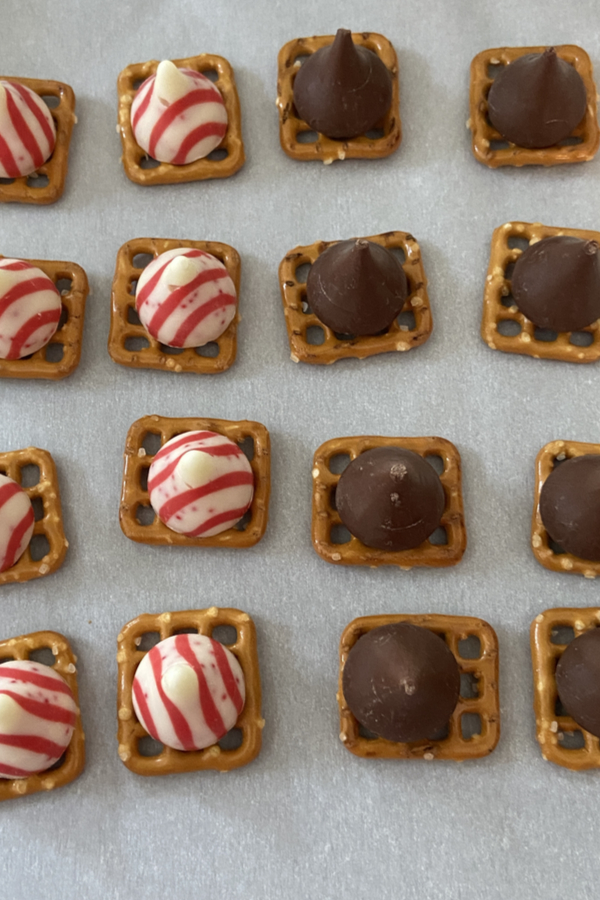 Once each one is topped, carefully place the baking sheet in the oven until the chocolate begins to soften. This should take anywhere from 5-7 minutes.
You want the chocolate to soften enough so it can be smashed down into a circle. However, you don't want the chocolate to melt completely.
Pull the tray out of the oven and immediately top each holiday pretzel treat with a single M&M. Be sure to push the candy down into the softened Hershey Kiss.
Place the tray in the refrigerator or freezer until the chocolate hardens.
Can You Use Other Types of Hershey Kisses?
Not all Hershey Kisses are the same. Although there are the classic milk chocolate kisses wrapped up in the silver lining that you use for Peanut Butter Blossom cookies, there are some other types as well.
You may be familiar with Hershey Hugs that is a mixture between milk and white chocolate. And around the holidays, you might find a variety of festive flavors such as Candy Cane and Hot Cocoa Kisses.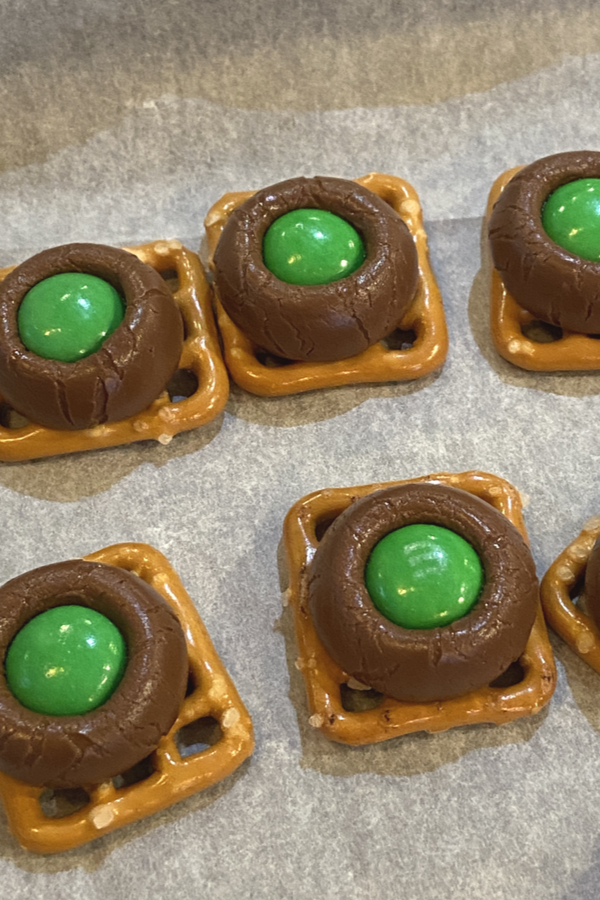 It is okay to use either of those to make your Holiday Pretzel treats, however the amount of the time in the oven will need to be reduced. White chocolate will melt at a faster rate than milk chocolate.
So instead of taking 5-7 minutes in the oven, it will only require 3-5 minutes for the white chocolate to soften.
Storing Recommendations
Once the chocolate has hardened, it is okay to store these Holiday Pretzel treats in an air-tight container at room temperature.
However, I prefer to store them in the refrigerator or freezer. That way if you live in a warmer climate or your home is nice and toasty on a cold winter day, you don't have to worry about the chocolate being too soft when you pick it up.
Snack or Gift
These little treats not only do they make for a great late night snack to satisfy that sweet tooth craving, they also make for a great addition to any cookie tray or cookie exchange.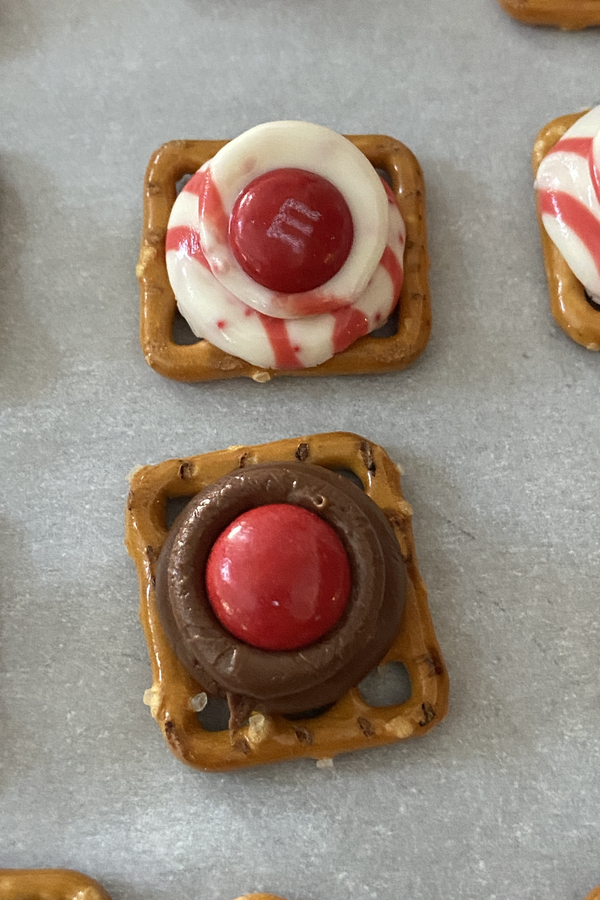 We have even packaged them up in little clear bags to give to teachers, service workers and to add a little edible decorations to packages.
Enjoy!


To receive our 3 Recipe Articles in your inbox each week, sign up for our free email list located in the middle of each recipe or email me at contact@makeyourmeals.com. You can also follow us on Facebook and Pinterest. This article may contain affiliate links where a small commission is paid if you purchase a product at no additional cost to you.
Holiday Pretzel Treats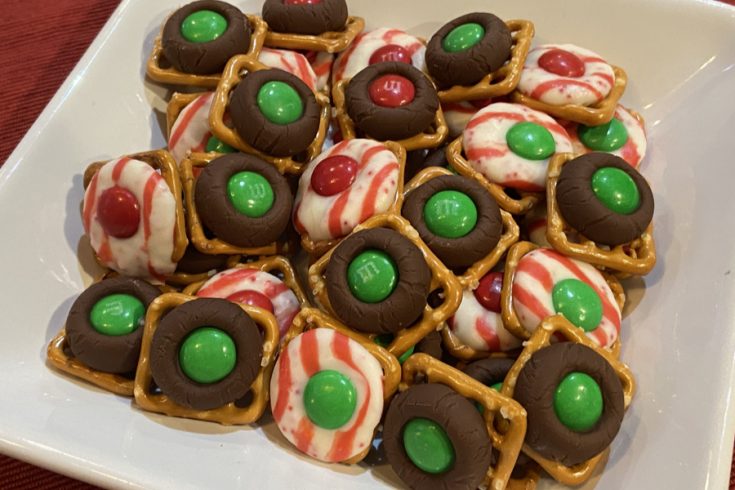 The quickest and easiest Christmas treat that you will ever make. A pretzel base topped with a Hershey Kiss Candy that is just slightly melted with a red or green M&M placed on top!
Ingredients
Pretzels, mini square shape
Hershey Kisses
Red & Green M&M's
Instructions
Preheat your oven to 175° F and prepare a baking sheet with parchment paper.
In a single layer, spread pretzels on the parchment paper and place an unwrapped Hershey kiss on each one.
Bake for 5-7 minutes and remove from oven.
Quickly and gently press a M&M on top of each chocolate kiss. The chocolate should be soft enough to press the M&M's down into the candy.
Refrigerate until the chocolates have hardened.
Notes
If you want to use Peppermint or Hugs Hershey Kisses, decrease the time in the oven to 3-5 minutes.
Can be stored in an air tight container at room temperature or in the refrigerator/freezer.

Recipe provided by Make Your Meals
Nutrition Information:
Serving Size:
1 grams
Amount Per Serving:
Unsaturated Fat:

0g