Traditional Irish soda bread and Irish Coffee are common household staples in Ireland.
It became popular when baking soda became readily available to purchase. Combined with only 3 other common ingredients, Irish soda bread was made almost daily in many homes.
The unique texture of this bread makes it easy to identify. It has a rough and crunchy crust and a soft, yet thick dense interior.
The simple ingredient list allows you to prepare the dough in no time. A bread machine or dough hook is not required, just combine the ingredients with your hands.
And if you dread making bread because of the cumbersome and laborious process of kneading, have no fear. Just like our Artisan Bread, Irish soda bread recipe requires no kneading at all!
Just mix and then form it into its infamous round shape. Put a couple of slices in the top of the dough with a sharp knife and bake. It's really that simple!
Irish Soda Bread With Raisins??
If you have ever searched for Irish Soda Bread recipes, I am sure that you have seen pictures of bread with raisins scattered throughout.
Traditional soda bread does not have any raisins or caraway seeds, as the bread was intended for everyday use. It only contains the 4 basic ingredients of flour, baking soda, salt and buttermilk.
The addition of raisins and caraway seeds was thought to originate in America when they made the bread for special occasions.
We love to serve this bread with soups, stews, and pasta dishes. It holds up well for dipping into liquid or mopping up the sauce on the plate.
Of course, when you make Irish Beef Stew, or Beer Cheese Soup this bread is a must have!
Check out the recipe below and all of our recipes and let me know what you think!
To receive our 3 Recipe Articles in your inbox each week, sign up for our free email list.
You can also follow us on Facebook, Twitter, Pinterest, and Instagram. This article may contain affiliate links.
Yield: 1 loaf
Irish Soda Bread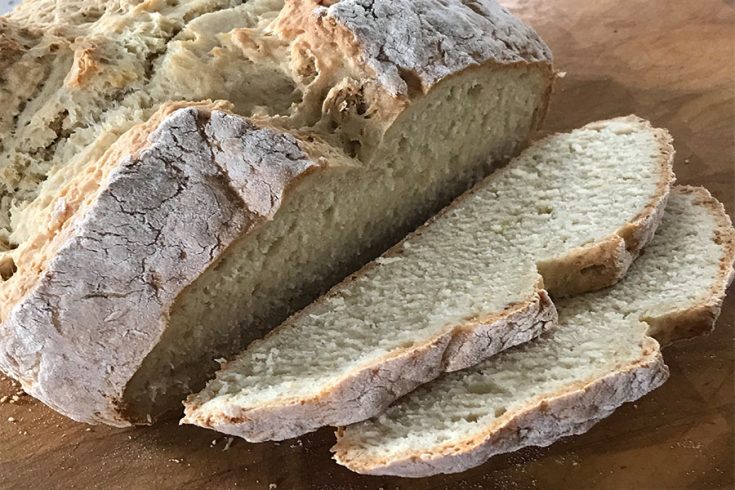 Traditional, 4 ingredient Irish soda bread that is served with stews, sauces, or with creamy Irish butter.
Ingredients
3 1/2 cups all-purpose flour
3/4 tsp. baking soda
1/2 tsp. salt
1 1/2 - 1 3/4 cups buttermilk
Instructions
Pre-heat oven to 450°F.
Lightly flour a large baking sheet and set aside.
Sift all of the dry ingredients into a large mixing bowl.
Make a well in the center of the dry ingredients and pour in 1-1/2 cups of the buttermilk. Incorporate buttermilk in the flour with one hand adding more buttermilk a little at a time just until the dough begins to come together.
Place the dough on well-floured surface and form into a round shape (approximately 6-7 inches in diameter and 1-1/2 inches high in the center).
With a sharp knife, make two cuts in the dough about ¼ inch deep in the shape of a cross.
Transfer the dough to the prepared baking sheet and bake for 15 minutes. Lower the oven temperature to 400°F and bake until the bread is browned, approximately for an additional 20 to 30 minutes.
Place on a cooling rack and cool completely.
Notes
A great addition to Irish Beef Stew or Shepherd's Pie. Recipe provided by Make Your Meals
Nutrition Information:
Yield:
1
Serving Size:
1 grams
Amount Per Serving:
Unsaturated Fat:

0g