Have you ever walked into a bakery and looked in amazement towards the beautiful French & Artisan Bread displays on the racks? Did you wonder how those loaves of bread turned out so beautiful?
I always wondered the same thing. And several years ago I was determined that I was going to learn how to make both French & Artisan bread in my own kitchen.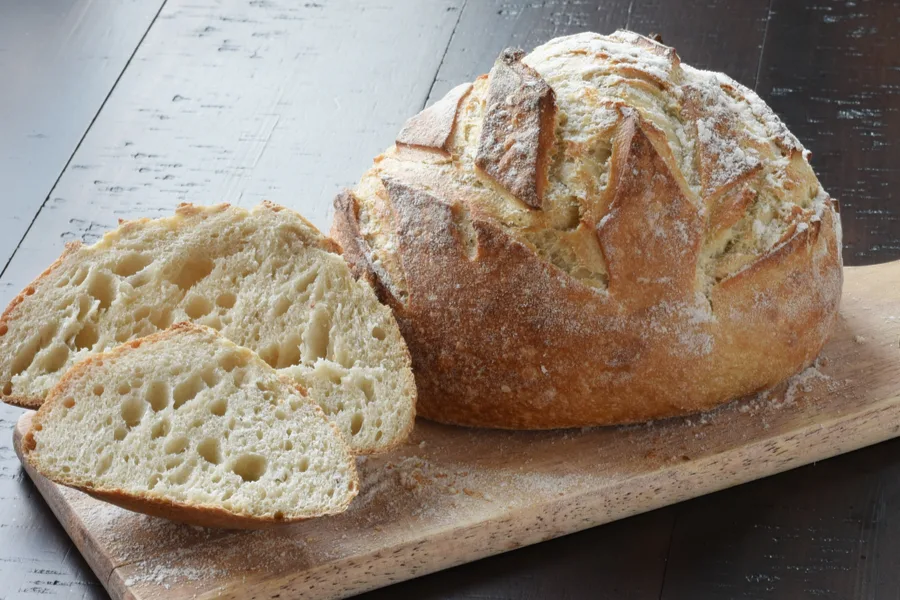 I had just successfully completed baking French Bread. Now it was on to Artisan Bread. And after doing a little research, I was shocked to learn that making this style of bread was extremely simple.
With just 6 common ingredients and minimal hands on preparation time required, I immediately felt confident that I could do this.
So I went to work and within a couple of hours, I had 3 loaves of beautiful Artisan bread baked and on the table!
How to Make Artisan Bread
The first step in making this recipe is to choose the type of flour that you want to use. Most often we use 100% all-purpose flour for this Artisan Bread recipe.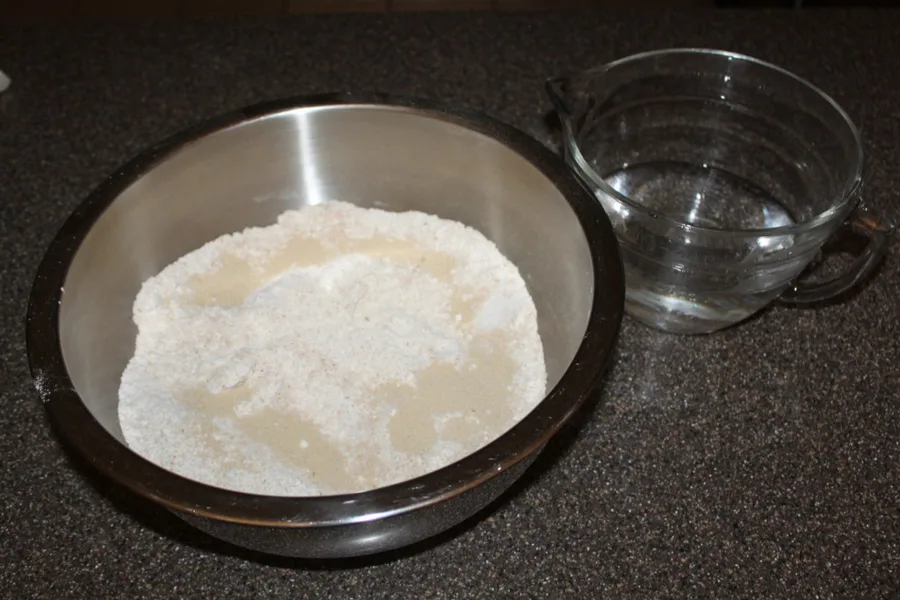 However, we have also used a combination of all-purpose and wheat flour and had good results. The ratio we used was 2/3rds white flour and 1/3rd wheat flour.
Then place your flour in a large bowl. Whisk in the salt, yeast and black pepper. Next, make a well in the center of your flour mound.
Slowly pour in the warm water. Be sure that the water is between the temperature of 100 – 110°F so that it activates the yeast.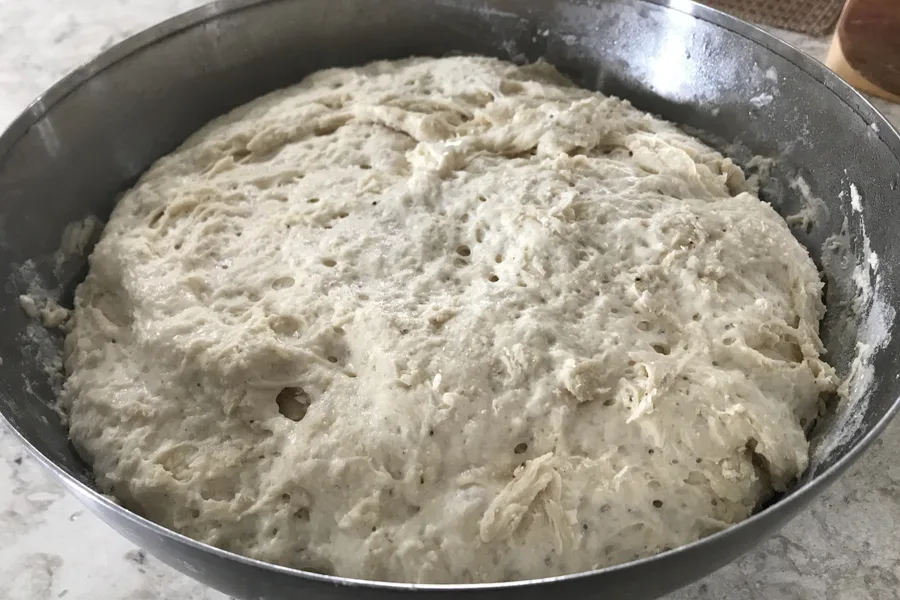 Using a fork, mix together the ingredients until the flour is completely moistened. Then, use your hands to form the Artisan Bread dough into a ball.
Drizzle extra virgin olive oil over the top of the dough, flip it over and drizzle a little more oil on top. Cover the bowl with plastic wrap and place it in a dry, warm space until doubled in size.
*Hint – to speed up the proofing process you can place your uncovered bowl in an oven that has been preheated to 200°F and then turned off. Or if you have an Instant Pot with the Yogurt function, place the dough in the liner coated with oil and add a glass lid. Then set the Yogurt button for 30 minutes.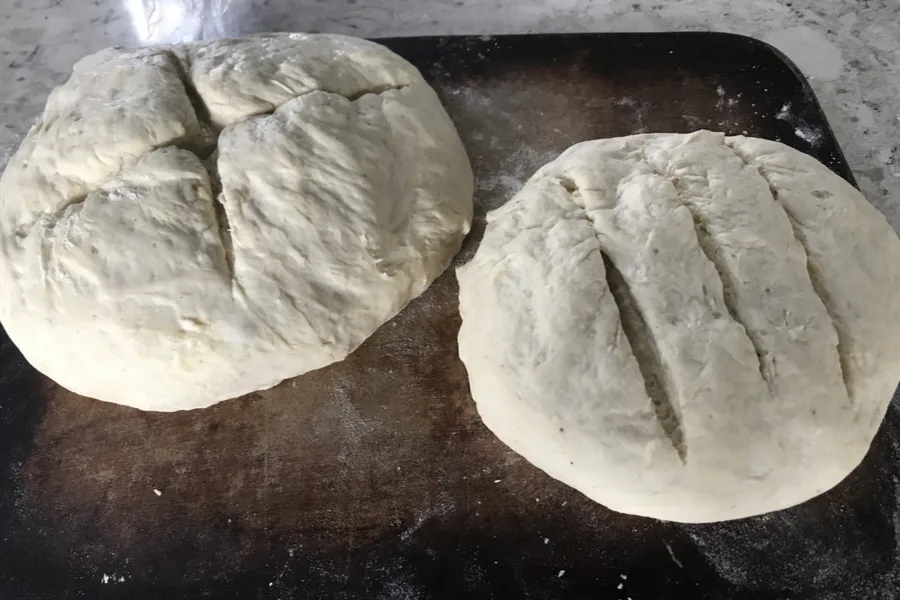 The standard proofing method will take 1-2 hours. Once the dough is twice the original size, remove it from the bowl.
Then divide the dough into 3 equal sections. Form the dough into round or oblong shapes, dusting the surface with flour as needed.
Then place the artisan bread dough forms on baking sheets or baking stones, that have been dusted with flour. Cover them with a clean towel and allow them to rise again for 20-30 minutes.
Right before you place the dough in the oven, use a sharp knife to make slits in the top of the bread. You can get creative as you want here with your designs. Then bake in a preheated oven for 30-35 minutes.
You will know that the bread is cooked through when it sounds hollow when you knock on the bottom of the bread.
Allow your Artisan Bread to cool completely before storing in a sealed plastic bag.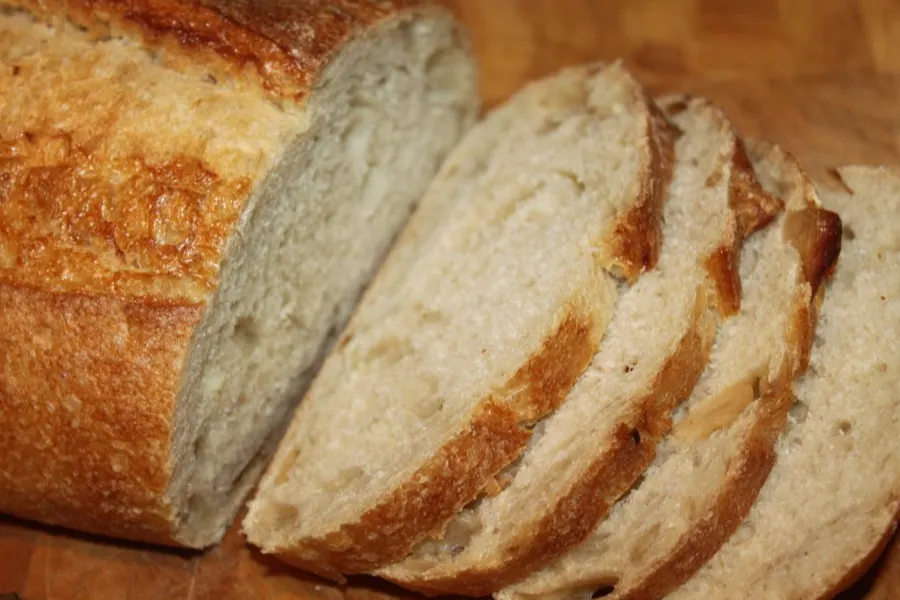 *You can also freeze your Artisan Bread by placing aluminum foil around the bread and then placing it in a freezer safe bag.

To receive our 3 Recipe Articles in your inbox each week, sign up for our free email list located in the middle of each recipe or email me at contact@makeyourmeals.com. You can also follow us on Facebook and Pinterest. This article may contain affiliate links where a small commission is paid if you purchase a product at no additional cost to you.
Yield: 3 loaves
Classic Artisan Bread Recipe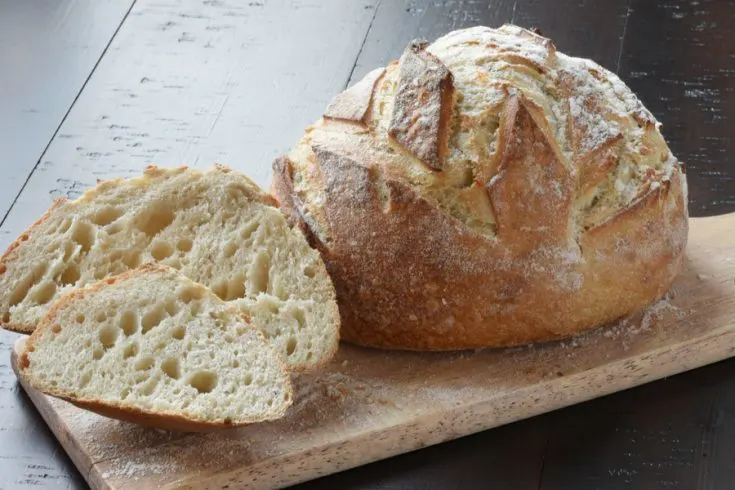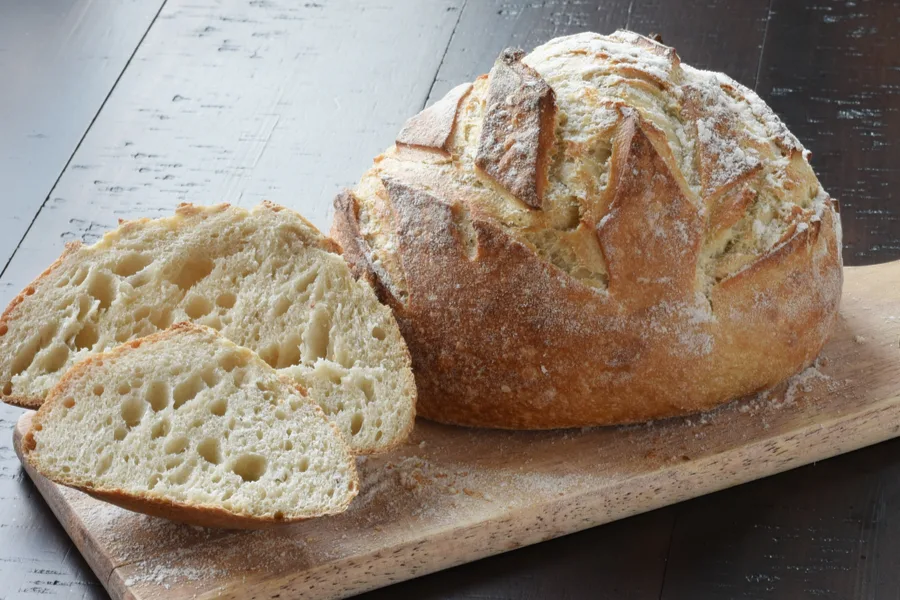 A classic homemade Artisan Bread recipe that gives you a round loaf of bread with a crunchy crust and a soft and pillowy center, just like you find at the bakery.
Ingredients
6 1/2 cups of all-purpose flour
3 cups of warm water, 100 - 110°F
1 1/2 tablespoons of kosher salt
1 1/2 tablespoons of granular yeast
1/4 teaspoon of black pepper
extra virgin olive oil
Instructions
In a large bowl, mix the flour, pepper, yeast, and salt with a whisk until well incorporated.
Slowly pour in the warm water and mix just until the ingredients come together. Form into a roughly shaped ball. Drizzle a light coat of extra virgin olive oil on top and flip the dough ball over and drizzle a little more oil over top, just enough to lightly coat the dough.
Cover the bowl with plastic wrap and let the dough rise to double in size, approximately an hour or two.
Divide the dough into three even sections and form each into a ball. Place each ball on a baking stone or pan that you have dusted with a little flour, being sure to provide enough space between the dough to prevent from touching when rising. Dust the outer edge of each dough ball with a light coat of flour to prevent sticking.
Cover the dough on the pan or stone with a clean towel and let rest for about 20 to 30 minutes.
Preheat oven to 450°F and place a small pan of water on the bottom rack. Right before placing the bread in the oven take a sharp knife and make a couple of slits in the top of the loaf.
Bake for 30 to 35 minutes or until the bread sounds hollow when tapped on the bottom.
Notes
This recipe makes 2-3 loaves of bread. We bake 2 loaves on one baking sheet and then bake the third one separately.
This bread can be frozen by wrapping foil around the cooled loaf and then placing it in a plastic wrap or in a large resealable bag.
If you prefer a softer crust, brush milk on the outer surface halfway through the baking process.
Recipe provided by Make Your Meals
Nutrition Information:
Yield:
3
Serving Size:
1 grams
Amount Per Serving:
Unsaturated Fat:

0g