Instant Pot Irish Beef Stew is a terrific comfort meal that can be served any time of the year! This recipe has become our go to comfort meal and a must have on St. Patrick's Day!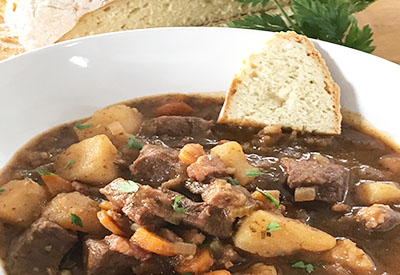 When I visited Ireland I noticed that Irish stew was served at every restaurant. From the casual lunch time joint to the popular 5 star restaurants, it was sure to be the highlight of the menu.
Traditional Irish stew is typically served with lamb meat. They cook it for hours upon hours to achieve the right blend of flavors and until the meat literally falls apart.
Once I returned home, I knew that I wanted to replicate the same taste in my own kitchen.
But because lamb meat isn't as readily available, I decided that I would create the same type of dish using beef.  And because I don't readily have hours upon hours to tend to a pot on the stove, I knew it was time to make Instant Pot Irish Beef Stew!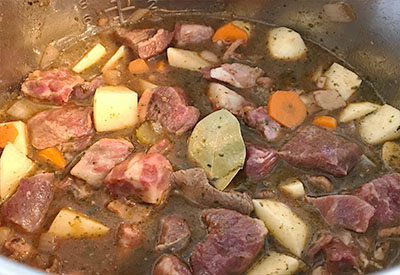 This is one of the many reasons that I absolutely love my Instant Pot. You can take dishes that take forever to cook and make them in minutes! And they still taste like they have cooked all day!
Tips for Making Instant Pot Irish Beef Stew
I use standard stew beef tips that can be found at the local grocery or from the butcher. No need to buy a fancy roast and cut it down, the work is already done for you.
For an additional depth of flavor, I had a few slices of thick bacon. Irish bacon is more like Canadian bacon versus American bacon. It is cut from the back and served in round slices.
I don't have access to Irish bacon here, so I used thick cut bacon slices instead.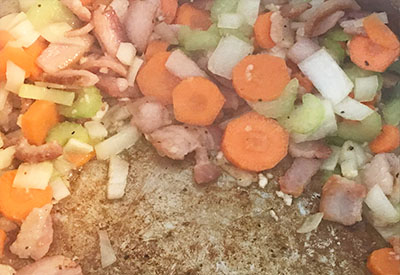 After your cook your bacon and saute your vegetables, be sure to use the liquid to deglaze the bottom of your pan. This help the pot come to pressure without any difficulty.
Speaking of liquid….of course, in a traditional Irish dish, the liquid of choice is Guinness beer! I take it one step further and add a little red wine as well.
Not only does it give the Instant Pot Irish Beef Stew a beautiful deep color, it adds another depth of flavor.  Outstanding!!!
For another delicious Beef Recipe, try our Instant Pot Beef Burgundy.
Check out the recipe below and all of our recipes and let me know what you think!
To receive our 3 Recipe Articles in your inbox each week, sign up for our free email list.
You can also follow us on Facebook, Twitter, Pinterest, and Instagram. This article may contain affiliate links.
Instant Pot Irish Beef Stew – Made With Classic Guinness Flavor