After sharing our method of making Pasta Sauce in the Instant Pot, we have received several requests to share a recipe to make Instant Pot Tomato Sauce.
So what is the difference between the two? Pasta Sauce is made by cooking down tomatoes along with a good portion of vegetables and spices. Once it is cooked and thickened with tomato paste, it is ready to be used for your favorite Italian recipe.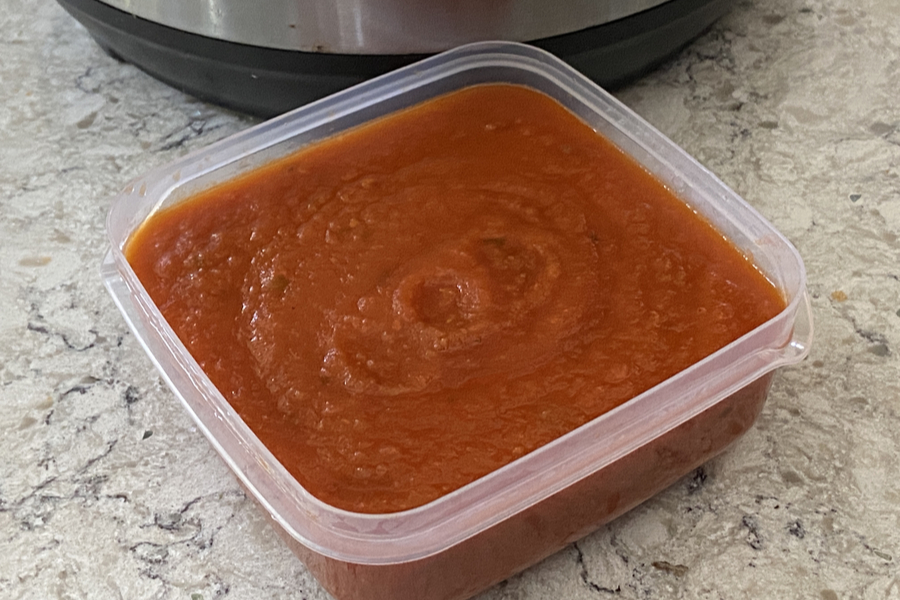 On the contrary, tomato sauce is most commonly used as an ingredient in recipes, not the main attraction. Although it is cooked with some onions and carrots, it is primarily tomato based. You can use it to make meatloaf, taco soup, unstuffed pepper casserole and more!
So now that my garden is full of tomatoes, I decided it was time to share my favorite way to make tomato sauce.
Instant Pot Tomato Sauce Recipe
The first step in making tomato sauce is to pick out your tomatoes. It is best to use paste tomatoes for this recipe. You will commonly find these tomatoes labeled as Roma, San Marzano, or Amish Paste.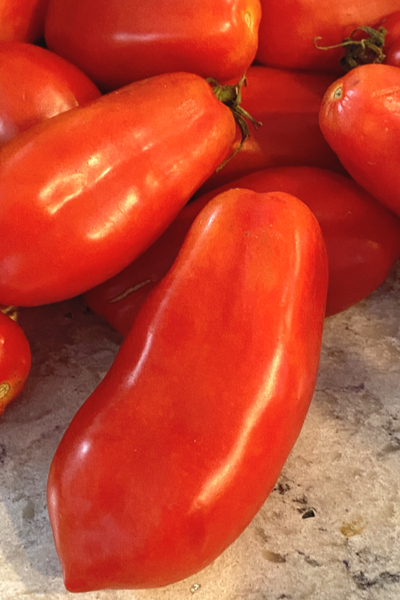 The reason that they are best used in most sauce and salsa recipes is that they contain less moisture than a standard slicing tomato. They also have a thicker wall base which will lead to a thicker sauce when cooked down.
We prefer to use San Marzano tomatoes as they tend to have the most flavor. However, any paste tomato will work for this recipe.
To Peel or Not To Peel
One of the best parts of this Instant Pot Tomato Sauce recipe is that you do not have to peel or remove the seeds of the tomatoes. You can simply cut off the stem and put them in the pot.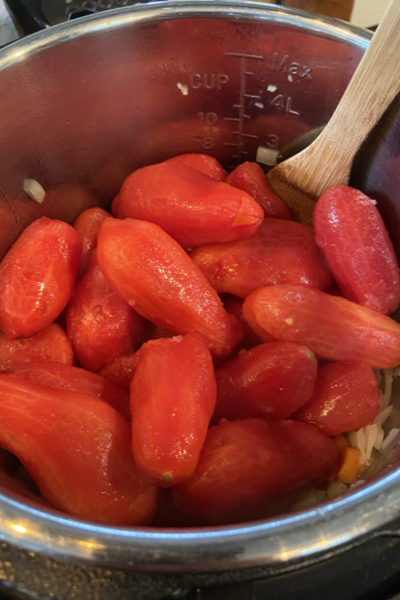 After they are cooked, you will be using an immersion blender or a high speed blender to puree the sauce and the skins and seeds will disappear.
However, there are some people that prefer to remove the skins prior to cooking and that is okay too. The easiest way to remove the skins is to drop the tomatoes in boiling water. Cook for 1 minute and immediately remove the tomatoes to an ice water bath.
Once the tomatoes are cool enough to handle, slice the skin with a sharp knife and it will peel right off. Set aside until it is time to add them to the pot.
Saute The Vegetables
Turn the Instant Pot on the Saute Mode. Adjust your settings to the MORE to get your pot heated up quickly. Once the display reads HOT, add the oil and then the diced onions and carrots to the pot.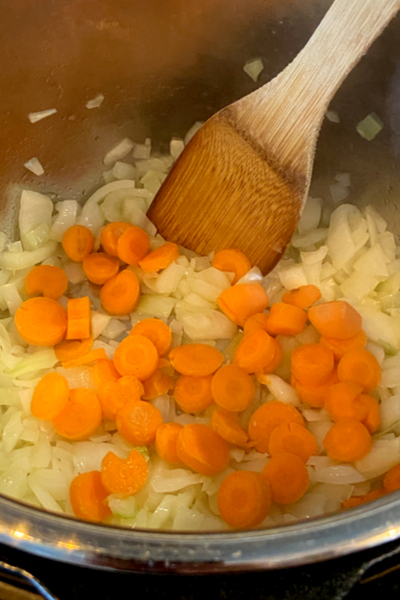 Saute until they become tender, but not browned. For my 6 quart Instant Pot Duo, this took approximately 7 minutes. Now add in the garlic and saute for one additional minute.
Next, press CANCEL and add the water into the pot. Deglaze the bottom of the pan to remove any stuck bits. Now add the whole tomatoes to the pot and stir. *Please note, if you are using an 8 or 10 quart Instant Pot, you will need to double the amount of water for the tomato sauce.
Lock the lid in place and move the valve to the SEALING position. Pressure Cook/Manual on HIGH pressure for 20 minutes.
Once the cook time expires, perform a Quick Release of Pressure. However, if you get side tracked, it is okay to let the pot naturally release the pressure as well.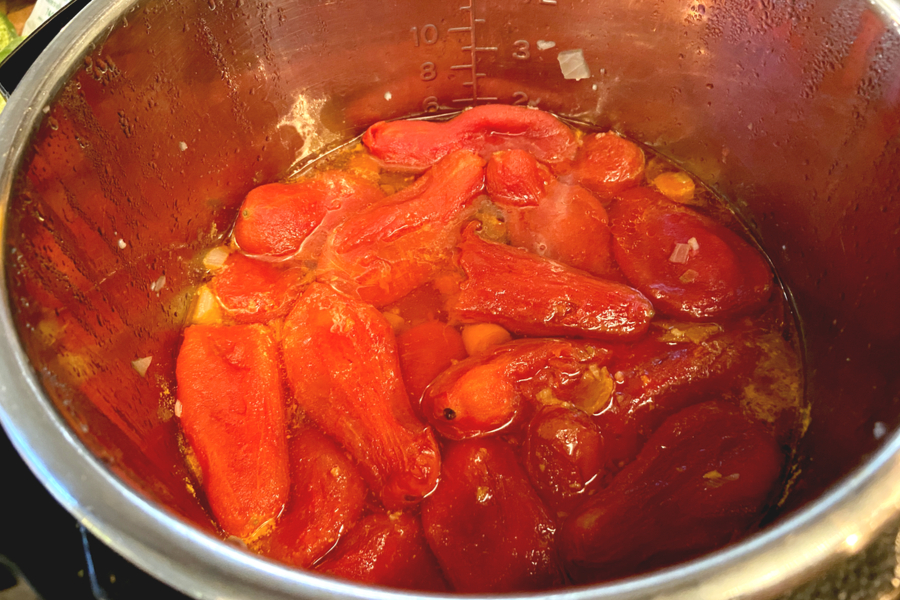 Carefully open the lid and add in the herbs, wine and salt. And before you ask, yes, you can skip the wine if you prefer. However, the red wine does give the tomato sauce a great depth of flavor and the alcohol is cooked off while cooking in the Instant Pot.
Blend The Ingredients
Now it is time to blend the ingredients together. Use an immersion blender to puree the sauce right inside the Instant Pot.
If you don't have an immersion blender, you can also use a high speed mixer or food processor. However, be sure to not fill your container more than half full as the sauce will expand greatly when blended.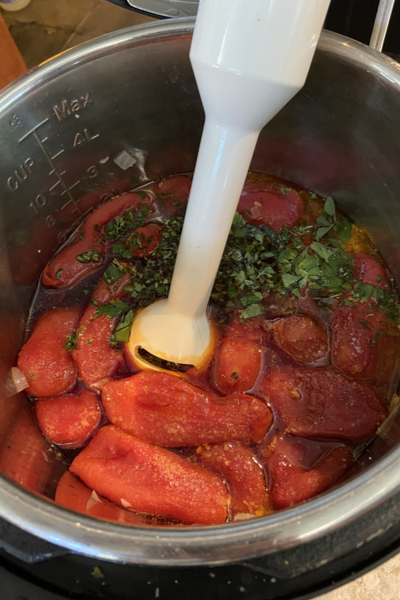 Once the sauce is nice and smooth, turn your Instant Pot on the Saute mode. However, this time decrease the heat by pushing Adjust to the LESS setting.
Saute for an hour, stirring occasionally. This will allow time for some of the liquid to evaporate from the Instant Pot, and your sauce will thicken.
Press Cancel and allow the sauce to cool. Then divide the sauce into 2 cup containers and either refrigerate or freeze.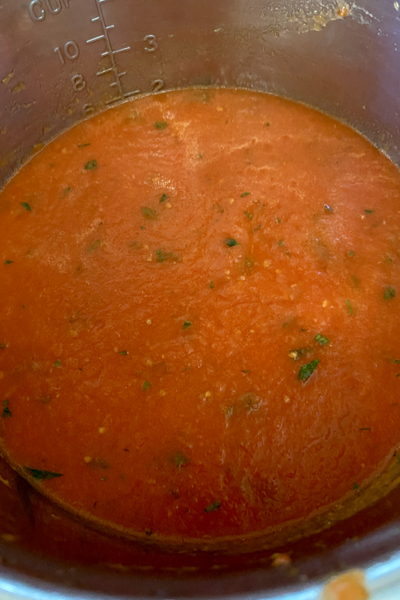 Now whenever you need a can of tomato sauce, you can use your own tomato sauce that was made in your Instant Pot!
Here are some other great Instant Pot Recipes Using Fresh Tomatoes


To receive our 3 Recipe Articles in your inbox each week, sign up for our free email list located in the middle of each recipe or email me at contact@makeyourmeals.com. You can also follow us on Facebook and Pinterest. This article may contain affiliate links where a small commission is paid if you purchase a product at no additional cost to you.
Yield: 6 cups
Instant Pot Tomato Sauce Recipe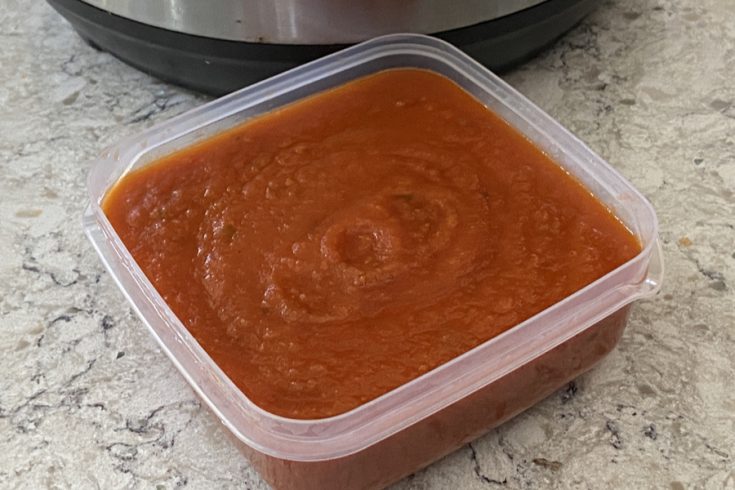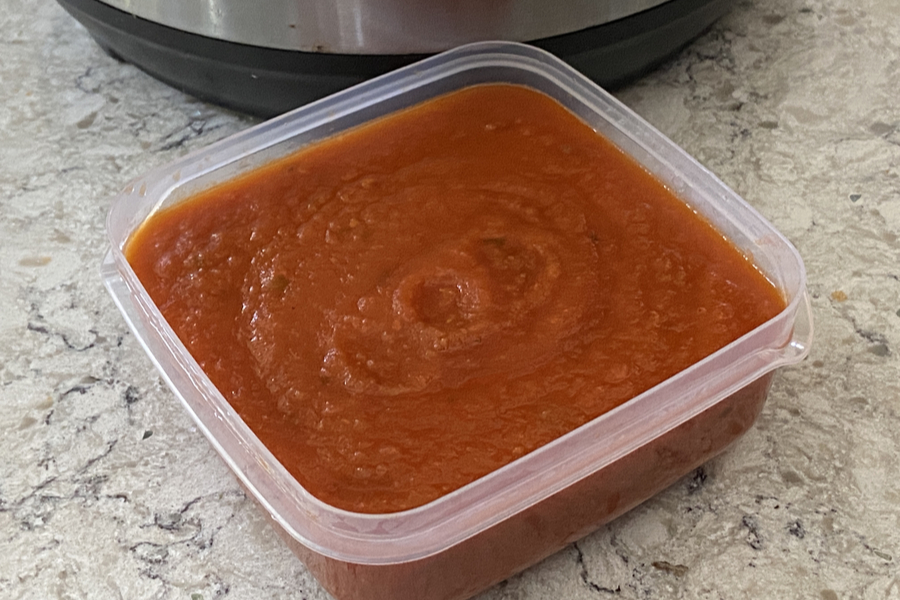 Thick and delicious tomato sauce made from fresh tomatoes and herbs and cooked in the pressure cooker.
Ingredients
3 lbs. paste tomatoes, Roma or San Marzano
2 Tbsp extra virgin olive oil
5 garlic cloves, minced
1 large sweet onion, sliced and roughly chopped
1/2 c. baby carrots, roughly chopped
1/4 c. water *see note
2 1/2 Tbsp fresh oregano, finely chopped
2 1/2 Tbsp. fresh basil, finely chopped
2 1/2 Tbsp. fresh parsley, finely chopped
1/4 c. dry red wine
1 1/2 tsp. kosher salt
Instructions
Rinse tomatoes, remove stems and set aside.
Press the "Saute," button on your Instant Pot and adjust to the MORE setting.
When the display reads HOT, add the olive oil, onions, and carrots and cook until softened, about 6-8 minutes.
Add garlic to the pot and saute for one minute. Press Cancel
Add water and deglaze pot to remove any stuck bits. Then add whole tomatoes and stir.
Lock lid in place and move valve to SEALING position. Pressure Cook/Manual for 20 minutes.
When the cook time is up preform a Quick Release of Pressure.
Add oregano, basil, parsley, red wine, and salt. Use an immersion blender to blend all of the ingredients into a smooth sauce.
Push the "Saute," button, then adjust it to the lowest setting. Simmer for about an hour, stirring occasionally until the sauce thickens.
Cool and refrigerate or freeze in 1-2 cup portions.
Notes
If desired, remove skins by placing the tomatoes in boiling water for 30 seconds and then immediately transfer to an ice water bath. When cool enough to handle, peel the skins off of the tomatoes and set aside. *Peeling is optional because you will puree the sauce after the tomatoes have been cooked.
If using an Instant Pot bigger than 6 quarts, add an additional 1/4 cup liquid.
Recipe provided by Make Your Meals
Nutrition Information:
Yield:
6
Serving Size:
1 grams
Amount Per Serving:
Unsaturated Fat:

0g