One of my favorite things to make in the middle of summer is this Old-Fashioned Chicken Salad Recipe. A light, creamy, and cold chicken salad that can be served on a bed of lettuce, in a sandwich, or on crackers for a snack or appetizer.
But the best part about this recipe is that it requires no cooking. That means the kitchen stays nice and cool on those 90° days of late summer.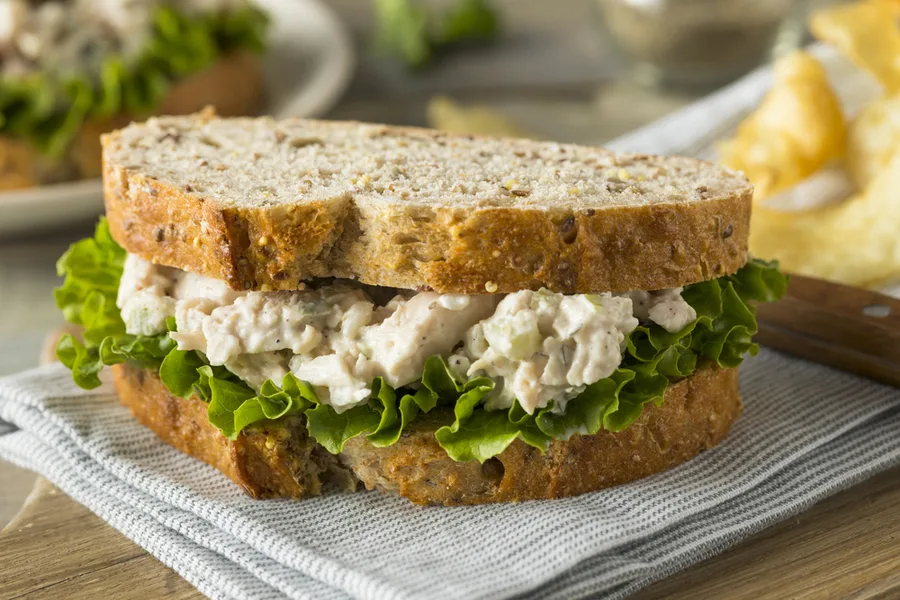 So you may be wondering how it is possible to make chicken salad without turning on the stove or oven. That is because we use chicken that has already been cooked!
The easiest way to get chicken that is already cooked is to buy a rotisserie chicken from your local grocery store. Just pull the meat off the bone and chop it into cubes. Then use the leftover meat to make Buffalo Chicken Wraps and save the carcass to make your own homemade Chicken Broth.
However, if you like to meal prep, you could also use chicken that you made earlier in the week. We cook a large batch of chicken breasts on Sunday afternoon and use the meat throughout the week.
And finally, if you don't have any cooked chicken on hand, you can use your Instant Pot to cook up a few chicken breasts in under 20 minutes! It is a great way to make chicken salad without heating up the kitchen!
Old-Fashioned Chicken Salad Recipe
Once you have your cooked chicken on hand and chopped, it is time to start putting everything together.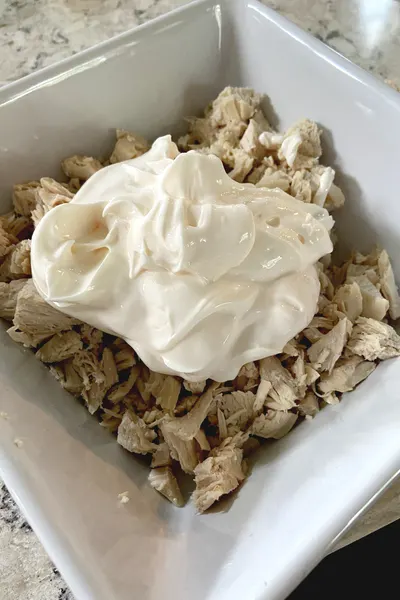 The creaminess in this recipe comes from mayonnaise. However, to make things a little healthier, you can substitute plain Greek Yogurt for the mayo. I have even used non-dairy yogurt as a substitute and it still turns out delicious!
Now it is time to add the crunch that chicken salad is known for, celery. But the key here, is to finely chop the celery. You want a hint of crunch, not a salad that is super crunchy.
And because we are also going to add in a few almond slivers, it is best to cut your celery into small pieces. Speaking of the almonds, we prefer to toast the slivers before adding them to the recipe, however that is optional.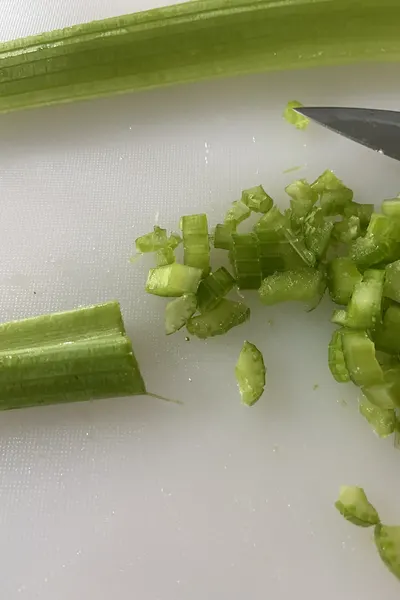 The toasting brings out the nutty flavor of the almonds which gives the chicken salad another unexpected depth of flavor.
Finally, it is time to add the flavoring. Of course it is customary to add in a little salt and pepper to taste. However, the lemon juice really brightens up the chicken salad.
The Secret Ingredient
And the addition of dill weed really adds the WOW factor when you take your first bite. It gives the chicken a little hint of ranch flavoring, but it doesn't overpower the other flavors.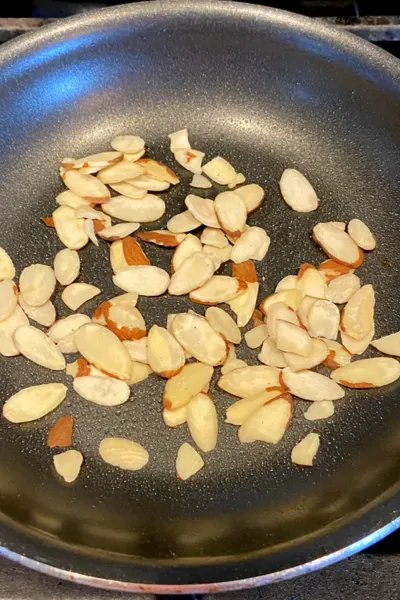 Once everything has been mixed together, allow the chicken salad to chill for at least an hour before serving. And whenever possible, allow it to sit for 6-8 hours. This extra time allows the flavors to meld together perfectly!
Refrigerate any leftovers for up to 5 days.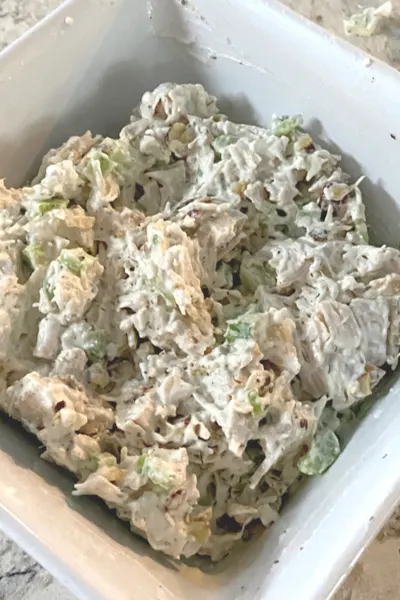 Our Most Recent Recipes:

To receive our 3 Recipe Articles in your inbox each week, sign up for our free email list located in the middle of each recipe or email me at contact@makeyourmeals.com. You can also follow us on Facebook and Pinterest. This article may contain affiliate links where a small commission is paid if you purchase a product at no additional cost to you.
Yield: 8 servings
Old-Fashioned Chicken Salad Recipe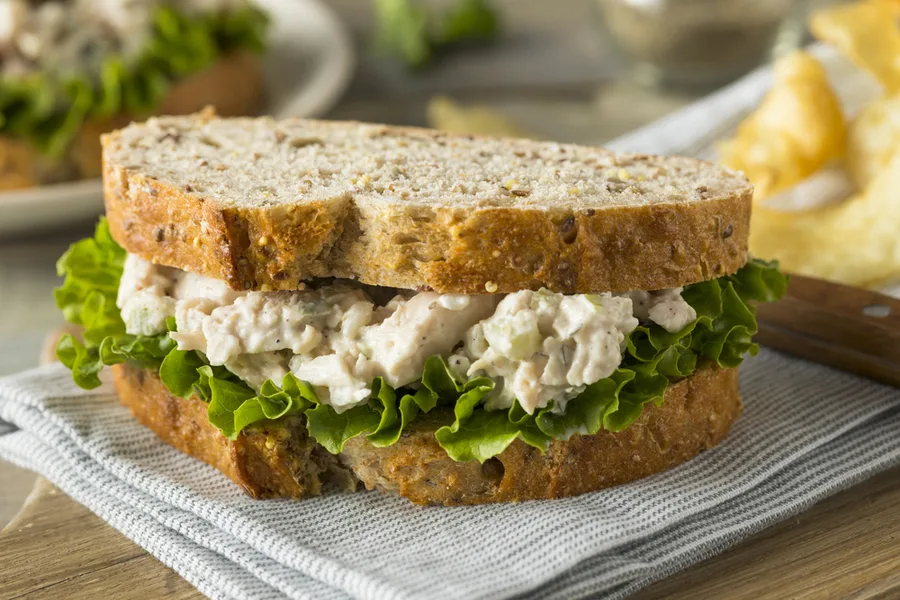 Classic chicken salad recipe that is perfect to serve as a sandwich, on top of a salad or crackers for a quick and easy appetizer.
Ingredients
4 cups chicken, cooked & chopped
1/4 teaspoon kosher salt
1/4 teaspoon ground black pepper
1/4 teaspoon dill weed
1 cup mayonnaise, or substitute Greek Yogurt
2 tablespoons lemon juice
1/2 cup celery, chopped finely
1/4 cup sliced almonds, toasted
Instructions
Mix all the ingredients together in a bowl and refrigerate for at least an hour before serving.
Notes
Optional additional ingredients: grapes, diced apples, diced jalapeños, hard boiled eggs, olives, pickles, relish
Recipe provided by Make Your Meals
Nutrition Information:
Yield:
8
Serving Size:
0.5 cup
Amount Per Serving:
Calories:

169
Total Fat:

14g
Saturated Fat:

2g
Unsaturated Fat:

0g
Cholesterol:

25mg
Sodium:

305mg
Carbohydrates:

5g
Fiber:

1g
Sugar:

1g
Protein:

7g