As much as I love stuffed peppers, I love this Instant Pot Unstuffed Pepper Casserole recipe even better!
You get all the classic tastes of stuffed peppers without all of the work and hassle.
I have made Instant Pot Stuffed Peppers several times now and the family absolutely loves them!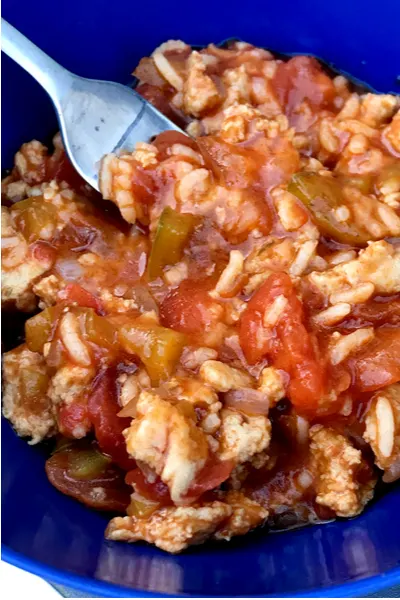 In fact, I make them when the peppers are fresh picked out of garden and make as many as I can.
Then, once they cool, I place each one on a rimmed baking sheet and flash freeze them. Finally, after they are all frozen, I use my Food Saver to make them air tight to make them last for months in the freezer.
But ever since I have made Cabbage Roll in a Bowl, I decided to try the same concept to make Instant Pot Unstuffed Pepper Casserole.
Instant Pot Unstuffed Pepper Casserole
Although stuffed peppers are delicious, there are times when you just don't have the time to make them.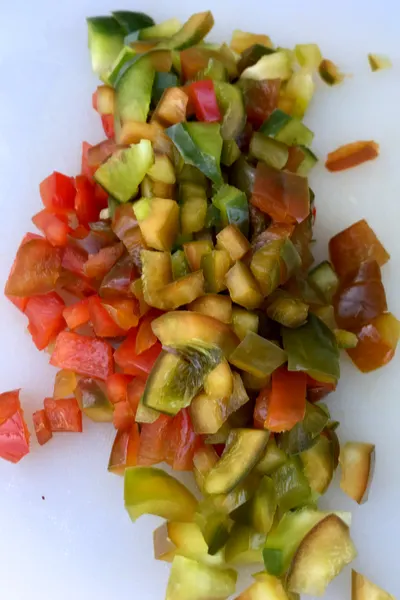 It takes a while to cut open several peppers and clean out the seeds and ribs.
Although, you don't have to brown the beef before stuffing the peppers, you still have to use cooked rice to make them.
So instead of going through all of the hassle of making old-fashioned stuffed peppers, make this Unstuffed Pepper Casserole in your Instant Pot!
Brown the Meat
Yes, you must brown the meat for this recipe prior to pressure cooking.
But the good news is that you can brown it right in the liner of your Instant Pot.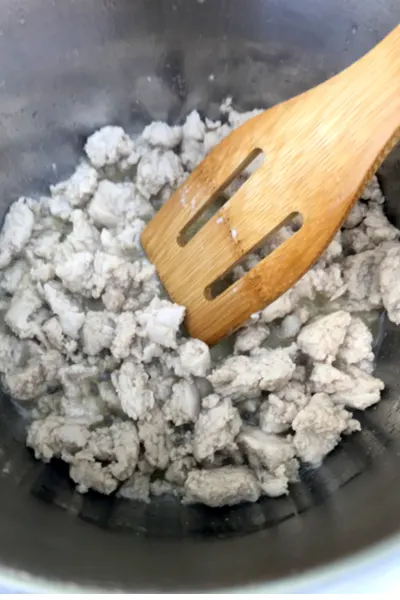 First turn the pot to the SAUTE mode. It is crucial that you wait until the display reads HOT before adding both the oil and meat.
Otherwise, the meat will stick to the bottom of your pan.
Then when the meat is almost browned, add in the onions and garlic. Keep sauteing until the meat is no longer pink.
To Drain or Not To Drain?
Depending on the type of meat that you are using for this Instant Pot Unstuffed Pepper Casserole, you may need to drain the grease from the bottom of the pan.
However if you use lean ground beef, or ground chicken or turkey, you can proceed with the rest of the recipe without draining.
Add The Remaining Ingredients and Cook
Next, add the remaining ingredients and stir together.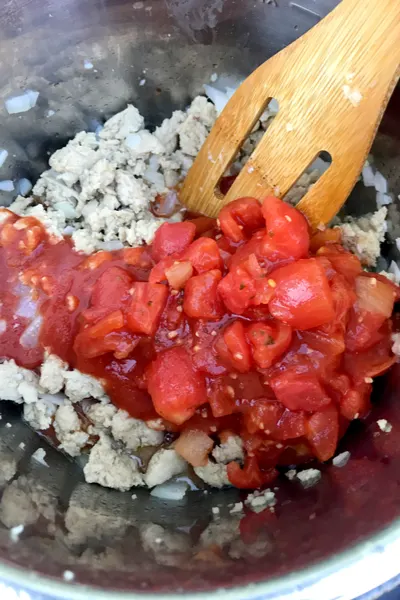 Then pressure cook on HIGH pressure for 5 minutes. Yes, that is correct, just 5 minutes.
Of course, you will need to account for the time that the pot comes up to pressure. For me, it took approximately 8 minutes before the cook time began.
Once the cook time expires, simply wait 5 minutes to allow the pot to begin a natural pressure release.
Then slowly release the valve to release any remaining pressure. And you will want to make sure that you do this slowly. Otherwise, liquid may begin to spew out of the valve.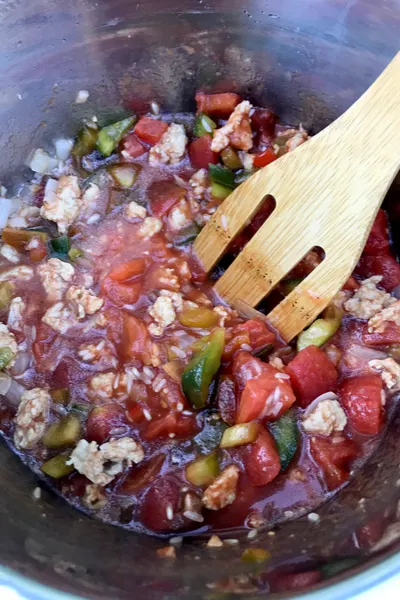 Now all that is left to do is stir it one final time and enjoy your Instant Pot Unstuffed Pepper Casserole!

To receive our 3 Recipe Articles in your inbox each week, sign up for our free email list located in the middle of each recipe or email me at contact@makeyourmeals.com. You can also follow us on Facebook and Pinterest. This article may contain affiliate links where a small commission is paid if you purchase a product at no additional cost to you.
Instant Pot Unstuffed Pepper Casserole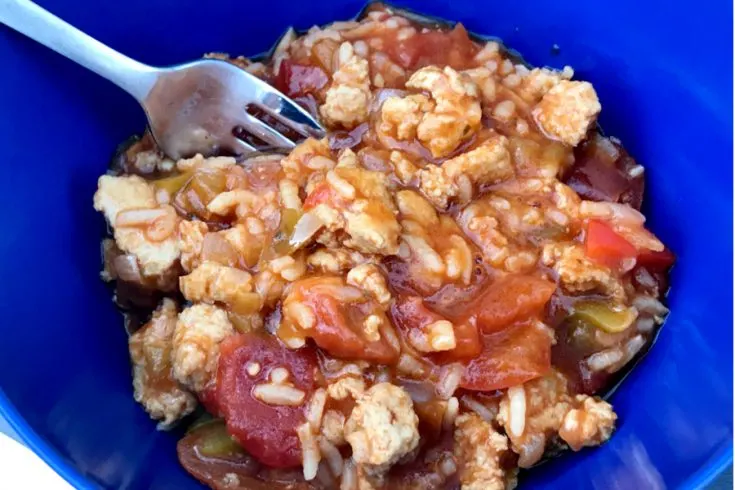 All the taste of stuffed peppers without all the work. A complete dinner made in minutes using your pressure cooker.
Ingredients
1 Tbsp olive oil
1 lb. ground beef or chicken
1 onion diced
4 cloves garlic minced
1 tsp salt or more as needed
1/8 tsp ground pepper or more, to taste
1 green bell pepper, roughly diced
1/2 c long grain white rice uncooked
14.5 oz diced tomatoes
8 oz tomato sauce
1/2 c beef broth or chicken broth
2 Tbsp Worcestershire Sauce
3/4 shredded mozzarella cheese, optional
Instructions
Turn the Instant Pot to Sauté mode. Once the display reads HOT, add the oil and ground beef or chicken. Once the meat is almost browned, add the onion and garlic and continue to sauté until the meat is cooked through.
Drain any fat that has collected in the bottom of the pot.
Add the bell pepper, rice, diced tomatoes, tomato sauce, broth, and Worcestershire sauce to the ground meat mixture.
Stir the mixture and loc the lid in place with the valve in the Sealing position. Pressure Cook/Manual on HIGH for 5 minutes.
Once the cooking time expires, allow for the pot to Natural Pressure Release for 5 minutes. Then do a controlled quick release to releases any remaining pressure.
Serve warm and top with shredded cheese as desired.
Notes
Recipe provided by Make Your Meals
Nutrition Information:
Serving Size:
1 grams
Amount Per Serving:
Unsaturated Fat:

0g