I never imagined that I would be making Salisbury Steak in the Instant Pot. And now that I have, I regret not doing it sooner!
I have always made Salisbury Steak in a large skillet on the stove. I watched my Grandmother and my mother cook it this way, and when it was my turn to cook it for myself, I followed in their footsteps.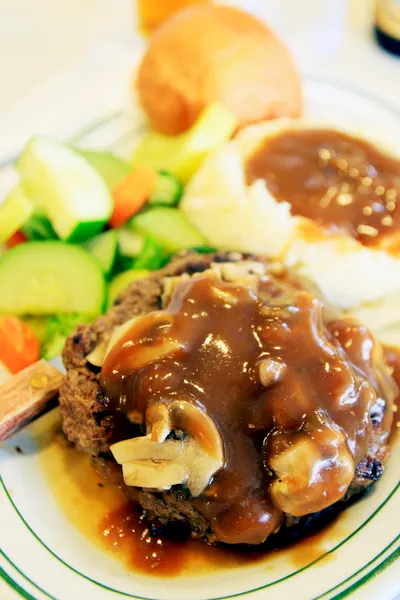 Of course, that was before the Instant Pot came along and changed how I cook just about everything.
10 years ago you I would have never imagined cooking Spaghetti, Johnny Marzetti, Chicken and Dumplings, or Chicken Wings any other way than traditional cooking methods.
But ever since I got my first Instant Pot 6 quart Duo, it takes main stage in my kitchen.
In fact, I feel like I owe my stove and slow cooker an apology for the lack of attention that they get. Well, not really, but you know what I mean.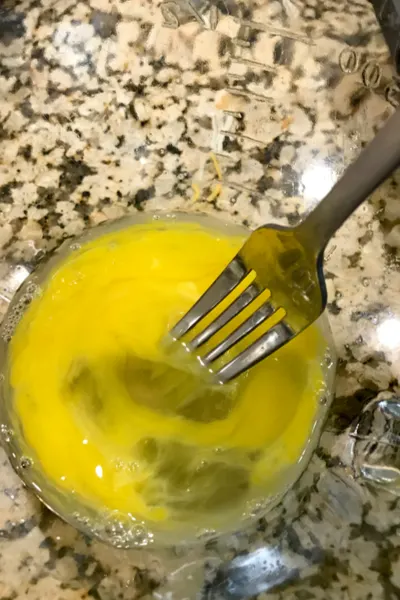 And when I was asked if I could make Salisbury Steak for a friend, I knew that she wanted me to make it in the Instant Pot.
No worries! After all the recipes that I have converted from cooking on the stove top, I was sure that I could easily convert this one as well.
Salisbury Steak
As I was growing up, my mother would always use cubed steak to make Salisbury Steak.
I was a very picky eater, and wasn't a fan of the dish. Mostly because I didn't like gravy and cube steak was a very tough cut of meat.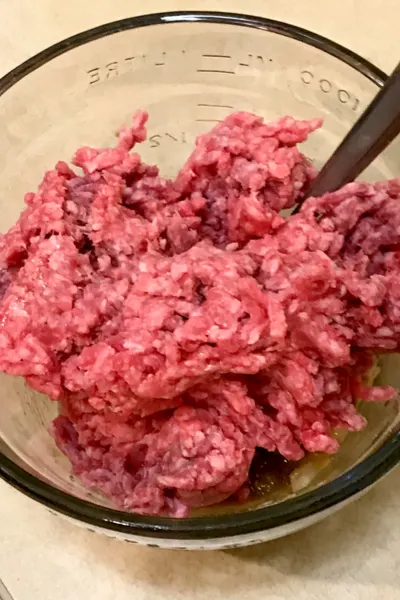 It wasn't until my mid 20's that I learned that true Salisbury Steak is made from ground hamburger. In fact, in their bare form, they resemble hamburger patties.
However, the difference between a hamburger steak and Salisbury steak is that there are more seasonings in Salisbury steak.
Not to mention, that Salisbury steak is cooked in a gravy. And most often the gravy has onions and mushrooms scattered throughout.
Another reason that I would not like this dish as a kid, mushrooms!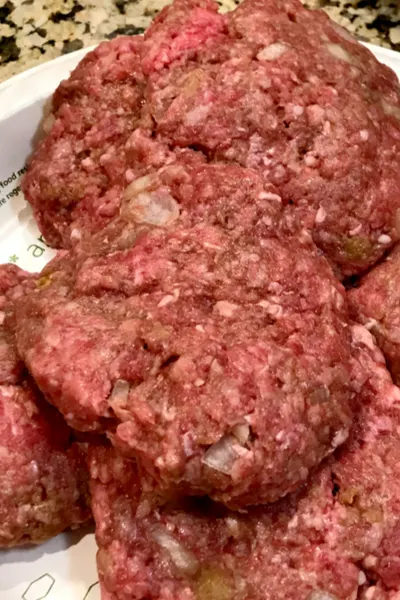 But my adult taste buds have changed, and there is nothing more comforting than eating Salisbury steak over mashed potatoes.
Besides that it can now be made easier by using the Instant Pot!
Making Salisbury Steak in the Instant Pot
The instructions in the recipe below seem lengthy, but the process is rather quick and painless.
Basically you mix together your ground beef and seasonings. Similar to what you would do if you were making Instant Pot Meatloaf.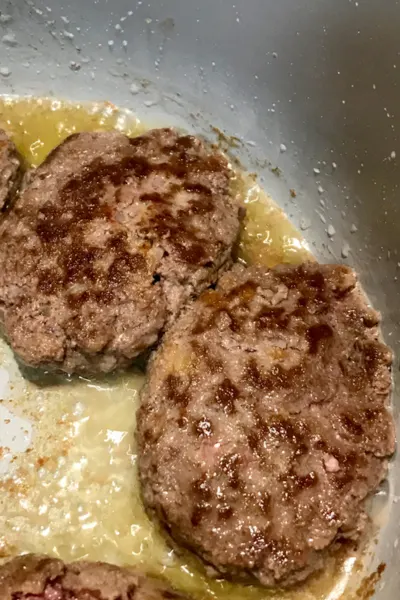 Then take small sections of the beef mixture to make thin patties. Now, if you have the time to spare, let the patties sit for an hour to let the flavors meld.
Unfortunately, I rarely plan ahead enough to make this happen. But lucky for all of us, the Salisbury Steak comes out great either way!
Next, heat your Instant Pot on the Saute mode. Wait until the display reads HOT before adding the oil. Then immediately begin to brown your Salisbury Steak patties.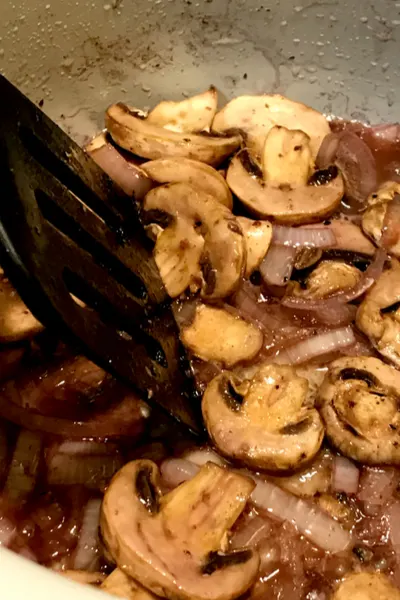 Brown them on each side and set aside. Using the oil that is still in the pot, brown your onions and saute the mushrooms.
Be sure to deglaze the bottom of the pot. We used a combination of red wine and beef stock to accomplish this task. However, if you don't have or like red wine, feel free to use only the beef stock.
Then submerge the patties into the sauce and pressure cook! Within 30 minutes, dinner will be on the table!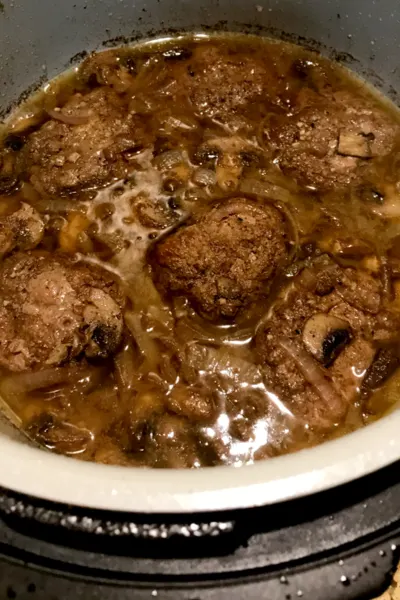 To receive our 3 Recipe Articles in your inbox each week, sign up for our free email list located in the middle of each recipe or email me at contact@makeyourmeals.com. You can also follow us on Facebook and Pinterest. This article may contain affiliate links where a small commission is paid if you purchase a product at no additional cost to you.
Instant Pot Salisbury Steak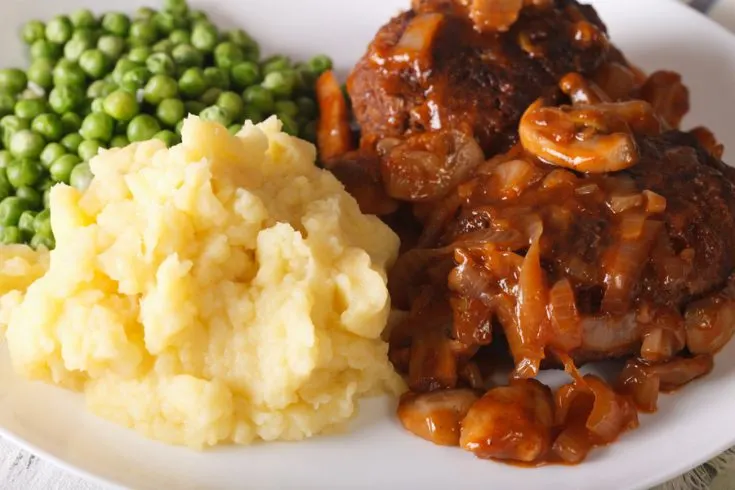 Homemade Salisbury Steak made in a delicious onion and mushroom gravy and cooked in your Instant Pot for an easy to make classic comfort meal.
Ingredients
Meat Patties
1 medium egg
1/4 cup finely diced onion
1 1/2 tsp garlic powder
1/2 tsp onion powder
1 tsp Montreal Steak Seasoning
2 tsp Worcestershire Sauce
1 Tbsp breadcrumbs
1 lb lean ground beef, 90/10 preferred
2 Tbsp. olive oil
Gravy
1 medium onion, thinly sliced
1/4 cup dry red wine
2 Tbsp butter
8 oz Crimini Mushrooms, sliced
2 cloves garlic, minced
3/4 tsp Kosher salt
1/2 tsp ground black pepper
2 cups beef broth, low-sodium
Thickener
3 Tbsp corn starch or arrowroot
3 Tbsp cold water
Instructions
In a large mixing bowl, add the egg and beat it.
Add the finely diced onion, garlic powder, onion powder, Montreal Steak Seasoning, Worcestershire sauace, and breadcrumbs. Mix well to combine.
Add the ground beef to the mixture and use your fingers or a fork to mix until combined.
Score the meat with the side of your hand into 6 small sections. Tear each section and form into 6 small and thin patties. Place each one on a plate or platter and cover with plastic wrap. If you have time, let them sit for an hour before cooking.
Turn Instant Pot on the Sauté setting. When the display reads HOT add the oil.
Brown the patties on both sides, working in batches as needed. Remove each patty and place on a plate and set aside.
Add the onion to pot and continue to sauté, stirring and scraping up the browned bits from the bottom of the pan.
Once the onions begin to soften, add the red wine and continue to scrap the bottom of the pan until all bits have been loosened.
Add the butter and the mushrooms and continue to sauté for 2-3 minutes, stirring occasionally
Add the garlic, salt, and pepper and stir constantly for 30 seconds.
Pour the beef broth in the pot. Press Cancel/OFF.
Add the patties back into the pot. Flip each patty so that the sauce coats both sides and cover the tops as much with the sauce as possible.
Lock the lid in place and move the knob to the Sealing position.
Pressure Cook/Manual on HIGH for 7 minutes.
When the cook time is up allow for 10 minutes of natural pressure release. Then slowly release any remaining pressure.
Carefully remove the lid and transfer the patties to a clean plate.
Press sauté and in a small bowl whisk the corn starch/arrowroot powder and water together to make a slurry.
Once the sauce begins to simmer add the slurry and stir constantly until the sauce thickens.
When the desired consistency has been reached, press Cancel/OFF and add the patties back into the pot and cover with the gravy.
Serve immediately.
Notes
Best if served over mashed potatoes, mashed cauliflower, rice or as a main dish. Recipe provided by Make Your Meals
Nutrition Information:
Serving Size:
1 grams
Amount Per Serving:
Unsaturated Fat:

0g