I was hesitant to try to make Instant Pot Spaghetti, but I now I am hooked! And I can't ever see myself making it any other way again.
My preferred method to making spaghetti sauce was to use the slow cooker/crockpot.
I would brown the meat in the skillet and then put all the ingredients for the sauce in the slow cooker.
I then would add a little red wine and a few spices and set it to cook for 6 hours.
I loved the smell of the sauce when I walked in the door after work. All I had to do when we were ready to eat was to boil and strain the noodles.
That method of making spaghetti was delicious, however it took several hours and a lot of advanced planning. Not to mention, I used 4 different pots that required cleaning.
Now that I make Instant Pot spaghetti, I have only one pot to clean up and dinner is on the table in minutes!!! And it still has the taste like it has been cooking all day! See our affiliate link to the Instant Pot
The Tricks To Making Instant Pot Spaghetti….
In order to make Instant Pot Spaghetti, there are a few tips and tricks that you must follow.
First of all, if you forgot to thaw out your meat, you can thaw it out directly in the Instant Pot. No need for a microwave!
Just place the frozen block on the trivet with water in the liner. Pressure cook for 5 minutes, and your meat is ready for browning! Best part of all, the grease is already drained, so no need to drain it after you brown it.
Secondly, you want to make layers of your ingredients and not stir it all together before pressure cooking. The bottom layer will be your meat and liquid layer, then add in your noodles and place the sauce on top!
Just make sure that the noodles are submerged in the sauce.
Finally, when you add your noodle layer be sure to break the noodles in half and layer them diagonally across each other. You want them to have space between each other and resemble pick up sticks.
This will help preventing the noodles from sticking together when cooking.
After cooking, you will give it a quick stir and dinner is ready!!! And whoever does the clean up will be happy that there is only one dish to clean, not four!
And if you love this recipe, you will love our Instant Pot Baked Ziti recipe!
Check out the recipe below and all of our recipes and let me know what you think!
To receive our 3 Recipe Articles in your inbox each week, sign up for our free email list.
You can also follow us on Facebook, Twitter, Pinterest, and Instagram. This article may contain affiliate links.
Yield: 6 people
Instant Pot Spaghetti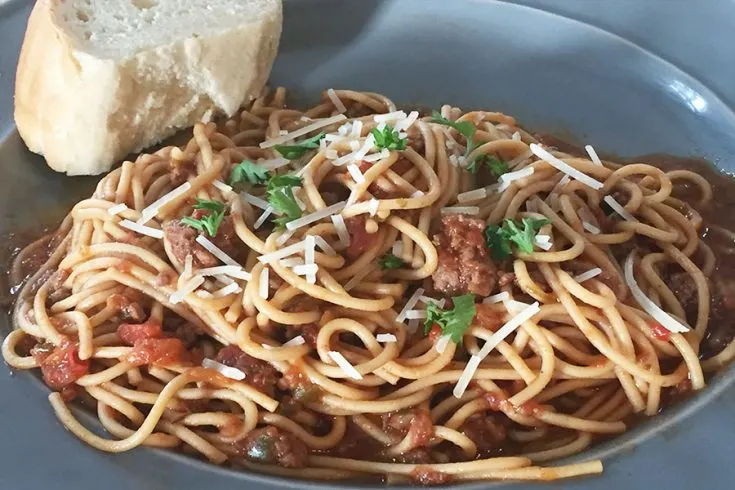 A one pot solution for making classic spaghetti right in the Instant Pot.
Ingredients
1 lb ground meat
1 tablespoon olive oil
1 small yellow onion, chopped
2 cloves garlic, minced
2 teaspoons Italian seasoning
1 teaspoon dried basil
1 Tablespoon red wine vinegar
8 oz spaghetti noodles
32 oz spaghetti sauce
2 bay leaves
1 cup water
Freshly grated Parmesan cheese and parsley, chopped, for garnish
Instructions
If your ground meat is frozen:
Place 1 cup of water in the pot. Add trivet and place frozen meat on top of the trivet. Pressure cook/manual on high for 5 minutes. NPR for 10 minutes, then QPR.
Remove trivet/meat and set aside. Drain and clean out fat drippings from liner. Replace the liner.
Proceed with the remaining Instructions.
If your ground meat is thawed:
Set the Instant Pot to sauté. Add olive oil and wait until pot displays HOT on the screen.
Add in the ground meat and season well with salt and pepper.
Brown the meat, breaking it into small pieces until it's browned. Drain grease if needed.
Add onion to the browned meat and sauté until tender, 2-3 minutes.
Add the garlic, basil, Italian seasonings, and red wine vinegar. Scraping any bits off the bottom of the pot.
Turn the Instant Pot off.
Break the spaghetti noodles in half and place on top of meat mixture, layering the noodles diagonally on top of each other (like the game of pick up sticks).
Pour the spaghetti sauce over the noodles. Do NOT stir.
Add water down the sides of the liner so that it reaches the bottom of the pot.
Push the spaghetti down with a spatula if necessary to make sure that they are submerged under the spaghetti sauce. Add bay leaves.
Seal the instant pot and set it to pressure cook/manual on high pressure for 5 minutes.
When the time is up, allow pressure to naturally release for 5 minutes, and then do a controlled quick release.
Gently stir to toss everything together.
Top with freshly grated Parmesan cheese and chopped parsley as desired.
Notes
You can use 1/2 cup red wine and 1/2 cup water for your thin liquid if desired. Recipe provided by Make Your Meals.
Nutrition Information:
Yield:
6
Serving Size:
1 grams
Amount Per Serving:
Unsaturated Fat:

0g