Ever since I purchased my Instant Pot 6 quart Duo, I have wanted to make Instant Pot Meatloaf and Mashed Potatoes that everyone raves about.
So why is everyone going crazy over this meal?
First of all, it is a one pot meal. Both the meatloaf and the potatoes are cooked together in the pressure cooker.
No more heating up your oven to bake the meatloaf. And no more standing over a boiling pot to make sure it doesn't spill over.
Just cut up your potatoes and prepare your meatloaf and in the Instant Pot it goes. And instead of dinner being ready in over an hour, it can be on the table in 30 minutes.
Okay, so I am sold! This dinner sounds too good to be true.
So I did a lot of research on recipe techniques and found some common trends.
Cooking Techniques Used For Instant Pot Meatloaf and Mashed Potatoes
First of all the potatoes are cut fairly large to accommodate for the cooking time for the meat. The potatoes are then placed in the bottom of the liner along with a thin liquid.
Now I have not had much success with making mashed potatoes when they are cooked directly in the liquid. Every time I mash them, they turn out like paste.
Instead, I prefer to make mashed potatoes using a steamer basket. That way they are out of the liquid and when you mash them they come out the perfect consistency. See: Instant Pot Mashed Potatoes Recipe
I also prefer to use chicken stock as my liquid. It gives your meal much more flavor as compared to when cooking with water.
Those were two easy adjustments that I knew that I could make when I made my own Instant Pot Meatloaf and Mashed Potatoes.
So the next issue….
Every recipe that I researched used aluminum foil as the 'pan' for the meatloaf. Some people would poke holes in it to let the grease drain down into the potatoes.
Others would simply fold up the edges and let the meatloaf drain into the foil.
I am not a big fan of cooking with aluminum foil when I don't need to. Don't get me wrong, there are times, especially when camping, that it is my best option.
However, when I have a pan that can do the job, I prefer to use it instead of the foil.
What Equipment I Used
So what did I use instead? I found mini loaf pans that work perfectly in the Instant Pot!
For this specific recipe, I only used one mini loaf pan. However, if I am making other recipes that require items to be cooked using the pot-in-pot method, I can stack two of them in the 6 quart Duo.
And because I also have the 8 quart Instant Pot, I have found that the two mini loaf pans can be positioned side by side when placed on the trivet.
My 1 pound meatloaf fit perfectly in the mini loaf pan. There was no foil to worry about, and it was easy to put in and take out of the pot.
Yes, there was grease that was inside of the pan. But it drained off easily because it was contained in an easy-to-handle pan.
I used my collapsible steamer basket to cook the potatoes. I stacked the potatoes on one side and put the meatloaf pan on the other side.
This recipe turned out amazing! It was the perfect amount to feed 3-4 people. If you prefer, make a 1 pound Meatloaf in the Air Fryer.
And if you are looking for another comfort food recipe, try our Instant Pot Stuffed Peppers or Instant Pot Salisbury Steak recipes.
Check out the printable recipe below and all of our recipes and let me know what you think!
To receive our 3 Recipe Articles in your inbox each week, sign up for our free email list. You can also follow us
on Facebook, Twitter, Pinterest, and Instagram. This article may contain affiliate links.
Yield: 3 people
Instant Pot Meatloaf and Mashed Potatoes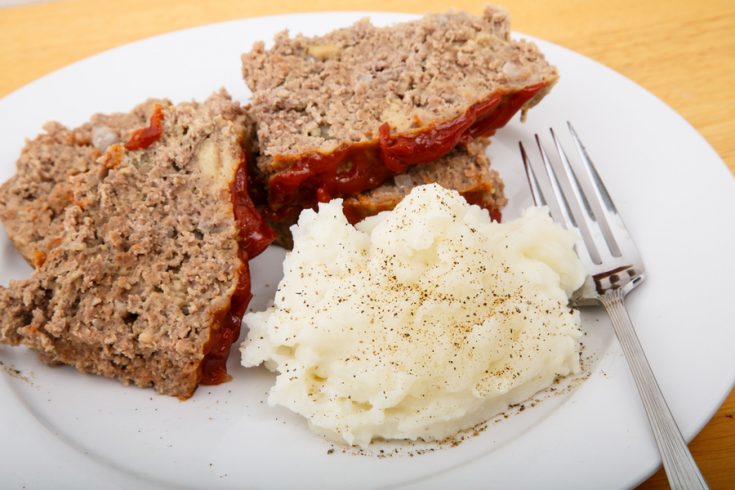 An entire comfort meal made all at the same time in the Instant Pot. The perfect recipe for 2-4 people!
Ingredients
Meatloaf Ingredients
1 lb. ground beef, 85%/15%
1/4 cup seasoned Panko breadcrumbs
1/4 cup diced onion
2 cloves of garlic, minced
1 tsp dried Italian seasoning
1 large egg
1 tsp kosher salt
1/2 tsp ground black pepper
3 tablespoons barbecue sauce
1 cup chicken broth
Mashed Potatoes Ingredients
1 1/2 pounds Yukon/golden potatoes, quartered
2 tablespoons butter
1/2 cup sour cream
1/4 cup milk
1/2 teaspoon garlic salt
salt and pepper to taste
Instructions
Rinse your potatoes in cold water for 3-4 minutes, removing any excess starch.
Pour the chicken broth in the liner of the Instant Pot
Place a collapsible steamer basket into the liner and add the potatoes on one half of the basket.
Combine the ingredients for the meatloaf in a large bowl until fully combined. Brush the top with additional barbecue sauce if desired.
Place the meatloaf in a mini loaf pan. Place the meatloaf on half of the steamer basket and secure lid with the vent in the sealed position.
Pressure cook/Manual for 20 minutes. Once finished cooking, perform a quick pressure release.
Using a food thermometer, check the center of the meatloaf for internal temperature of 155° F. If the meatloaf has not fully cooked, place back into the Instant Pot and cook for an additional 5-10 minutes until the internal temperature has reached a minimum of 155° F.
Carefully lift the meatloaf out and drain any excess grease that has collected in the pan. Optional - brush with additional barbecue sauce and place it on a top rack in the oven. Broil until the top sauce has begun to caramelize.
Remove the potatoes from the pot and drain and reserve the liquid from the liner. Place potatoes directly into the liner.
Add the butter, sour cream, milk, garlic salt, and salt and pepper to the potatoes and mash until the desired consistency has been reached. Use the reserved liquid only if needed to achieve the texture that you prefer.
Slice the meatloaf and serve with the mashed potatoes.
Notes
Recipe provided by Make Your Meals
Nutrition Information:
Yield:
3
Serving Size:
1 grams
Amount Per Serving:
Unsaturated Fat:

0g