Now that Mardi Gras season is here it is time to share our favorite Crock Pot Jambalaya recipe.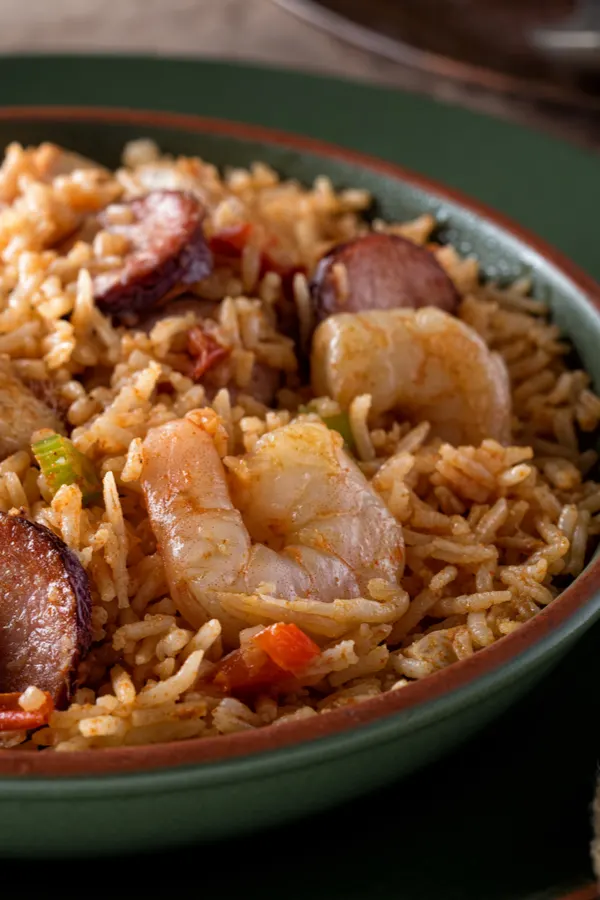 Although we make Jambalaya for dinner several times throughout the year, we always make it as part or Fat Tuesday celebration. There is nothing like enjoying the vibrant flavors of classic New Orleans inspired meals, especially in the middle of winter.
The warmth of traditional Creole and Cajun cooking simply warms your body from the inside out. Although both types of dishes can be made with different levels of heat, Cajun seasoning blends are typically a little spicer than Creole seasoning.
However, the real difference between the two different types of dishes has nothing to do with the seasoning used at all. It actually depends if the recipe calls for the addition of a tomato product or not.
Creole recipes traditionally include diced tomatoes or other tomato products where Cajun cooking does not. So for this Crock Pot Jambalaya recipe, you could refer to it as Creole Jambalaya because we add fire roasted tomatoes to the mix.
Regardless of what you call it, it is absolutely delicious. And this holds true for many other recipes that you can find in New Orleans.
Our Favorite New Orleans Inspired Recipes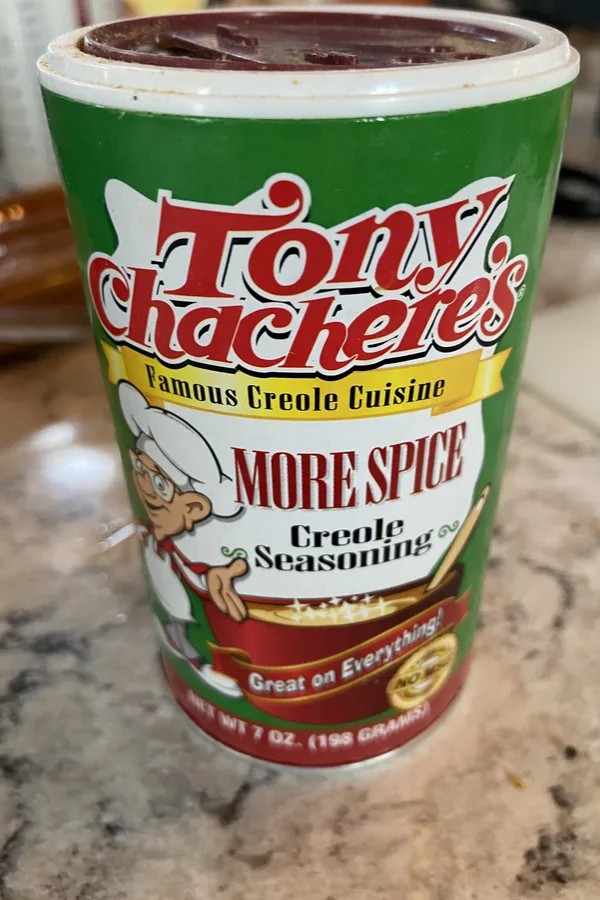 Crock Pot Jambalaya
Ingredients
Fire roasted diced tomatoes
Beef broth
Tomato paste
Bay leaves
Dried basil
Dried oregano
Creole Seasoning
Hot sauce
Salt
Worcestershire sauce
Cayenne pepper
Black pepper
Onion, diced
Green bell pepper
Celery
Garlic
Andouille sausage
Chicken thighs
Shrimp
White rice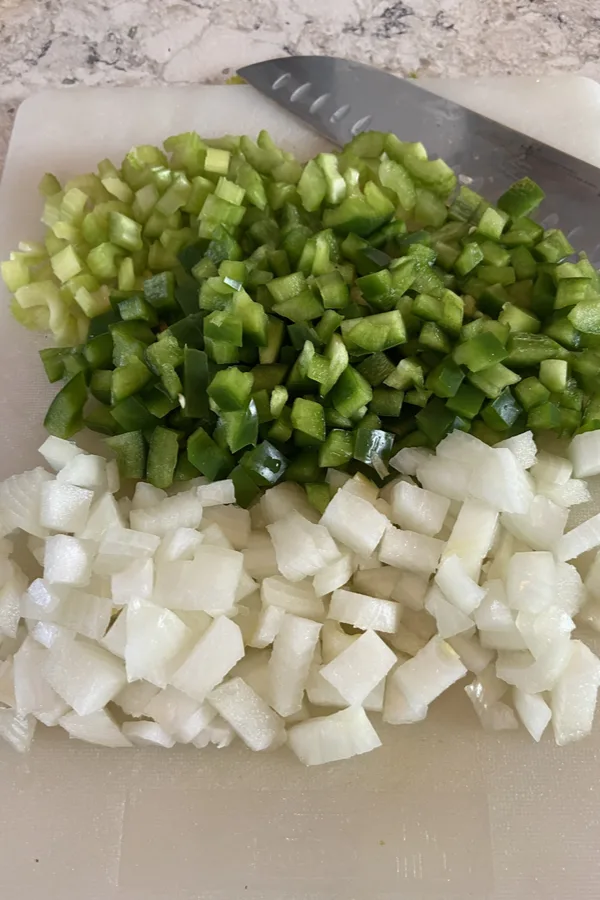 Instructions
First, in a 6 quart crock pot add all of the Jambalaya ingredients listed above in the left column, from diced tomatoes to black pepper, and stir.
Then dice the holy trinity ingredients which include onion, green pepper and celery. Now add those vegetables to the crock pot along with the garlic.
The next step is to cut the andouille sausage and chicken into bite size sections, about 1/2 inches thick. Then add the meat to the other ingredients and stir to combine.
Cover the crock pot and cook on LOW heat for 6-7 hours, or HIGH heat for 3-4 hours.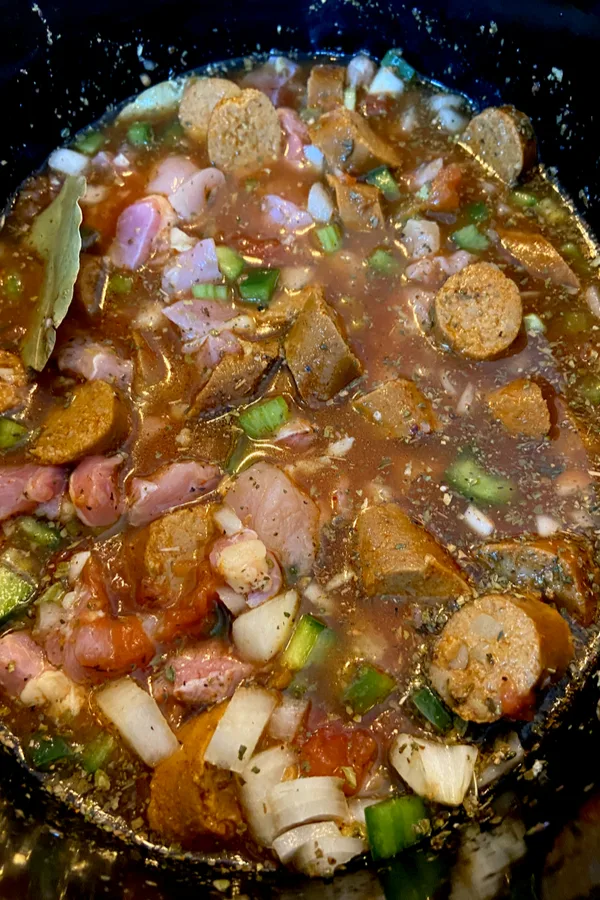 Cook the Rice
Although you can cook white rice in water or chicken broth, we have a more flavorful way to make it for this recipe. We are going to use the Jambalaya broth in the crock pot to cook the rice instead.
To do this set a large strainer over a large bowl and pour about 75% of liquid from the crock pot through the strainer.
You should end up with about 2- 3 cups of liquid. Add enough water to the Jambalaya broth to make the full 3 cups of liquid required to cook the rice on the stove. However, if you are making Rice In the Instant Pot, you only need 1 1/2 cups of liquid.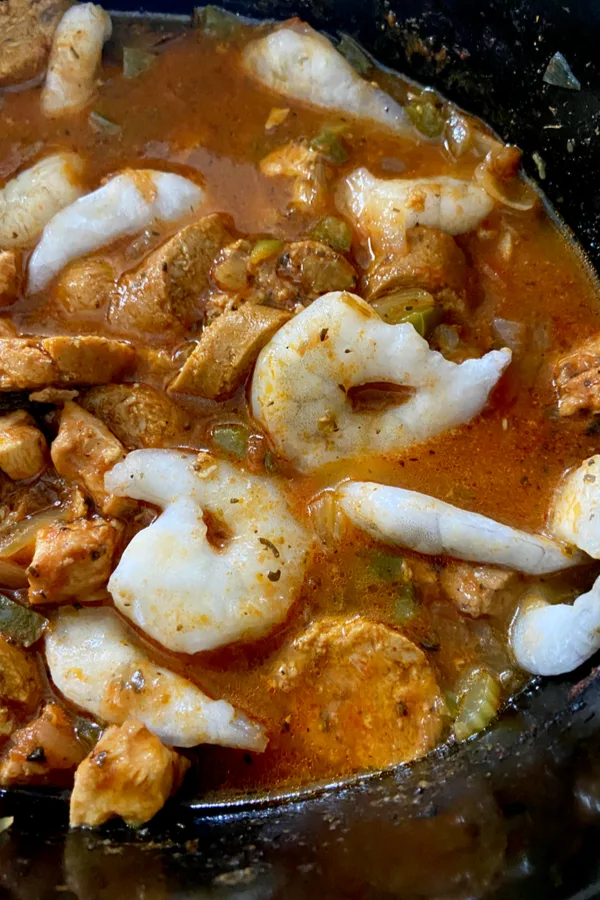 Once you have your liquid, return all solids from the strainer back into the crock pot. However, be sure some of the liquid remains in the crock pot to prevent burning. Now it is time to stir in the parsley and shrimp.
Cover the crock pot and cook on LOW for 30 minutes so the shrimp has time to cook. Meanwhile cook the white rice with your preferred cooking method.
Once the rice is cooked, add it to the crock pot and stir the Jambalaya until all the ingredients are well incorporated and serve immediately.

To receive our 3 Recipe Articles in your inbox each week, sign up for our free email list located in the middle of each recipe or email me at contact@makeyourmeals.com. You can also follow us on Facebook and Pinterest. This article may contain affiliate links where a small commission is paid if you purchase a product at no additional cost to you.
The Best Crock Pot Jambalaya Recipe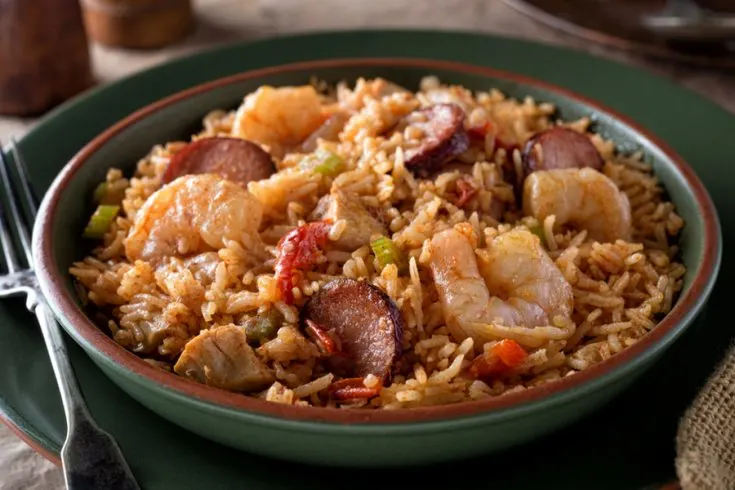 Ingredients
1 (14.5-ounce) can fire roasted diced tomatoes
1 (14.5-ounce) can beef broth
1 (8-ounce) can tomato paste
2 bay leaves
2 teaspoons dried basil
1 1/2 teaspoons dried oregano
1/2 teaspoon Creole Seasoning
1/2 teaspoon hot sauce sauce
1/2 teaspoon salt
1/2 teaspoon Worcestershire sauce
1/4 teaspoon cayenne pepper
1/4 teaspoon black pepper
1 medium onion, diced
1 green bell pepper, seeded and diced
2 celery ribs, chopped
4 cloves garlic, minced
1 pound Andouille sausage, cut into slices
2 chicken breasts, cut into 1-inch bite size pieces
1/2 pound medium shrimp, peeled and deveined with tails removed
1 1/2 cup white rice
Instructions
Add the first 12 ingredients (from diced tomatoes - black pepper) in a 6-quart slow cooker and stir to combine.
Add onion, green pepper, celery, garlic, sausage, and chicken. Stir to combine.
Cover the crock pot and cook on LOW 6-7 hours, or HIGH for 3-4 hours.
Set a larger strainer/sieve over a large bowl and pour about 75% of liquid in the crock pot through strainer. You should have about 3 cups to cook the rice in. Add water to get 3 cups if necessary.
Return all solids to crock pot with a little liquid. Stir in parsley and shrimp. Cover crock pot and cook on LOW for 30 minutes.
Meanwhile, bring the 3 cups of liquid to a boil. Stir in rice and cook according to package directions.
Add cooked rice to slow cooker and mix in. Serve.
Notes
It is easy to make your own creole seasoning, but if you are looking for a short cut, we recommend Tony Chachere's Creole Seasoning. And if like it extra spicy, there is even a Spicier Creole Seasoning.
Recipe provided by Make Your Meals