It's Carnival Season and that means it is time to share one of our favorite New Orleans inspired recipes, Cajun Gumbo!
Any day of the year you can find Gumbo, Jambalaya, Étouffée, Catfish, Red Beans and Rice, and Shrimp Creole in southern Louisiana.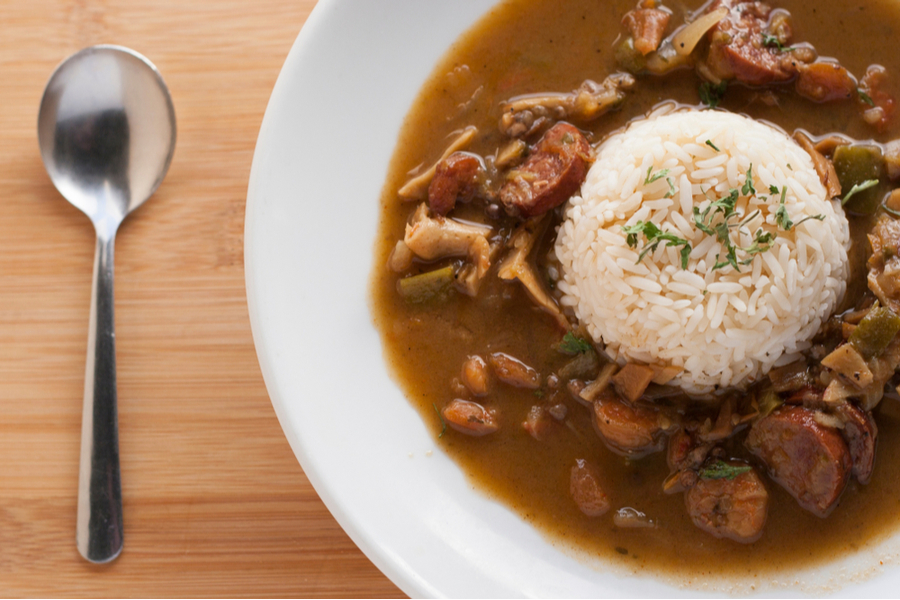 However, most of us also eat, or make some type of Cajun or Creole Food on Fat Tuesday in celebration of Mardi Gras.
And today, we are sharing our favorite Gumbo recipe to inspire you to celebrate as they do in New Orleans.
Gumbo vs. Jambalaya
But first, let's clarify the difference between Gumbo and Jambalaya. For those that live in Louisiana, I will apologize in advance.
There are many of us who live outside of the Bayou area and don't get to eat or make the wonderful food in Louisiana very often.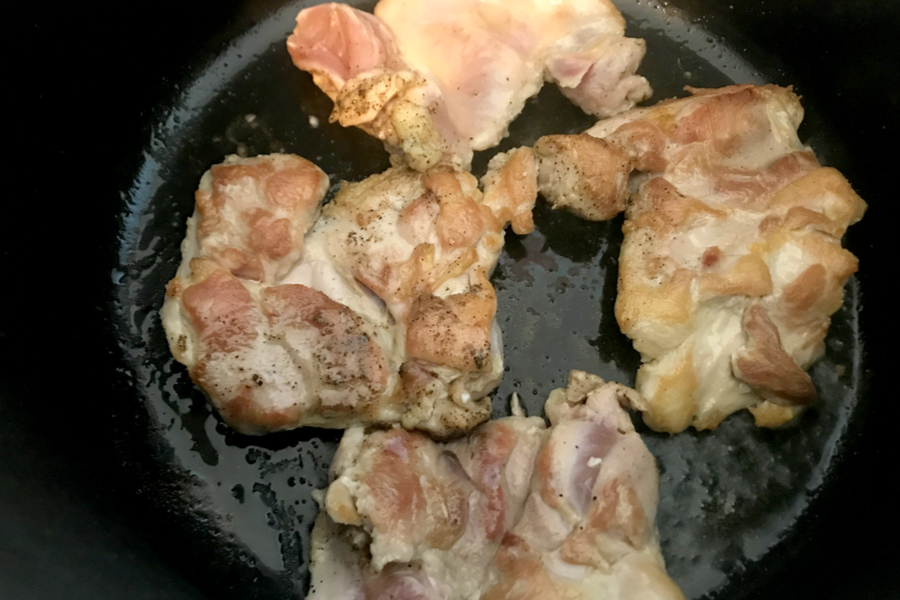 So in the most simple explanation, Cajun Gumbo is considered more of a stew and is served with a little bit of rice. And Jambalaya is less liquid based, and is served more like a rice bowl.
Depending on where you live you can either have Cajun Gumbo or Creole Gumbo.
And you will find all sorts of different proteins in Gumbo. From seafood Gumbo filled with crab meat and shrimp to chicken and sausage Gumbo, you can find it all.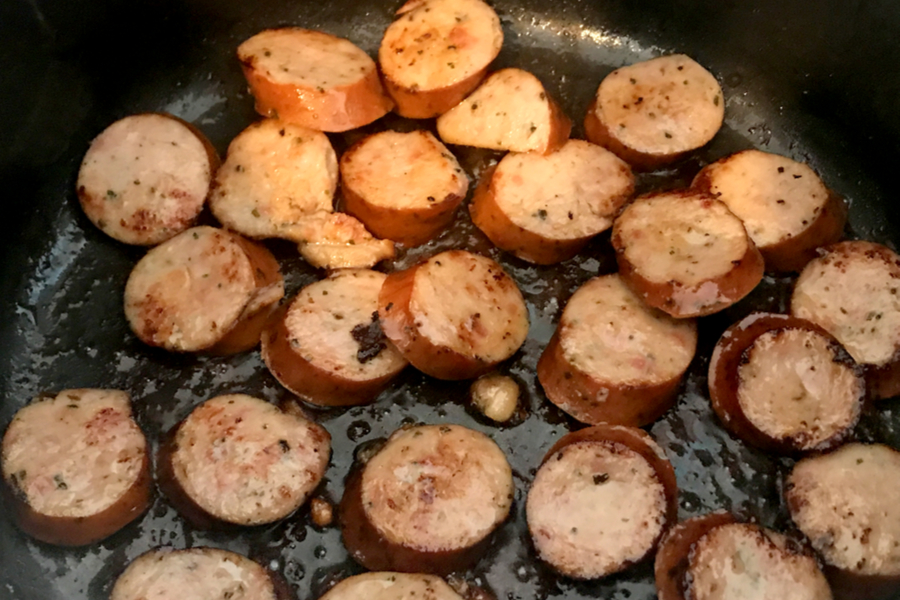 So for today's recipe, we will stick to Cajun Gumbo with Andouille Sausage and Chicken.
How to Make Cajun Gumbo
Before you begin actually cooking, prepare your vegetables by dicing them and set them aside.
Once you start the cooking process, you won't have time to chop up your carrots, celery or green peppers.
After you have prepared the vegetables, it is time to start cooking your chicken thighs. Yes, we use chicken thighs instead of chicken breasts for this recipe.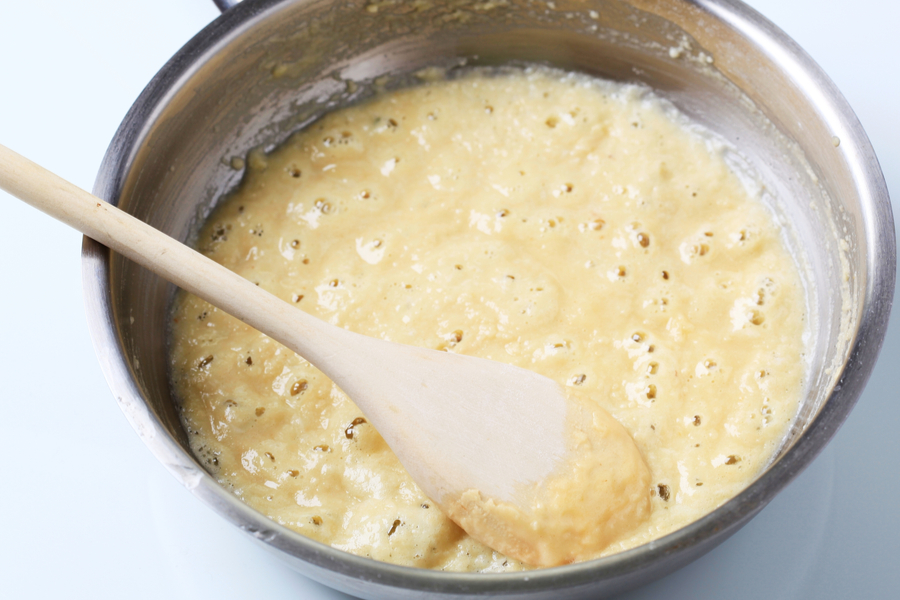 That is because chicken thighs have more flavor and shred easier than chicken breasts.
Cook them right in a Dutch Oven, or large stockpot that you will be using to make your Cajun Gumbo.
Once the chicken is cooked, remove them from the pot and set aside. Then add the Andouille sausage to the pot and brown the pieces on both sides.
Roux
Again, remove the sausage from the pot. Now it is time to make the roux. And you are going to need to be patient here.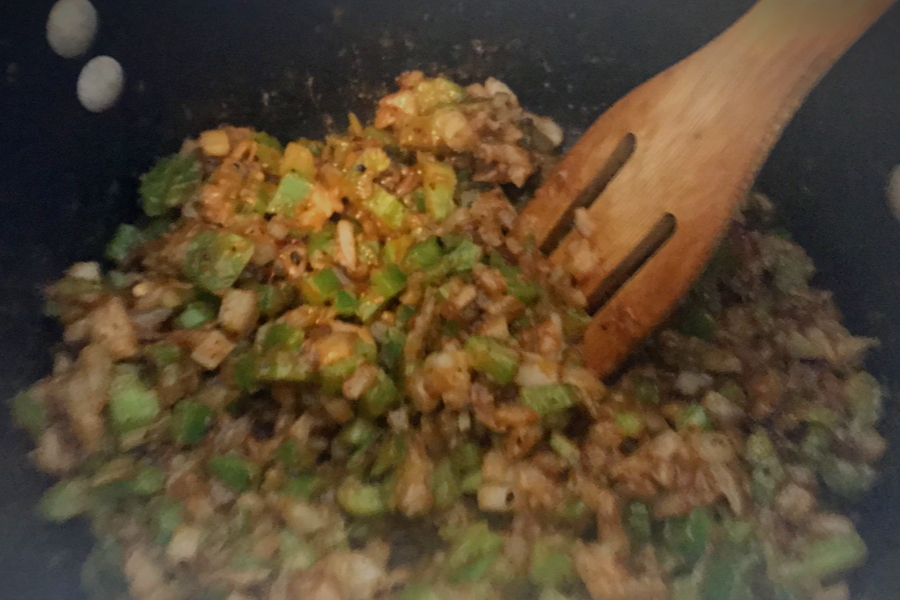 Gumbo is known for that deep and rich, dark brown color. And the only way to achieve that is to let the roux cook in the pot for almost 45 minutes.
At first the mixture will be an off-white color. And then it will progress to cream, and light brown in color. This takes awhile, so use this time to shred your chicken thighs.
Once the roux gets to a medium-dark brown color, you can add your chopped vegetables.
Continue to cook the vegetables in the roux for about 10 minutes so that they can become tender.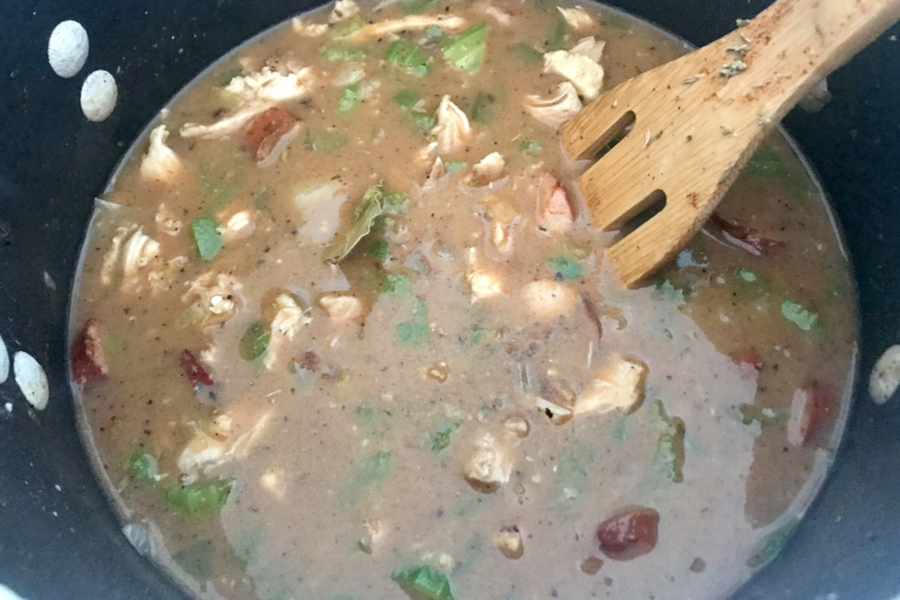 Next, add in the stock, seasoning, and the cooked meat.
Simmer for one hour. I know, I know, the process takes awhile but it so worth it in the end, I promise!
Once the hour is up and remove the pot from the heat. Stir in file powder. This is your thickening agent. And it is most often found either in the spice aisle or where the Cajun/Creole products are stored.
If you can't find file powder, you can substitute sliced Okra instead. Just add the okra to the pot when you add the stock.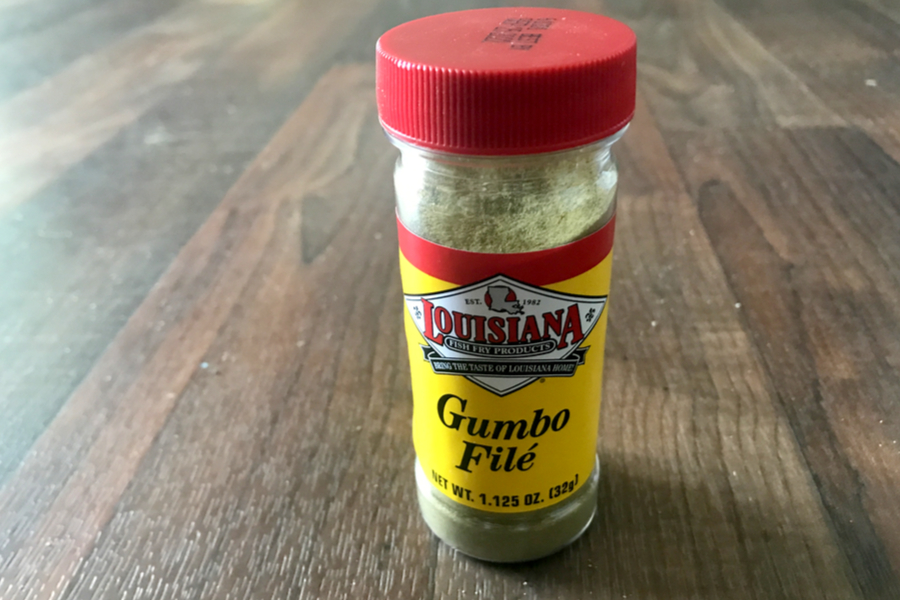 Of course, you could omit both, but it truly isn't authentic Cajun Gumbo without one or the other.
Serving
When you are ready to serve, ladle the Gumbo into bowls. Be sure to get both the shredded chicken and sausage pieces in each serving.
Then, place a scoop of rice in the center of the bowl. Garnish with sliced green onions and serve with Louisiana Hot Sauce.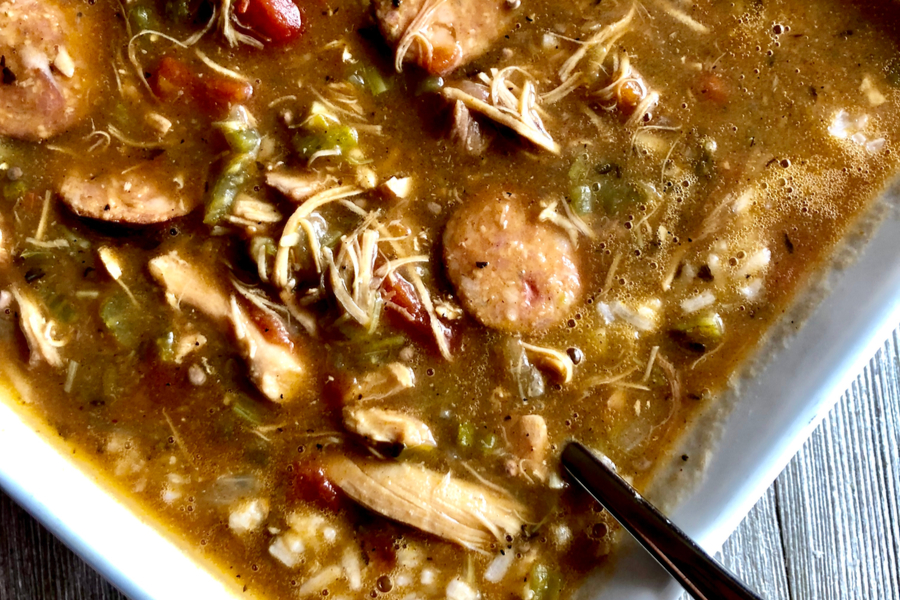 There you have it, Authentic Cajun Gumbo! The perfect recipe for your Mardi Gras celebration.
For those that love the taste of Gumbo, but don't have time to make it, try our Crock Pot Gumbo or Instant Pot Gumbo recipe.

To receive our 3 Recipe Articles in your inbox each week, sign up for our free email list located in the middle of each recipe or email me at contact@makeyourmeals.com. You can also follow us on Facebook and Pinterest. This article may contain affiliate links where a small commission is paid if you purchase a product at no additional cost to you.
Yield: 10
Cajun Gumbo With Andouille Sausage and Chicken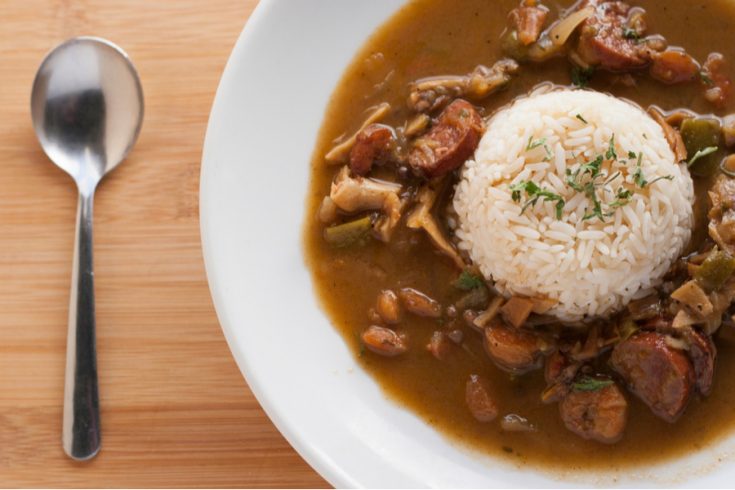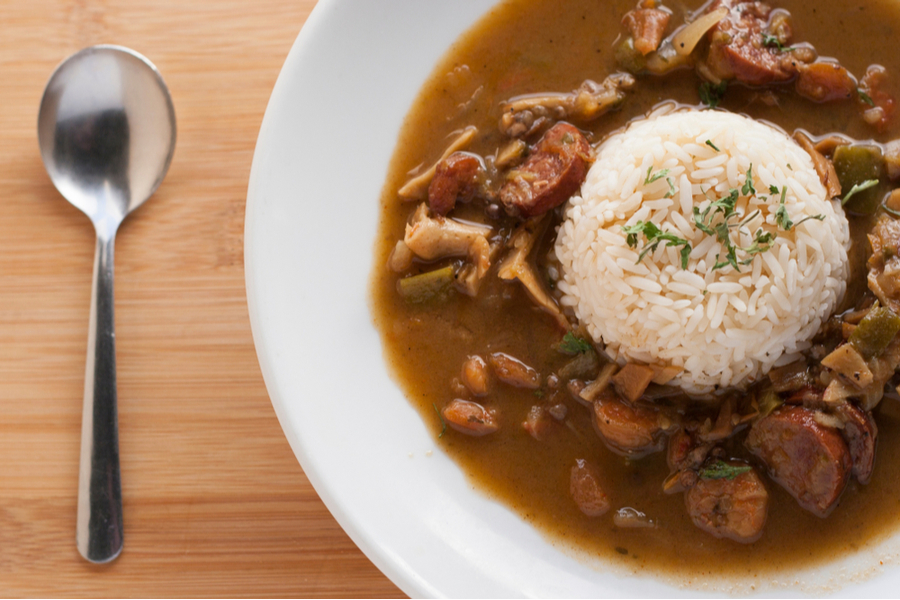 A classic gumbo stew made with andouille sausage and chicken flavored in a dark roux and served with rice.
Ingredients
1 cup vegetable oil, divided
6 boneless, skinless chicken thighs
Kosher salt, to taste
8 links Cajun-style andouille sausage sliced at an angle 1/2 inch thick
1 cup all-purpose flour
2 large yellow onions, diced
2 green bell peppers, diced
4 celery ribs, dicd
8 cloves garlic, minced
1/4 teaspoon cayenne pepper
1/2 teaspoon ground black pepper
6 cups low-sodium chicken broth
2 bay leaves
2 sprigs fresh thyme
1/2 teaspoon filé powder
For Serving:
Cooked white rice
Green onions, sliced think
Hot sauce, optional
Instructions
In a large Dutch oven, heat 1 tablespoon oil over medium-high heat. Season chicken all over with salt and working in batches, sear the chicken until browned on both sides. Transfer chicken to a plate and shred the meat using two forks.
Add sliced andouille sausage to the pot and cook for 5-6 minutes or until lightly browned on both sides. Using a slotted spoon, transfer to a bowl and set aside.
Add the remaining oil to the pot and then add the flour. Stir until a paste forms. Decrease the heat to medium low and cook, stirring frequently until the roux becomes medium-dark brown. This will take approximately 45 minutes.
Add onion, bell pepper, and celery and season lightly with salt. Cook over medium heat until softened, approximately 10 minutes.
Stir in garlic, cayenne, and black pepper and continue to cook, for 2 minutes.
Pour in the stock and add bay leaves, thyme, sausage and chicken to the pot. Season lightly with salt. Bring to a gentle simmer, then allow to cook uncovered, stirring occasionally, for 1 hour.
Remove from the heat and add filé powder, stirring well to break up any small lumps.
Discard thyme sprigs and bay leaves, and add additional salt and pepper if desired.
Serve gumbo in a bowl with warm rice on top and in the center of the bowl. Garnish with sliced green onions and serve with hot sauce, if desired.
Notes
Substitute 1 pound of okra, cut at an angle in 1/4 inch pieces for file powder and place it in the pot when you add the stock. Or omit either if desired.
Recipe provided by Make Your Meals
Nutrition Information:
Yield:
10
Serving Size:
1 grams
Amount Per Serving:
Unsaturated Fat:

0g