When I decided to make French Beignets at home, I never imagined that I would prefer Baked Beignets over fried.
But that is exactly what happened.
When I first visited New Orleans, many years ago, everyone told me that I would have to go to Cafe De Monde to get a bag of French Beignets.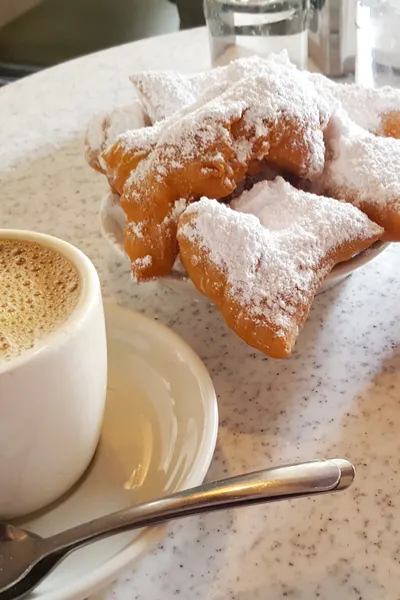 At the time I had no idea what they were talking about.
I had never heard of a beignet. And at the time, I was more concerned about finding the best spot for jambalaya and gumbo.
But when I found out what a beignet was, I was convinced that a trip to Cafe De Monde was in order.
French Beignets
So what is exactly a beignet? In simple terms, only the most delicious, light and airy donut that you will ever try.
Beignets are square donuts without a hole. They are deep fried and are covered in powdered sugar when served.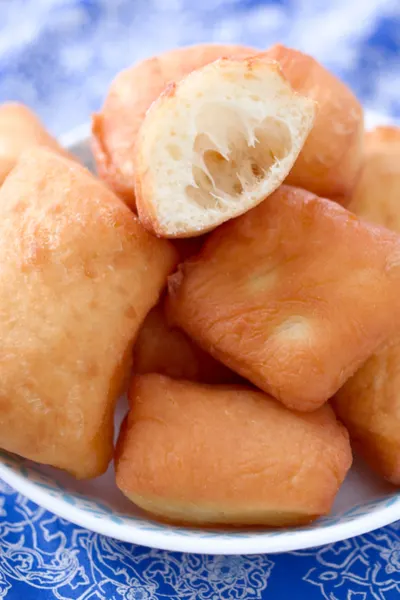 A single serving at the famous Cafe Du Monde consists of three beignets.
They have been served at this famous coffee shop since the 18th century.
How To Make Beignets
After standing in line at Cafe Du Monde for over 30 minutes, I finally received my order of French Beignets.
Once I took my first bite, I was hooked!
Each donut was coated in a thick layer of powdered sugar, and I knew then I could forget about eating these gracefully.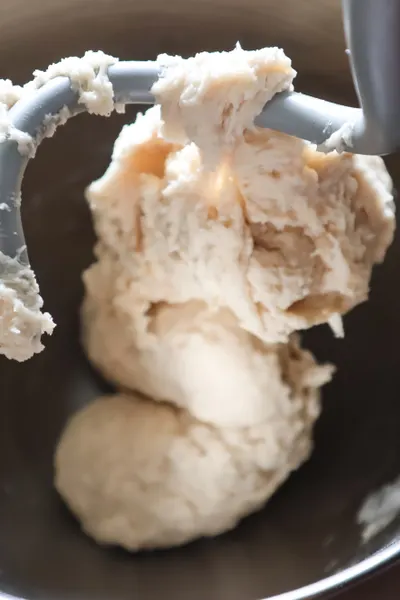 I sunk my teeth through the sugar and bit into a soft and airy donut. Each little square had the perfect balance of texture and flavor.
The dough was cooked perfectly and the powdered sugar provided the exact level of sweetness usually associated with donuts.
I ate all three donuts. And I am ashamed to admit it, but they were gone in under 5 minutes.
I loved them so much that I had to figure out how to make them at home.
So I decided to ask our wonderful server how they were made. She informed me that they make the dough fresh several times a day and they deep fry them in batches when ordered.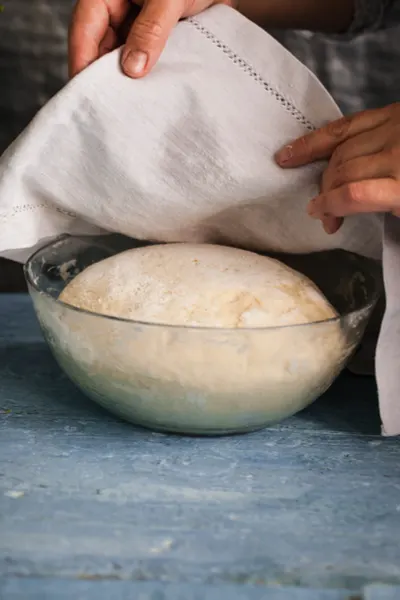 Once deep fried, they are sprinkled with powdered sugar while they still are hot.
Throw them on a plate or a little bag, and they are ready to be served.
Preferably with a black cup of chicory coffee!
Making Baked Beignets
When I returned from New Orleans, I couldn't stop thinking about those delicious donuts.
I knew that I had to make them for the rest of my family that didn't get a chance to go to New Orleans with me.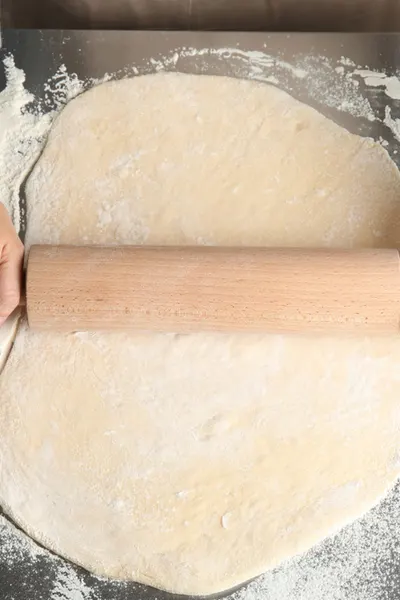 But fried foods were banned from our house a long time ago. Therefore, it was time to go to plan B.
Baked Beignets!
I wasn't sure how they were going to turn out, but I had to give it a try.
Baked Beignets use the same recipe as their fried counterparts. A basic yeast rising dough mixture made into soft and pillow like donuts.
But there are a few tips to making these baked beignets rise perfectly.
First of all, be sure to use a super-fine sugar to help your yeast activate. Standard granulated sugar tends to gather together and the yeast has a difficult time feeding from it.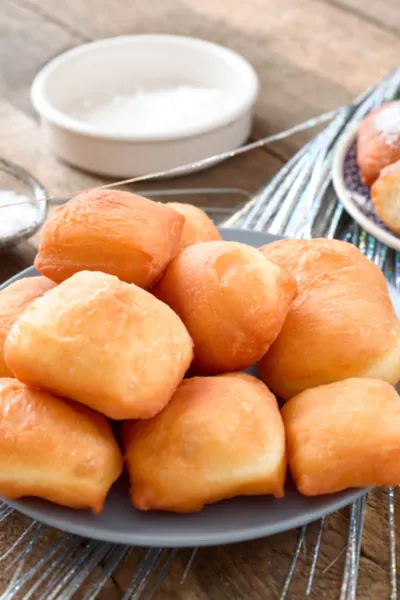 If you do not have super-fine sugar, it is easy to make your own. Place double the amount of granulated sugar in a standard coffee grinder.
Pulse until the sugar breaks down into fine crystals. But be sure not to grind it too long. Otherwise you will end up with powdered sugar!
And there is another hint to speed up the baking process. Proof your dough in a turned-off, pre-heated oven.
The dough will rise in a fraction of the time when compared to it sitting on a counter.
Any time saving tips to get baked beignets faster is worth it!
Topping The Baked Beignets
And if you are truly wanting the New Orleans Cafe De Monde experience, be sure to top your baked beignets with powdered sugar! And lots of it!
Brush the tops of the beignets with melted butter. Then use a sifter, or fine mesh colander to sprinkle the powdered sugar on top.
There you have it, French Baked Beignets!!!
If you enjoy other New Orleans recipes be sure to check out our other French Quarter Recipes.
Instant Pot Red Beans and Rice

To receive our 3 Recipe Articles in your inbox each week, sign up for our free email list located in the middle of each recipe or email me at contact@makeyourmeals.com. You can also follow us on Facebook and Pinterest. This article may contain affiliate links where a small commission is paid if you purchase a product at no additional cost to you.
Yield: 24 servings
Baked Beignets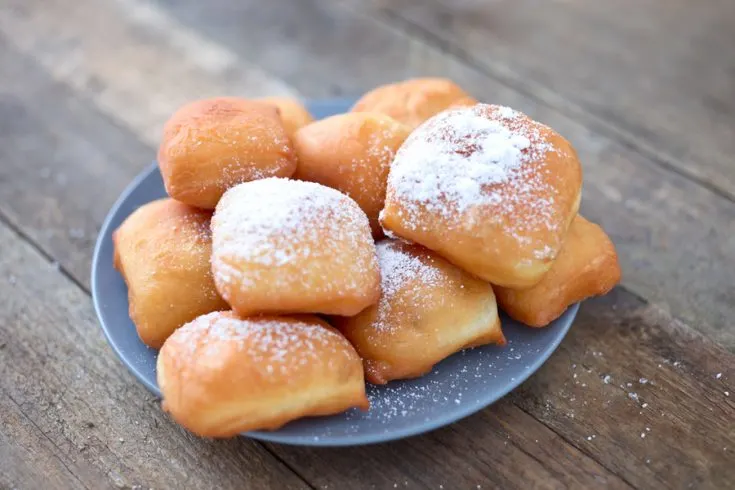 Light and puffy French Beignets sprinkled in powdered sugar made a little healthier by being baked, but just as delicious!
Ingredients
3/4 cup lukewarm water, approximately 110°F
1/4 cup super fine sugar, see note
1 1/2 tsp active dry yeast
1 egg, beaten
1/2 cup buttermilk
3 Tbsp. butter, melted
1/2 tsp salt
2 tsp vanilla extract
3 3/4 cup flour, more as needed
1/8 cup milk
1 Tbsp. butter, melted for brushing
1/4 cup powdered sugar, for dusting
Instructions
In a large mixing bowl, using the whisk attachment, combine water, sugar, and yeast and stir to combine. Let sit for about 10 minutes until it starts to get foamy on the surface.
Preheat oven to 200°F. Line 3 baking sheets with parchment paper. Set aside.
To the mixing bowl add egg, buttermilk, 3 tbsp butter, salt and vanilla and whisk to combine.
If available, replace whisk attachment with a dough hook. Slowly add in the flour and stir on medium-low speed until the dough begins to remove itself from the sides of the bowl. If needed add in additional flour in 1 Tbsp. increments until the dough pulls itself away from the bowl.
Knead dough on medium speed for 5 minutes.
Transfer dough to a lightly greased bowl. Turn off preheated oven and place bowl in the oven with the door slightly ajar to rise for 15 minutes. *Cover bowl with a towel that has no danger of touching the heating elements of the oven.
Remove bowl from the oven, close the door and preheat to 200°F.
On a lightly floured surface roll dough out into a rectangle or square, about 1/4 inch thick.
Cut 2-inch squares with a pizza cutter.
Place dough on prepared baking sheets. Turn off preheated oven and place the baking sheets in the oven with the door slightly ajar to rise for 30 minutes. *Cover the baking sheets with plastic wrap that has been sprayed with baking spray.
Remove baking sheets from oven, close the door and preheat to 375°F. Brush the tops lightly with milk.
Bake individual baking sheets for 10-12 minutes until light golden brown. Let cool for about 5 minutes then brush the beignets tops lightly with 1 Tbsp. melted butter and generously dust with powdered sugar.
Beignets are best eaten warm and fresh.
Notes
If you plan to eat them on the next day, skip brushing them with butter and dusting them with powdered sugar and store in an air tight container.
Once ready to eat, brush them with melted butter and warm them in the microwave for 10-15 seconds Dust with powdered sugar and serve.
Recipe provided by Make Your Meals
Nutrition Information:
Yield:
24
Serving Size:
1 grams
Amount Per Serving:
Unsaturated Fat:

0g