Can anyone resist soft pretzel bites and cheese sauce as an appetizer or a snack at the ballpark? No need to wait, now you can make your own and serve it at your next party!
I always used to order a large soft pretzel and a corn dog when I went to watch a baseball game. There is just something about sinking your teeth through that crusty outer layer, only to bite into the soft chewy center.
And who could resist at least a little bit of coarse salt on the outside. I have to admit, I usually scrape off at least half of the salt on the outside of the pretzel. However, I always leave a little on so I get that salty flavor in each bite!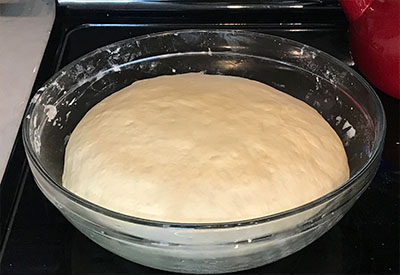 And whoever decided to serve soft pretzels with cheese sauce is brilliant! The flavors meld together perfectly and when served in individual containers, I always double dip!
No need to worry about double dipping with soft pretzel bites! Dip it in the creamy cheese sauce and you can pop the entire thing in your mouth!
Just keep in mind, freshly grated Cheddar cheese will melt a lot better than preshredded packaged cheese. The anti-caking coating that is on the cheese may make the cheese spread difficult to become smooth.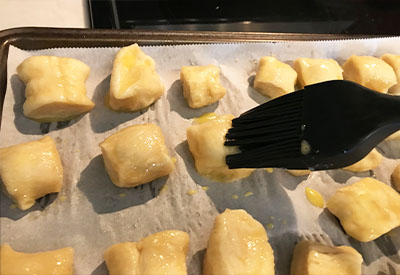 This recipe makes over 100 pretzel bites. You can cut the recipe in half if you prefer. And if you want a shortcut to making soft pretzels you have to try this Easy Pretzel Bites recipe.
However, I freeze the soft pretzel bites and warm them up for use when the urge hits me. Or, I have even made larger soft pretzel sticks
Check out the printable recipe below and all of our recipes and let me know what you think!
To receive our 3 Recipe Articles in your inbox each week, sign up for our free email list.
You can also follow us on Facebook, Twitter, Pinterest, and Instagram. This article may contain affiliate links.
Soft Pretzel Bites and Cheese Sauce
Soft pretzel bites served with cheese sauce – great for a game day snack or a large party appetizer.
Ingredients
1 1/2 cups warm water
2 tablespoons light brown sugar
1 package active dry yeast, 2 1/4 teaspoons
6 Tbsp unsalted butter, melted
2 1/2 tsp kosher salt
4 1/2 cups to 5bread flour
olive oil
3 quarts water
1/3 cup baking soda
1 whole egg, beaten
1 Tbsp. cold water
Coarse sea salt
For the cheese sauce:
1/2 Tbsp. unsalted butter
1/2 Tbsp. all-purpose flour
1/2 cup milk
8 ounces Cheddar cheese, grated
Instructions
Pretzels
Combine 1 1/2 cups water, sugar, and yeast, in the bowl of a stand mixer and mix with the dough hook until combined. Let sit for 5 minutes.
Add the butter, salt and flour and mix on low speed until combined. Increase the speed to medium and kneading until the dough is smooth and begins to pull away from the side of the bowl, about 4-5 minutes. If the dough continues to stick to the sides of the bowl, slowly add additional flour in small increments. (You can also hand knead the dough
Remove the dough from the bowl, place on a flat surface and knead into a ball with your hands.
Oil a bowl with vegetable oil, add the dough and turn to coat with the oil. Cover with a clean towel or plastic wrap and place in a warm spot until the dough doubles in size, about 1 hour.
Preheat the oven to 425 degrees F.
Bring 3 quarts of water to a boil in a large stockpot over high heat and slowly add the baking soda. Caution – the baking soda will boil over if added too fast.
Remove the dough from the bowl and place on a flat surface. Divide the dough into 8 equal pieces. Roll each piece into a long rope measuring 22 inches and shape. Cut the dough into one inch pieces to make the pretzel bites.
Prepare a large baking sheet with parchment paper or spray with cooking spray. Set aside.
In a small bowl beat one egg with 1 tablespoon of cold water. Set aside.
In batches, boil the pretzel bites in the water and baking soda mixture for 30 seconds. Remove with a large slotted spoon and place on prepared baking sheet.
Brush the tops with the egg wash and season the tops coarse sea salt.
Bake for 15 to 18 minutes until golden brown.
Remove to a baking rack and let rest 5 minutes before serving.
Cheese sauce
Melt the butter in a medium saucepan over medium heat.
Whisk in the flour and cook 1 minute.
Whisk in the milk until slightly thickened, whisking frequently.
Remove from heat and stir in Cheddar cheese until melted and smooth.
Notes
Recipe provided by Make Your Meals
Nutrition Information:
Serving Size:
1 grams
Amount Per Serving:
Unsaturated Fat:

0g