At almost every potluck or holiday meal you can guarantee that there will be a dish filled with Baked Scalloped Potatoes on the table.
Although mashed potatoes are preferred for some meals, scalloped potatoes take center stage for potlucks and many holiday meals.
There is just something elegant about layers of potatoes drizzled in a cream sauce and cheese. And then baked to perfection.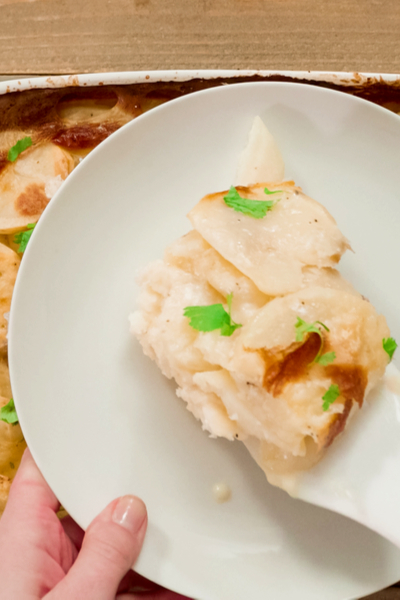 But instead of picking up a box of dehydrated potatoes and dry cheese mix that you find in the packages at the grocery store, make your own!
It is actually quite easy and the taste is so much better!!
How To Make Baked Scalloped Potatoes
The first thing that you need to do is to pick out what type of potatoes that you are going to use.
Just like when we make our Instant Pot Mashed Potatoes, we prefer to use Yukon Gold Potatoes in this recipe.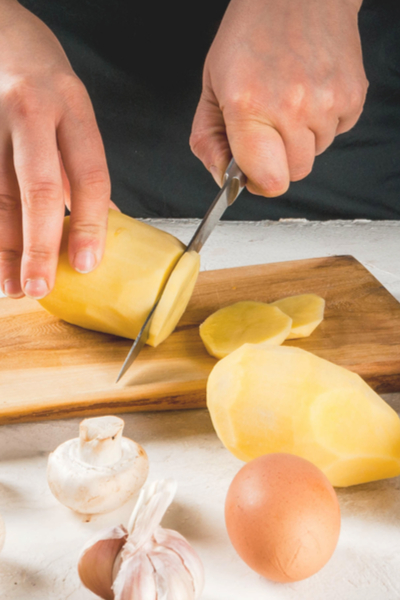 The reason is two-fold. First, Yukon Gold Potatoes have a natural buttery taste that make the scalloped potatoes virtually melt in your mouth.
The other reason is that because the skin is so thin on Yukon Gold potatoes you can skip the peeling process if you prefer.
Although we typically peel our potatoes anyway, the choice is up to you. In fact, if you leave the peels on, this entire dish will only take minutes to prepare.
Especially if you use a mandoline to slice your potatoes! However, if you do use a mandoline, you must, and I repeat YOU MUST, use the finger guard that comes with the slicer.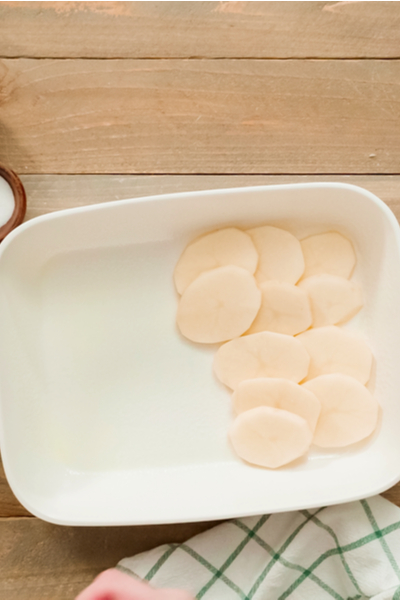 I am speaking from experience when I say that the blades are extremely sharp and will cut your fingertips before you know it!
So as soon as half of the potato is sliced, I immediately reach for the guard and use it to cut the remaining slices.
Of course you could use a knife to cut the potatoes as well. Although the mandoline really does makes quick work of slicing the potatoes.
Plus, they all end up in even slices. And even slices means equal cooking.
Making The Sauce
Once all of the potatoes have been sliced, it is time to make your scalloped potato cream sauce.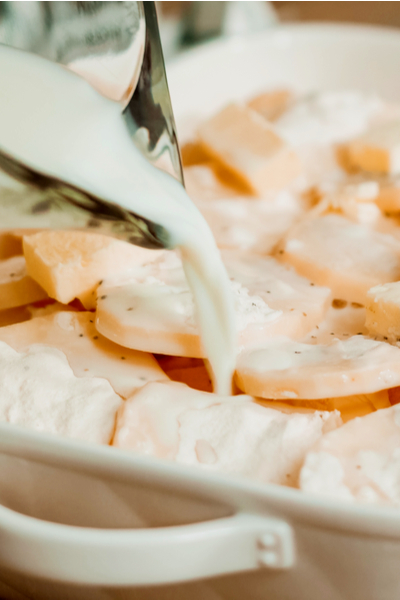 Start by sauteing thinly sliced onions until they become translucent. Then add in a little fresh minced garlic and cook until fragrant.
Then make a roux by whisking in the flour. Continue to whisk and add in the chicken stock, milk and seasonings.
Remove the mixture from the stove once it begins to thicken and set aside.
Layer Your Scalloped Potatoes
Now it is time to assemble your Scalloped Potatoes for baking.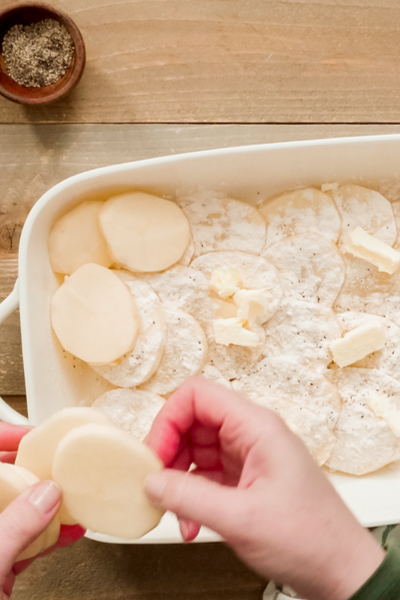 Take half of your potato slices and layer them in a greased 9 x 13 baking dish.
Then pour half of the sauce over the potatoes. Next add half of the cheddar cheese and all of the Parmesan cheese.
Repeat by layering the remaining potatoes, sauce and top with cheese.
Now all that is left to do is to cover and bake! Just remember to remove the foil half way through the cooking process.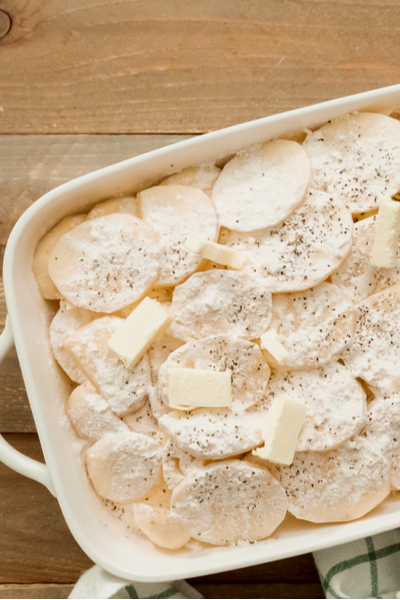 You will know when your scalloped potatoes are baked when they are fork tender and when the sauce bubbles below the lightly golden brown cheese.
However, if you prefer to use your slow cooker to make Scalloped Potatoes check out our recipe HERE.
And if you have an Instant Pot, check out our Instant Pot Scalloped Potatoes Recipe.

To receive our 3 Recipe Articles in your inbox each week, sign up for our free email list located in the middle of each recipe or email me at contact@makeyourmeals.com. You can also follow us on Facebook and Pinterest. This article may contain affiliate links where a small commission is paid if you purchase a product at no additional cost to you.
Baked Scalloped Potatoes Recipe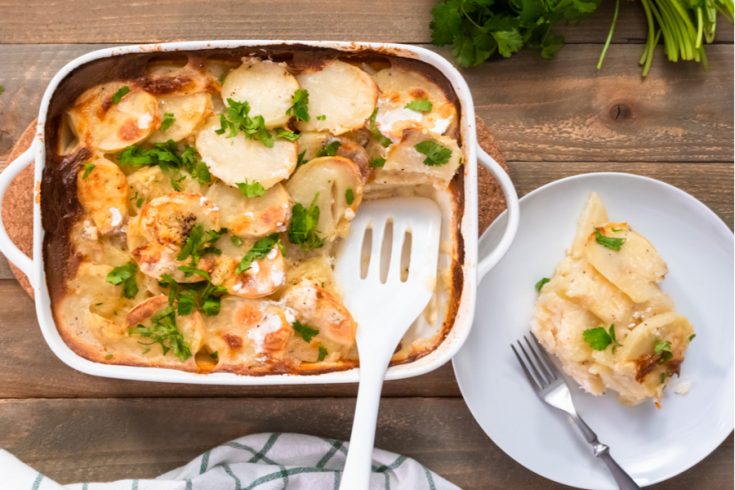 Make this delicious, homemade, scalloped potatoes with a creamy cheese sauce that is to die for! Perfect for any holiday gathering.
Ingredients
3 tablespoons butter
1 small sweet onion, peeled and thinly sliced
4 large garlic cloves, minced
1/4 cup all-purpose flour
1 cup chicken stock
2 cups milk whole or 2% milk
1 1/2 teaspoons Kosher salt
1/2 teaspoon black pepper
1 teaspoon dried thyme, divided
4 pounds Yukon Gold Potatoes, sliced into 1/8-inch rounds (peeling optional)
2 cups fresh-grated sharp cheddar cheese, divided
1/2 cup fresh-grated Parmesan cheese, extra for serving
Instructions
Preheat oven to 400°F. Grease a 9 x 13-inch baking dish with cooking spray; set aside.
Melt butter in a large pan over medium-high heat.
Add onion, and sauté for 4-5 minutes until soft and translucent.
Add garlic and sauté for an additional 1-2 minutes until fragrant.
Whisk in the flour and cook for 1 minute.
Gradually pour in the stock, and whisk until well incorporated.
Add in the milk, salt, pepper, and 1/2 teaspoon thyme, and whisk until combined.
Continue cooking for an additional 1-2 minutes until the sauce just barely simmers around the edges of the pan and begins to thicken. Remove from heat and set aside.
Spread half of the sliced potatoes in an even layer on the bottom of the pan and then evenly pour half of the cream sauce on top of the potatoes.
Sprinkle the top with 1 cup of the shredded cheddar cheese, and all the Parmesan cheese.
Top with the remaining sliced potatoes, the other half of the cream sauce, and the remaining 1 cup of cheddar cheese.
Cover the pan with aluminum foil and bake for 30 minutes. The sauce should be nice and bubbly around the edges. Then remove the foil and bake uncovered for 25-30 minutes, or until the potatoes are cooked and the center is bubbling.
Transfer the pan to a cooling rack, and sprinkle with the remaining teaspoon of thyme and extra Parmesan.
Garnish with sliced green onions if desired.
Serve warm.
Notes
Recipe provided by Make Your Meals
Nutrition Information:
Serving Size:
1 grams
Amount Per Serving:
Unsaturated Fat:

0g