Corn casserole is one of the most popular side dishes served at holiday gatherings. It only takes a few minutes to prepare and it compliments most any meal.
This recipe calls for just a few basic ingredients. Jiffy corn muffin mix can be found at almost every grocery store, and often at the local dollar store. I have actually even seen it stocked at a neighborhood gas station convenience store!
However, if you are in a pinch, and don't have time to run to the store, you can make your own corn muffin mix. Mix up a little cornmeal with flour, sugar, baking powder and salt and you are all set!
You can also make corn casserole in an Instant Pot Pressure Cooker to save space in your oven!
This corn casserole recipe calls for both canned sweet corn and creamed corn. I used to dread the evening meals as a kid that creamed corn was served. It was something about the creamy texture of creamed corn that made it unappetizing to me.
However, the moisture and texture in the creamed corn is perfect for this recipe!
You will want to make sure that you drain the canned corn, but not the creamed corn. You need that creamy liquid to make sure the corn muffin mix is cooked perfectly.
If you want to double the recipe, be sure to bake it in a dish that would allow for about the same thickness of the original recipe.
For instance, if you are doubling the ingredients, you should use a 12 inch square pan or a 9×13 rectangular baking dish. This will allow the dish to cook at around the same time as the original recipe.
Check out the printable corn casserole recipe below and all of our recipes and let me know what you think!
To receive our 3 Recipe Articles in your inbox each week, sign up for our free email list.
You can also follow us on Facebook, Twitter, Pinterest, and Instagram. This article may contain affiliate links.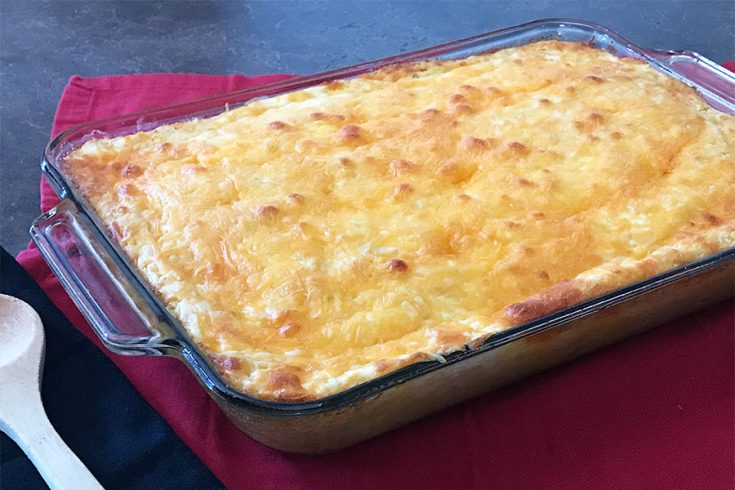 Simple, easy to make side dish that is perfect for any get together.
Ingredients
1 Box of Jiffy Corn Mix (OR the following dry ingredients)
2/3 cup all-purpose flour
1/2 cup yellow cornmeal
1/3 cup granulated sugar
1 tablespoon baking powder
1/2 teaspoon salt
Remaining Ingredients
1/2 cup melted butter
15 ounce whole kernel corn, drained
15 ounce creamed corn, entire contents
1 egg, beaten
1 cup shredded cheddar cheese
1 cup sour cream
Instructions
Preheat the oven to 350 degrees.
Place the butter in an 8x8 baking dish and melt in the microwave.
Once melted, move the butter around to coat the sides of the baking dish.
To the baking dish, add Jiffy mix, corn, creamed corn, egg and half of the cheese. Mix well.
Place dollops of sour cream on top and swirl into the top layer of the corn mixture.
Add remaining cheese on top.
Bake uncovered for 45-55 minutes or until firm in the center and lightly browned.
Notes
Recipe provided by Make Your Meals
Nutrition Information:
Yield:
8
Serving Size:
1 grams
Amount Per Serving:
Unsaturated Fat:

0g