I make this classic 7 Layer Mexican Dip recipe for just about every gathering that I host or attend. It is full of flavor, easy to make, and it is one of the first dishes to be empty from the appetizer table.
With just a few common ingredients this recipe can be made in minutes because there is NO COOKING REQUIRED! Simply layer the ingredients on top of each other and it is done!
Even the novice cook can master this recipe. Simply mix two ingredients together and layer. That is all that is required to make this popular appetizer!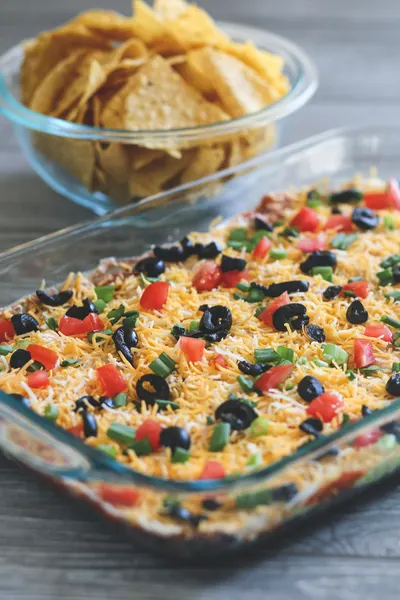 Although I prefer to make my own refried beans, guacamole and homemade salsa for many recipes, I usually turn to store-bought goods to assemble this dish. The pre-made ingredients allows this recipe come together in just a few minutes, which is a huge time saver when it comes to preparing for a party.
Classic 7 Layer Mexican Dip Recipe
*Specific measurements and complete recipe instructions are located in a printable recipe card at the bottom of this article. However, be sure to continue to read the tips and tricks to making this recipe below.
INGREDIENTS
Taco seasoning
Sour cream
Refried beans
Guacamole
Salsa
Mexican blend cheese
Diced Green Onions
Optional Toppings
Sliced olives
Lettuce
Diced tomatoes
Diced jalapeños
7 Layer Mexican Dip is a delicious and flavorful appetizer built with seven levels of classic Mexican inspired ingredients. Although the ingredients can vary from recipe to recipe, there are always seven basic layers.
The ingredients include refried beans, taco seasoning, sour cream, guacamole, salsa, Mexican blend shredded cheese and diced green onion. Then additional ingredients can be added on top of the dip based on personal preference.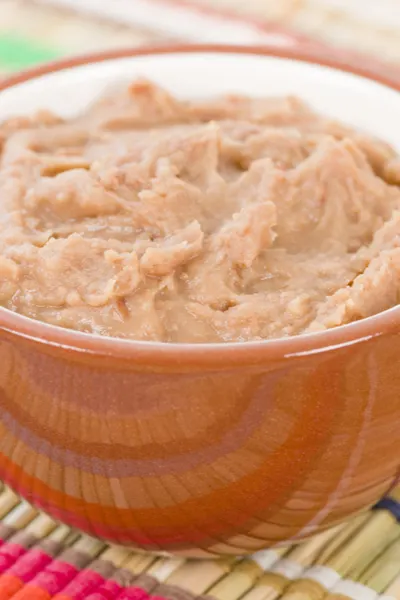 Some of the most common recipe ingredient additions include sliced olives, shredded lettuce, diced tomatoes and diced jalapeno peppers. Although some people like to add in drained cooked corn as well.
The choice of toppings are definitely up to you and can be customized to whatever you like. Simply place them on top and enjoy!
RECIPE INSTRUCTIONS
The first step in making this dip is to add the taco seasoning and sour cream to a medium bowl. Then stir and mix until well blended. Then set it set aside while you begin to assemble the dip.
Assembling 7 Layer Mexican Dip
It is best to serve this dip in a large, shallow dish. This will allow your family and friends easy access for dipping their tortilla chips in the mixture and getting a little taste of each layer.
I typically use a 9 x 13 inch glass baking dish. However you could also use a 7 x 11 inch baking dish or 9 inch pie pan to make thicker layers if you prefer. Now it is time to assemble the dip.
Layer The Ingredients
Start by spreading the refried beans in the bottom of the pan. Use a silicone spatula to spread the beans in an even layer.
Then spread the sour cream and taco seasoning mixture over top of the refried beans layer. Next, add the guacamole on top of the flavored sour cream and carefully spread it out in an even layer.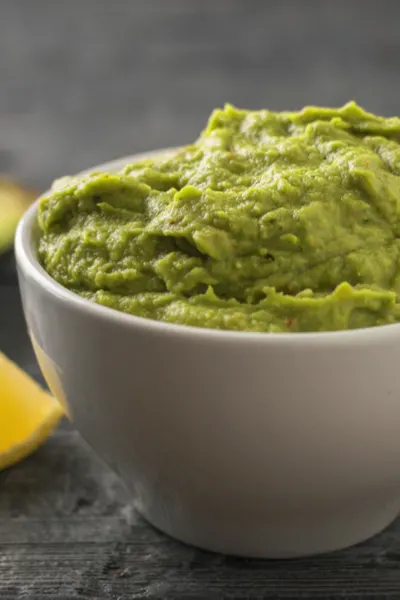 Now pour the salsa over top of the guacamole layer. Then sprinkle the Mexican blend shredded cheese and diced green onions on top.
Now the 7 Layer Mexican Dip is essentially complete. It is best to cover and refrigerate for at least an hour before serving to allow the flavors to meld.
Before serving, add even more flavor to the dip by adding your favorite toppings. It is amazing how a little diced tomatoes, diced jalapeños, shredded lettuce and even sliced black olives can enhance this already amazing appetizer.
Serve with a bowl of tortilla chips or tortilla scoops.
Should You Heat 7 Layer Mexican Dip
Although this 7 Layer Mexican Dip is intended to serve as a cold, or room temperature dip, there are some simple modifications that you can make to make this as a warm dip instead.
First, replace the sour cream with room temperature cream cheese. Then use a hand mixer to mix the cream cheese with the taco seasoning.
Then instead of adding the layer of guacamole in the middle of the dip, add it as a topping. This is because guacamole doesn't heat well at high temperatures or for prolonged periods.
In fact, although it is okay to heat guacamole to serve it a little on the warm side, if heated too long both the taste and texture will change. Therefore, it is best to add it after the 7 Layer Mexican Dip has been heated.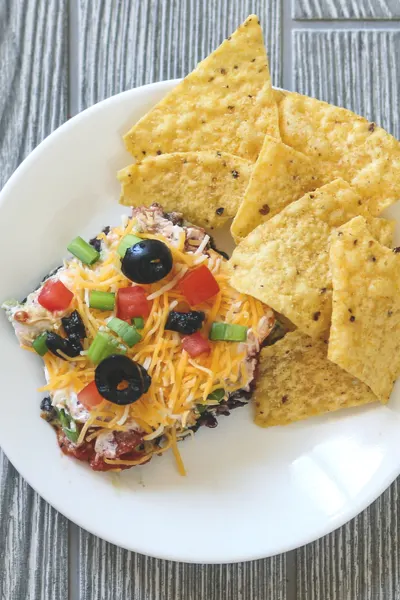 When you have your dip assembled in an oven safe dish place it in a preheated oven set at 350°F. Bake for 15-20 minutes or until the cheese is nice and melted.
Then remove the dish from the oven and add the guacamole, green onions, lettuce, diced tomatoes, diced jalapeños and sliced olives after the baking process.
Otherwise, you will end up with soft and wilted lettuce and mushy green onions and tomatoes.
Other Possible Ingredients
One of the best parts of this 7 layer Mexican Dip recipe, is that you can add or remove whatever ingredients that you prefer.
If you like it hot, add in some diced or pickled jalapeños to the sour cream. Or if you would like a little additional flavor without the heat, add in some diced green chiles.
Want to make this recipe a little more 'beefy'? Add in some cooked ground beef that is seasoned with taco seasoning!
The possibilities are endless with this classic 7 layer Mexican dip. Add in whatever you and your guests prefer and you have an appetizer that will please a crowd!
Frequently Asked Questions
1. How Do You Store Leftovers?
Although it is unlikely that you will have leftovers, you can store the dip in the refrigerator for up to 3 days. However, I would recommend placing a layer of plastic wrap directly on the top of the dip to prevent the guacamole from browning.
2. How Can I Make This Dip Low-Carb?
If you are on a low-carb or Keto diet, you can still enjoy 7 Layer Mexican Dip. Omit the layer of refried beans and add the sour cream and taco seasoning mixture as the base layer. Than add a layer of taco seasoned ground beef, turkey or chicken as the next layer.
Continue assembling the dip with the remaining low-carb layers. Serve with sliced vegetables or Keto friendly tortilla chips.
3. Can I Make This Recipe In Advance?
You can make this dip 24 hours in advance of when you want to serve it. However, because it contains a layer of guacamole, I wouldn't recommend making it any sooner than that.
Although the guacamole is in the middle of the dip and covered by other ingredients, it may begin to turn brown after a day. Therefore, serve it within 24 hours of assembling.
4. Can I Make 7 Layer Mexican Dip As Individual Appetizers?
Just like when I make my No Bake Mini Cheesecakes, you can make this dip in individual cups. Simply layer the ingredients as instructed and place inside plastic cups.
Or you can make the dip as instructed and place a scoop of it in tortilla scoop chips. Although both will take more time than the traditional method, the presentation is impressive.
Now that you know everything you need to make this popular appetizer, go enjoy it with your family and friends!
Enjoy! Mary

To receive our 3 Recipe Articles in your inbox each week, sign up for our free email list located in the middle of each recipe or email me at contact@makeyourmeals.com. You can also follow us on Facebook and Pinterest. This article may contain affiliate links where a small commission is paid if you purchase a product at no additional cost to you.
7 Layer Mexican Dip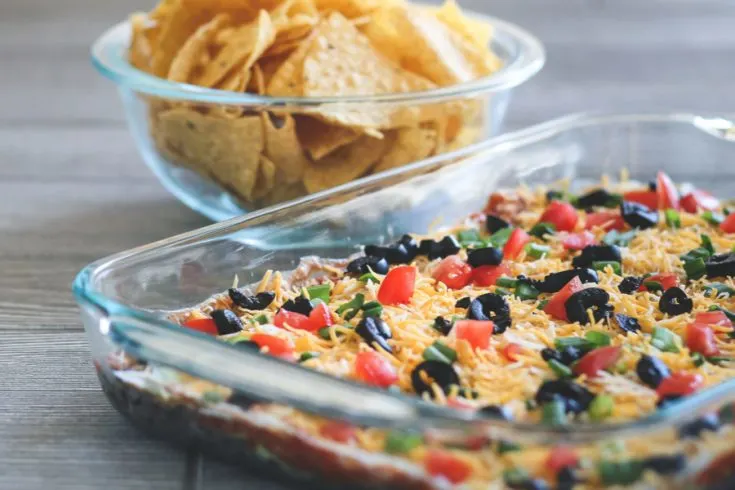 A delicious dip made with 7 layers of classic Mexican flavors and topped with tomatoes, olives and green onions.
Ingredients
16 ounces refried beans
1 package taco seasoning
1 cup sour cream
1 cup guacamole
1 cup salsa
1 cup lettuce
1 cup Mexican blend cheese
Optional Toppings
4 ounces sliced olives
1 cup tomatoes
3 green onions, sliced
Instructions
Mix the taco seasoning with the sour cream and set aside.
Layer The Ingredients In This Order:
Refried beans, sour cream/taco seasoning mix, guacamole, salsa, lettuce, and cheese.
Top with optional toppings as desired: olives, tomatoes, and green onions.
Serve with tortilla chips.
Notes
Recipe provided by Make Your Meals
Nutrition Information:
Yield:
12
Serving Size:
1 grams
Amount Per Serving:
Calories:

158
Total Fat:

11g
Saturated Fat:

4g
Trans Fat:

0g
Unsaturated Fat:

5g
Cholesterol:

20mg
Sodium:

519mg
Carbohydrates:

11g
Fiber:

4g
Sugar:

2g
Protein:

6g
Nutritional Information is to be used as a general guideline only . Nutritional calculations will vary from the types and brands of the products used.