I never imagined that I would be making, let alone eating and enjoying Tofu Pad Thai.
In fact, if you asked me just a few years back, if I would eat tofu, I would have told you that you were crazy. I absolutely love Instant Pot Chicken Pad Thai and saw no need for a meat replacement. However, I have to admit, I do love Instant Pot Lo Mein as well!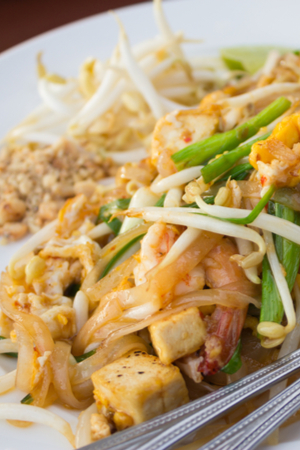 However, things change. In my quest to explore various food cultures and options, I have opened up to trying new things.
My first bite of tofu was about 8 years ago. My brother lives a vegan lifestyle and I went to visit for an extended weekend.
That means in his house he has absolutely no animal products. Not only in the kitchen, but in the entire household.
During my visit I was introduced to a lot of food combinations that I would not typically make or eat.
And I have to say, I was pleasantly surprised!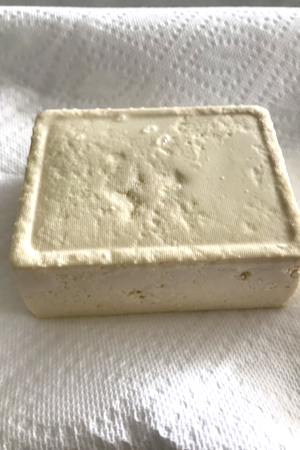 Alfredo pasta, tater-tot casserole, and of course Tofu Pad Thai.
I honestly have to say that I felt like I was eating 'real' cheese when I ate the Alfredo pasta and chicken when I was eating the Tofu Pad Thai.
That is when I decided to expand my recipes inventory to include tofu and non-dairy items. See: Non-dairy Queso Recipe
Tofu Pad Thai Tips and Hints
This recipe works best with firm to extra-firm organic tofu. Just drain the tofu and press out the excess liquid.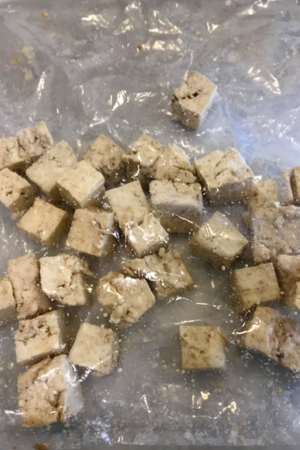 If you don't have a tofu press, no worries. Just place a stack of 6 paper towels on a plate, then add the tofu. Put another 6 paper towels on top and weigh it down by placing a heavy object on top.
Sometimes I use a cast iron skillet, but almost anything will work. This time I placed a cutting board on top with my knife set on top of that for the weight.
Whatever works, right?
Then it was time to cut and cook the tofu. Instead of frying it in the skillet I decided to use my BCP 5.5 quart air fryer.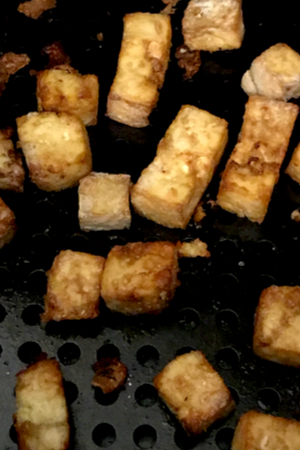 It requires less oil and provides a nice crispy product in just 10 minutes. That allowed me to boil the water for the rice noodles and heat the skillet for the vegetables on the stove.
The tofu was drizzled with coconut aminos and tossed in a little cornstarch. If you don't have coconut aminos, lite soy sauce would work.
Then 10 minutes in the air fryer and you have nice and crispy tofu ready to be tossed in a pad Thai sauce.
Homemade Pad Thai Sauce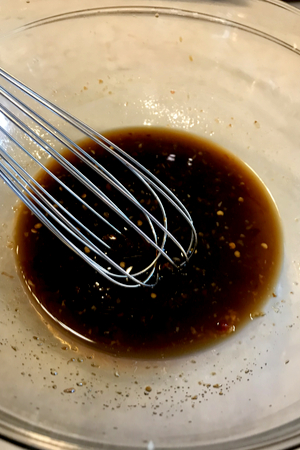 Of course you could purchase a bottle of pad Thai sauce, but it is so easy to make your own delicious sauce at home. Plus you can adapt the flavor and heat level to your preference.
A little soy sauce (or coconut aminos), brown sugar, sweet chili sauce, garlic and lime juice is all that is required.
For those that enjoy the taste of fish sauce, you could add that in as well. But for those who are vegan or who have a strong dislike to fish sauce, the pad Thai sauce is amazing without it.
Eggs or No Eggs
When ordering pad Thai at your favorite restaurant it will most likely come with a scrambled egg incorporated in the dish.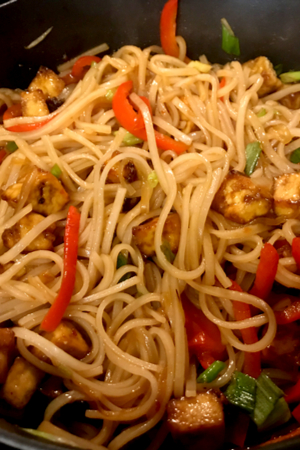 Of course, if you are vegan or if you have an egg allergy, it is easy to omit the egg. However, if you are making this tofu pad Thai recipe at home, you can certainly add the egg in if you prefer.
Once the peppers and onions are almost tender, scoot them to one side of your hot skillet. Crack open the egg on the other side of the skillet and mix it until scrambled.
All there is left to do is to add in the sauce, tofu and cooked rice noodles!
Check out the printable recipe below and all of our recipes and let me know what you think!
To receive our 3 Recipe Articles in your inbox each week, sign up for our free email list. You can also follow us
on Facebook, Twitter, Pinterest, and Instagram. This article may contain affiliate links.
Crispy Tofu Pad Thai Recipe – Air Fryer Tofu Instructions Included