Dairy-Free Queso Dip
This week I had to get creative when it came to serving dinner at my house. I had guests coming over that had specific allergies and dietary preferences.
One person is dairy-free due to a food intolerance to all dairy products. That includes milk, cheese and yogurt.
And another one of my guests is vegan and does not consume or use any animal products. This includes food, health products, clothing, medication, etc.
So when I offered to host a dinner party, I began to look at my options.
Of course, I could do the safe thing and serve everyone salad. But that's boring and I wanted to impress everyone with a homemade meal.
We decided on a Mexican theme for the night. A taco bar was an easy way for everyone to stick to their dietary restrictions, but still enjoy their meal.
And what is at the beginning of every meal at the Mexican restaurant. Chips, salsa and queso!
Chips and salsa were a breeze. No dairy products in these!
However, queso seemed to be the obstacle. There are some really good vegan cheese-like products out there that you can buy. Daiya cheese is one of the most popular varieties.
Unfortunately, the local grocery story only carried the pre-shredded cheddar cheese, and I needed to save that for one of the toppings for the tacos.
So I searched various ways that I could make dairy-free queso dip.
Most vegan queso recipes call for a mixture of potatoes and cashews to establish a creamy base. I have been trying to avoid eating potatoes myself, so I knew that cashews would have to be the lone star!
When soaked in water for hours, cashews become soft and pliable.
The problem was that I didn't have hours to pre-soak the cashews. This is when I turned to my Instant Pot!
The hours that it would have taken to soak the nuts over night, turned into a total of 10 minutes of prep time! One minute on high pressure and a natural pressure release and the cashews were fork tender!
That is one of the main reasons that I truly love my Instant Pot!!!
Once placed in a high-powered blender, the cashews turn into a nice creamy consistency. I have heard that if you have a Vitamix Blender, that you can put the cashews in raw.
I don't have one (yet), so the Instant Pot soaking method was perfect in my case!
The softened cashews, a few spices and nutritional yeast were blended all together in my Ninja blender. After a few minutes of blending on high, the dairy-free queso dip was ready!
Nutritional yeast is what gives this dish that cheese flavor. It is also responsible for giving it that nice yellow color.
Once the dairy-free queso dip is ready, feel free to add toppings of your choice!
I like to add diced jalapeno, green onions and a little salsa to spice things up when eating this as a dip with tortilla chips.
However, I keep it as written when pouring it on top of burritos or a plate full of nachos.
The most important thing, everyone could enjoy the delicious food and friendship for the evening!
Check out the printable recipe below and all of our recipes and let me know what you think!
To receive our 3 Recipe Articles in your inbox each week, sign up for our free email list. You can also follow us on Facebook, Twitter, Pinterest, and Instagram. This article may contain affiliate links.
Yield: 2 cups
Dairy-Free Queso Dip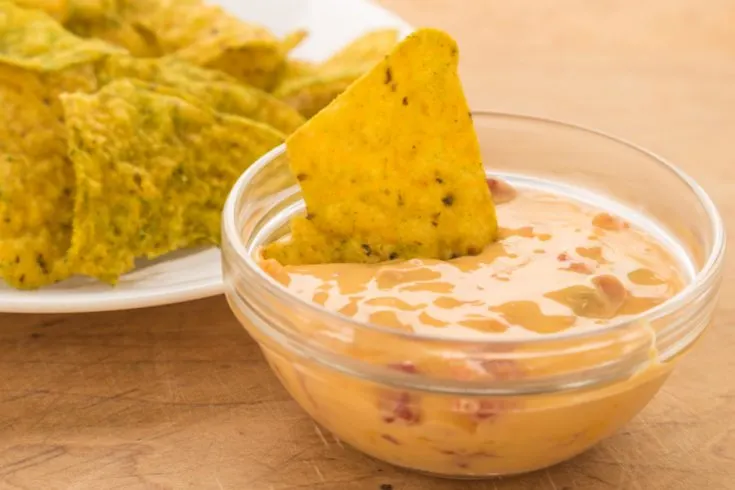 A creamy and delicious, dairy free queso cheese dip that is perfect to serve with tortilla chips vegetables, or on top of nachos and burritos.
Ingredients
1 1/2 cups raw cashews, pre-soaked
3 Tbsp roasted red peppers, well drained
1/2 cup nutritional yeast
1/4- 1/2 cup water
1/2 tsp chili powder
1/2 tsp cumin
1/2 tsp smoked paprika
1/2 tsp garlic powder
1/2 tsp sea salt
1/4 tsp cayenne powder, more or less to taste
1 diced jalapeno, optional
1/4 cup salsa, optional
Instructions
Soak your cashews overnight in cool water for at least 6 hours, in simmering hot water for 1 hour, or soak them in the Instant Pot on High pressure for 1 minute with natural pressure release. Drain well in a colander.
Add all ingredients into a high-power blender.
Blend, adding more water as needed to create a creamy cheese sauce, scraping down the sides as needed.
Taste and adjust spices as needed.
Serve immediately or store leftovers in an air tight container in the refrigerator for up to 5 days.
Reheat on the stove top prior to serving, adding more water if needed.
Notes
Recipe provided by Make Your Meals
Nutrition Information:
Yield:
2
Serving Size:
1 grams
Amount Per Serving:
Unsaturated Fat:

0g