Chicken Pad Thai has become one of our favorite recipes to make in the Instant Pot.
Not only is it absolutely delicious, but it also easy to make!
We first became obsessed with Chicken Pad Thai when we lived in Nashville. I know that it sounds funny, but the country music capital of the world has some of the best Thai restaurants around!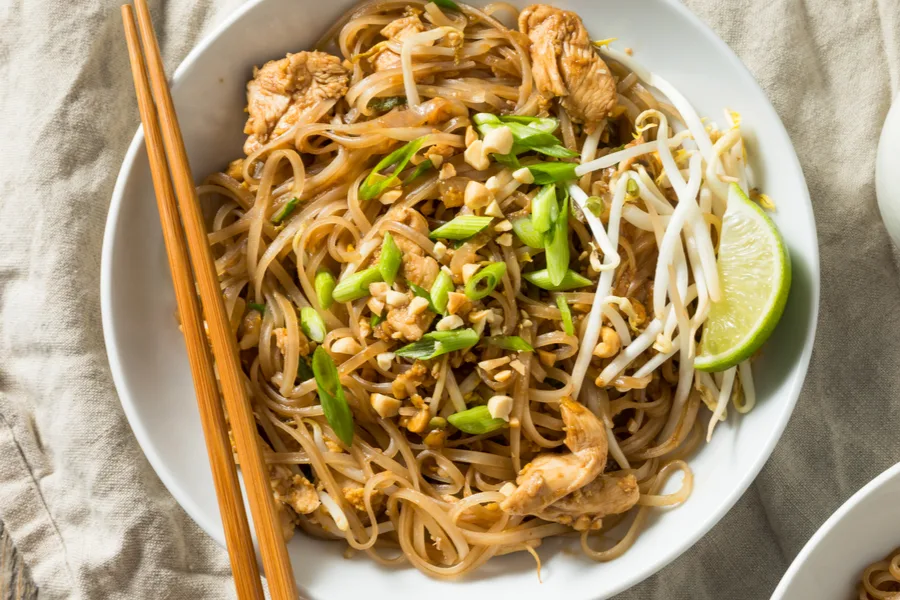 If you have never visited a Thai restaurant, you are missing out! Most restaurants have an extensive menu to choose from, and you can adapt any recipe to meet your needs.
We found two different restaurants where we absolutely loved the flavor of their Chicken Pad Thai. And depending on our mood that day, we would increase the heat level as we desired.
Adjusting the Heat Level
You see, most Thai restaurants will allow you to adjust the heat level based on a numeric scale. For example, heat levels ranged from 0-5 in most establishments. That means that a 0 would be no added spice and if you ordered a 5 you better be ready to sweat!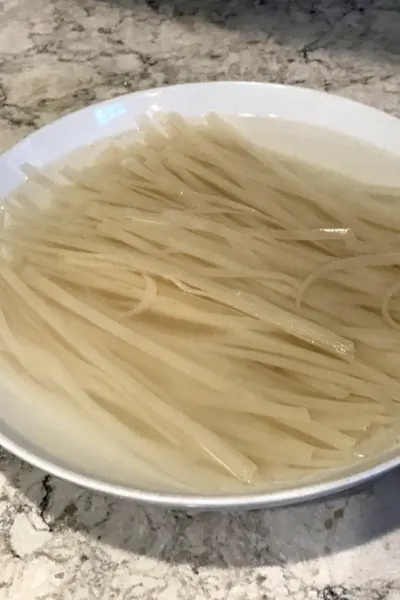 Therefore, we took this into consideration when making our Instant Pot Chicken Pad Thai recipe.
Because there are people in our family that don't like any spice at all, and others that like a lot, we kept the recipe very basic and with zero heat.
However, for those that wanted it a little more spicy, I soaked a dried ancho chile pepper in water and then processed it in my food processor. Then, anyone who wanted to add any additional heat could do so at their own liking.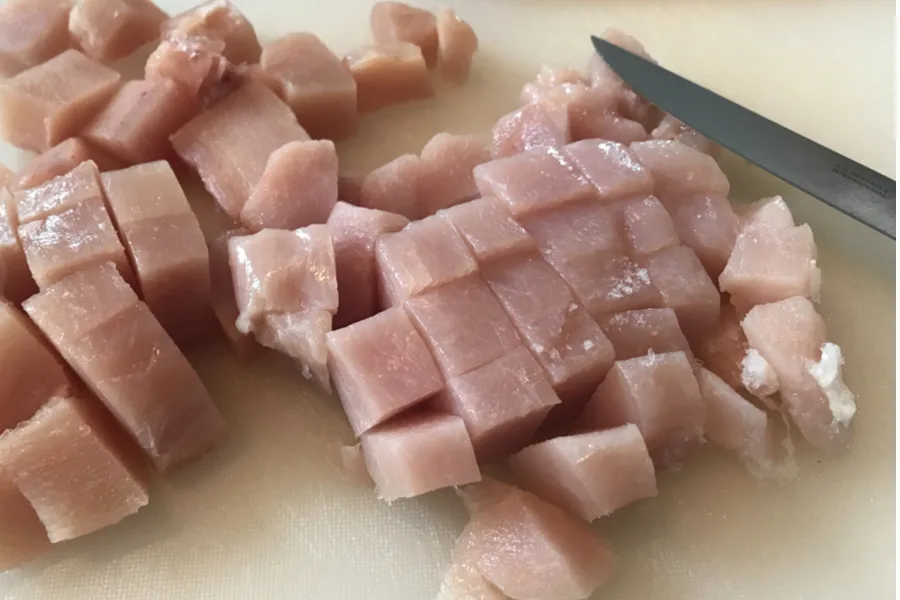 It ended up that there was a perfect blend of sweet and spicy dishes around our dinner table.
How to Make Instant Pot Chicken Pad Thai
Before you can begin to make your Chicken Pad Thai, you will want to gather the ingredients and prepare them for the recipe.
That is because this recipe comes together quickly in the Instant Pot. We made this recipe in our 6 quart Instant Pot Duo. However, this recipe will also fit into the 3 quart Mini.
Once you have cut your chicken breasts cut into bite size pieces, set it aside.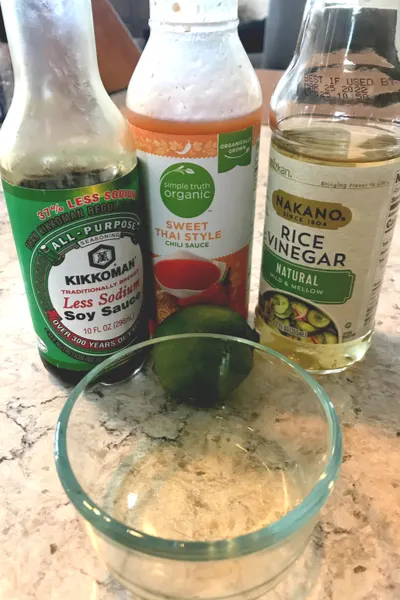 Then soak your Pad Thai rice noodles in very hot water for a couple of minutes. You don't want your noodles to be cooked, just pliable.
Then turn on the Instant Pot and add the oil. When the display reads HOT add the garlic and then the chicken. Continue to saute until the chicken is cooked through.
Then in a small bowl, add the Chicken Pad Thai sauce ingredients. However just a quick word about the sauce itself.
Pad Thai Sauce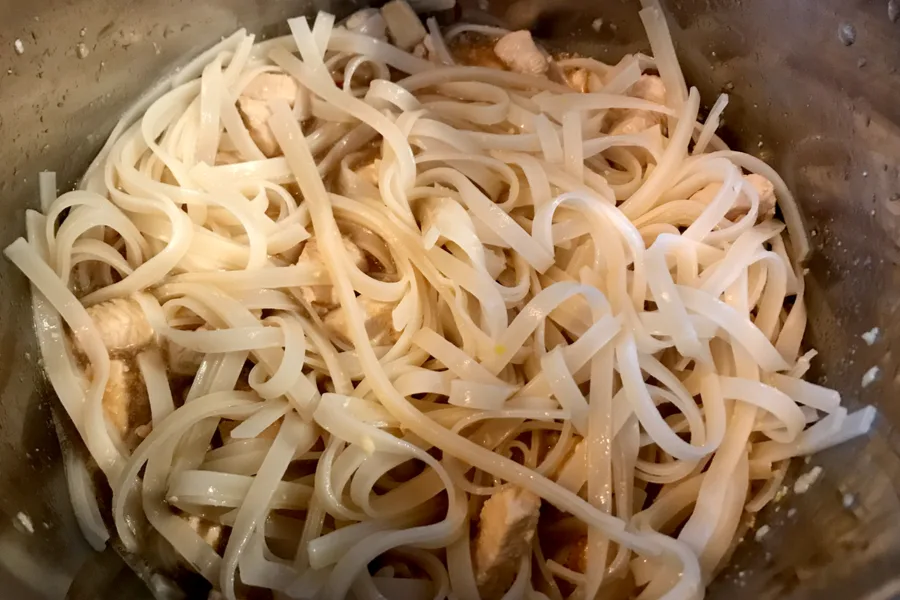 Most Pad Thai sauces are made with tamarind paste and fish sauce. Because these aren't common ingredients found in everyone's kitchen, I have made a few adaptions to this recipe. But no worries, this Instant Pot Chicken Pad Thai recipe is absolutely delicious!
And of course, you can always by store-bought Pad Thai sauce and use that as well.
After the chicken is cooked, add the sauce, noodles and chicken stock to the Instant Pot. Unlike Instant Pot Spaghetti, it is okay to stir and toss the noodles in the sauce/broth mixture before cooking.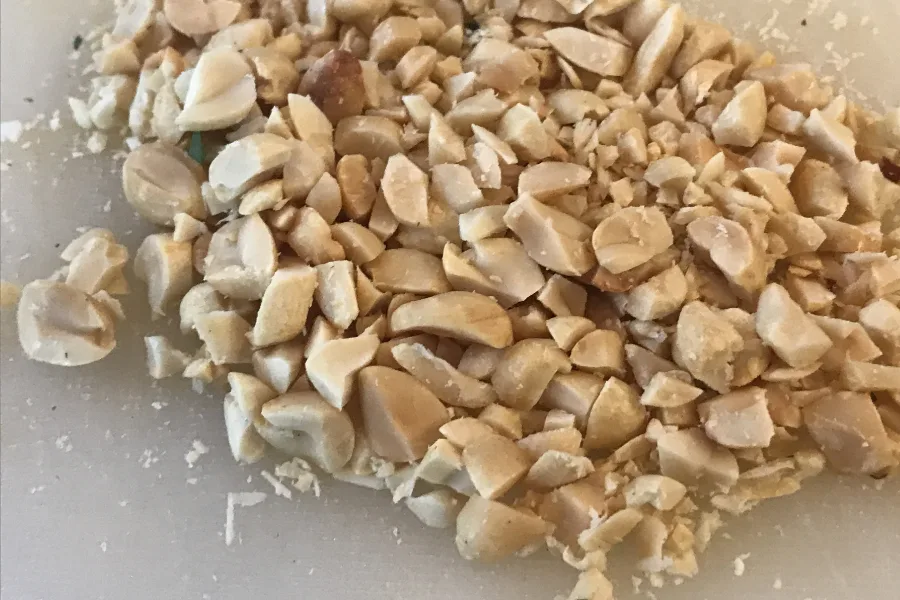 Lock the lid in place and Pressure Cook/Manual for 1 minute. Yes, just 1 minute! As the pressure cooker begins to come to pressure, the Chicken Pad Thai will cook as well.
But as soon as the 1 minute cooking time expires, Quick Release the Pressure by moving the valve to the venting position.
Now remove the lid, toss the Chicken Pad Thai one more time while it is still in the Instant Pot.
Then serve immediately with preferred garnishes. Typical Pad Thai is served with bean sprouts, green onions, cilantro, peanuts and wedges of lime.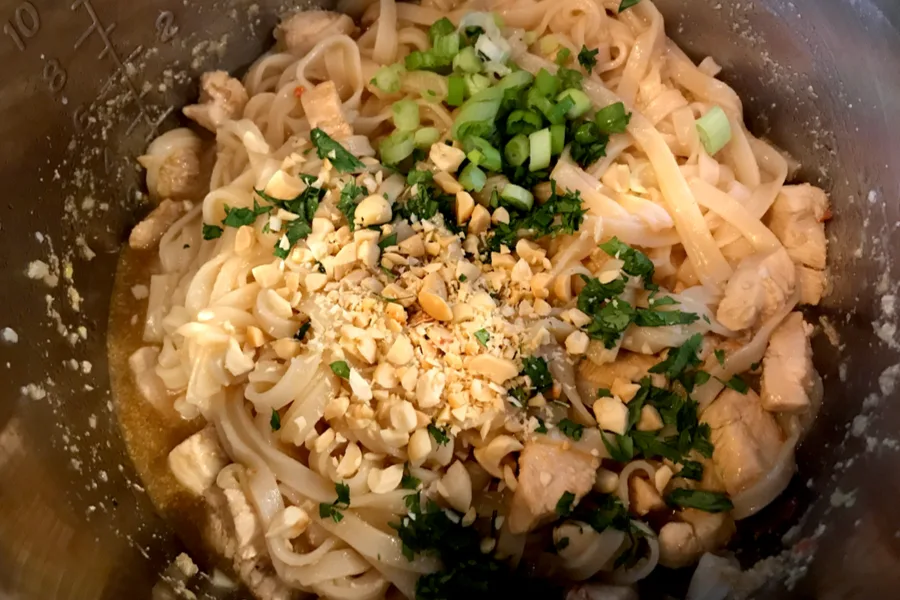 To receive our 3 Recipe Articles in your inbox each week, sign up for our free email list located in the middle of each recipe or email me at contact@makeyourmeals.com. You can also follow us on Facebook and Pinterest. This article may contain affiliate links where a small commission is paid if you purchase a product at no additional cost to you.
Instant Pot Chicken Pad Thai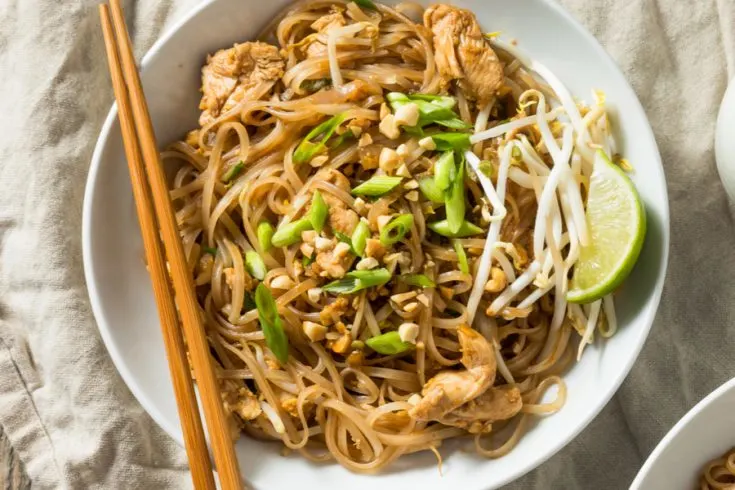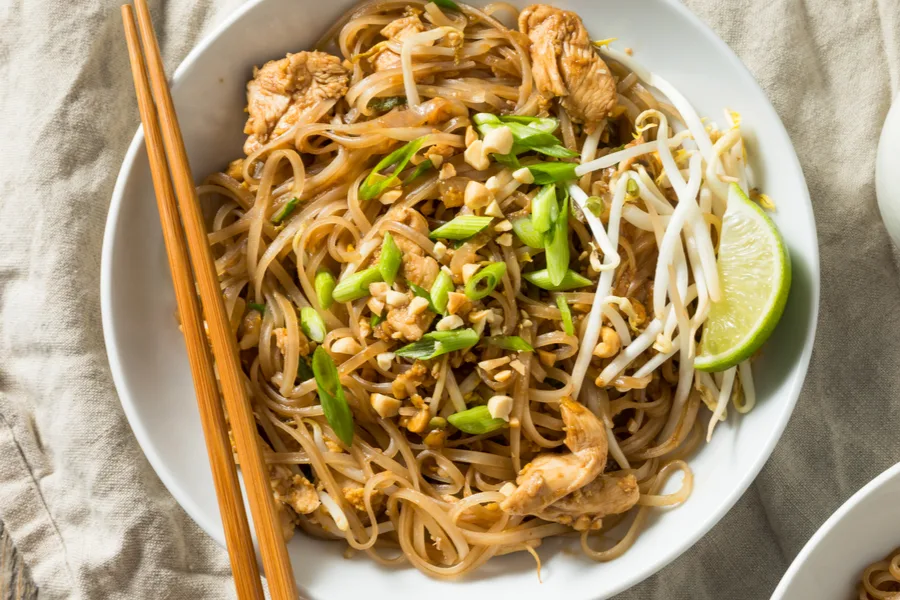 All the flavors of classic Pad Thai made easy by making it in your pressure cooker.
Ingredients
8 oz. Pad Thai Rice Noodles
Sauce Ingredients
juice of 1 lime
2 TBSP soy sauce
2 TBSP rice vinegar
2 TBSP sweet chili sauce
Pad Thai Ingredients
2 tablespoons vegetable or canola oil
4 cloves garlic, minced
1 pound boneless, skinless chicken breast; cut into bite sized pieces
1 cup chicken stock
Garnish
2 cups fresh bean sprouts
3 spring, green onions, sliced
1/2 cup fresh cilantro, minced
1/3 cup crushed or roughly chopped peanuts
wedges of lime for serving
Instructions
In a large bowl, place the dry rice noodles and pour hot water over them to cover. Allow to soak for 2 minutes and drain immediatley.
In a small bowl, combine sauce ingredients and set aside.
Heat the Instant Pot by pressing SAUTE and add 1-2 tablespoons of oil. Once the display reads HOT add the minced garlic and saute for 1 minute, or until fragrant.
Add the chicken to sauté until cooked through, about 5-7 minutes.
Add the chicken stock and Pad Thai sauce into the pot and stir. Be sure to scrap the bottom of the pot to release any stuck pieces.
Add the noodles and toss to coat in the sauce.
Lock the lid in place and move the valve to SEALING.
Pressure Cook/Manual for 1 minute on HIGH pressure.
Once the cook time expires, immediately move the valve to VENTING to Quick Release Pressure.
Toss again before serving.
Serve with bean sprouts, green onions, cilantro, chopped peanuts and lime wedges.
Notes
Recipe provided by Make Your Meals
Nutrition Information:
Serving Size:
1 grams
Amount Per Serving:
Unsaturated Fat:

0g