Dairy Free Alfredo Sauce
When I was diagnosed with a dairy allergy, I never thought I would be able to have Alfredo sauce again! Not only because of the milk base of Alfredo sauce, but also the Parmesan cheese that makes it taste so good.
So for the past few years, I had to avoid indulging in the pleasure of my favorite pasta dish – Fettuccine Alfredo.
That was until a good friend of mine reminded me that she had a recipe for Dairy Free Alfredo Sauce.
I did recall having dinner with her and her family and being served Fettuccine Alfredo. And I also remembered how delicious it was, but I totally forgot that it was dairy free.
I was so excited to get the recipe and give it a try.
The Base of Dairy Free Alfredo Sauce
What makes this Dairy Free Alfredo Sauce so creamy is cashews. Yes, cashews.
When pureed, cashews become very creamy and make a great base for many dairy-free cream sauces.
The key to making this recipe smooth, is to soak the cashews over night. The nuts absorb the water and become softened.
That is great to know, but sometimes, if you are like me, you forget to plan for the overnight soaking time.
So that is where an Instant Pot Pressure Cooker comes to save the day!
Soaking Nuts In the Instant Pot Pressure Cooker
In order to achieve the fork tender quality of cashews that have been soaked over night, I turned to the Instant Pot.
Of course I did! You all know how much I adore my Instant Pot 6 quart Duo.
It truly saves me a ton of time and the quality of food that it produces in a fraction of the time when compared to traditional cooking methods is irreplaceable.
And that is certainly the case when it comes to soaking cashews! What would take over 12 hours to accomplish, is done in less than 15 minutes.
I place the cashews in the liner of Instant Pot, cover them with water and let the magic begin. With 7 minutes of pressure cooking time, they are fork tender and ready to be made into Dairy Free Alfredo Sauce!
Blending The Cashews
The next step is simple – throw all of the ingredients into a high powered blender and puree the mixture until smooth.
Of course, by High Powered blender, I don't mean the $19.00 blender that you get at the local department store. I am talking about high quality blenders such as the Vitamix, Blendtec, and Ninja type blenders.
But now there is a new blender on the market that I absolutely have fallen in love with – Instant Pot Ace Blender.
No, I am not a paid sponsor for the Instant Pot Brand. Although, I do love their products!
Instant Pot Ace Blender
Right when the Instant Pot Blender came out I was already in the market for a new blender. In fact, I had almost taken the financial plunge to purchase a Vitamix.
Because I haven't historically used a blender frequently, I was hesitant to spend so much money on one. However, I knew how strong of a motor they have and their warranty is fantastic.
But for me, the amount that it would get used caused me to question the purchase.
So it was perfect timing when I saw the Instant Pot Blender appear online. At the time that this article was written, it is only available online through Walmart stores. See: Instant Pot Blender Link
It was 1/4th of the cost of the Vitamix, and within 2 days, it was on my doorstep!
So when I went to make my Dairy Free Alfredo Sauce, of course I used my new blender.
Blend and Heat At The Same Time
The original recipe called for you to puree the ingredients until smooth and then transfer to a pot to heat and serve.
And of course, you can do just that.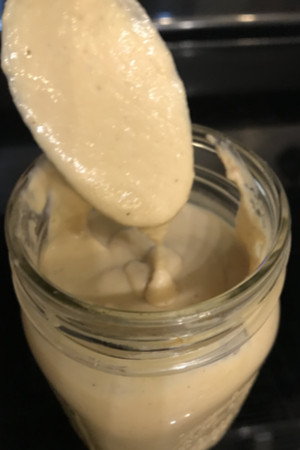 Smooth and delicious dairy free Alfredo sauce.But because the Instant Pot Blender can puree and heat at the same time I decided to give it a shot!
So I took a chance and the results – the Dairy Free Alfredo Sauce was pureed and hot and ready to serve in less than 3 minutes!
No transferring to another pot, and no additional dishes to clean!
For me, it was an all around win-win situation. I can finally have my Fettuccine Alfredo and it can be ready to eat in minutes!
Check out the printable recipe below and all of our recipes and let me know what you think!
To receive our 3 Recipe Articles in your inbox each week, sign up for our free email list. You can also follow us
on Facebook, Twitter, Pinterest, and Instagram. This article may contain affiliate links.
Yield: 1 cups
Dairy Free Alfredo Sauce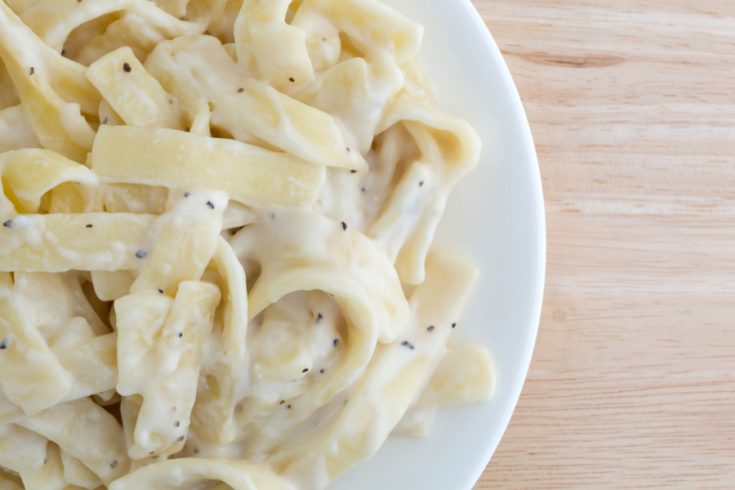 A delicious smooth and creamy Alfredo sauce made with cashews and packs a cheesy flavor just like the original!
Ingredients
1 cup raw cashews
3/4 cup water
1/2 Tbsp. lemon juice
3 cloves garlic, peeled and roughly chopped
1/2 cup diced onion
2 Tbsp. nutritional yeast
1 tsp. garlic salt
1/4 tsp. ground thyme
1/4 tsp. ground black pepper
1/8 tsp. red pepper flakes
Instructions
Soaking Cashew Options
Cover with water and soak overnight (or at least 10 hours)
Pour cashews in the liner of the Instant Pot Pressure Cooker and cover with water. Pressure cook/manual on High pressure for 7 minutes. After time has expired, allow for 5 minutes of Natural Pressure Release then quick release remaining pressure. Drain in colander.
Blending Options
Add all of the ingredients into a high power blender. Heat in a small sauce pan and serve immediately with your favorite noodles, potatoes, etc.
Place ingredients in Instant Pot Ace Blender. Push the Puree button and make sure mode is set on 2. Once time is up, serve hot Alfredo Sauce on your favorite noodles, potatoes, etc.
Notes
Recipe provided by Make Your Meals
Nutrition Information:
Yield:
1
Serving Size:
1 grams
Amount Per Serving:
Unsaturated Fat:

0g