This is the absolutely BEST Slow Cooker Pulled Pork recipe that I have ever made.
The meat turned out not only fall apart tender. But it was also super moist and the flavor was to die for!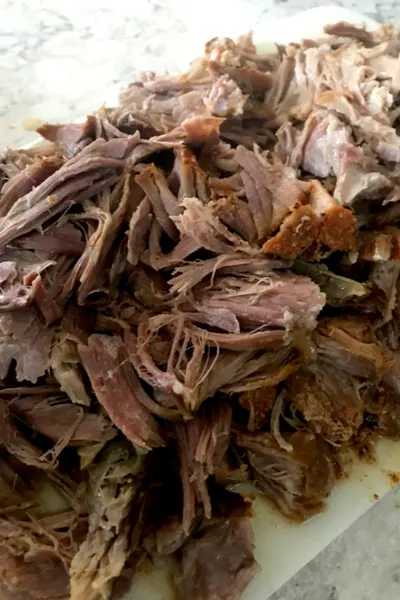 And like many things in life, it all happened by accident.
I had planned on making BBQ Pulled Pork in my Instant Pot for dinner one night.
However, right before I was about to leave for work, our son informed us of an event that we needed to attend at school that evening.
And that meant that there would be no time to make dinner after work.
So I went to plan B. The pulled pork would now have to be made in the slow cooker.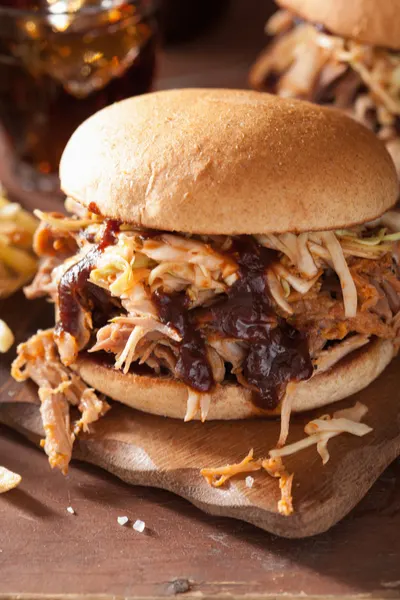 But then there was one other obstacle. There was no barbecue sauce in the house! I had planned to go to the grocery store on my way home. But now, that wasn't an option.
So instead, I opened my spice cabinet to see what I could throw together.
Pulled Pork Dry Spice Rub
Every good dry rub starts with brown sugar. When cooked, the sugars break down and penetrate into the meat.
This not only adds a touch of sweetness to the juices, but it also penetrates into the fibers of the meat.
And then there are the classic dry rub ingredients: garlic powder, onion powder, salt and pepper.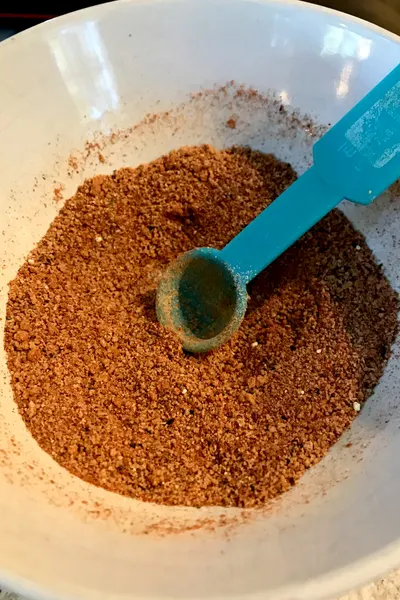 But what made this dry rub so delicious was the addition of smoked paprika and cayenne pepper.
We use smoked paprika in a lot of our recipes including Cajun Chicken, Smoked Chicken Wings, and even our Air Fryer Salmon recipe.
It adds a layer of flavor that is slightly smoky, yet sweet at the same time.
And don't be afraid of adding a little cayenne pepper to your dry rub. I promise you that it won't be spicy.
It simply adds another layer of flavor that makes this Slow Cooker Pulled Pork the best that you have ever had!
What Cut of Beef To Use For Slow Cooker Pulled Pork
So what is the best cut of meat for making Slow Cooker Pulled Pork?
Although pork tenderloin and pork tenderloin roasts are fantastic choices when making dinner, they aren't ideal for making pulled pork.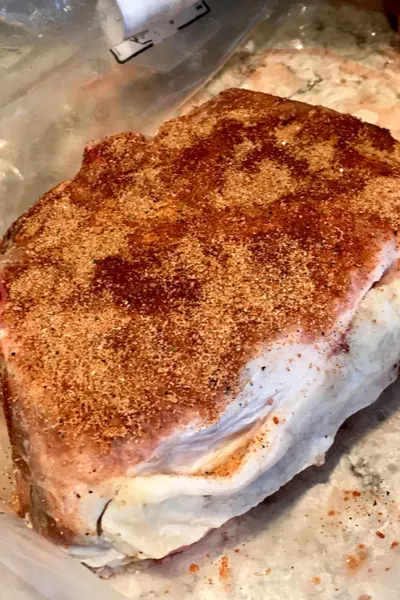 Instead, you want a tougher and fattier cut of meat that breaks down beautifully when slow cooked all day.
The best roast to purchase for this recipe is a pork shoulder. However, be aware, that in your grocery store, it may also be called a pork butt or Boston butt.
Although they have different names depending on your location, they are all the same cut of beef. And they are the ideal type of roast to make Slow Cooker Pulled Pork.
The Cooking Process
Now that you have your roast and your dry spice ingredients, it is time to get it cooking in the slow cooker.
You can either use a fresh or frozen roast to make pulled pork in the slow cooker.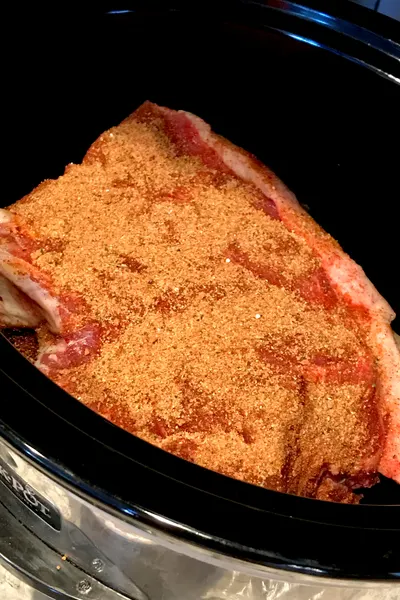 Simply rub the dry spices on all sides of pork. Then let the coated roast sit for at least 5 minutes so that spices have time to adhere to the surface.
In the liner of your slow cooker add the water and apple cider vinegar.
The vinegar will not change the flavor of the pork. It simply helps to break down the fibers of the meat to make it pull-apart, fork tender.
Next, carefully lower your seasoned roast into the liner of your slow cooker. Add your lid and slow cook for 8 hours on low.
If you have a programmable slow cooker like our 6 quart Crock Pot Slow Cooker, you can set your desired cook time and it will keep it warm until you get home.
Then all that is left to do is to shred the pork. Remove the roast from the slow cooker and it will easily shred with two forks.
Finally, return the pulled pork back into the slow cooker to absorb the juices.
Keep it warm until you are ready to serve.
We serve it on a bun or toasted Texas Toast as a pulled pork sandwich. Or in tortilla shells with lettuce, cheese and salsa.
We even use the pulled pork on top of nachos, as a filling for enchiladas, burritos and more!
And if you have any leftovers, the slow cooker pulled pork freezes well!

To receive our 3 Recipe Articles in your inbox each week, sign up for our free email list located in the middle of each recipe or email me at contact@makeyourmeals.com. You can also follow us on Facebook and Pinterest. This article may contain affiliate links where a small commission is paid if you purchase a product at no additional cost to you.
Slow Cooker Pulled Pork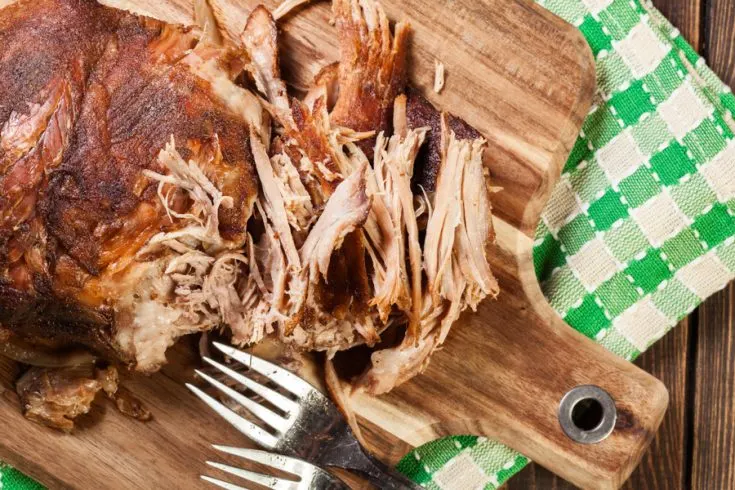 How to make the BEST pulled pork with a 6-ingredients dry rub that makes your meat turn out moist and delicious each and every time.
Ingredients
3-4 pound pork shoulder/butt
2 tablespoons smoked paprika
2 tablespoons brown sugar
1 teaspoon garlic powder
1 teaspoon onion powder
1 teaspoon kosher salt
1 teaspoon pepper
1 teaspoon cayenne pepper
1/4 cup apple cider vinegar
3/4 cup water
Instructions
In a small bowl mix together the brown sugar, garlic powder, onion powder, salt, pepper, and cayenne pepper.
Rub the dry spice mixture onto all sides of the pork and set aside for 5 minutes.
In the liner of the slow cooker add the vinegar and water.
Slowly lower the seasoned pork shoulder/butt down into the water/vinegar mixture.
Cover and cook on high for 4-5 hours or on low for 8 hours.
Remove pork from the liquid and shred with 2 forks. Discard any fatty pieces.
Add the shredded pork back into the liquid and keep warm until ready to serve.
Notes
Recipe provided by Make Your Meals
Nutrition Information:
Serving Size:
1 grams
Amount Per Serving:
Unsaturated Fat:

0g