Instant Pot Cajun Chicken Recipe
Instant Pot Cajun Chicken is one of the BEST, most flavorful recipes that you will ever make in the Instant Pot.
The chicken is cooked with a variety of seasonings that gives it that authentic Cajun flavor. You can adjust the heat level based on your preference by adding more or less of cayenne ground pepper.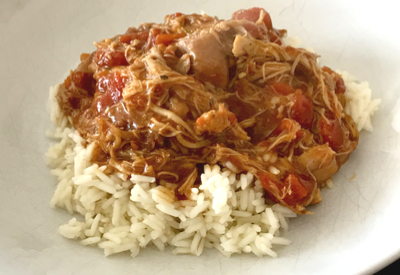 We like it hot, so when we make it at our house, we use the full 2 teaspoons, if not more!
The spices are made more vibrant in this recipe by heating them up prior to the pressure cooking process. Add a little oil to the liner and stir in the spices when it becomes hot.
You will be able to smell the aroma of the Cajun spices being released in just one short minute. And best of all, the pot is nice and hot and will come to pressure much quicker!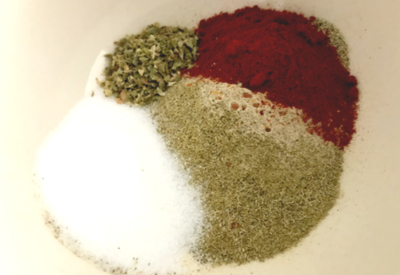 For an additional layer of flavor, the chicken is cooked directly in a mixture of chicken broth and beer.
You can use whatever type of beer that you have on hand. I have used both a very light beer and a double IPA variety and each time it turns out perfectly!
For those that don't like to cook with alcohol you could use non-alcoholic beer, chicken broth or even ginger ale instead.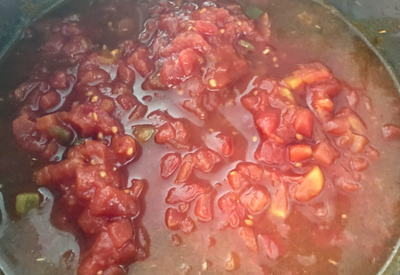 There is one crucial step when making this recipe. Be sure to add the cans of tomatoes on top of the chicken and DO NOT STIR!
I repeat, DO NOT STIR!!!
If you have tomatoes that are sitting directly on the bottom of the liner, you are much more likely to get the dreaded BURN message.
Once the cooking process is complete you will remove the chicken to shred and then can stir the tomatoes into the rest of the liquid.
Although the chicken is super easy to shred, I love using my KitchenAid hand mixer to shred all of the meat in seconds!
Just place the meat in a large bowl and watch the magic happen!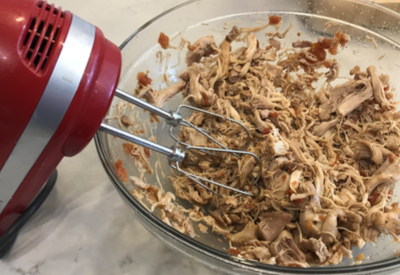 Our standard way to serve Instant Pot Cajun Chicken is over a bed of rice. However, we have also ate the leftovers on top of a baked or sweet potato.
We even heat it up in the morning with some scrambled eggs for breakfast!
The options are endless with this flavorful dish! But if you are looking for an easy to make Cajun chicken dish using whole chicken breasts, try our Cajun Butter Chicken Breast recipe. It's ready to eat in just 15 minutes!
We made this recipe using our Instant Pot 6 quart duo.
For another fantastic Instant Pot Chicken recipe try our Honey Bourbon Chicken recipe (spoiler alert – there is no Bourbon in the recipe).
Check out the printable recipe below and all of our recipes and let me know what you think!
To receive our 3 Recipe Articles in your inbox each week, sign up for our free email list. You can also follow us on Facebook, Twitter, Pinterest, and Instagram. This article may contain affiliate links.
Instant Pot Cajun Chicken – A Recipe With Tons of Flavor!