If you love apples or applesauce, this Instant Pot Apple Butter recipe will knock your socks off!
For those that have never had apple butter, it isn't butter at all. It is a spiced apple puree that is used primarily as a spread on bread and crackers.
It is thicker and darker than applesauce and can also be used in cookies or as a filling.
But I have to warn you, it is addicting!!!
I first had apple butter at a popular restaurant in a primarily Amish community. They had it on the table in a plastic jar for anyone to enjoy.
Of course, as soon as they brought out the homemade bread, I dove in! It was soooooo good.
I have been making it ever since in the crockpot, but that took hours upon hours.
I pulled out the Instant Pot and knew I could make it in the time. In fact, Instant Pot Apple Butter takes only 8 minutes of actual cooking time!
An additional 15-30 minutes on saute to allow it to thicken and it is done.
So what used to take me 12 hours to make now takes under one hour!!!!!
This means that I no longer have to make a large batch and can it in mason jars. Any time that I run out, have a craving for it, or want to give it as a gift, I can make it fresh.
Making Instant Pot Apple Butter Preferences
I choose to peel my apples, but this isn't necessary. The immersion blender will make the peels disappear right into the smooth spread.
You can easily core and cut your apples using this Apple Corer/Slicer product.
And for the amount of sugar required – the recipe provides a guideline. You can decrease or increase depending on your taste.
I like to use sweet apples, so I use between 1/4-1/2 cup of brown sugar. However, you can eliminate the sugar all together or use a sugar substitute.
Check out the recipe below and all of our recipes and let me know what you think!
To receive our 3 Recipe Articles in your inbox each week, sign up for our free email list.
You can also follow us on Facebook, Twitter, Pinterest, and Instagram. This article may contain affiliate links.
Yield: 2 cups
Amish Apple Butter Recipe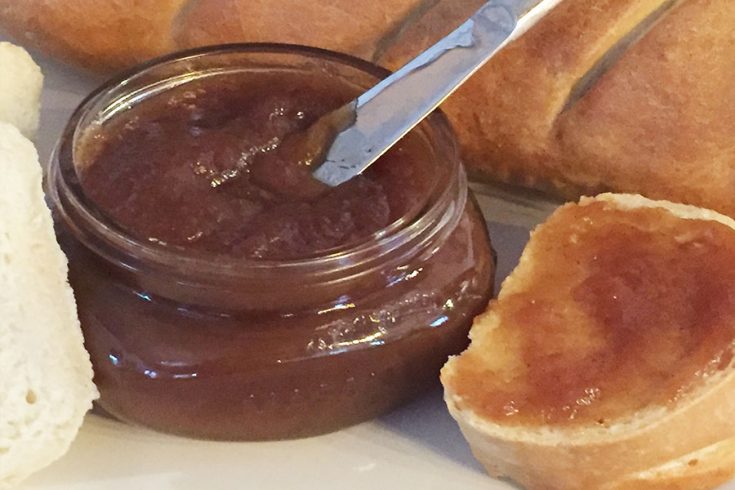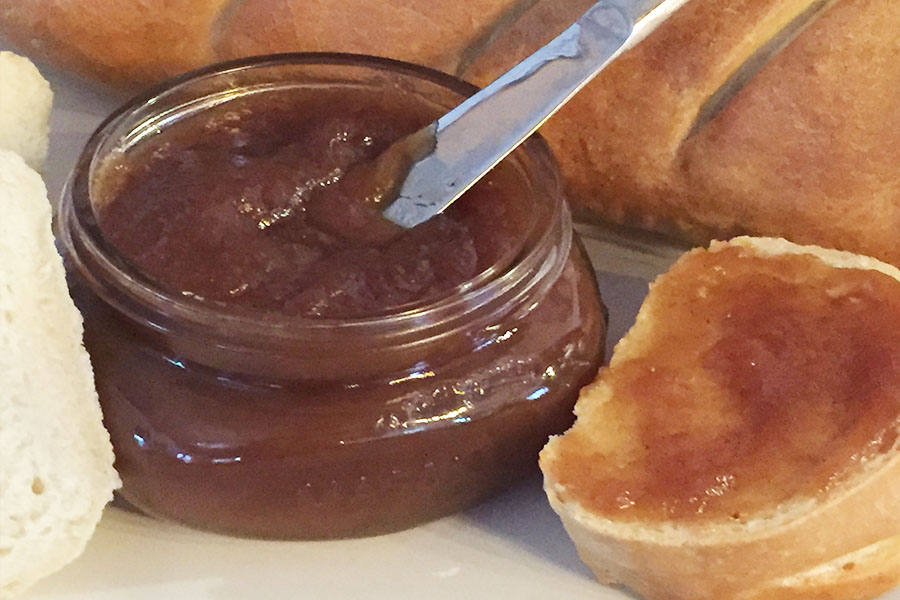 Amish apple butter than can be used as a delicious spread for toast and crackers and can also be used as a marinade and as a filling for cookies and tarts.
Ingredients
6 sweet apples
1/4 cup apple cider or pure apple juice
1/2 cup packed light brown sugar
1 teaspoon cinnamon
1/2 teaspoon ground nutmeg
1/4 teaspoon ground allspice
1/2 teaspoon salt
1 cinnamon stick
1 teaspoon pure vanilla extract
Instructions
Peel, core and slice each apple into 8 slices.
Place all the ingredients into the Instant Pot and stir to coat apples.
Using the manual setting (pressure cook) set at high pressure for 8 minutes with the valve sealed. When the time has run out, turn off and allow for natural pressure release.
Take off the lid and remove cinnamon stick.
Use an immersion blender until mixture becomes smooth. You could also use a food processor or a blender filled to no more than half full.
Turn Instant Pot to sauté and push the adjust button to LESS. Simmer until thickened to desired consistency – approximately 15-30 minutes.
Turn off and let apple butter cool completely.
Store in an air tight container.
Refrigerate for up to 3 weeks or freeze up to 6 months.
Notes
Recipe provided by Make Your Meals
Nutrition Information:
Yield:
2
Serving Size:
1 grams
Amount Per Serving:
Unsaturated Fat:

0g