As the weather begins to cool down and the apples begin to ripen, I get excited knowing that it is almost time to make our slow cooker Apple Butter recipe.
I had my first taste of apple butter in Ohio's Amish country. At nearly every restaurant there is warm homemade bread brought to the table while you wait for your order to be cooked.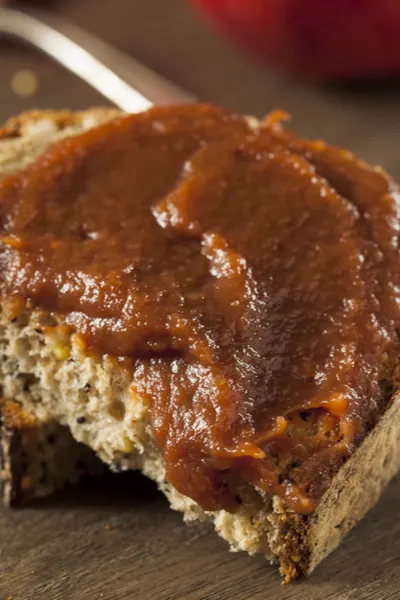 And at the end of every table there is an opened container of apple butter and whipped peanut butter.
So, of course, I had to try the famous Amish apple butter that everyone was raving about.
And I wasn't disappointed! In fact, it was so delicious that I spread it on a few slices and wasn't even hungry when my meal arrived.
Apple Butter vs. Applesauce
But exactly what is apple butter?
Both applesauce and apple butter are made by cooking down apples, usually with a liquid and various spices.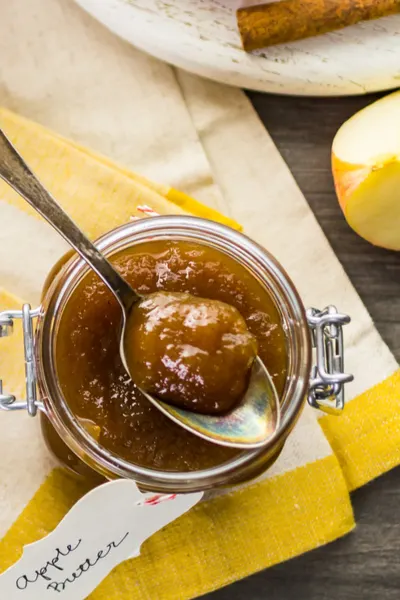 However, applesauce is cooked just enough so that the apples can easily be broken down and pureed.
On the contrary, apple butter is cooked until the mixture becomes nice and thick and easily spreadable.
And don't get confused with the name. There is no actual butter in this recipe.
The name actually refers to the consistency of the final cooked product.
Slow Cooker Apple Butter
Although you can make apple butter on the stove top, it is much easier to make it in the slow cooker.
But first you have to pick out the variety of apples that you want to use.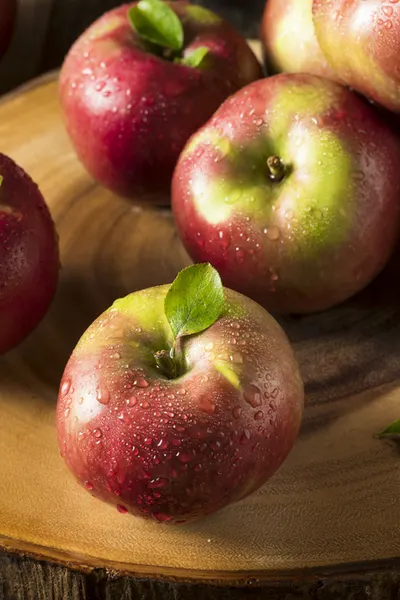 Type of Apple
Although Granny Smith apples make fantastic pies and Apple Crisp, they are not good to turn into apple butter.
Instead use a sweeter apple such as Jonathan, Winesap, Gala, McIntosh or Cortland varieties.
And it is always best to use a mixture of apples rather than all the same type.
Peeling, Coring and Slicing The Apples
So now comes the tedious part of the recipe – peeling, coring, and slicing the apples.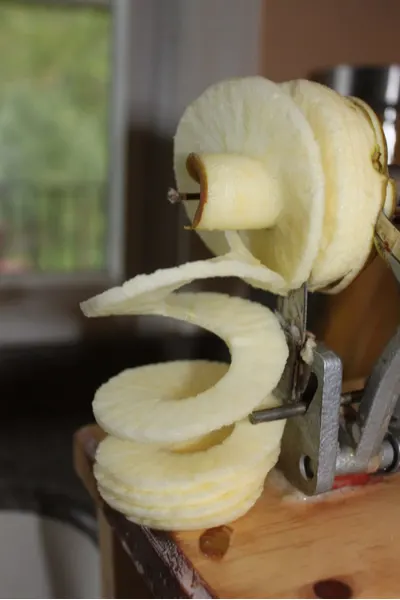 I have made this recipe with both unpeeled and peeled apples. And I have to admit, that I prefer the texture when I peel the apples.
I use an apple peeler, corer, slicer which allows me to complete the entire process in under 5 minutes. To me, the end product is well worth the effort.
However, if you decide that you don't want to peel your apples, simply use an immersion blender or high powered blender to puree the mixture after it has cooked down.
Seasonings
Next it is time to add the seasonings.
Of course no apple butter would be complete without cinnamon. However, it is the ground cloves that gives the slow cooker apple butter that classic taste.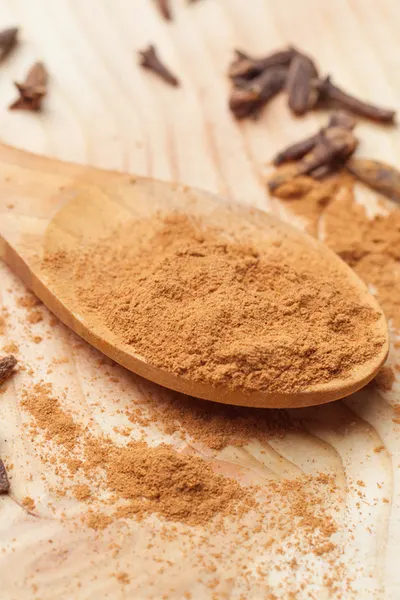 Although you don't have to stir the seasonings to coat the apple slices, I prefer to do so.
During the cooking process, the apple slices will break down and once stirred, the cinnamon and cloves will be evenly incorporated into the mixture.
Adding Sweetener
Because Slow Cooker Apple Butter is a sweet spread, adding a sweetener is necessary.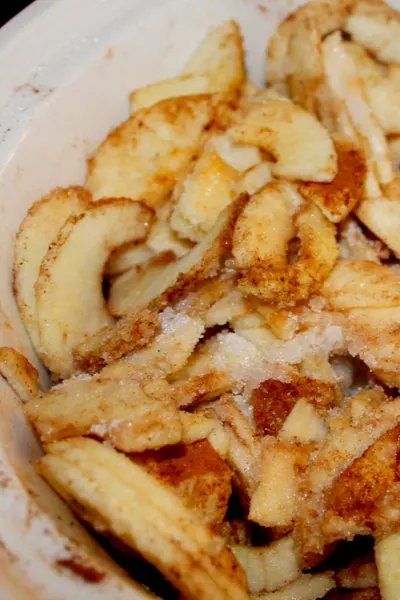 Although this recipe calls for granulated sugar, you can adjust the amount as desired.
Fresh picked apples are much sweeter than store-bought apples. When I pick apples from the orchard, I always taste the apple before I determine how much sugar that I need to use.
Typically, I use 2-3 cups for fresh apples, and 4 cups for store-bought apples.
You can also use sugar substitutes as well. Add the recommended ratio for standard substitutions. Keeping in mind, that if you are using a liquid substitute, it may take longer for the apple butter to thicken.
Storing Slow Cooker Apple Butter
Once the cooking process is complete use an immersion blender or food mill to puree the mixture.
Allow it to cool and then you are ready to store your homemade slow cooker apple butter!
We like to ladle the mixture in hot pint jars and process in a hot water bath for 10 minutes.
However, you can also store it in the refrigerator or freezer.
It makes for a great addition to any breakfast, or even as a gift around the holidays!
If you want to make apple butter in an electric pressure cooker, check out our Instant Pot Apple Butter recipe.

To receive our 3 Recipe Articles in your inbox each week, sign up for our free email list located in the middle of each recipe or email me at contact@makeyourmeals.com. You can also follow us on Facebook and Pinterest. This article may contain affiliate links where a small commission is paid if you purchase a product at no additional cost to you.
Yield: 5 pints
Slow Cooker Apple Butter Recipe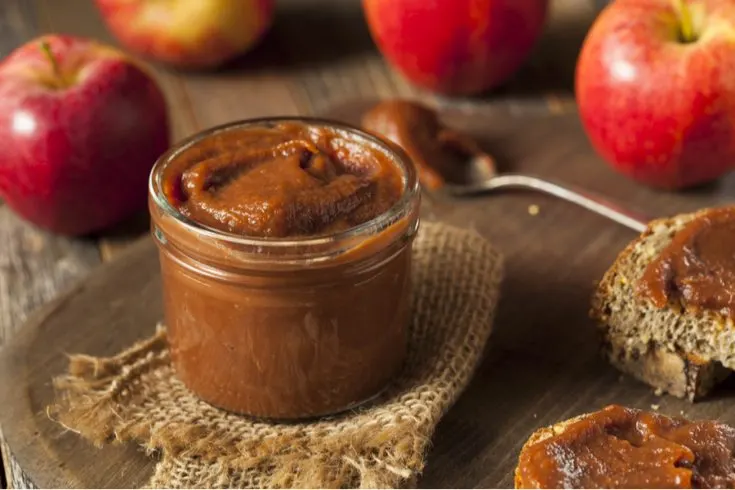 Thick and sweet apple butter made easy by cooking it in a slow cooker. Served on toast, crackers, pancakes and more!
Ingredients
6 lbs of apples, peeled, cored, sliced
4 cups of sugar
3 teaspoons of cinnamon
1/4 teaspoon of ground cloves
1/4 teaspoon of salt
Instructions
Place all ingredients into a large crock pot. Turn on high for 1 hour, then turn to low for an additional 10-11 hours. Uncover and cook for 1 hour longer on low to thicken.
Use an immersion blender or food mill to puree the mixture.
Place in an air-tight container and refrigerate.
Notes
Storing Tips: Refrigerate, freeze or can in a hot water canning bath for 10 minutes, adjusting for altitude as needed.
Apples that are best to use - Jonathan, McIntosh, Winesap, Cortlands, and Gala are just a few of the varieties that we find best for making good apple butter.
Recipe provided by Make Your Meals
Nutrition Information:
Yield:
5
Serving Size:
1 grams
Amount Per Serving:
Unsaturated Fat:

0g