I am so excited to share this Instant Pot General Tso's Chicken Recipe.
Every time that I go to a Chinese restaurant, I try to convince myself to order something new.
However, I always go back to my favorite menu item, General Tso's Chicken.
There is just something about that sweet and tangy sauce that coats breaded pieces of chicken that I absolutely love!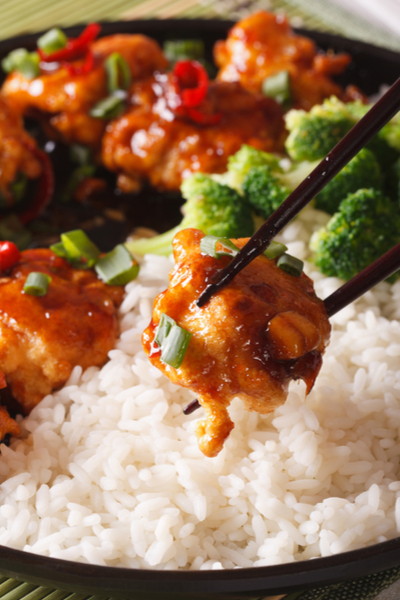 Add in a little broccoli and rice, and I have a delicious and filling meal. Well to be honest, I usually take home just as much as I eat so it really counts as two meals.
However, because the chicken is breaded and deep-fried, it isn't the healthiest meal on the menu.
So I have begun to order my General Tso's chicken stir-fried instead.
Bits of sliced chicken breasts are coated in the sauce and served along side a huge scoop of rice.
A much healthier alternative than the original version.
But when we moved away from our favorite Chinese restaurant I began to crave it more and more.
I think the thought of not having the ability to drive one mile down the road to pick up General Tso's made me want it even more.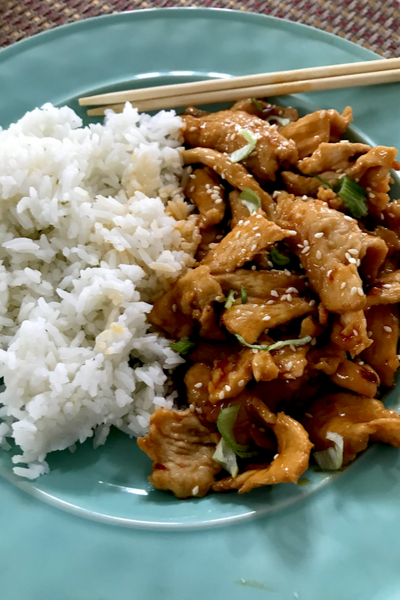 That is when I knew that I would have to find a way to replicate it at home.
And because we had success with Instant Pot Orange Chicken, we thought what we would make General Tso's Chicken in the Instant Pot 6 quart Duo as well.
Instant Pot General Tso's Chicken
So I grabbed a few chicken breasts and went to work. You can either slice the chicken in thin slices or cut it in small chunks.
Then turn your Instant Pot on the Saute mode until the display reads HOT. This is the time to add the oil and chicken pieces.
Remember, do not add the oil while the pot is heating up. By the time you add your chicken, the oil will have settled to the sides and the center pieces of chicken will stick to the bottom of the pot.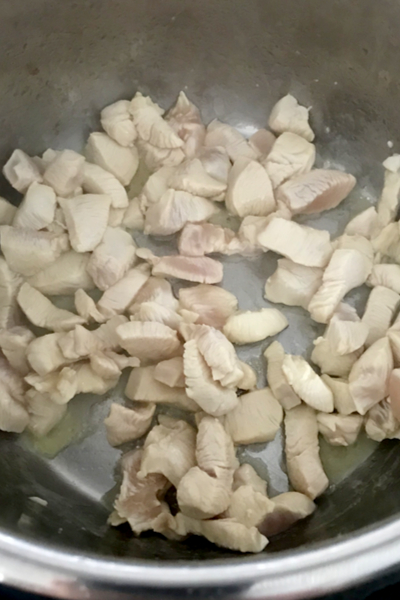 Lightly brown the chicken pieces on all sides, working in batches if needed. Then remove the chicken and place them in a bowl.
If you have any stuck pieces of chicken on the bottom of the Instant Pot, now is the time to scrape them off.
Add the rice vinegar to the pot and scrape the bottom with a wooden spatula.
Once the pot is clean, it is time to add the remaining General Tso's sauce ingredients.
Simply mix everything together and add the chicken pieces back into the pot. Coat the chicken with the sauce and it is time to cook your Instant Pot General Tso's Chicken!
Cook Time and Method
Lock your lid in place and turn the valve to the Sealing position.
Depending on the model that you have, push Pressure Cook or Manual and set your cook time to 10 minutes.
Remember, your pot will need time to come to pressure before the actual cook time begins.
Once the cook time is up, allow your pot to Natural Pressure Release for at least 5 minutes.
If you have more time, let it complete a full Natural Pressure release. However, typically I am in a hurry and it is all I can do to wait for the 5 minutes to go by before releasing the remaining pressure.
Thicken the General Tso's sauce with a slurry of cornstarch (or arrowroot) powder and cold water. Continue to saute the mixture until you get the desired consistency.
Serve with rice. And if you want easy to cook, fail-proof Instant Pot rice, check out our recipe: Instant Pot White Rice.

To receive our 3 Recipe Articles in your inbox each week, sign up for our free email list located in the middle of each recipe or email me at contact@makeyourmeals.com. You can also follow us on Facebook and Pinterest. This article may contain affiliate links where a small commission is paid if you purchase a product at no additional cost to you.
Yield: 6
Instant Pot General Tso's Recipe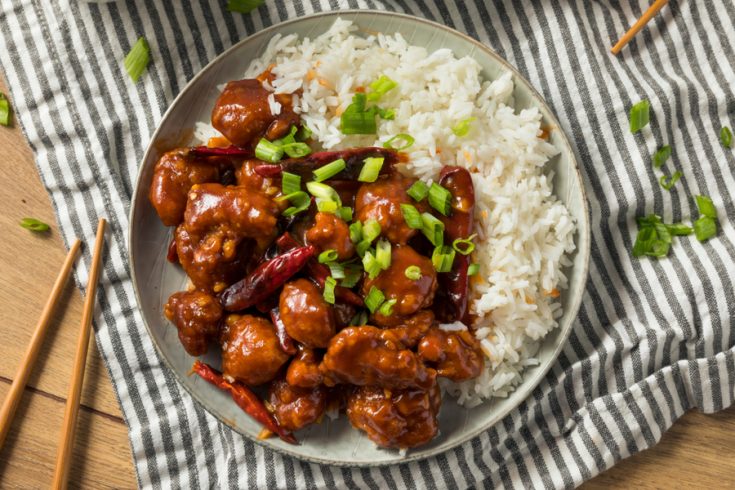 A healthier version of General Tso's using unbreaded chicken breasts and cooked in the Instant Pot. Even better than take-out!
Ingredients
3 tablespoons extra virgin olive oil
2 lbs boneless, skinless chicken breasts, cubed in bite size pieces
1 tablespoon water
1 tablespoon cornstarch or arrowroot powder
For General Tso's sauce:
⅓ cup rice vinegar
⅓ cup soy sauce
¾ cup hoisin sauce
4 tablespoons brown sugar
1 tablespoon Chinese cooking wine or dry sherry
3 garlic cloves, minced
½ teaspoon ground ginger
¼ - ½ teaspoon cayenne pepper
Optional Garnishes:
Sesame seeds
Crushed red pepper
1 green onion, sliced
Instructions
Turn the Instant Pot on the Sauté mode. When the display reads HOT, add oil. Add the chicken in batches and lightly brown on all sides. Transfer the chicken to a plate and repeat with any remaining chicken. Press Cancel/OFF
Add the rice vinegar to the Instant Pot and deglaze the bottom of the pot. Be sure to remove all of the browned bits that stuck to the bottom.
Add the remaining sauce ingredients to the pot and mix together until well combined.
Return chicken pieces to the instant pot and stir to coat the chicken with the sauce.
Lock the lid and place valve in the Sealing position.
Pressure Cook/Manual on HIGH pressure for 10 minutes.
When the cooking time expires allow for 5 minutes of Natural Pressure Release. Then Quick Release any remaining pressure.
Press Cancel and then select Sauté mode.
In a small bowl whisk together the cornstarch/arrowroot powder and water until incorporated. Pour the slurry in the pot and mix to combine. Simmer for 1 - 2 minutes until the sauce thickens to desired consistency.
Serve alongside or on top of rice.
Garnish with with sesame seeds, crushed red pepper, and sliced green onions, if desired.
Notes
Recipe provided by Make Your Meals
Nutrition Information:
Yield:
6
Serving Size:
1 grams
Amount Per Serving:
Unsaturated Fat:

0g