Instant Pot Apple Crisp
Move over cheesecake, Instant Pot Apple Crisp is here!
When you search Instant Pot dessert recipes you will be sure to find a page filled with various cheesecake recipes.
From traditional cheesecake to even our famous Oreo Cheesecake recipe, there are many recipes to choose from.
If you look a little deeper, you might even find a chocolate lava cake recipe. Cooked in individual ramekins, this chocolate dessert is filled with a gooey ganache in the inside.
But if you are looking for something a little lighter, and healthier, than Instant Pot Apple Crisp is the dessert for you!
I love apple crisp any time of the year. You can't beat the taste of tart apples topped with a sweet crisp oat mixture.
What I don't love is when you want to make apple crisp in the oven and it is the middle of summer. The last thing I want to do is heat up the kitchen!
That is where the Instant Pot Apple Crisp comes to the rescue. Not only can you eliminate the need to turn on your stove, you can also have it on the table in half of the time!
You can save additional time if you don't peel your apples! And if you want to make things easy on yourself (who doesn't want that?) use an apple corer/slicer to make cutting the apples a breeze!
I prefer to make this recipe in individual ramekins rather than directly in the liner of the Instant Pot. Just be sure to use oven safe ramekins.
Once the cooking time expires just pull them out and they are ready to be served!
And best part of all, if you have any leftovers, you just cover and place the ramekin in the refrigerator. No extra dishes required!
However, if you want to make it directly in the liner of the pot, it is easy to do so. Just add 1/2 cup of water to the apple mixture so the pot can come to pressure.
This eliminates the need for the cup of water when using the trivet to hold the ramekins. The apples will be a little more soggy since they are cooked in the water, but they are still delicious!
Check out the printable recipe below and all of our recipes and let me know what you think!
To receive our 3 Recipe Articles in your inbox each week, sign up for our free email list. You can also follow us on Facebook, Twitter, Pinterest, and Instagram. This article may contain affiliate links.
Yield: 4
Instant Pot Apple Crisp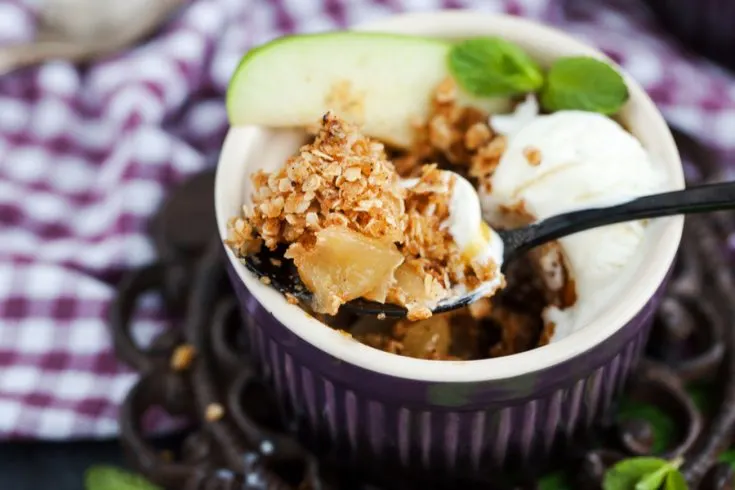 Classic apple crisp dessert made in the instant pot in half of the time that it takes to bake in the oven.
Ingredients
4 cups diced apples, peel if you prefer
1 tsp cinnamon
1/2 tsp ground nutmeg
2 tsp honey, or maple syrup
Topping
2/3 cup old fashioned oats
1/3 cup flour
1/4 cup sugar
1/2 tsp cinnamon
1/4 tsp nutmeg
1/4 tsp salt
4 TBSP butter, room temperature
Instructions
In a medium bowl add the diced apples. Add the cinnamon, nutmeg and honey and toss until well coated.
Transfer apples to ramekins.
In the same medium size bowl add topping ingredients and mix until well incorporated. Top apples with the mixture, covering the apples completely.
Add 1 cup of water into the insert of the Instant Pot.
Add trivet and stack ramekins on the trivet.
Close the lid and set the valve in the sealing position. Pressure cook/manual setting for 7 minutes. Quick release the pressure after the time expires.
Let it sit for 5 minutes before serving.
Notes
Options – top with ice cream or whipped cream. Recipe provided by Make Your Meals
Nutrition Information:
Yield:
4
Serving Size:
1 grams
Amount Per Serving:
Unsaturated Fat:

0g