When I first posted the one skillet pork chop and potatoes recipe, I received several requests for a similar recipe that could be made in the Instant Pot.
Although I still make the oven baked version, this pork chops and potatoes and pork tenderloin that is made in the Instant Pot, have become one of my favorite weeknight meals.
Let's face it, as much as I want to be prepared and organized, there are times that I just don't have a plan for dinner.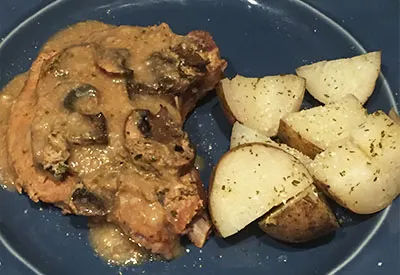 That is when I run to my freezer, open it up, and stare at it endlessly. I do this until something jumps out at me, knowing that I am desperate for an idea for dinner.
This is exactly how this pork chops and potatoes recipe was born!
Pork Chops and Potatoes
I was staring into the cold case filled with white papered wrapped meat from the butcher, not knowing what I was going to prepare for dinner.
That is when I saw the lonely stack of frozen pork chops begging for attention. I grabbed the frozen pack and as I turned to close the heavy freezer door, I looked down and saw a stack of russet potatoes staring at me.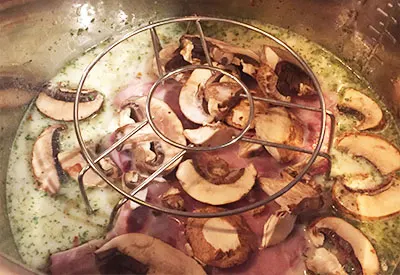 I picked up a few and knew that a dinner could be born with these two main ingredients.
I knew I needed a little flavor to add to this meal and when I opened the spice cabinet a packet of my homemade dry ranch seasoning literally fell off the shelf.
It was meant to be!
Ranch dressing goes great with just about anything. But a little sprinkle of dry seasoning on both the pork chops and potatoes seemed like just the answer.
I pulled my Instant Pot out and placed it on the counter. I immediately turned to the refrigerator to decide what type of liquid that I was going to add to bring the pot up to pressure.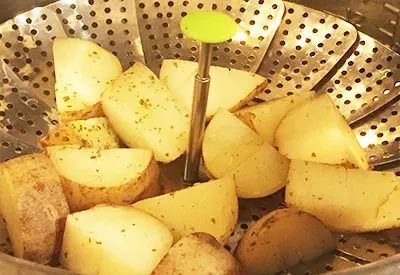 When I pulled on the handle and opened the door, I saw the remaining mushrooms from the week's menu hanging out on the top shelf.
Why not? By all means, this was a throw together meal that I was just hoping was going to be edible.
Cook The Potatoes At The Same Time
I added a few more ingredients and added the frozen pork chops into the liquid. The potatoes were added to the steamer basket and placed on a tall trivet.
As I closed and locked the lid, I prayed for the best.
Once the meal was done cooking, I allowed for 10 minutes of natural pressure release.
I hesitantly opened the lid and to my surprise everything looked and smelled delicious!
I thickened up the sauce to make a quick gravy, and our new favorite Instant Pot weeknight meal was born!
This recipe can easily be reduced to feed 2 people, or increased to feed a family of 6. No need to increase or decrease the cooking time, just adjust the ingredients as needed.
And if you are looking for a delicious pork chop only recipe, try this Easy Instant Pot Pork Chops recipe!
Check out the recipe below and all of our recipes and let me know what you think!
To receive our 3 Recipe Articles in your inbox each week, sign up for our free email list.
You can also follow us on Facebook, Twitter, Pinterest, and Instagram. This article may contain affiliate links.
Yield: 4 people
Instant Pot Ranch Pork Chops and Potatoes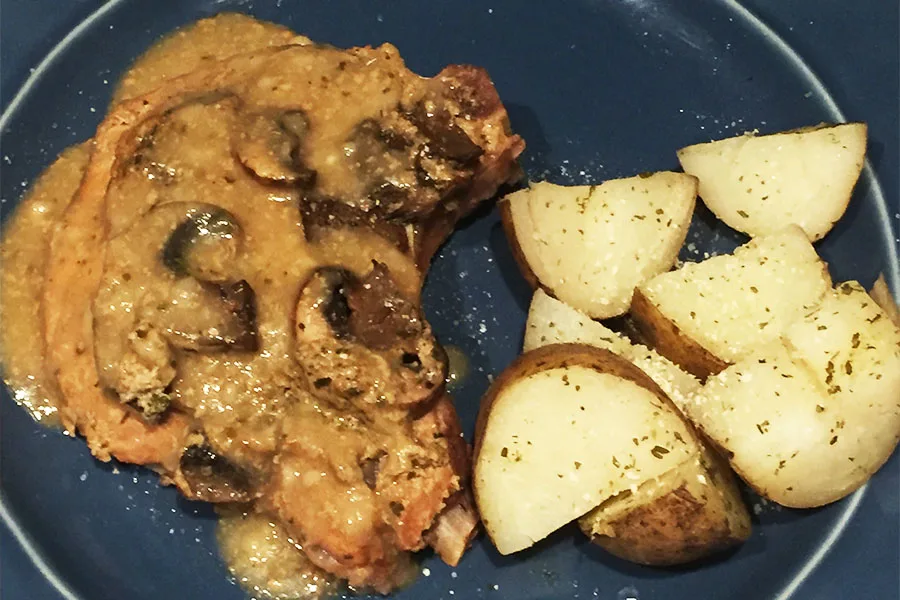 Moist and delicious pork chops with a ranch flavored gravy made with ranch potatoes for a one pot meal.
Ingredients
1 tablespoon extra virgin olive oil
1 small onion, diced
2 cloves of garlic, minced
1 1/2 cup chicken broth
1/4 cup milk
1/2 packet of dry ranch dressing seasoning
1/2 teaspoon fresh ground pepper
4 frozen pork chops, thin, bone in
1/2 cup sliced baby bella mushrooms
4 inch small russet potatoes, cut in 4-6 sections
1/4 packet of dry ranch dressing seasoning
2 Tbsp flour
Instructions
Place Instant Pot on sauté mode. Add extra virgin olive oil.
Once heated add diced onion and heat for 3 minutes.
Add minced garlic and stir frequently for 1 minute. Turn Instant Pot off
Add chicken broth and deglaze the bottom of the pan.
Add in milk, dry ranch seasoning and ground pepper, stir.
Add frozen pork chops in the liquid and place the mushrooms on top of the chops.
In a small bowl sprinkle ¼ packet of dry ranch seasoning mix on the cut potatoes and coat.
Add trivet and steamer basket over the pork chops. Add potatoes in the basket.
Close lid and turn to sealed. Pressure cook/manual on high for 15 minutes.
Natural pressure release for 10 minutes, then quick pressure release the remaining pressure.
Remove potatoes and pork chops and cover.
Place Instant Pot on sauté mode and slowly whisk flour to the liquid mixture. Stirring frequently thicken sauce to desired consistency. Pour over pork chops.
Notes
If using thawed thin-medium thick bone in pork chops reduced cooking time to 8 minutes.
Recipe provided by Make Your Meals
Nutrition Information:
Yield:
4
Serving Size:
1 grams
Amount Per Serving:
Unsaturated Fat:

0g