Homemade Dry Ranch Dressing Mix is so much healthier than those pre-made store bought packets.
Not to mention by making your own, you will save yourself time and money!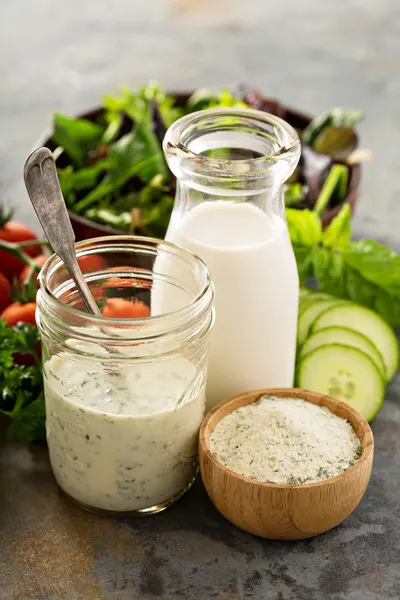 In fact, there is no need to run to the grocery store when you are trying to make your favorite dip because you are out of Ranch Dressing packets.
Make this homemade version and keep your pantry full all year long!
Why Make Homemade Dry Ranch Dressing Mix
We have all been there. We are making a recipe and it calls for Dry Ranch Dressing Mix.
You run to the grocery store and grab a packet or two off of the shelf. Or if you use it often, you might even buy it in a bulk container by the spice aisle.
But before you put it in the cart, have you ever considered taking a look at the ingredient list on the back of the packet?
Do yourself a favor and do so. I am betting that you can't pronounce at least 3 of those ingredients.
And I would have to guess that you haven't heard of at least 5 of the ingredients listed.
That is because anything that has a shelf life of 3 years requires a lot of chemicals to be added to it.
And that means that you are adding those same unnatural ingredients to not only your body, but also to your family and friends.
So do yourself a favor, and make this Homemade Dry Ranch Dressing Mix with only 8 natural ingredients.
The 8 Natural Ingredients
In order to make Dry Ranch Dressing Mix you must have 8 different herbs and spices.
Dried parsley, dill and chives not gives you those flakes of green that you see when you open that store bought packet. They also provide a variety of flavors that gives you that classic taste.
But don't forget about the dominant white powder that you are familiar with. This is a combination of garlic powder, onion powder, and onion flakes.
And of course, no recipe would be complete without salt and pepper!
So to recap the ingredients required for Homemade Ranch Dressing Mix:
dried parsley
dried dill weed
dried chives
garlic powder
onion powder
dried onion flakes
salt
pepper
You can also add dry powdered buttermilk. However, if you do choose to do so, both the ranch dressing mix and the remaining powdered buttermilk will need to be stored in the refrigerator.
Because my refrigerator space is limited, I prefer to make it without the dried buttermilk.
How To Mix The Ingredients
Because the onion flakes and dried chives are larger than a standard powder, it is best to grind the ingredients in a food processor.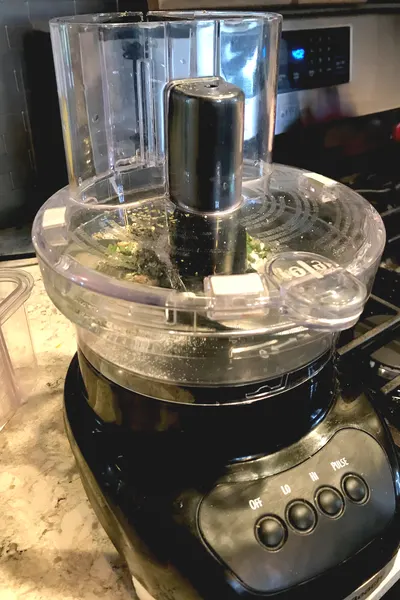 We use our Hamilton Beach Duo Food Processor that comes with a 4 cup attachment which is perfect for small amounts.
However, you could also use a coffee grinder to pulse your Dry Ranch Dressing Mix.
And if you don't have either, you can simply whisk the ingredients together in a small bowl. Just note that the mix may be chunkier than the store-bought variety.
How To Add The Homemade
Dry Ranch Dressing Mix To Recipes
When you are ready to add the mix to your recipes it is easy to do so.
2 tablespoons of Dry Ranch Dressing Spice Mix = 1 packet of store-bought mix
*See Notes if using dried buttermilk.
It is that easy! We use this ratio for all of our recipes, including our Cheesy Bacon Ranch Pull Apart Bread and it tastes just like the store-bought packet!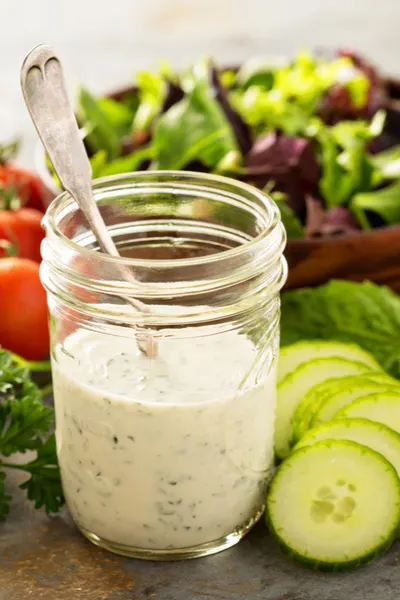 And if you happen to run out of Ranch Dressing, you can mix 2 tablespoons of Dry Ranch Dressing Mix with 1/3 cup mayo and 1/3 cup sour cream. Mix together and thin with milk or buttermilk until desired consistency is reached.

To receive our 3 Recipe Articles in your inbox each week, sign up for our free email list located in the middle of each recipe or email me at contact@makeyourmeals.com. You can also follow us on Facebook and Pinterest. This article may contain affiliate links where a small commission is paid if you purchase a product at no additional cost to you.
Yield: 4
Homemade Dry Ranch Dressing Mix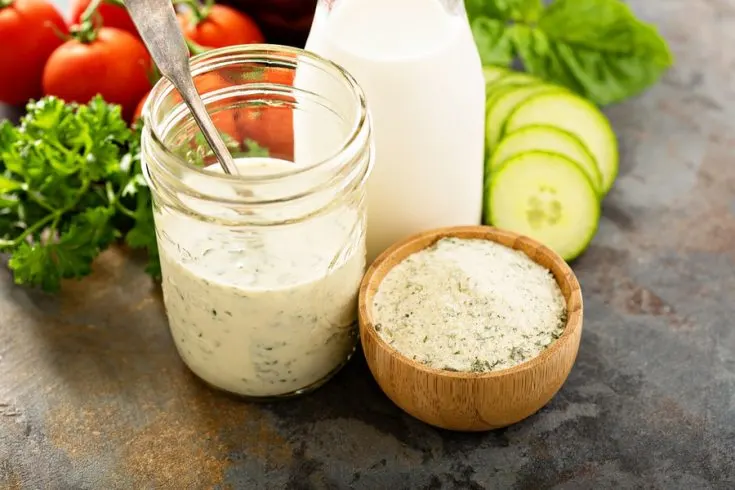 No need to buy those Dry Ranch Dressing packets when you can make your own! Not to mention it is much healthier for you and less expensive!
Ingredients
2 tablespoons dried parsley
1 1/2 teaspoons dried dill weed
2 teaspoons garlic powder
2 teaspoons onion powder
2 teaspoons dried onion flakes
1 teaspoon ground black pepper
1 teaspoon dried chives
1 teaspoon salt
1/3 cup dried powdered buttermilk , optional
Instructions
Place all ingredients in a food processor and pulse until it becomes a fine ground powder.
Notes
If you don't have a food processor you could also use a coffee grinder or simply whisk all ingredients together until blended.
Store in a sealed container for up to 6 months. If using spice mix only (no dried powdered buttermilk) 2 tablespoons of mix = 1 packet of store-bought seasoning mix.
If you use the buttermilk powder, store in the refrigerator for up to 2 months and
3 Tablespoons of this mix = 1 packet of the store-bought seasoning mix.
Recipe provided by Make Your Meals
Nutrition Information:
Yield:
4
Serving Size:
1 grams
Amount Per Serving:
Unsaturated Fat:

0g