One of the most frequently asked recipe questions that I receive is How To Cook A Smithfield Pork Tenderloin in the Instant Pot.
Ever since I purchased my Instant Pot 6 quart Duo, I have seen hundreds of questions, comments, and debates on social media about the proper way to cook pork tenderloin in the Instant Pot.
And over the years I have tested many different methods and cooking times to answer this question with confidence.
But before I explain my tried and true method, there are some important facts to know.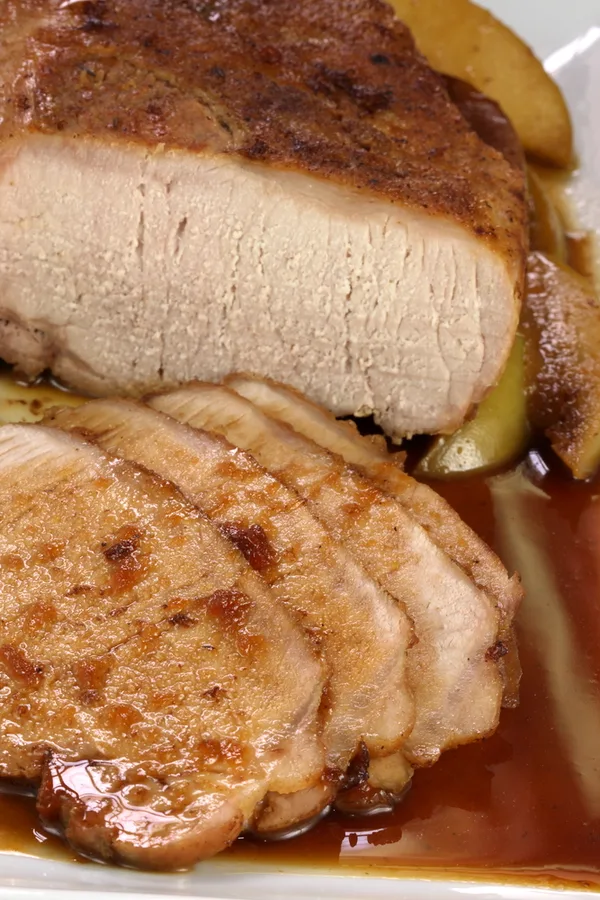 Pork Tenderloin versus Pork Loin
Not every pork loin is created equal.
Although they sound similar, pork tenderloin is not the same thing as pork loin. In fact, they don't even come from the same cut of meat.
Pork Tenderloin
Pork tenderloin is a very lean and delicate cut of meat. It is meat that runs along the backbone and is one of the most tender cuts of meat used when used with quick cooking methods.
It is sometimes called a pork loin filet, pork tender, or pork filet. They are sold as a long and skinny piece of meat and are often sold under brand names such as Smithfield.
You can purchase an unseasoned tenderloin from your local butcher or you can find it in the refrigerated pork section at your favorite grocery store.
However, I prefer to buy this inexpensive cut of meat already pre-seasoned. Today I am cooking a Smithfield pork tenderloin seasoned with a mesquite dry rub, however this Instant Pot recipe will work with any type of pork loin filet.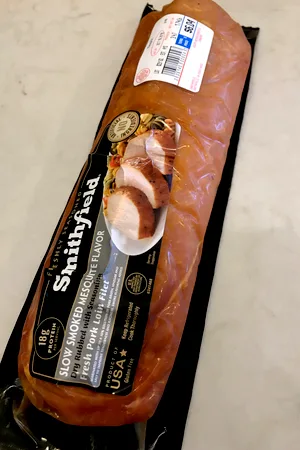 Pork Loin
On the contrary, pork loin is a larger cut of meat that comes from the back itself. It will have a large layer of fat on one side of the meat.
Butchers will cut down sections of a larger pork loin and typically sell them at between 2-5 pounds of weight. They are most often sold as the size of a typical roast.
However when cut down in thinner strips they resemble a thick steak.
Pork loins are best cooked for longer periods of time as compared to a pork tenderloin. We primarily use pork loin roasts to make pork and sauerkraut or even slow cooker pulled pork when we don't have a pork shoulder roast in the freezer.
You will also see these names when purchasing a pork loin: pork loin roast, center cut pork roast, pork rib roast, pork center cut rib roast. They come in both boneless and bone-in cuts of meat.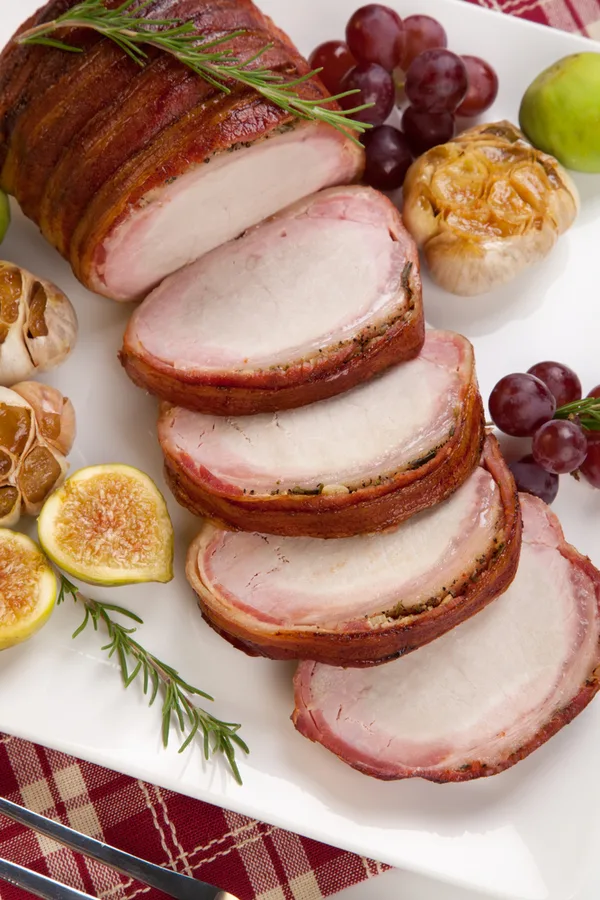 So now you can see why all of the discrepancies of recommended cooking methods and times when someone searches 'How To Cook Pork Tenderloin' in an Instant Pot.
However, this recipe will explain how we cook the perfect, most juicy Smithfield pork tenderloin in our Instant Pot.
Safe Internal Temperature To Eat A Pork Tenderloin
The key to lean cuts of meat, including pork tenderloin in the Instant Pot, is not to overcook them. If they are cooked too long, the meat will be dry and tough.
You want to cook them so the internal temperature reaches 145°F when measured by a digital food thermometer.
If you don't have a long probe digital thermometer, I highly suggest that you purchase one. The are a life saver when cooking all types of meat to the proper temperature.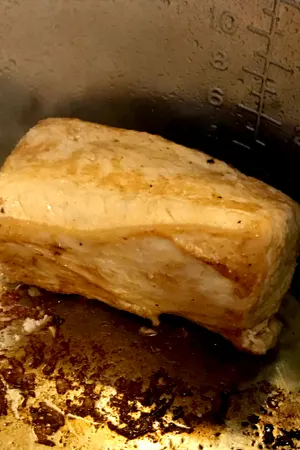 For those that have heard that pork has to be cooked at a temperature over 160°F, please take note. The USDA states that pork chops, roasts, and steaks are safe to consume at 145°F.
However, pork sausage patties and ground pork mixtures such as meatloaf must be cooked to a temperature of 160°F.
Just another way to make everyone confused!
How To Cook A Smithfield Pork Tenderloin In An Instant Pot
In order to ensure that you have tender and juicy results, it is best to brown the meat prior to pressure cooking. It produces a barrier on the exterior surface of the meat that helps keep the moisture on the inside.
However because of the length of a tenderloin I prefer to cut it in half and sear the two pieces, rather than trying to brown one long piece.
After each side is seared, pour in your liquid and de-glaze the bottom of the pan. Be sure to remove all of the browned bits from the bottom of the pot before locking the lid in place.
Otherwise you risk getting the dreaded BURN notice during the cooking process. For a 6 quart Instant Pot, add at least 1 cup of liquid. However, if you have a larger 8 or 10 quart version, increase the liquid to 1.5 cups.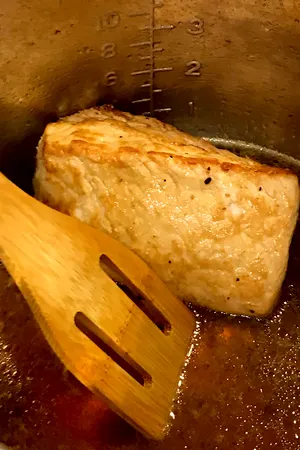 What Type Of Liquid Should I Use When Making Pork Tenderloin In The Instant Pot
Any type of thin liquid will work for this recipe. However, there will be a definite difference in flavor depending on what you chose.
Although you could use water as your liquid, I would highly recommend something with a little more flavor. In fact, any type of stock will be better than using plain water.
I have used vegetable, beef, and chicken stock with good results. We have even used a combination of balsamic vinegar, soy sauce and water to make Instant Pot Balsamic Pork Tenderloin.
However, my favorite liquid to use to make pork tenderloin is root beer. And I only discovered this by accident.
I had leftover root beer after making Instant Pot Baby Back Ribs. So the next day when I decided to make a pork tenderloin I decided to add the root beer as the liquid and the results were DELICIOUS!
In fact, I even took things one step further. After the meat was cooked and taken out to rest, I thickened up the liquid with a little corn starch and made a Root Beer gravy to pour on top! YUM!!
Although the root beer gravy is optional, I would highly recommend it. You can even slice the Smithfield pork tenderloin and add it back to the thickened gravy in the Instant Pot and serve it directly from there. It is absolutely delicious!
Enjoy! Mary

To receive our 3 Recipe Articles in your inbox each week, sign up for our free email list located in the middle of each recipe or email me at contact@makeyourmeals.com. You can also follow us on Facebook and Pinterest. This article may contain affiliate links where a small commission is paid if you purchase a product at no additional cost to you.
Yield: 6
How To Cook Pork Tenderloin In the Instant Pot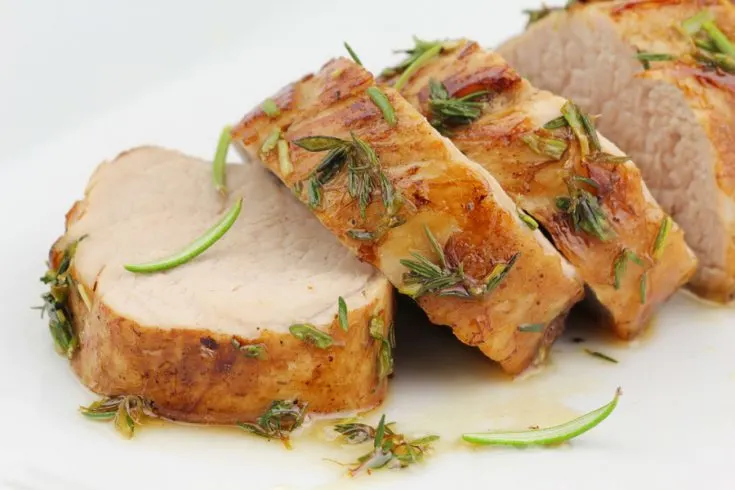 Moist and delicious Smithfield pork tenderloin filet cooked to perfection in the Instant Pot smothered in a root beer glaze.
Ingredients
1 tablespoon olive oil
1 pork tenderloin
1 cup Root Beer, or liquid of choice
1 tablespoon corn starch or arrowroot powder, optional
Instructions
Preheat Instant Pot on Saute mode
Cut pork tenderloin in half
Once the Instant Pot reads HOT, add the oil and brown tenderloin pieces. Brown on all sides.
Turn Instant Pot OFF/Cancel and pour in root beer. Deglaze the bottom of the pot to be sure that all pieces stuck on the bottom of the liner have been loosened.
Place the lid on in the locked and sealed position. Pressure Cook/Manual on High for 1 minute.
Allow for a Natural Pressure Release for at least 10 minutes. Quick release any remaining pressure.
Remove the meat - cover and let rest for 5 minutes.
If desired, remove 1/4 cup of the liquid from the bottom of the pot and whisk in corn starch to make a slurry. Add slurry back to pot. Place pot on Saute mode and reduce to a thick sauce. Drizzle over the pork tenderloin before serving.
Notes
This recipe is to cook a 1 pound pork tenderloin. If are cooking a larger pork tenderloin or two Smithfield pre-seasoned pork tenderloins, increase the cook time to 3 minutes.
Check the internal temperature to be sure it has reached 145 degrees F.
Recipe provided by Make Your Meals
Nutrition Information:
Yield:
6
Amount Per Serving:
Calories:

76
Total Fat:

3g
Saturated Fat:

1g
Trans Fat:

0g
Unsaturated Fat:

2g
Cholesterol:

10mg
Sodium:

19mg
Carbohydrates:

8g
Fiber:

0g
Sugar:

4g
Protein:

5g
Nutritional Information is to be used as a general guideline only . Nutritional calculations will vary from the types and brands of the products used.