This one skillet pork chops and Parmesan potatoes recipes is one of my family's favorite comfort meals.
Not only do the pork chops become soft, juicy and tender, the Parmesan flavored potatoes melt in your mouth!
You can use a variety of seasonings to flavor your one skillet pork chops. The recipe calls for basic salt and pepper seasoning but feel free to add whatever seasonings that you prefer.
My favorite seasonings for this recipe are pork and chop seasoning and Grill Mates Applewood rub.
Start off by sprinkling the seasoning on one side of your pork chop. Sear them in oil in the skillet so that the juices remain locked in the chops.
When you flip them over, add additional seasoning to the second side.
While searing the second side, push the chops to the edges of the pan and add butter to saute the onions at the same time that the pork chops are finishing.
I find it extremely helpful to use a mandolin slicer to produce even and thinly sliced onions and potatoes. The uniformity will allow them to cook through and be ready at the same time.
Be sure to use a skillet and lid that can tolerate being placed in the oven at 350 degrees F. If you are not sure if your lid is oven-safe, you can cover the skillet with foil.
And most importantly, don't forget to use a pot holder when removing the skillet from the oven!
Trust me, it's easy to forget when you are used to only using the skillet on the stove-top. I have burnt my hand on more than one occasion by just grabbing it when it was out of the oven but still hot.
Best of all – the ease of the clean up! Isn't that why we all love one dish meals???
If you want another great meal, try our Ranch Pork Chops and Potatoes recipe made even faster in the Instant Pot! Or Air Fryer Pork Chops – they turn out perfect every time!
Check out the recipe below and let me know what you think!
To receive our 3 Recipe Articles in your inbox each week, sign up for our free email list.
You can also follow us on Facebook, Twitter, Pinterest, and Instagram. This article may contain affiliate links.
One Skillet Pork Chops and Potatoes Recipe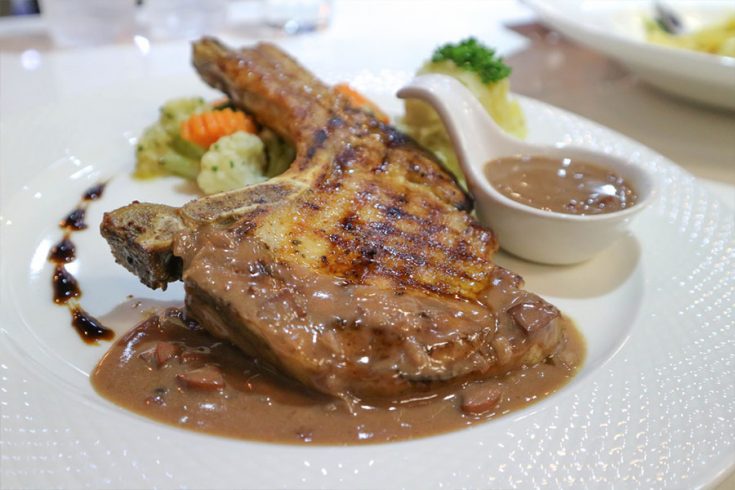 Tender pork chops and delicious Parmesan potatoes cooked in one skillet. A great week night comfort meal!
Ingredients
2 tablespoons olive oil
4 inch pork chops, trimmed, 1/2thick
salt and black ground pepper for seasoning
1/3 cup grated Parmesan cheese
1/2 teaspoon garlic salt
1/4 teaspoon pepper
4 Yukon Gold potatoes, thinly sliced
1 large onion, thinly sliced
1 tablespoon butter
3/4 cups low-sodium beef stock
1 tablespoon lemon juice
Instructions
Preheat oven to 350 degrees F
Heat oil in a large skillet over medium heat.
Season pork chops with salt and pepper (or preferred seasonings), and place in the skillet. Brown on one side for 4 minutes.
Turn chops over and move to one side of the skillet. Add butter and sauté onions in the pan while the second side of the pork chops brown.
In a small bowl, mix the Parmesan cheese, salt, and pepper.
Place the pork chops on top of the onions and add the beef broth and lemon juice to the pan.
Sprinkle 1/2 the Parmesan cheese mixture over the top of the pork chops.
Place potatoes on top of the chops and sprinkle with remaining Parmesan cheese mixture.
Cover the skillet and place in the oven for 1 hour or until the potatoes are tender and pork chops have reached an internal temperature of 145 degrees F.
Notes
Recipe provided by Make Your Meals
Nutrition Information:
Serving Size:
1 grams
Amount Per Serving:
Unsaturated Fat:

0g