It's not very easy to say Cheese and Bacon Baked Chicken, but it is so easy to fall in love with this recipe.
This is one of those recipes that was created out of necessity.
I had no idea what to make for dinner one evening, so I opened the refrigerator to see what was on hand.
Luckily I had fresh chicken breasts waiting to be made. Besides that, the shelves were pretty bare.
There were no fresh vegetables in the crisper drawer, only frozen ones in the freezer.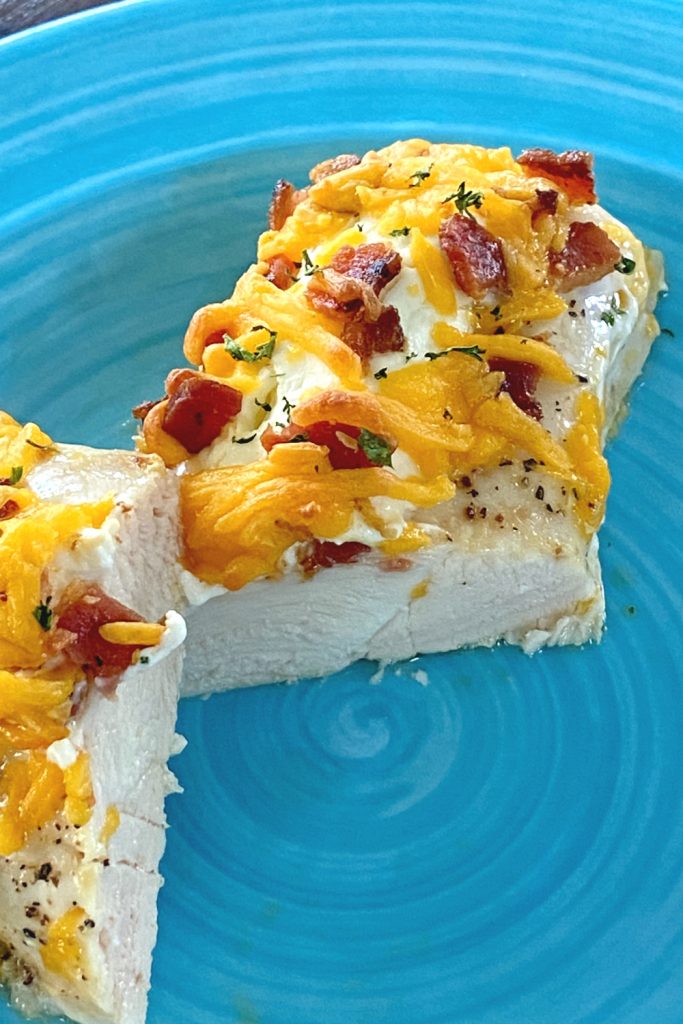 I did not have time to marinade the chicken, so I knew I was going to have to add something on top to make it taste good.
I had some leftover bacon from the morning's breakfast and a half of a block of cream cheese.
That is when the idea struck me! What tastes better than cheesy chicken?? Of course, cheese and bacon baked chicken!
I only had two chicken breasts, but they were rather thick. So I sliced each one in half to make 4 decent sized chicken filets in order to be able to serve everyone at dinner that night.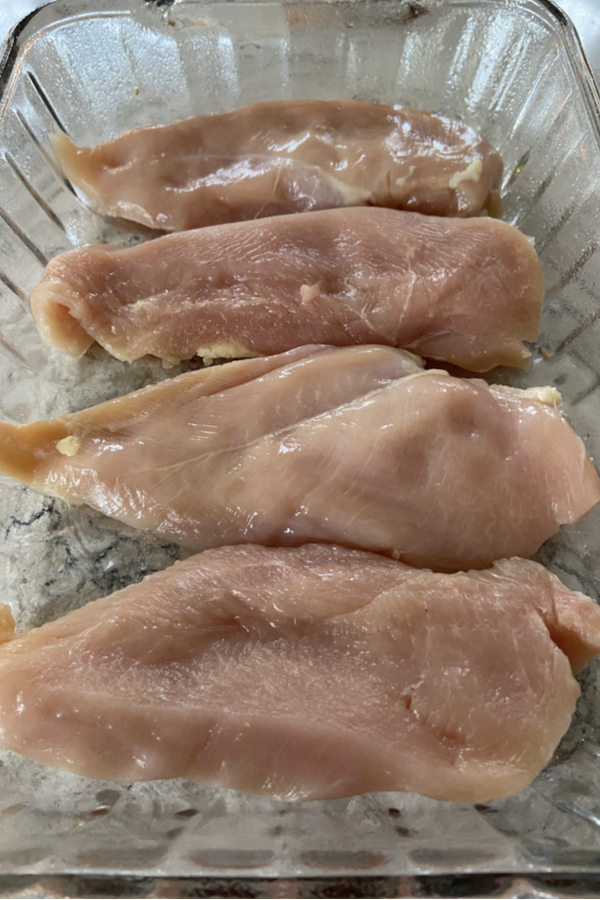 I sliced the block of cream cheese into 8 slices, which was just enough to cover the majority of the top of the chicken.
Sprinkle a little bacon and shredded sharp cheddar cheese and the masterpiece was born!
The cooking time depends on how thick your chicken breasts are. If you slice them in half, horizontally, it will typically take about 20 minutes to reach the desired 165° F temperature.
Prior to eating, I found it helpful to 'squish' down the cream cheese with my fork so it would spread across the entire surface of the chicken.
Definitely a throw-together, keeper meal!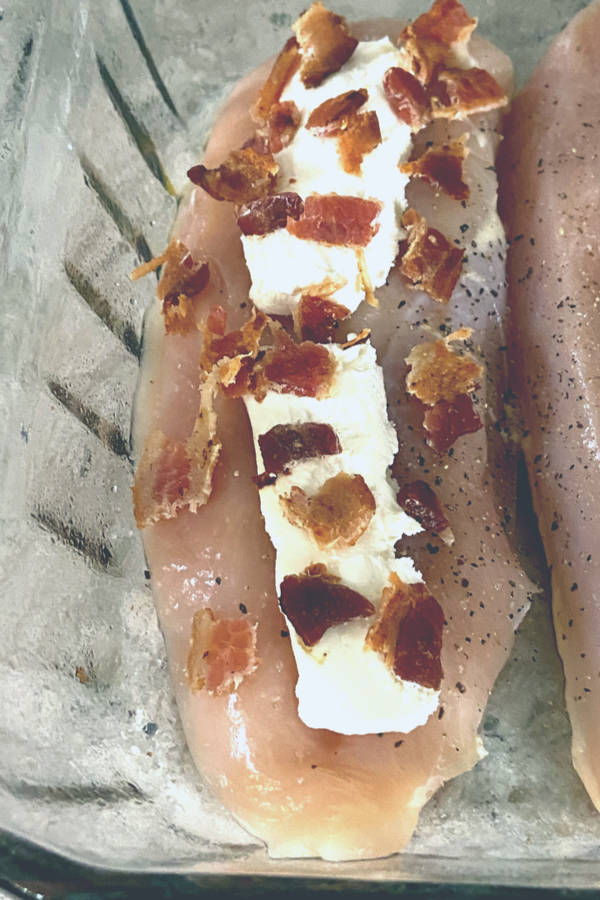 Another great chicken recipe: Dump and Go Salsa Chicken
Check out the recipe below and all of our recipes and let me know what you think!
To receive our 3 Recipe Articles in your inbox each week, sign up for our free email list.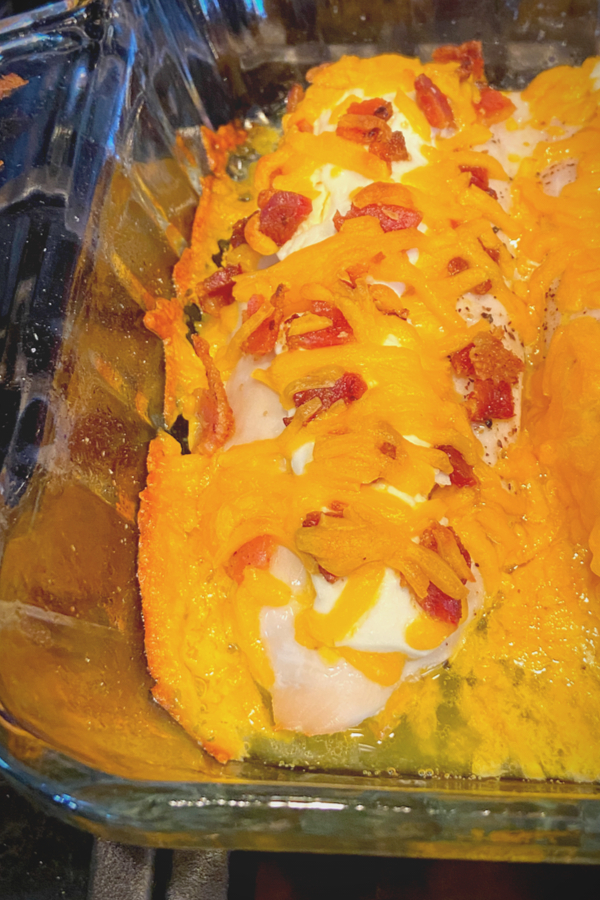 You can also follow us on Facebook, Twitter, Pinterest, and Instagram. This article may contain affiliate links.
Yield: 4
Cheese and Bacon Baked Chicken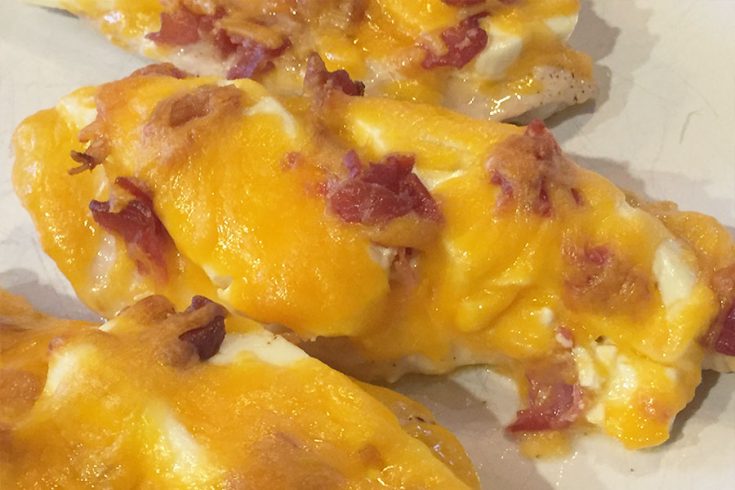 Baked chicken topped with cream cheese, bacon and cheddar cheese. A delicious throw together meal ready for a busy weeknight or date night.
Ingredients
1 tablespoon olive oil
4 thin chicken breasts
4-6 oz block cream cheese, refrigerated
8 strips bacon, cooked crisp
1 cup sharp cheddar cheese, freshly shredded
Instructions
Preheat the oven to 400° F.
Grease the bottom of a medium size casserole dish with cooking spray or olive oil.
Add chicken breasts to the casserole dish and sprinkle with salt and pepper.
Slice cold cream cheese into 8 small slices. Top 2 pieces of cream cheese on each chicken breast.
Crumble bacon into small pieces and place bacon on top of chicken breasts and cream cheese.
Top each breast with shredded sharp cheddar cheese.
Bake, uncovered, for 20-30 minutes, until the chicken is cooked through, measuring at 165°F at the thickest part of the breast.
Remove from oven and let sit for a couple of minutes before serving.
Notes
Recipe provided by Make Your Meals
Nutrition Information:
Serving Size:
1 grams
Amount Per Serving:
Unsaturated Fat:

0g