If you love to eat chicken breast for dinner, but are tired of making them the same way over and over again, then you have to give this Cheese and Bacon Baked Chicken recipe a try!
Chicken breasts that are topped with two types of cheese and bacon, and are ready to eat in just 30 minutes! Best of all, the chicken turns out moist, tender, and delicious every time.
Not to mention that this recipe is a keeper for those who are feeding picky eaters and for those who are on a low-carb or Keto diet. Every time I make it, I either get asked when I am going to make it again, or for the recipe itself.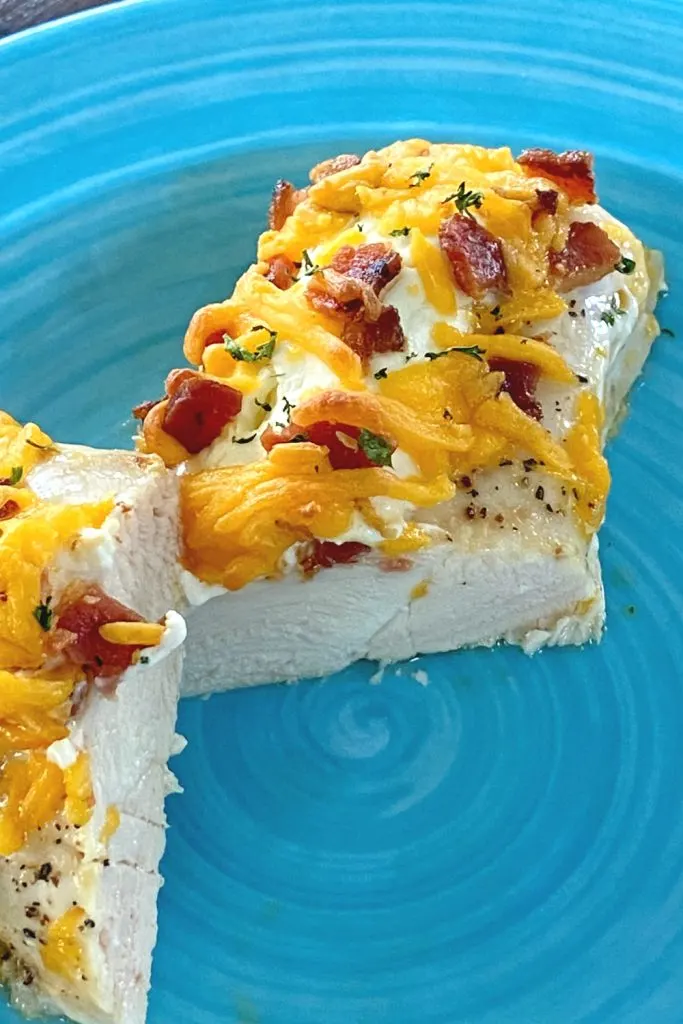 So when I go to share my recipe, no one can believe I make it with just 5 basic ingredients. And to think that it was developed out of necessity.
It all started when I planned to make chicken for dinner, but got home later than expected. I wanted to soak the chicken breasts in The Best Chicken Marinade, but there wasn't time for that.
And I definitely didn't have time to throw the chicken in the crock pot to make my Zesty Chicken recipe. Therefore, when I am short on time, I typically turn to my Instant Pot pressure cooker to make a quick and easy dinner recipe.
My first thought was to make Ranch Chicken and Potatoes, a quick and easy meal made entirely in the Instant Pot. However, when I opened my pantry, I only had one small Yukon potato left.
Use Ingredients That You Have On Hand
Back to the drawing board I went! Getting somewhat frustrated, I opened my refrigerator to see what I had on hand and available to use.
The first thing that I saw as some leftover bacon from the morning's breakfast. Then I noticed that I still had half a block of cream cheese from making Stuffed Mushrooms the night before.
So that is when the idea struck me! I didn't have to marinate the chicken breast or cook it in the Instant Pot. Instead, I could simply top the chicken with some leftover ingredients and make it taste absolutely delicious!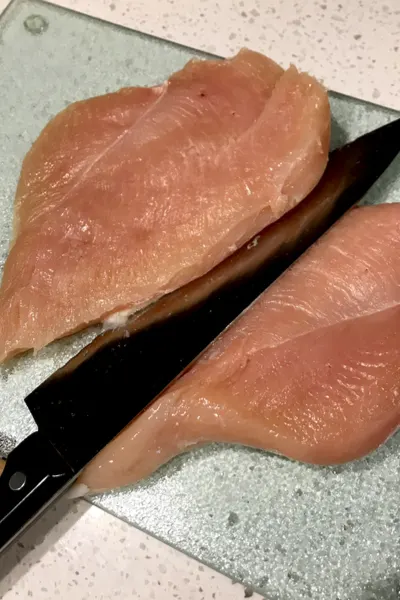 Although that sounded terrific, I had one other slight problem. When I pulled out the fresh chicken breasts from the refrigerator, I only had two large chicken breasts, but I needed to feed four people.
My first option was to hop in the car and head to the grocery store. I knew that would take too much time, so I decided to slice the large, thick chicken breasts in half and make 4 thinner filets.
It turned out perfect, because the thinner chicken breasts cooked much quicker. While the chicken was baking in the oven I decided to make Air Fryer Ranch Potatoes.
And in just 30 minutes, both dishes were ready to eat and a delicious dinner was served! And I am sure you can guess it, there were no leftovers!
Cheese and Bacon Baked Chicken
*Specific measurements and complete recipe instructions are located in a printable recipe card at the bottom of this article. However, be sure to continue to read the tips and tricks to making this recipe below.
INGREDIENTS
1 tablespoon Olive Oil
4 Chicken Breasts, thin cut
1/2 block Cream Cheese, refrigerated
4 strips Bacon, cooked crisp and crumbled
1 cup Sharp Cheddar Cheese, freshly shredded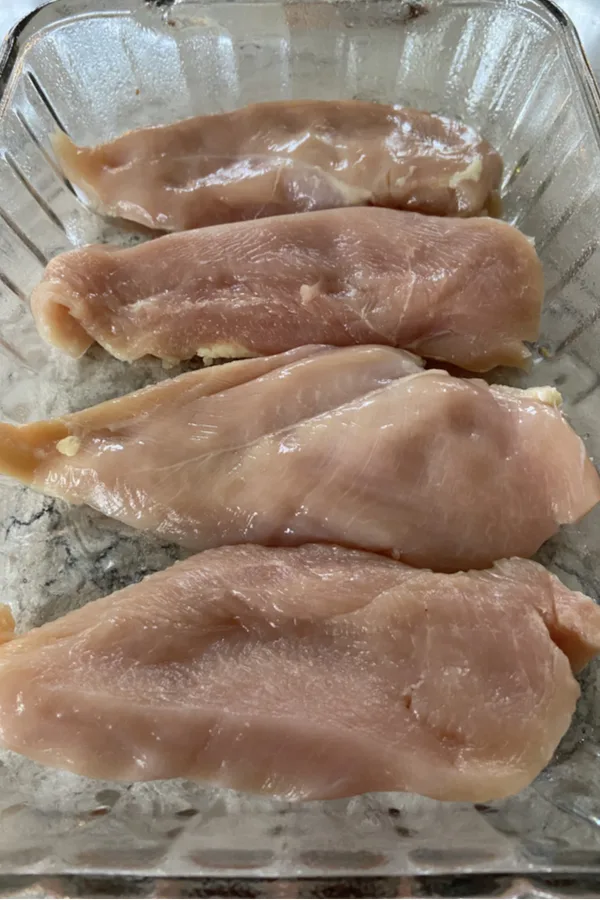 INSTRUCTIONS
The first step in making Cheese and Bacon Baked Chicken is to preheat the oven. Then spray a 7 x 11 inch or 9 x 13 inch baking dish with non-stick cooking spray. If you don't like to use non-stick cooking spray, use a pastry brush to spread olive oil all over the inside of the baking dish.
Next remove the cream cheese from the refrigerator. Then slice the half block of cream cheese into 8 even slices.
Place 2 pieces of the sliced cream cheese over top of each chicken breast. The cheese will not cover the entire top surface, but it will when it melts.
Then sprinkle the bacon crumbles and the Sharp Cheddar cheese over top of the chicken. Now place the baking dish in the preheated oven, uncovered.
Cook the chicken until an instant read, digital food thermometer, like my favorite ChefsTemp° thermometer, reads 165°F when inserted in the center of the thickest portion of the chicken breast.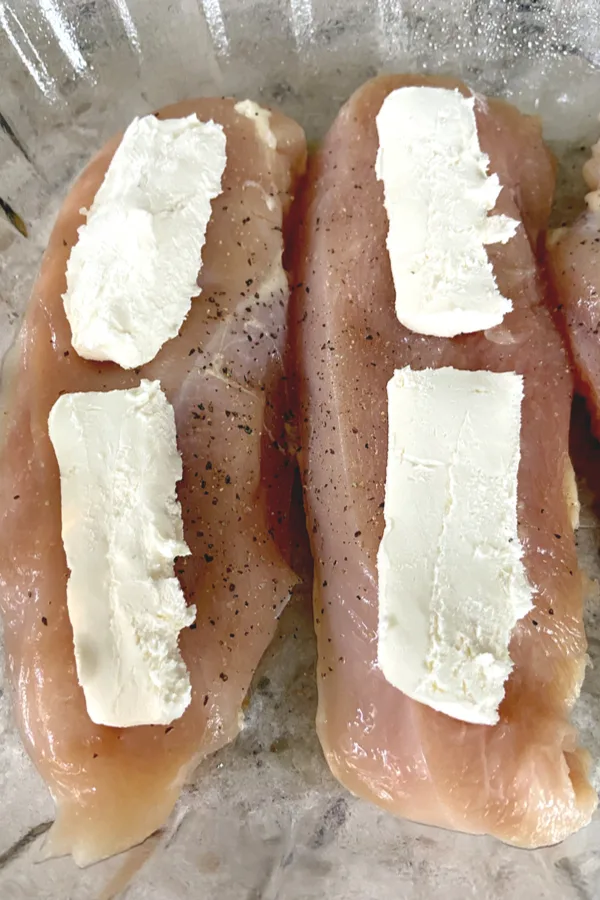 For thin chicken breasts, it should take about 20 minutes to come to the desired temperature. However, if you are making this Cheese and Bacon Baked Chicken using thick chicken breasts, it will take longer.
Once the chicken is done, remove the pan from the oven. Then use a silicone spatula or the back of a tablespoon to compress the warmed cream cheese.
As you press down the cream cheese will spread across the top surface. Not only does this add a consistent flavor in each bite, it also makes it easier to eat.
Let the chicken sit inside the baking dish for 5 minutes before serving.
Frequently Asked Questions
1. Can I make this with frozen, breaded chicken tenders?
If you want to make this with frozen breaded chicken tenders, cook the chicken according to package directions. Then during the last 10 minutes of the baking process, add the cream cheese, cheese and bacon on top. Then finish cooking until the chicken is at an internal temperature of 165°F.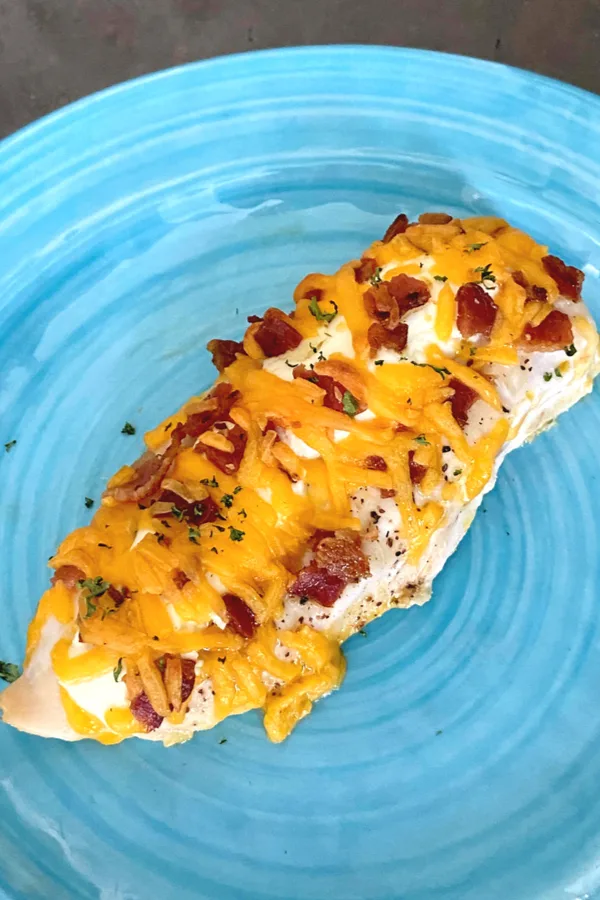 2. How do I store leftovers?
If you have leftover Cheese and Bacon Baked Chicken breasts, you can store them in a closed container in the refrigerator for up to 4 days.
3. How do I reheat leftovers?
It is best to reheat the leftovers in the oven set at 350°F for 15 minutes. However, if you don't mind cutting the chicken into bite size pieces, you can also reheat in the microwave for 2 – 2 1/2 minutes.
*Reheating Hint
*Hint – I find it best to add 1/2 teaspoon of water on the plate before microwaving so that the chicken doesn't dry out during the reheating process.
Now that you know how easy it is to make this recipe, let's get started! Don't forget to save this recipe to your bookmark tab on your computer by clicking on the star where the URL (web address) is located. Or simply return to the Make Your Meals website page and click the magnifying glass and search for Cheese and Bacon Baked Chicken.
Enjoy! Mary

To receive our 3 Recipe Articles in your inbox each week, sign up for our free email list located in the middle of each recipe or email me at contact@makeyourmeals.com. You can also follow us on Facebook and Pinterest. This article may contain affiliate links where a small commission is paid if you purchase a product at no additional cost to you.
Cheese and Bacon Baked Chicken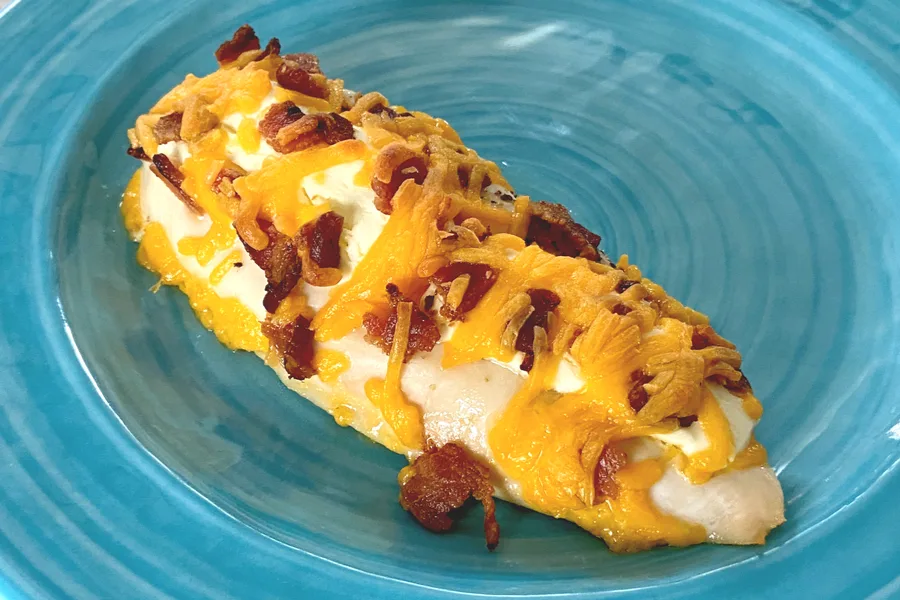 Baked chicken topped with cream cheese, bacon and cheddar cheese. A delicious throw together meal ready for a busy weeknight or date night.
Ingredients
1 tablespoon olive oil
4 thin chicken breasts
4 oz. block cream cheese, refrigerated
4 strips bacon, cooked crisp and crumbled
1 cup sharp cheddar cheese, freshly shredded
Instructions
Preheat the oven to 400°F (200°C). Spray the bottom of a medium size casserole dish with non-stick cooking spray or brush with olive oil.
Add the thin chicken breasts to the casserole dish and sprinkle with salt and pepper.
Slice cold cream cheese into 8 small slices. Top 2 pieces of cream cheese on each chicken breast. Crumble bacon into small pieces and place bacon on top of chicken breasts and cream cheese. Top each breast with shredded sharp cheddar cheese.
Bake, uncovered, for 20-30 minutes, until the chicken is cooked through, measuring at 165°F (73°C) at the thickest part of the breast.
Remove from oven and let sit for a couple of minutes before serving.
Notes
Recipe provided by Make Your Meals
Nutrition Information:
Yield:
4
Amount Per Serving:
Calories:

651
Total Fat:

43g
Saturated Fat:

20g
Trans Fat:

1g
Unsaturated Fat:

18g
Cholesterol:

198mg
Sodium:

774mg
Carbohydrates:

7g
Fiber:

0g
Sugar:

1g
Protein:

57g
Nutritional Information is to be used as a general guideline only . Nutritional calculations will vary from the types and brands of the products used.