Air Fryer Nashville Hot Chicken is a great way to enjoy the classic taste of this famous hot and spicy chicken recipe without all the oil and grease of deep-fried chicken.
If you visit Nashville, Tennessee you will find Hot Chicken on almost every menu in town.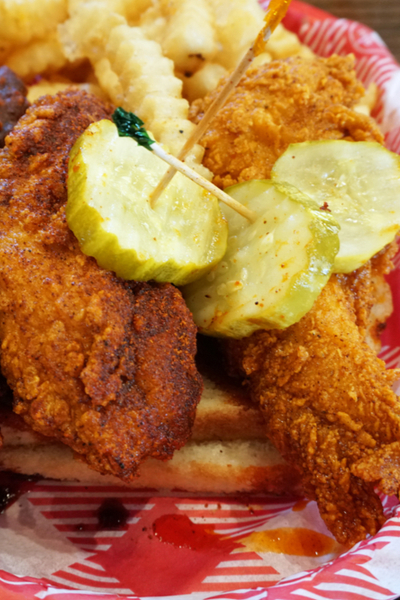 In fact, there are complete restaurants that are dedicated to serving only Nashville Hot Chicken.
Many years ago, on a business trip to Nashville, we stumbled upon the original Hot Chicken Restaurant.
Princes Hot Chicken Shack has been in business for almost 40 years. And the restaurant has been in the family since the 1930's.
Rumor has it that Nashville Hot Chicken got started as revenge. After a long night out on the town, the girlfriend of the original owner served a chicken breakfast with extra hot pepper as a revenge.
However, he enjoyed the hot chicken so much that he and his brothers opened a BBQ Chicken Shack and served it as one of their menu items.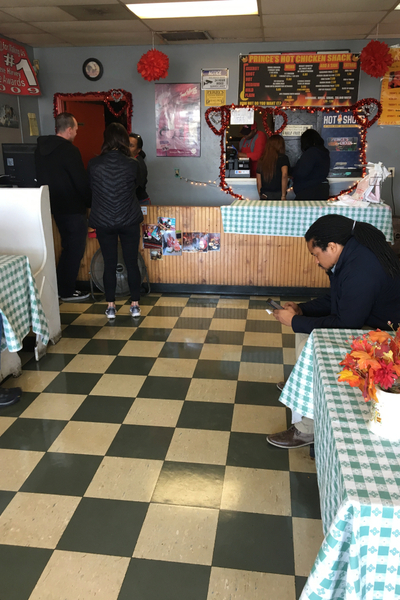 Now his great-niece runs and operates Prince's Hot Chicken Shack.
This is where we experienced our first taste of Nashville Hot Chicken. And boy, was it hot!!
And the funny thing is that we ordered the medium heat level. I can't imagine what the Extra Hot tastes like!
Since that time, Hot Chicken restaurants have been popping up all over the country.
And because we love it so much, we decided that we wanted to try making it at home.
What is Nashville Hot Chicken?
For those who have never had Nashville Hot Chicken let me explain what it is.
In the most simplest terms, it is breaded chicken pieces that have been deep fried and coated in a hot cayenne based sauce.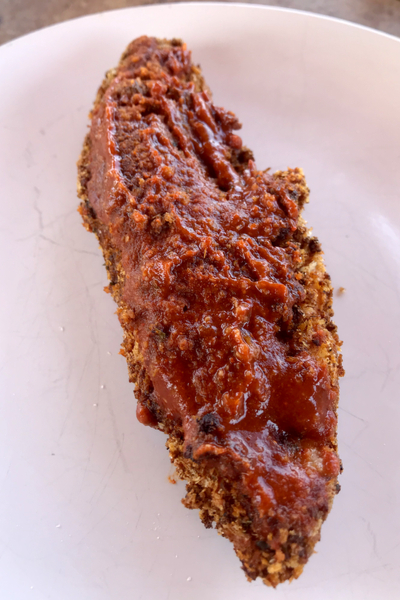 You can typically order it with a mild, medium, hot, or blistering heat sauce.
Depending on what restaurant that you go to, you may have the option of ordering wings, chicken breast, legs or thighs.
And if you don't order it as a sandwich, it will be served to you on a white piece of bread and with dill pickle slices to help tame the heat in your mouth.
Our local Hot Chicken restaurant also provides free Ranch dressing and tea to go along with each meal.
Which I have to say, is much needed if you order anything above the medium heat level.
Air Fryer Nashville Hot Chicken
So when I decided to try to make Hot Chicken at home, I decided to make things a little healthier and use my Air Fryer.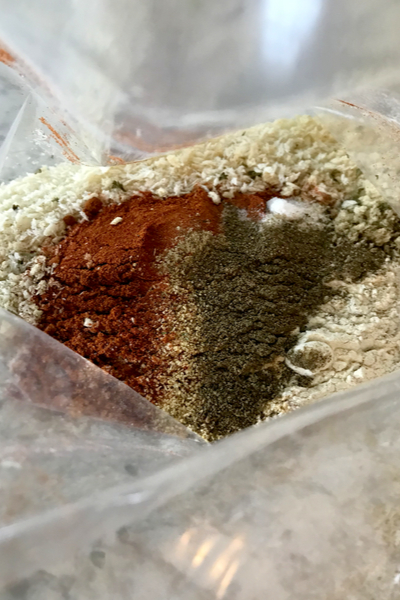 I had made Breaded Chicken Tenders in the Air Fryer before and they turned out wonderful.
So I decided to kick things up a notch and spice up the breading for this recipe.
I used Panko breadcrumbs so that the chicken would have a nice, but light, crunchy coating.
Then I added a few spices and the breading was ready to go.
However, I realized that I didn't have true Chicken Tenders in my refrigerator.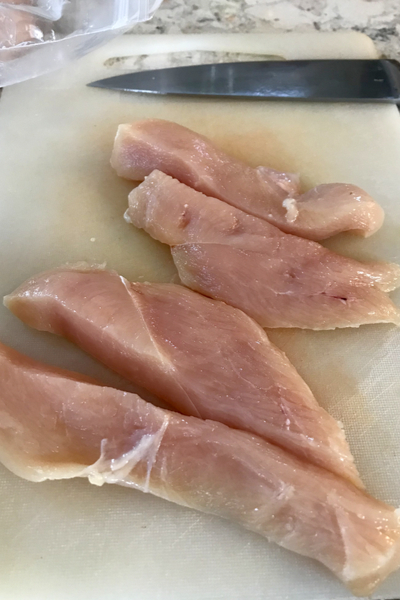 So I did the next best thing and took a chicken breast and sliced it in half horizontally and then cut half into two strips.
They were the perfect size!
Hot Sauce
As I stated before, Nashville Hot Chicken sauce is cayenne pepper based.
So I started with Frank's Hot Sauce and added to the flavor with the same spices that I used in the breading. Then I added the all important ingredient – ground cayenne pepper.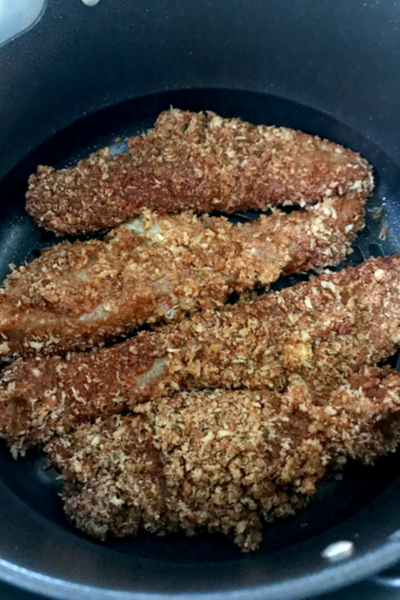 For this recipe I used 1 1/2 tablespoons of cayenne pepper. And yes, that sounds like a lot!
The heat level for this amount of cayenne turns out to be Medium. Now, by that, I mean Nashville Hot Chicken medium.
So if you like things a little less spicy, you can cut down on the amount of cayenne that you put in your sauce.
On the contrary, if you like to spice things up a little more, go for it and add in more!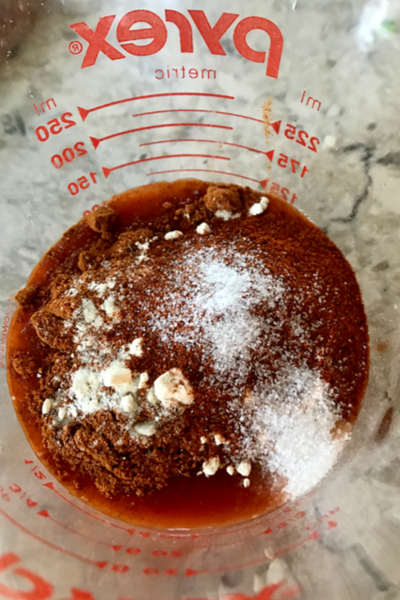 But be sure to serve it over bread, with pickle slices, and have a jar of Ranch sauce and water handy!
Check out the printable recipe below and let me know what you think!
To receive our 3 Recipe Articles in your inbox each week, sign up for our free email list located on the side and bottom of each recipe. You can also follow us on Facebook, and Pinterest. This article may contain affiliate links where a small commission is paid if you purchase a product at no additional cost to you.
Air Fryer Nashville Hot Chicken
Enjoy the classic taste of Hot and Spicy Chicken Tenders made a little healthier in the Air Fryer.
Ingredients
8

chicken tenders

2

eggs

2

Tbsp

water

Avocado oil spray
Breading:
1

–1/2 to 2 cup panko bread crumbs

1

teaspoon

garlic powder

1

teaspoon

onion powder

2

tablespoons

paprika

1

teaspoon

salt

1

teaspoon

freshly ground black pepper
Hot Sauce:
1

1/2

tablespoons cayenne pepper

adjust based on taste

1

teaspoon

garlic powder

1

teaspoon

onion powder

1

teaspoon

paprika

1/2

teaspoon

salt

1/2

cup

Frank's Hot Sauce
Recommended for Serving:
white bread

dill pickle slices

Ranch dressing
Instructions
Preheat Air Fryer according to manufacturer instructions.

In a shallow bowl whisk the eggs and water together.

In a large resealable bag, add the breadcrumbs, paprika, garlic powder, onion powder, salt, and pepper. Set aside.

Dip each chicken piece into the egg mixture, then place in the breading bag and shake to coat all sides. Remove and set aside. Repeat this procedure until all the tenders have been coated.

Working in batches as needed, place the breaded chicken tenders in a single layer into the air fryer.

Lightly spray the tops of the chicken with avocado oil.

Air-fry the chicken 375°F for 10-12 minutes, flipping halfway through the cooking process.

While the chicken is cooking, combine the Hot Sauce ingredients. Once the chicken has been cooked, drizzle the hot sauce over the top of the chicken pieces.
Notes
Serving Suggestion: Place 2 chicken tenders on top of a piece of white bread and place 3 pickle slices on top with a side of Ranch dressing.
Recipe provided by Make Your Meals
Air Fryer Nashville Hot Chicken Recipe