If you would have asked me a year ago if I could make Crispy Chicken in my Instant Pot I would have confidently said there was no way.
Although I can make perfectly cooked White Rice, a Pot Roast that is fall apart tender in under 2 hours, and the best Chocolate and Peanut Butter Cheesecake that you have ever tasted in this popular multi-cooker, cooking crispy things just wasn't something that the Instant Pot could do.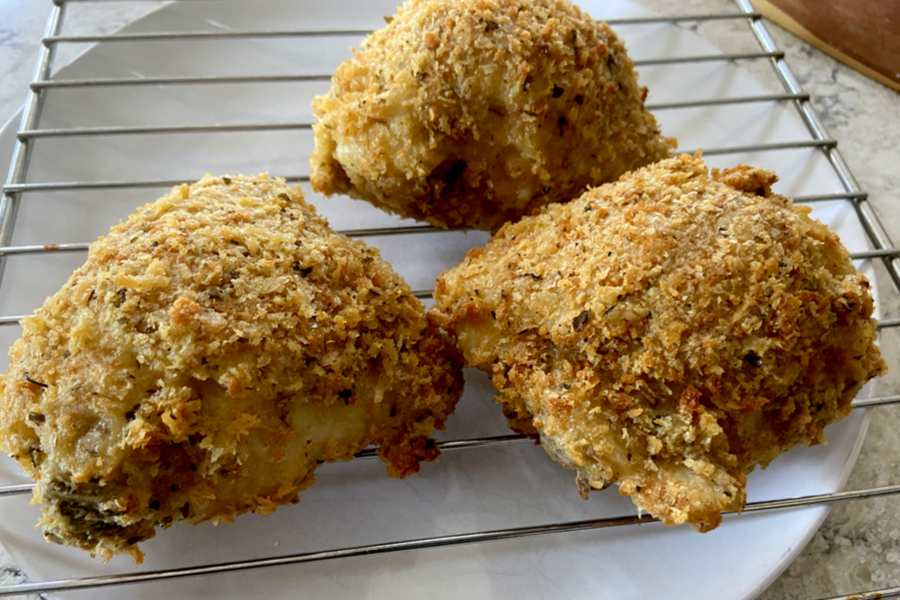 But that all changed when the Instant Pot Air Fryer Lid came on the market.
Now the Instant Pot can not only cook chicken in minutes, it can also make Crispy Chicken!
But don't worry. If you don't have the Air Fryer lid, you can still make Crispy Chicken. Just follow the instructions below.
Instant Pot Crispy Chicken Recipe
This recipe starts off with bone in, skin on chicken thighs. We use this cut of meat because it has the best flavor and is super tender and juicy when cooked correctly.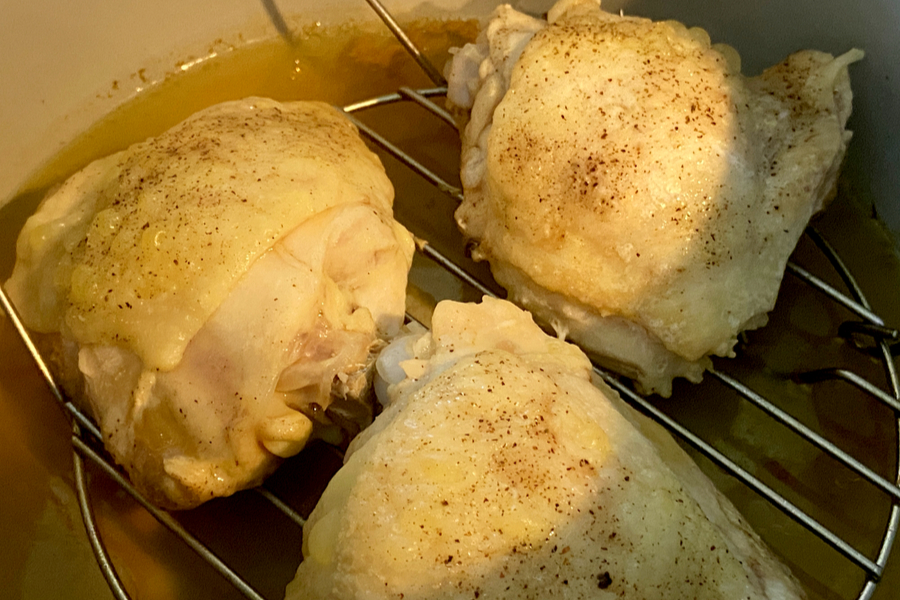 Plus, this is what is included at popular chain store restaurants when you order a bucket of chicken. Not to mention, they are one of the most inexpensive cuts of meat to purchase.
If you are using a 6 quart Instant Pot we recommend cooking anywhere from 1-6 chicken thighs at a time. This will allow each chicken thigh to cook to the proper temperature.
Start off by pouring 1 cup of chicken broth or water in the liner of the Instant Pot. Next, place the trivet into the pot.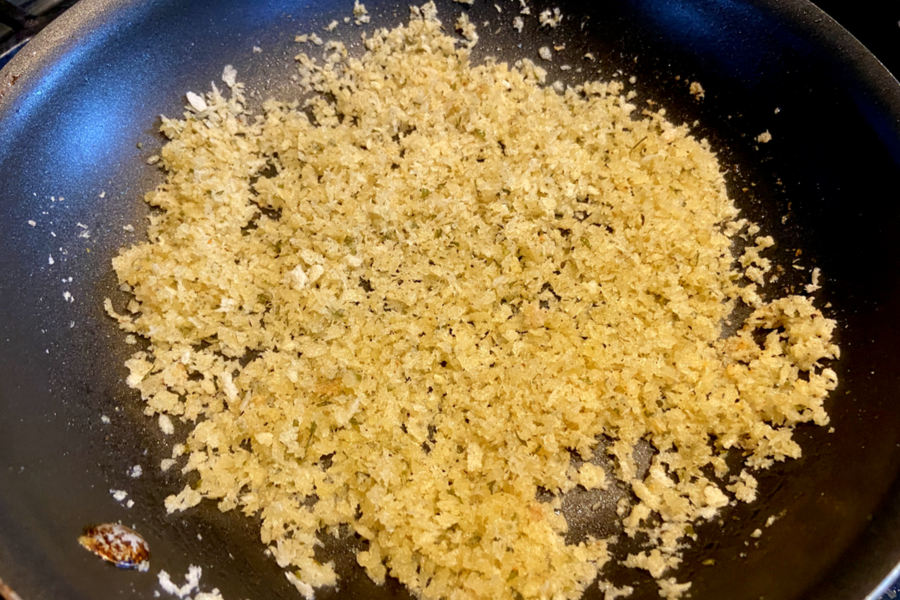 Now pat your chicken thighs dry with a paper towel and season each one with salt and pepper.
Then place each chicken thigh on the trivet. If you are making 3-4 chicken thighs you can lay them directly on the trivet. However, if you are making all 6 stack the thighs on their side to allow for even cooking.
Pressure cook on HIGH pressure for 7-12 minutes. The cook time depends on the size of the thighs. It will take only 7 minutes to cook small thighs, however large thighs will take 12 minutes.
Prepare the Breading
While the chicken is cooking in the Instant Pot, prepare the ingredients for the breading.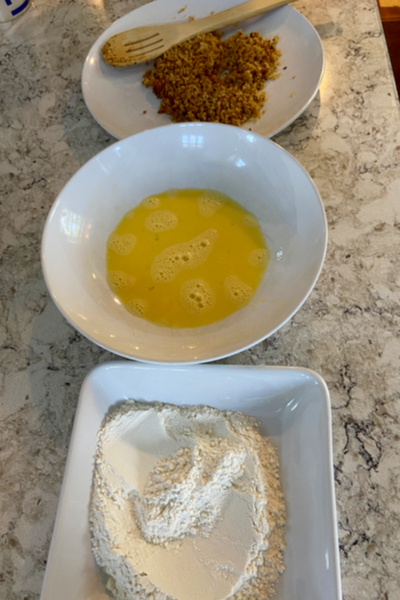 First, you need to toast your breadcrumbs. However, be sure to us Panko breadcrumbs. They will allow ensure that you Instant Pot Chicken is nice and crispy.
Then in a shallow dish add the flour. In another shallow dish whisk the eggs. And finally, in a third shallow dish add the breadcrumbs and set aside.
Once the chicken has cooked, allow the Instant Pot to Natural Pressure Release for 10 minutes. Then release any remaining pressure.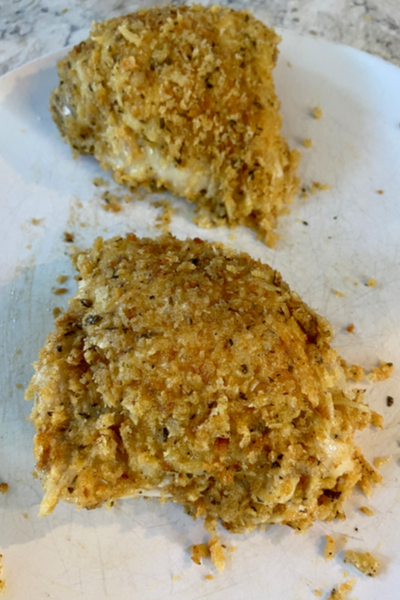 Use a digital thermometer to ensure that the chicken has reached an internal temperature of 165°F. Then remove the chicken from the pot.
Working one at a time, lightly coat each piece of chicken with flour. Then dip it in the whisked egg. And finally coat it with the toasted breadcrumbs.
Repeat until each piece of chicken is coated well. Now it is time to crisp your chicken in the Instant Pot, Air Fryer, or oven.
Crisp The Chicken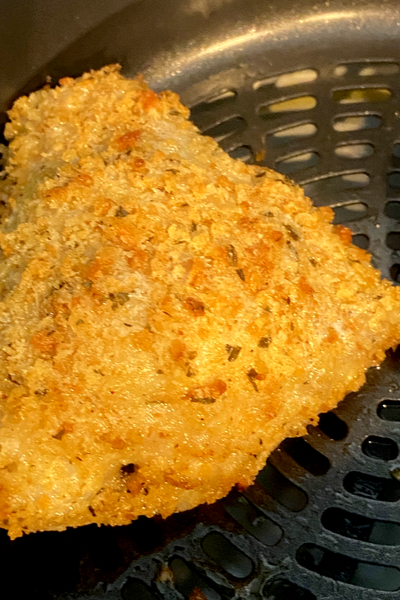 If you are using the Instant Pot, pour out the liquid and place the chicken back into the pot on a trivet or steamer basket. If you are using an air fryer, place the chicken on the rack or crisper basket. And if you are using the oven, place the chicken on a wire baking rack that is placed on top of a baking sheet.
Crisp the chicken at 400°F for anywhere from 5-10 minutes depending on the device that you are using.
There you have it! Instant Pot Crispy Chicken that is nice and crunchy without the use of oil!
To receive our 3 Recipe Articles in your inbox each week, sign up for our free email list located on the side and bottom of each recipe. You can also follow us on Facebook, and Pinterest. This article may contain affiliate links where a small commission is paid if you purchase a product at no additional cost to you.
Instant Pot Crispy Chicken Recipe