In honor of the Kentucky Derby, I decided to make Bourbon Balls this year. Chocolate covered candy balls with a whiskey spiked cream center that is infused with crunchy, chopped pecans scattered throughout the center.
If having a chocolate cream filled dessert isn't enough, the pecans get soaked in bourbon overnight, giving this decadent dessert delicious flavor.
As we all know, Kentucky is the birthplace of Bourbon. And of course, just like with any city, they also are home to many great candy shops.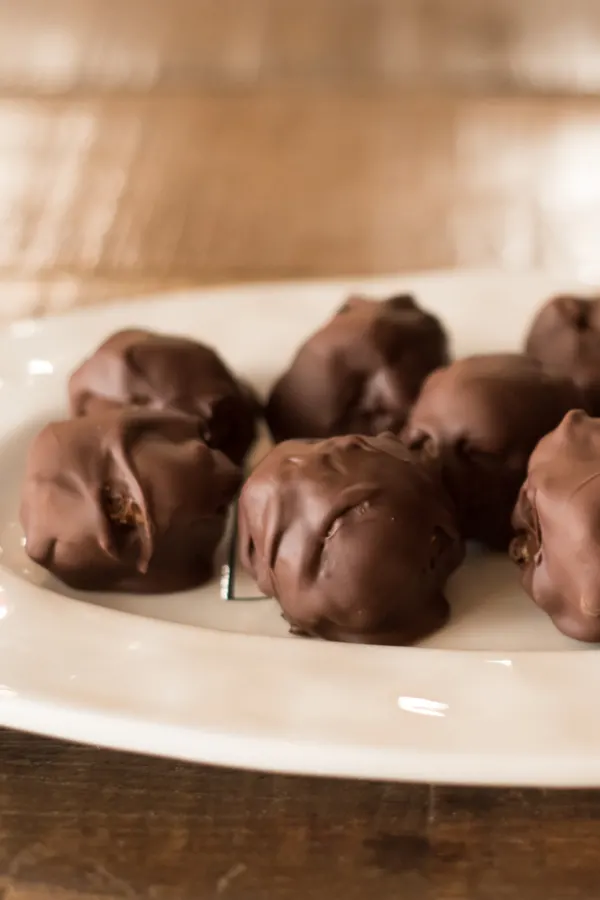 So the thought of combining chocolate with bourbon really shouldn't surprise you. In fact, it has been done since the 1930's and is still popular today!
So when I decided to host my first Kentucky Derby party in many years, I decided to make it authentic as can be! And that included making food and drinks that were all inspired by the great state of Kentucky!
Other Kentucky Derby Recipes
First and foremost, no Kentucky Derby would be complete without a Mint Julep. This bourbon based mint drink, along with Kentucky Bourbon Balls have been enjoyed at the iconic race track for over a century.
Although it is typically served in a silver julep cup, the type of whiskey that it contains can vary. However, you can guarantee that it will contain Kentucky Bourbon, just like my Homemade Mint Julep Recipe that is made with Old Forester Bourbon.
You may not have heard about the classic Hot Brown open faced sandwich, but this recipe has been around the Louisville area just as long as Bourbon Balls!
Thick, toasted Texas Toast with turkey slices and sliced Roma tomatoes on top. Then a rich Mornay sauce is poured over topped and then it is placed in the oven.
Once the cheese is nice and bubbly, it is sprinkled with more cheese and crisp strips of bacon are placed on top. And there you have a classic Hot Brown sandwich that originated at The Brown Hotel in Louisville, KY.
And now you can even make a Hot Brown Dip to enjoy as an appetizer.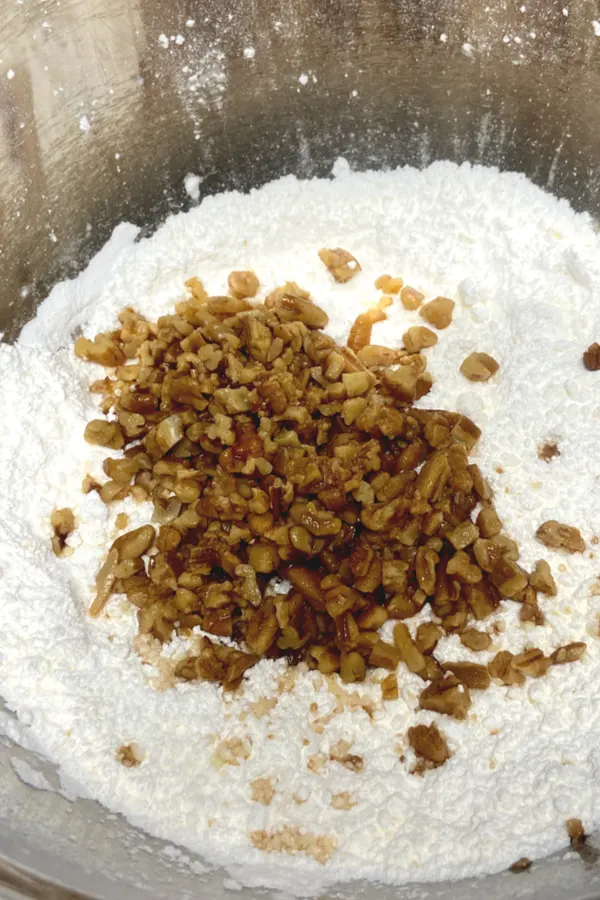 If you are looking for a simple, hand-held appetizer to serve for your Kentucky Derby party, then you have to give a Kentucky Benedictine a try!
Cool and refreshing tea time sandwiches that have a cucumber and cream cheese spread in between the slices. Cut off the crust and serve them as a finger food appetizer!
Then when those are all gone, bring out the Kentucky Bourbon Balls for dessert!
One thing is for sure, Fried Green Tomatoes are a southern classic. And now you can even make them in your Air Fryer!
A delicious bread pudding recipe made with cubed bread tossed in a simple custard flavored with a little Kentucky Bourbon whiskey and then after baked drizzled with a Bourbon glaze that makes for the perfect dessert!
Meaty beef short ribs that are slow cooked and braised in a maple bourbon sauce until fall apart tender then drizzled with a tangy maple glaze to die for!
So now that you have some great ideas for your Kentucky Derby Menu, let's get to the best candy recipe found in Kentucky!
Kentucky Bourbon Balls Recipe
*Specific measurements and complete recipe instructions are located in a printable recipe card at the bottom of this article. However, be sure to continue to read the tips and tricks to making this recipe below.
INGREDIENTS
1 cup chopped pecan nuts
5 tablespoons Kentucky bourbon
½ cup butter, softened
1 (16 ounce) package confectioners' sugar
18 ounces semisweet chocolate
INSTRUCTIONS
The most important step in making Kentucky Bourbon Balls is the very first step. Start by placing the one cup of chopped pecans in a small bowl or a sealable mason jar.
Then pour the bourbon over the nuts. Stir the nuts so that each little piece has a chance to absorb the bourbon liquid. Then seal the bowl or jar and allow the chopped pecans to soak overnight, or at least 8 hours.
You can choose to place them in the refrigerator, or leave them at room temperature on the counter. Regardless of where you place them, be sure that there is a cover on top and that they have at least 8 hours to soak in the bourbon.
However, if you are making this as a last minute Derby Dessert, you can let them soak for a few hours. They won't be as decadent, but they will still be delicious.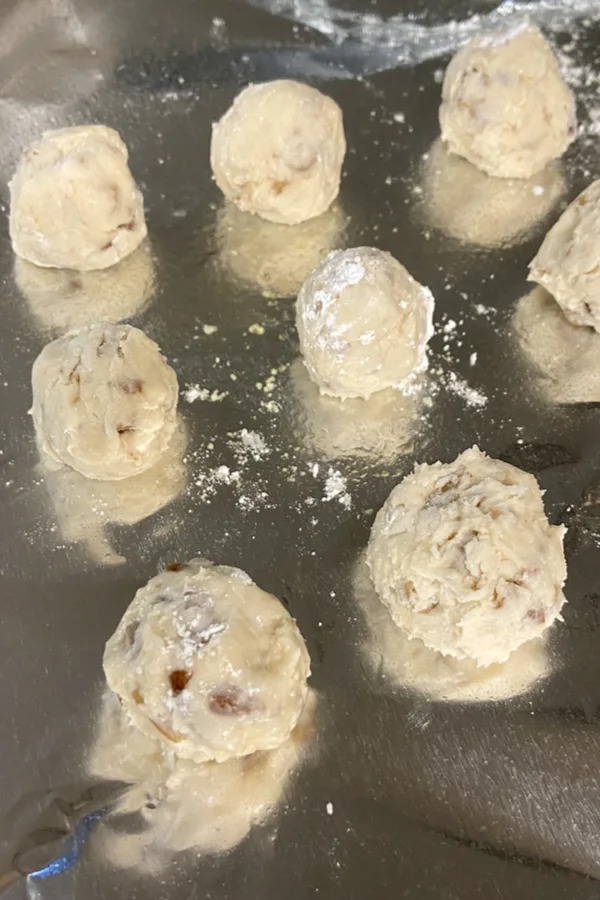 The Filling
When you are ready to make the Kentucky Bourbon Balls, place the softened butter and sugar in a medium size mixing bowl. Use a hand mixer or stand mixer and mix the butter and sugar together for 2-3 minutes.
The mixture will look very dry right now. However, the important thing is to continue to mix the butter until it warms up and begins to melt. This way it will have the chance to absorb into the sugar.
When the clumps of butter can no longer be seen in the sugar, add the nut pieces to the bowl. Use a silicone spatula to scrape out any liquid that remains in the bowl.
Then fold the pecan pieces into the sugar and butter mixture. Continue to fold and mix until the Kentucky Bourbon Ball dough begins to form.
A Word of Caution
It will take a few minutes before you will notice that the liquid from the pecans will begin to soak into the sugar mixture. Although you may be tempted, do not add additional bourbon to the filling.
Instead, continue to mix and fold vigorously until a dough forms. Once the filling begins to stick together, use a small cookie scoop to form the dough into 3/4″ balls.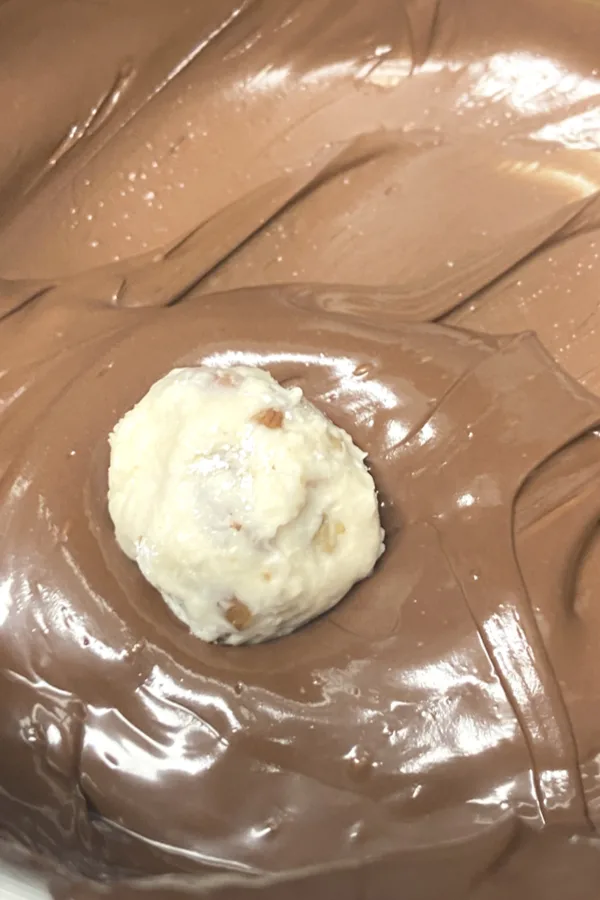 Roll the dough between your hands to make small, round balls. Place the balls on a baking sheet that has a foil liner. Be sure to spray the foil with non-stick cooking spray or line it with wax or parchment paper.
Place the sheet pan in the refrigerator to keep cold overnight. You could also place them in the freezer for 2 hours if you need to make them in a shorter amount of time.
Chocolate Dip
It is now time to dip the cold Kentucky Bourbon Balls into chocolate. Start by lining a baking sheet with wax paper or foil sprayed with non-stick cooking spray. Set it aside while you melt the chocolate.
Use a double boiler over a glass bowl or sauce pan placed over just-barely simmering water. Add the chocolate to the top dish/pan and stir frequently until the chocolate just melts.
Use a silicone spatula to scrape down the melted chocolate on the sides of the pan and continue to stir. Working one at a time, dip and roll the balls in the melted chocolate to coat all exposed surface areas.
Then use a fork or two forks to lift the Bourbon Ball out of the chocolate and let the excess drip off. Place on the prepared baking sheet and place a pecan on top if desired.
Continue to work, one at a time, dipping the remaining Kentucky Bourbon Balls in the chocolate. Place them on the baking tray so that they don't touch each other.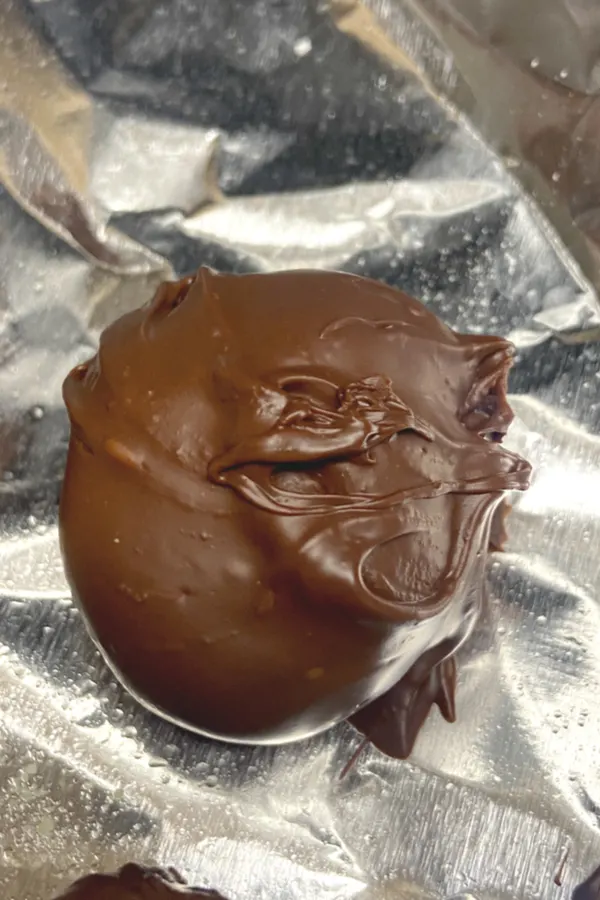 Refrigerate
Place the tray in the refrigerator until ready to serve. If you are making these ahead of time, let the chocolate set and then store in a closed container in the refrigerator.
You can also freeze the Kentucky Bourbon Balls for up to 3 months. However, I recommend not placing the large pecan on the top surface as it will become soggy after being frozen and then thawed.
Enjoy! Mary

To receive our 3 Recipe Articles in your inbox each week, sign up for our free email list located in the middle of each recipe or email me at contact@makeyourmeals.com. You can also follow us on Facebook and Pinterest. This article may contain affiliate links where a small commission is paid if you purchase a product at no additional cost to you.
Kentucky Bourbon Balls Recipe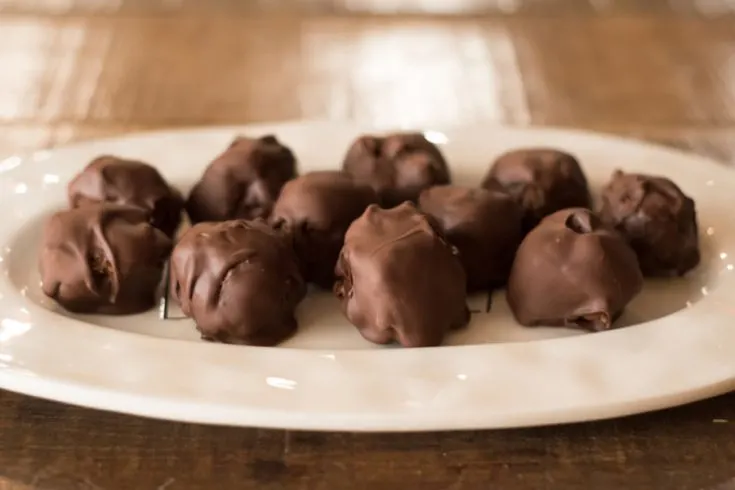 Classic Kentucky Bourbon Balls that have great flavor with the bourbon infused filling. A must make dessert recipe for your Kentucky Derby watch party!
Total Time
10 hours
20 minutes
Ingredients
1 cup chopped pecan nuts
5 tablespoons Kentucky bourbon
½ cup butter, softened
1 (16 ounce) package confectioners' sugar
18 ounces semisweet chocolate
Instructions
Place the nuts in a sealable jar. Pour the bourbon over the nuts. Seal and allow to soak overnight.
Mix the butter and sugar; fold in the soaked nuts. Form into 3/4" balls and place on a foil lined baking sheet sprayed with non-stick cooking spray and refrigerate overnight or freeze for 2 hours.
Line a tray with waxed paper, parchment paper, or foil sprayed with non-stick cooking spray, set aside. Melt the chocolate in the top of a double boiler over just-barely simmering water, stirring frequently and scraping down the sides with a rubber spatula to avoid scorching. Roll the balls in the melted chocolate to coat; arrange on the prepared tray. Store in refrigerator until the chocolate is set.
Notes
*Because the candy balls are formed and never put in the oven to bake, there will be residual bourbon in every bite. Therefore, it is best to label and inform guests so that they can make a decision wether or not to enjoy this delicious treat.
As you are stirring in the bourbon soaked pecans into the butter/sugar mixture the dough will look dry. Continue to stir until the bourbon moistens the dough, however, do not add more bourbon to the mixture. Keep folding the nuts in and it will eventually form a workable dough.
Recipe provided by Make Your Meals
Nutrition Information:
Yield:
20
Serving Size:
1 piece
Amount Per Serving:
Calories:

119
Total Fat:

5g
Saturated Fat:

1g
Trans Fat:

0g
Unsaturated Fat:

4g
Cholesterol:

0mg
Sodium:

35mg
Carbohydrates:

14g
Fiber:

1g
Sugar:

9g
Protein:

1g
Nutritional Information is to be used as a general guideline only . Nutritional calculations will vary from the types and brands of the products used.