When you search what are the best things to eat while you are in Louisville, KY it might surprise you that a dish called The Hot Brown will be at the top of the list.
When I first stayed in Louisville, I was expecting everyone to guide me to all the wonderful barbecue restaurants in town. Or maybe to a local distillery for a taste testing.
However, when I began to ask what was the one 'Must Try' food while I was in town, the Kentucky Hot Brown kept coming up in the conversation.
Now don't get me wrong, there are some absolutely wonderful local barbecue places in town. And there are some delicious Bourbon slushies and Mint Juleps to be had.
However, the history behind The Hot Brown dish had me intrigued.
The History of The Hot Brown
The Brown Hotel in Louisville made this dish famous in the 1920s. After a typical roaring 20's dance party, hotel patrons would drift over to the hotel restaurant in the early hours of the morning in search for something to eat.
The hotel chef, Fred Schmidt, developed the unique open faced sandwich to please his customers.
A large chunk of turkey breast was served on top of thick Texas toast that was topped with tomatoes, Mornay sauce and bacon. It was the perfect combination of flavors that still remains popular today.
Although there have been many variations of this recipe, this is the original recipe that comes straight from The Brown Hotel itself. It's so famous that there is even a book dedicated to the original hot brown open-faced sandwich and all the recipes that have stemmed since. See: The Hot Brown: Louisville's Legendary Open-Faced Sandwich.
It is so popular that it has been featured on various television shows such as NBC's the Today Show, Man Vs. Food and has even had Bobby Flay trying to replicate the dish.
So if you ever pass through Louisville, you will have to make a visit to The Brown Hotel and try out this legendary dish. But until then, give it a go yourself by following this recipe!
Check out the printable recipe below and all of our recipes and let me know what you think!
To receive our 3 Recipe Articles in your inbox each week, sign up for our free email list. You can also follow us on Facebook, Twitter, Pinterest, and Instagram. This article may contain affiliate links.
Yield: 2 people
KENTUCKY HOT BROWN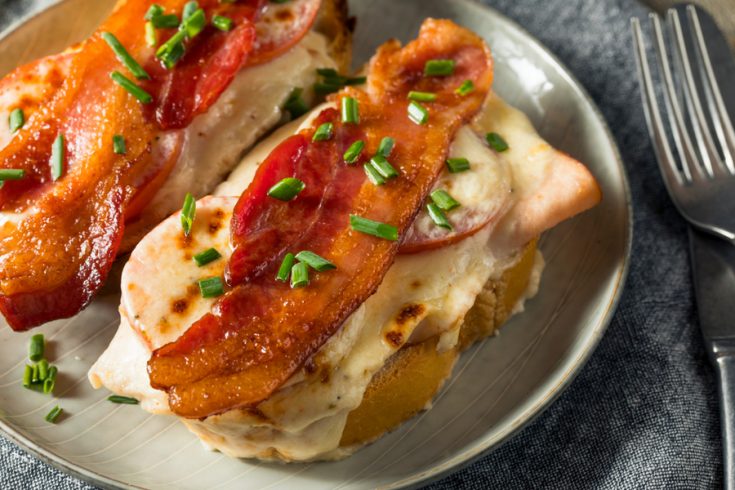 The legendary open-faced turkey sandwich with bacon and a delicate Mornay sauce.
Ingredients
1 1/2 tablespoons unsalted butter
1 1/2 tablespoons all-purpose flour
1 1/2 cups heavy cream
1/4 cup Pecorino Romano cheese, plus extra for topping
Pinch of ground nutmeg
Salt and pepper
14 oz. roasted turkey breast, sliced in half
2 slices Texas toast
2 Roma tomatoes, sliced in half
4 slices bacon, cooked
paprika
Parsley
Instructions
In a small saucepan melt the butter and then slowly whisk in flour until combined to form a thick roux. Continue to cook roux for 2 minutes over medium-low heat, stirring frequently.
Whisk the heavy cream into the roux and cook over medium heat until the cream begins to simmer, about 2-3 minutes.
Remove the sauce from heat and slowly whisk in the cheese until the sauce is smooth.
Add the nutmeg, salt and pepper to taste.
To assemble the Hot Brown
Cut off the crusts of each piece of Texas toast.
Place each slice of toast in an oven safe dish and cover each with 7 oz. turkey.
Take the two halves of Roma tomatoes and place on top of each turkey breast.
Pour the sauce over the dish, completely covering it and sprinkle with additional cheese.
Place entire dish under a broiler until cheese begins to brown and bubble.
Remove and place two pieces of crispy bacon in a crisscross pattern on top.
Sprinkle with paprika and parsley and serve immediately.
Notes
Recipe provided by Make Your Meals
Nutrition Information:
Yield:
2
Serving Size:
1 grams
Amount Per Serving:
Unsaturated Fat:

0g