I've converted my favorite sausage breakfast casserole into an Instant Pot Breakfast Casserole.
Breakfast is my favorite meal of the day.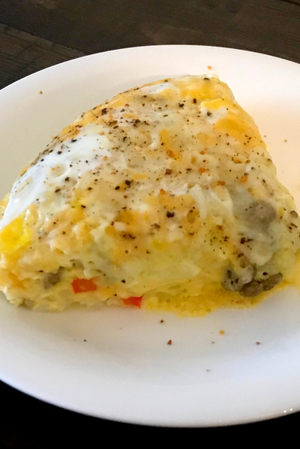 I love it so much that we often have breakfast, including our cheesy hash brown casserole, Instant Pot Sausage Gravy, and Instant Pot Breakfast Frittata, and Instant Pot French Toast Casserole for dinner at least once a month!
Most of the time I stick with the basics and will fill my plate full of scrambled eggs, sausage and hash browns.
On occasion, when there is more time and I don't mind the carbohydrates, I will make pancakes or French toast for the family.
Add in a few slices of bacon that has been drizzled with a tiny bit of maple syrup and I am in heaven!
But I have always made Breakfast Casserole for our holiday breakfast meal.
By having the entire breakfast in one dish it allows me to sit down and enjoy the meal with my family.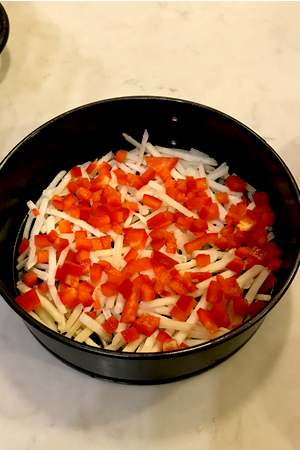 Otherwise I have to stand in front of the stove making batches of eggs until everyone gets served.
By the time I get around to making my own eggs, the breakfast table is empty.
As much as I like breakfast, I cherish the moments that the entire family sits down together for a meal even more!
Instant Pot Breakfast Casserole
I first decided to make Instant Pot Breakfast Casserole when I realized that the oven was going to be in use all morning.
We were cooking a twenty pound turkey and it needed to roast for several hours before serving it at noon.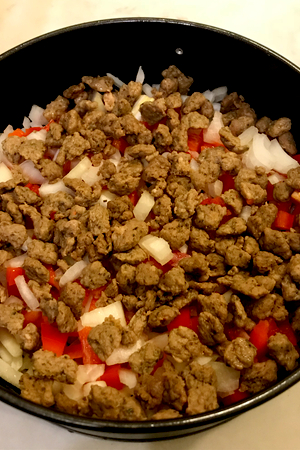 Obviously taking the turkey out of the oven was not an option.
Everyone had their hearts set on Mom's famous breakfast casserole, and I didn't want to let anyone down.
So of course, I turned to my 6 quart Instant Pot Duo for the rescue.
The family chuckled when I brought up this option as they know how much I love my pressure cooker.
I use it at least daily, so they weren't shocked when I decided I could make Instant Pot Breakfast Casserole with it.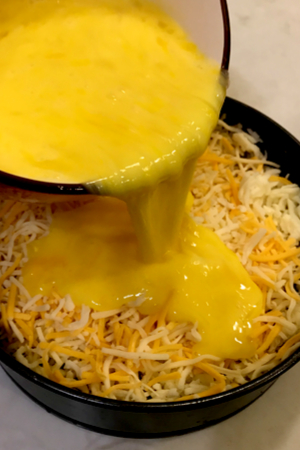 What Pan To Use
I wasn't convinced that I could make the egg casserole directly in the liner of the pot.
Knowing that pressure cookers require a thin liquid to come to pressure, I was sure that if I tried this method that it would come out a disaster.
So instead, I turned to focus my attention on using the Pot-In-Pot method.
Pot-In-Pot Method
If you read a lot of recipes that use the Instant Pot, this method is commonly referred to the PIP method.
It simply means that you cook your recipe in an oven safe dish and lower it into the Instant Pot.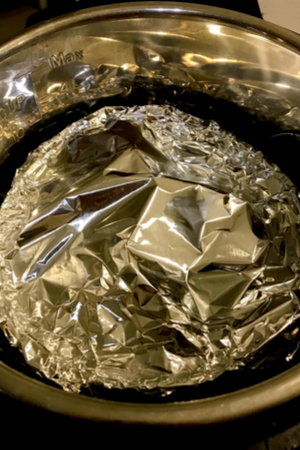 The dish sits on the trivet that came with the pot or one that you purchase.
And the thin liquid that is required to bring the pot up to pressure goes in the liner, not in your actual recipe.
In order to easily serve my Instant Pot Breakfast Casserole, I decided to use my 7 inch springform pan.
I originally purchased it to make Instant Pot Oreo Cheesecake, but have since used it to make lasagna, taco casserole, and more!
I like to use the springform pan because it makes serving the casserole a breeze!
You can line the inside of your springform pan with parchment paper to prevent any chance of it leaking out of the seal.
And as an added precaution, I will sometimes wrap the outside with aluminum foil.
Once cooked, just remove the ring and you can slice your Instant Pot Breakfast Casserole like a pie.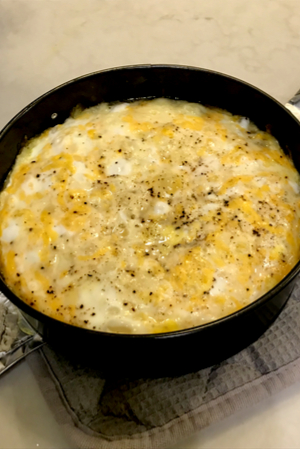 This eliminates those requests for an inside or outside piece. Everyone's piece is the same!
And in my house, that is more important than I can tell you!
Of course you can use any oven safe casserole dish that will fit down into your Instant Pot for this recipe.
Just be sure to use non-stick spray to prevent the eggs from sticking to the bottom and sides.
And no matter which pan you choose you will always need to cover the top with foil to prevent excess moisture from dripping on top.
What Ingredients To Include
The beauty about this recipe is that you can individualize it to your liking.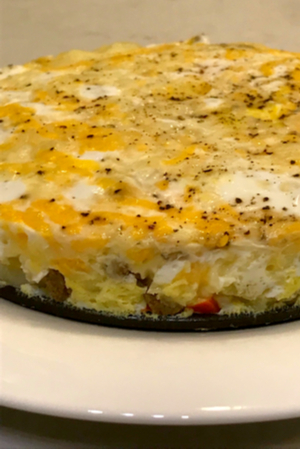 We have included the base recipe, but feel free to doctor it up to however you prefer.
For instance, we use ground turkey sausage when we make our Instant Pot Breakfast Casserole.
But instead, you could use traditional pork sausage. Or skip the sausage all together and use bacon or ham.
Don't like onions? No worries – simply eliminate them.
And if you want to make things a little spicier, add some diced jalapeno to the mix.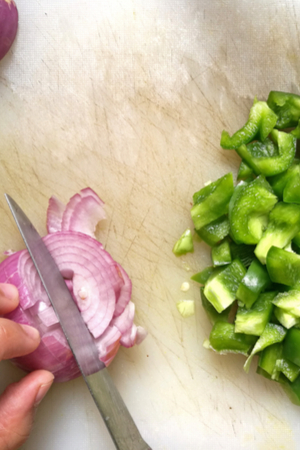 The options are endless. Each time we make it we use the ingredients that we have on hand at the moment.
The Sling
There is one huge and helpful hint when lowering the pan in and out of the Instant Pot.
Use a sling. You can purchase a silicone sling that can be used to help you insert and remove the pan onto the trivet.
But you can also use a long piece of foil to do the same trick.
Simply take a 30 inch piece of aluminum foil and fold it lengthwise until you end up with a 1-2 inch wide strip of foil.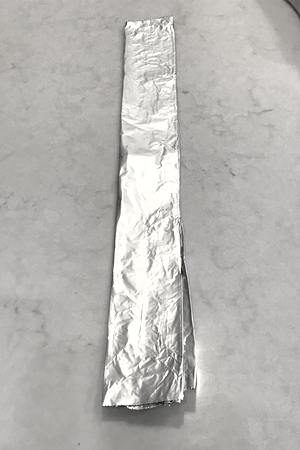 Put your pan on top of the foil, centered so that both sides are of equal length.
Then carefully use this handmade sling to lower your pan onto the trivet.
Just fold the ends of the foil over your dish and when it is time to take it out, they are easily accessible.
It is so easy to make Instant Pot Breakfast Casserole that we now make one every Sunday evening.
We divided the portions and refrigerate them for a fast breakfast meal during the week.
Check out the printable recipe below and let me know what you think!
To receive our 3 Recipe Articles in your inbox each week, sign up for our free email list located on the side and bottom of each recipe. You can also follow us on Facebook, and Pinterest. This article may contain affiliate links where a small commission is paid if you purchase a product at no additional cost to you.
Instant Pot Breakfast Casserole