I wanted to make candied almonds but I was having a difficult time finding an egg free candied almonds recipe that wasn't loaded with a ton of sugar.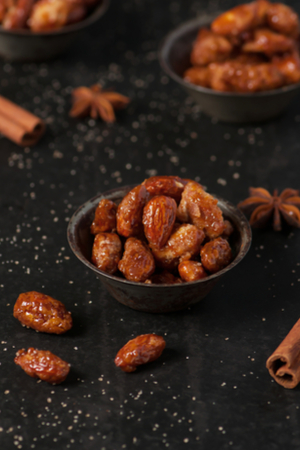 Of course, I know the whole point of candied almonds is that they are coated in a thick layer of sugar and cinnamon.
And although I would love to take a bite into a crunchy and sweet almond, sometimes the coating is just too sweet.
Plus I didn't realize that most candied almonds recipes have eggs as a primary ingredient.
I am sure the egg is used to help bind the coating to the almond. However, we have an egg allergy in our family so we needed an egg free candied almond recipe.
So after a lot of time comparing recipes, we decided to make our own egg free candied almond recipe.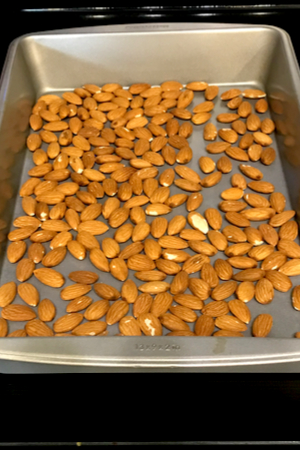 And yes, we even tried to make it a little healthier by using a sugar substitute.
Toasting the Almonds
We started with a batch of raw almonds.
Toasting the almonds give them a deep and nutty flavor as compared to when eating them raw.
We placed them in a preheated oven and cooked them for about 8 minutes. You will know when they are ready because you will be able to smell the nutty aroma.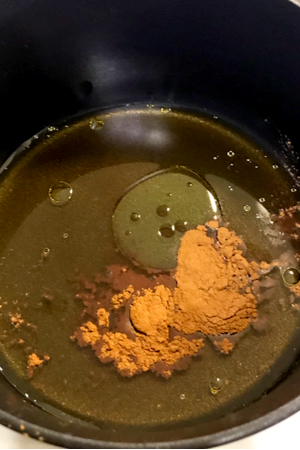 You could skip this step if you preferred, but I would highly suggest taking the extra few minutes to roast them.
The smoky, nutty flavor really stands out against the sweetness of the coating.
Sugar vs. Sugar Substitute
Most recipes will use a thick layer of white sugar to coat the almonds.
Some recipes will even use a mixture of brown and white sugar.
This provides a thick and crunchy coating to your almonds that is found in the classic bags that you find at winter festivals and events.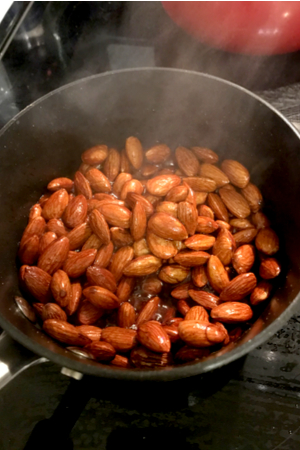 We decided to switch things up a little bit and used a sugar substitute.
For this recipe we used KetoseSweet. It is made with Steviva and monk fruit and contains no alcohol sugars.
The best part of all, there is no after taste!
The monk fruit balances out the stevia so that you get the sweetness without the bitter after taste found in Steviva alone.
KetoseSweet crystals are super fine. You won't have that thick coating around your almonds as compared to white sugar.
However, for me that is a bonus. That means none of the coating is being dropped in my lap, on the floor, or in my car on the way home from a winter event.
Egg Free Candied Almonds
As mentioned above, most candied almonds recipe contains either an entire egg or an egg wash.
For our family, not only do we have egg allergies, but some of our friends and family are vegan.
In order for everyone to be able to enjoy this sweet treat, we knew that we had to find a way to make egg free candied almonds.
That brought us to the question of what binding agent that we would need to make the sugar (or sugar substitute) stick.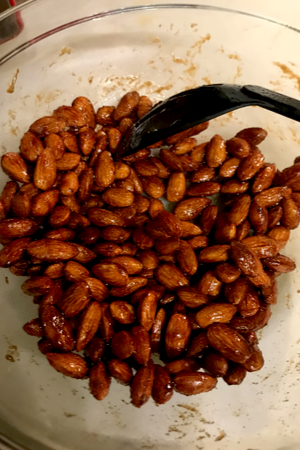 Trying to keep things as natural as possible, we decided that we would use maple syrup.
Maple syrup is definitely sticky, and provides another fantastic layer of sweetness to the almonds.
We added a little water and avocado oil and we had ourselves a binder!
Coating the Almonds
Once the almonds have come out of the oven, the process goes very quickly.
Bring the maple syrup mixture to a boil and the almonds go right in the pan.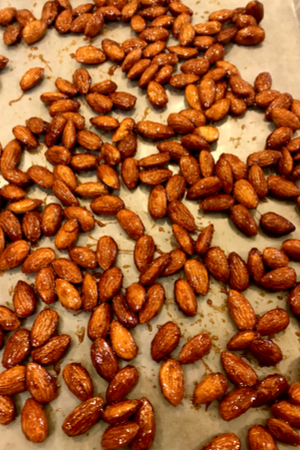 A couple minutes later, the almonds are coated in the sticky syrup mixture and are ready for the sugar coating.
One the almonds have a blanket of sugar around them the only thing left is to spread them out on a wax-paper lined baking sheet.
Wax paper is the preferred product here because they will be placed back in the oven.
It is much cheaper than parchment paper. So save the parchment paper for when you are baking!
The Final Result
After the almonds have been coated and placed on the baking sheet, it is just a waiting period.
You must wait until the almonds dry before storing them in an air-tight container.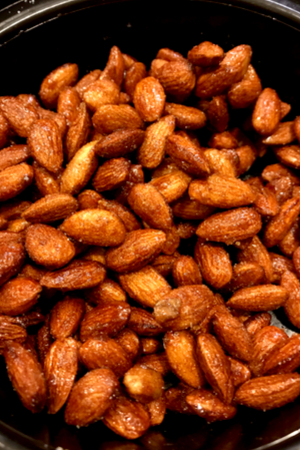 These almonds will have a stickier consistency than the ones that you purchase.
They are just as tasty, but because there is less sugar and because the sugar substitute has a finer grain, they won't harden as well.
If you want to use standard white sugar in this recipe, that is totally up to you.
You could even coat toss them in a layer of sugar after they have been through the initial coating process.
You would still be using less than half of the sugar called for in other recipes!
Check out the printable recipe below and all of our recipes and let me know what you think!
To receive our 3 Recipe Articles in your inbox each week, sign up for our free email list. You can also follow us on Facebook, Twitter, Pinterest, and Instagram. This article may contain affiliate links.
Yield: 1 cups
Egg-Free Candied Almonds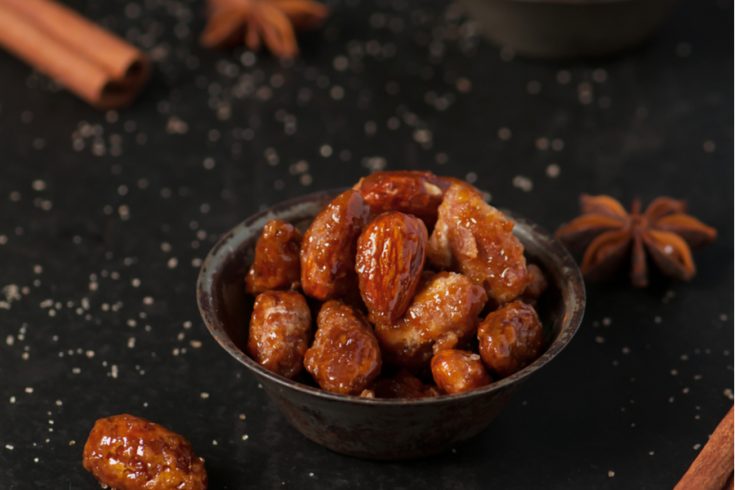 Candied Almonds are a winter time classic treat. This recipe is egg free for those that have allergies or who are vegan can enjoy this tasty treat without worries!
Ingredients
1 1/2 cup almonds
3 tablespoons sugar or sugar substitute, I used KetoseSweet sugar substitute
1/4 teaspoon salt
2 tablespoons maple syrup
2 teaspoons water
1 teaspoon avocado, coconut, or olive oil
1 teaspoon vanilla extract
1/2 teaspoon cinnamon
Instructions
Preheat the oven to 350 °F. Line a baking sheet with wax paper and set aside.
In a large bowl, combine the sugar and salt. Set the bowl aside.
On a rimmed baking sheet pour the almonds and spread in a single layer. Bake for 7-10 minutes or until aromatic, stirring halfway. Remove the almonds from the oven and set aside.
Combine the maple syrup, water, oil, vanilla and cinnamon in a medium saucepan over medium-high heat.
Bring to a boil, reduce heat to medium-low and add the almonds.
Stirring frequently, cook until almost all the mixture has coated the almonds (approximately 2-3 minutes). Pour the coated nuts to the bowl with the sugar mixture and stir until well-coated.
Pour the almonds onto the wax paper-lined pan arrange in a single layer. Let cool completely.
Once completely cool the almonds and the coating will become crunchy.
Store in an air-tight container.
Notes
Recipe provided by Make Your Meals
Nutrition Information:
Yield:
1
Serving Size:
1 grams
Amount Per Serving:
Unsaturated Fat:

0g