Instant Pot Sausage Gravy – a classic breakfast meal made even easier with the Instant Pot.
When I first got my Instant Pot 6 quart Duo I knew that I would use it to make recipes that typically took a long time to cook.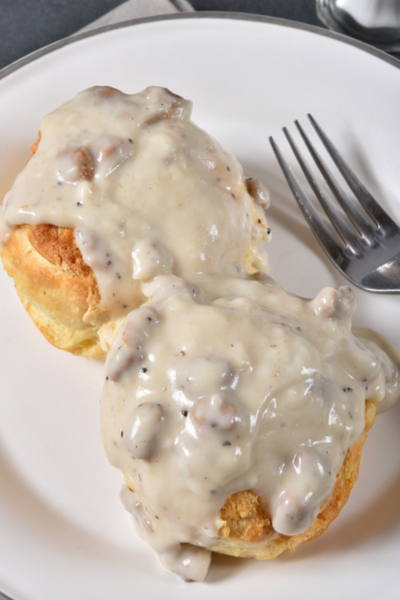 It can make Pulled Pork, Black Beans and Chicken Bone Broth in a fraction of the time that it does using traditional methods.
But I never imagined making something so simple as Sausage Gravy in my Instant Pot.
But that was until I gave it a try!
Why Make Instant Pot Sausage Gravy?
It actually all happened by accident.
It was teacher appreciation week and I volunteered to bring a dish to a breakfast event before school.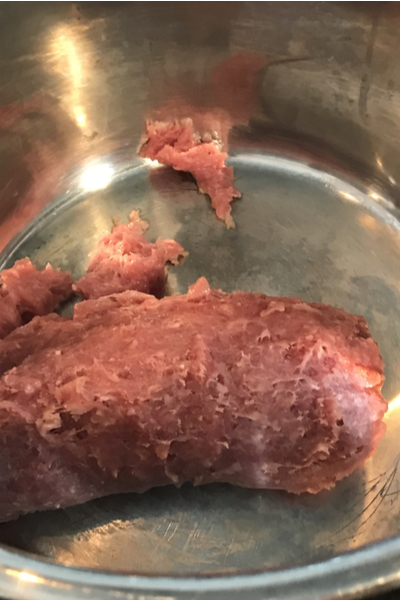 I thought about bringing a breakfast casserole, but I knew there was going to be several trays of scrambled eggs there.
So then I thought about bringing a large tray of bacon. However, someone already signed up for that as well.
Cinnamon rolls and donuts were also taken.
I was struggling with what to bring and that is when I saw a billboard that displayed a plate of sausage gravy and biscuits.
BINGO! I had my inspiration for the breakfast.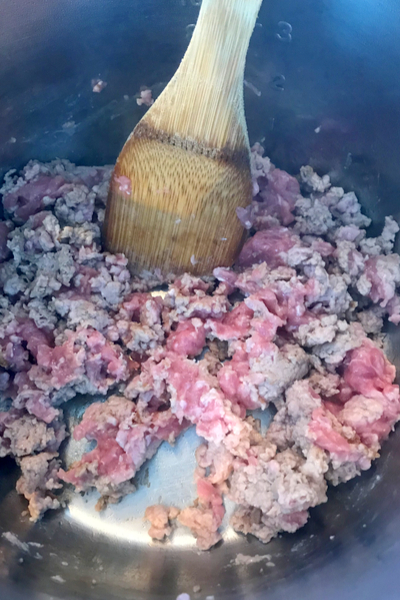 But there was one little problem….how was I going to be able to serve warm gravy.
I first thought about using my slow cooker, but since it was a morning breakfast, it would take too long it to heat up.
So that is when I decided that the Instant Pot was perfect for sausage gravy!
I could cook it right at school and it would stay warm until everyone had a chance to fill their plates.
Plus, I didn't have to stand over a hot stove stirring it to make sure it didn't stick to the bottom of the pan!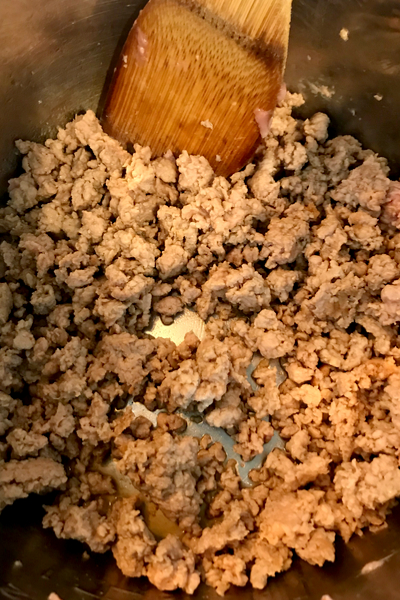 How To Make Sausage Gravy In The Instant Pot
The first task when making sausage gravy in the Instant Pot is to brown the sausage.
You can use whatever type of sausage that you prefer. If I am making this recipe at home for my immediate family, I use the hot and spicy ground sausage.
However, if I am making it for a crowd, I use standard breakfast sausage.
And for those that can't or don't eat pork sausage, you can substitute turkey sausage as well.
No matter what type of sausage that you use be sure to add the sausage once the display reads HOT in the Saute mode.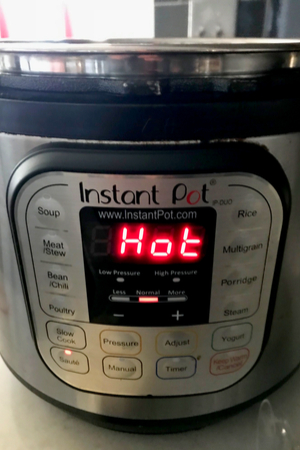 Cook the sausage, breaking it into small pieces and scraping the bottom of the pot to remove any stuck pieces.
The most important part of this recipe is to make sure that the bottom of the pot does not have any browned bits stuck to the surface.
Once you add the chicken stock, you can easily scrap the bottom clean with a wooden spatula.
All that is left to do is to add the remaining ingredients and cook!
Low Pressure
After reading about milk products curdling when cooked in the Instant Pot, I was terrified that sausage gravy may do the same.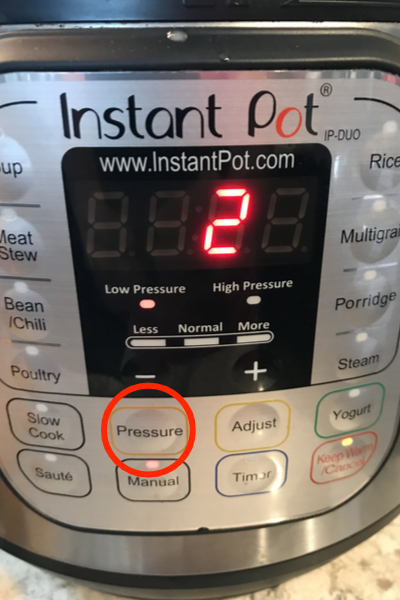 So I decided that it was a better option to use Low Pressure for this recipe.
On the Instant Pot Duo models, simply push the PRESSURE button and it will switch from HIGH to LOW.
And as for cook time, 2 minutes seems to be perfect. It is just enough time to heat up the gravy without the cream curdling.
Thicken The Sausage Gravy
Once the cook time expires, carefully quick release the pressure.
The gravy will be extremely hot and it will look a little thin. Don't Panic!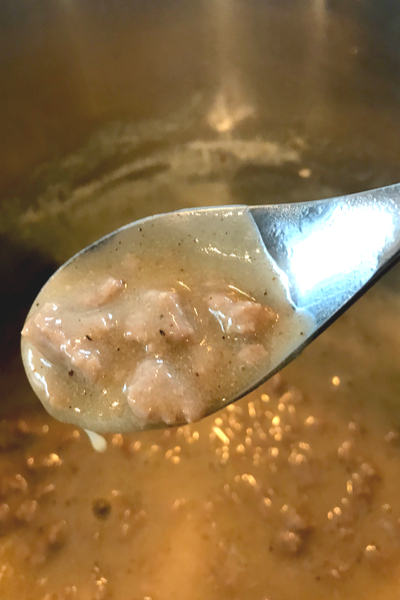 Just stir it and let it sit with the lid off. It will thicken as it stands.
However, if you want to serve it right away, stir in a little arrowroot powder. It will thicken immediately and it will be ready to eat!
Check out the printable recipe below and let me know what you think!
To receive our 3 Recipe Articles in your inbox each week, sign up for our free email list located on the side and bottom of each recipe. You can also follow us on Facebook, and Pinterest. This article may contain affiliate links where a small commission is paid if you purchase a product at no additional cost to you.
Instant Pot Sausage Gravy
Thick and delicious sausage gravy made in the Instant Pot and served over biscuits for a classic breakfast meal.
Ingredients
2

tbsp

butter

1

lb

ground sausage

2

cups

chicken broth

1/2

tsp

ground pepper

1/4

tsp

crushed red pepper flakes

3/4

tsp

seasoning salt

1/4

cup

flour

1

cup

heavy cream
Instructions
Set Instant Pot to Saute' and wait until the display reads HOT.

Add the butter and when it melts add the sausage. Brown until no longer pink, breaking up the sausage and scraping the bottom of the pot as it cooks.

Push Cancel to turn off Instant Pot.

Add the 2 cups of broth and scrap any browned bits off the bottom of the pot.

Stir in the pepper, crushed red pepper, seasoning salt and flour.

Add Heavy Cream and stir until incorporated.

Lock lid and place valve in sealed position. Pressure Cook/Manual on LOW Pressure for 2 minutes and when cook time is up Quick Release Pressure.

Stir and serve over biscuits.
Notes
The sausage gravy will thicken as it stands and cools. If you want to thicken it even more, add 1 tablespoon arrowroot powder, stir and serve.
Recipe provided by Make Your Meals
Instant Pot Sausage Gravy Recipe