Strawberry yogurt popsicles are a healthy, summer time treat that require only 3 simple ingredients.
I actually thought about not posting this as a true recipe because it is so easy to make!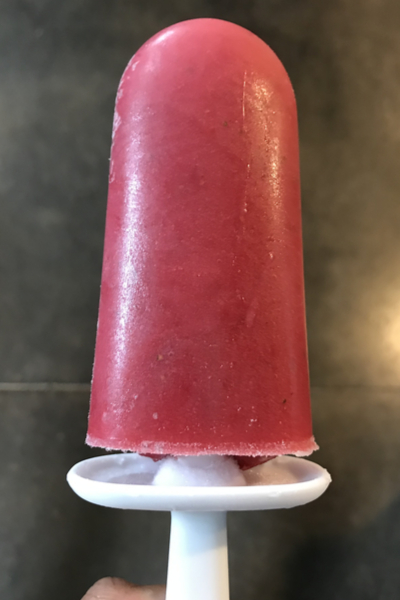 However, because there are so many requests for healthy snack and dessert recipes, I thought it was time to share how we make these tasty treats.
Homemade Popsicles
We have made all sorts of popsicles since before I can remember.
In my childhood days, we would mix up a big batch of Kool-Aid and pour them into standard popsicle molds.
They would serve as the perfect treat in the middle of a hot summer day.
Then we learned to make homemade Bomb Pops. You know the ones that you used to get from the Ice Cream Delivery Man.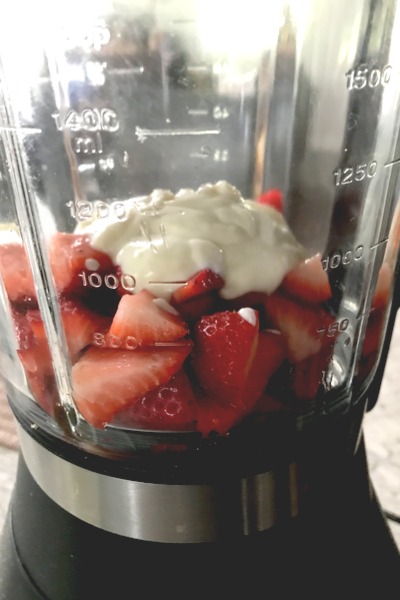 The red, white and blue layers each had their own unique flavors and were a must have for any patriotic holiday.
But one of our absolute favorite homemade popsicles are these Strawberry Yogurt Popsicles.
Not only are they super easy to make, they are much healthier than the all sugar popsicles.
Homemade Strawberry Yogurt Popsicles
It all started when we had a ton of ripe strawberries in our refrigerator.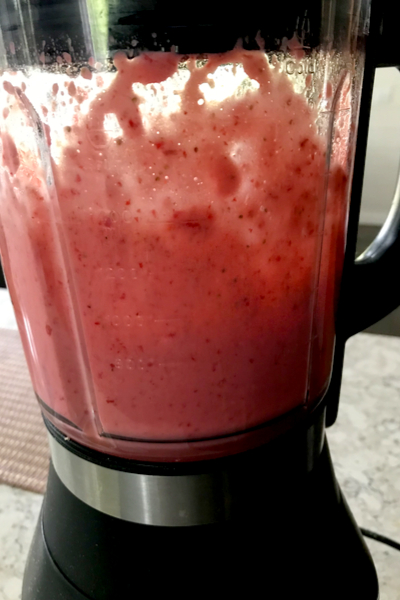 We had gone to a U-pick strawberry farm and ended up with way too many strawberries on our hands.
With limited freezer space, we knew that we had to make them into things that we could eat right away.
We always start by making Strawberry Honey Jam. This recipe uses all natural ingredients and it is our favorite jam to use throughout the year.
We would also make Strawberry Banana Smoothies and even some simple Chocolate Covered Strawberries.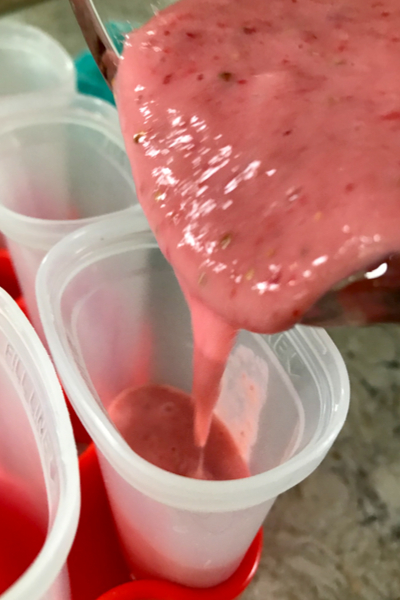 But on a super hot day, I was asked if we had any popsicles in the freezer.
Although we didn't have any, I knew that I could make some to be ready for later in the day.
So instead of turning juice into popsicles, I decided to use up some of those fresh picked strawberries.
The first time that I made strawberry popsicles I used only pureed strawberries.
Although they were amazingly delicious and healthy, once you took a bite, there were frozen pieces falling onto the floor.
In fact, you had to eat it over a bowl or plate to catch the drippings.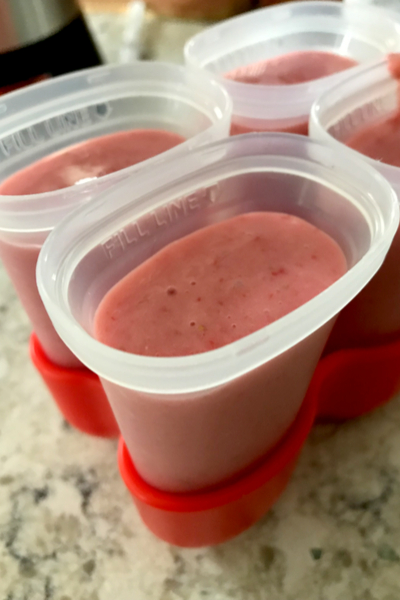 Therefore, I decided that the next time I should use some sort of binder to help hold it together when eating.
That is when I decided to add yogurt to the mixture.
What Type of Yogurt To Use For Strawberry Popsicles
I had a large container of full-fat Greek yogurt in my refrigerator so I decided to mix that in with the strawberries.
It worked beautifully! Once frozen, the popsicles held together nicely when eaten.
No more worrying about chunks of frozen strawberry puree falling on the floor.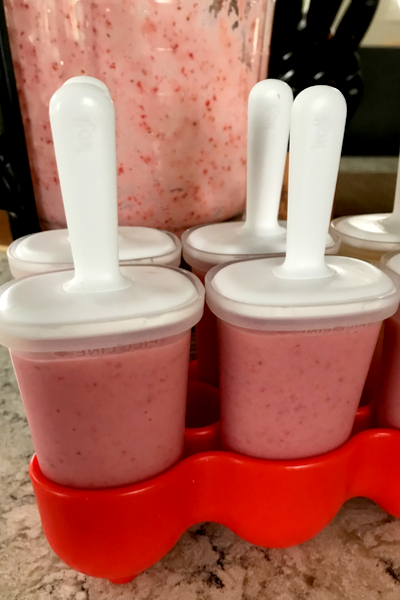 Since that time, I have used standard yogurt, vanilla flavored Greek yogurt and even Silk (non-dairy) yogurt.
All with fantastic results!
Sweetener is Optional
Depending on where you purchase or pick your strawberries, you may choose not to use any sweetener in this Strawberry Yogurt Popsicle recipe.
In fact, I always take a bite into a strawberry and taste the sweetness level before I use them in any recipe.
If they are already super sweet, eliminate adding any additional sweetener.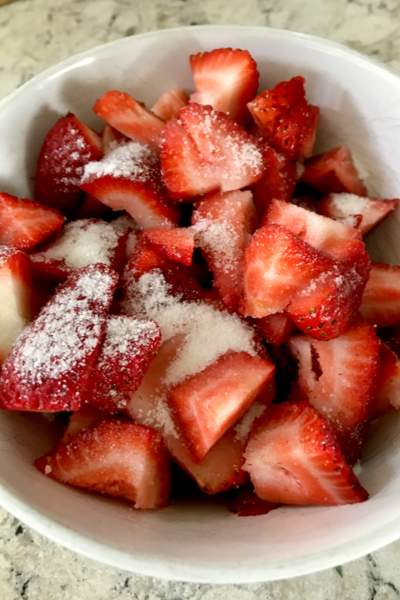 However, if they taste bland, I suggest adding a little bit of sugar or honey to the mixture.
But be sure to add just a little bit of the sweetener of choice. As it penetrates the strawberries, it will bring out the sweetness packed inside. So, as the old saying goes, "less is more".
No Popsicle Molds?
And just because you don't have popsicle molds, like our Koji Molds, that doesn't mean that you can't make popsicles.
We have made popsicles in Dixie Cups, plastic cups, and even mini popsicles in ice cube trays.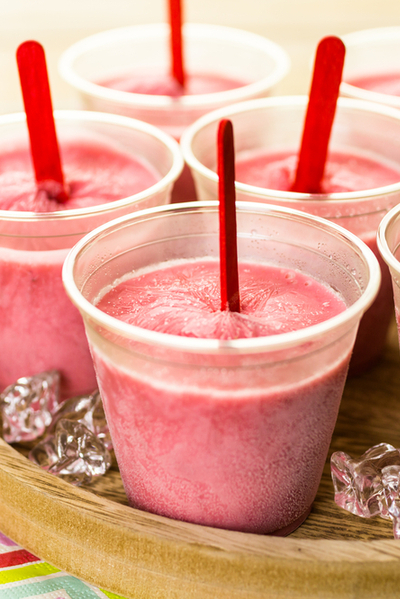 Just pour the Strawberry Yogurt puree into the container and let it freeze for about 2-3 hours. Add your wooden popsicle sticks and freeze until hardened.
Another alternative is to cover your container with aluminium foil. Make a tiny slit in foil at the center and insert the wooden sticks.
The foil allows the sticks to remain upright during the freezing process.

To receive our 3 Recipe Articles in your inbox each week, sign up for our free email list located in the middle of each recipe or email me at contact@makeyourmeals.com. You can also follow us on Facebook and Pinterest. This article may contain affiliate links where a small commission is paid if you purchase a product at no additional cost to you.
Yield: 8
Strawberry and Yogurt Popsicles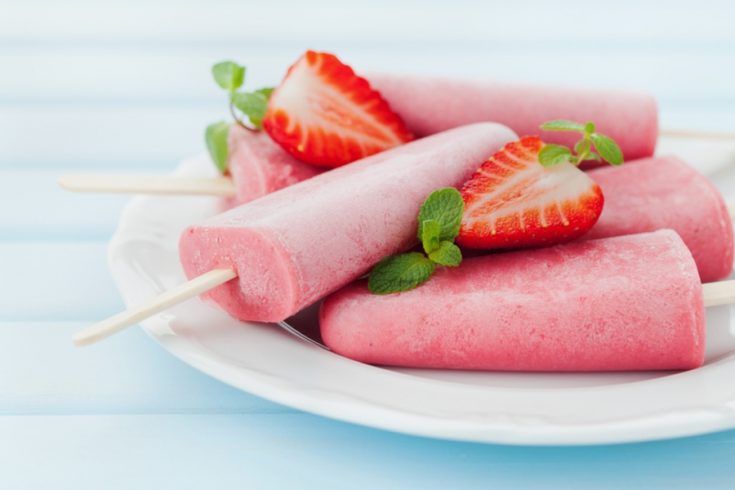 Creamy strawberry popsicles using only strawberries, yogurt and a sweetener of your choice. A fantastic cold treat any time of the year!
Ingredients
16 oz. fresh ripe strawberries
1 cup plain Greek yogurt
1 1/2 teaspoons sugar or honey
Instructions
Wash and remove the stem of the strawberries. Dice into small pieces and place in a bowl.
Sprinkle sugar or drizzle honey over the strawberries and toss to coat. Let sit for 10 minutes so that they sugar penetrates into the strawberries.
Place the strawberries in a high speed blender. Add the yogurt and blend until pureed.
Pour the mixture into popsicle molds, insert the sticks, and freeze for at least 6 hours.
Run popsicle molds under warm water until the popsicle loosens, and then remove.
Notes
If your popsicle mold does not have slots for sticks, freeze the pops for 2 hours then until partially frozen and slide the stick into the center of the pop so that it stands up on its own. Continue to freeze for 3-4 hours, or until completely frozen.
Or place foil over the tops of your molds and make a slice in the center of each mold. Insert stick in the slot and freeze.

Recipe provided by Make Your Meals
Nutrition Information:
Yield:
8
Serving Size:
1 grams
Amount Per Serving:
Unsaturated Fat:

0g