It is true….you can make moist and delicious Banana Bread in the Instant Pot!
I use my 6 quart Instant Pot Duo at least 5 times per week. Whether it be to make something as simple as hard boiled eggs or to prepare a Pot Roast and Vegetables meal for the entire family.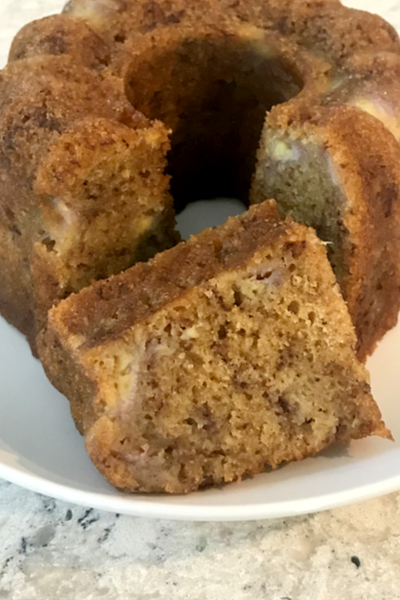 And I absolutely love, love, love to use it in the summer. It is so nice knowing that I don't have to boil anything on the stove or turn my oven on.
And that is when I decided that I needed to give Instant Pot Banana Bread a try.
Over the past several weeks it has been over 90 degrees outside. And we had bananas that became over ripe before we could eat them.
I thought about using them for a Strawberry Banana Smoothie. But I didn't have any strawberries on hand.
And because I didn't have all the ingredients to make Banana Pudding Poke Cake, I decided the next best thing would be to make Banana Bread.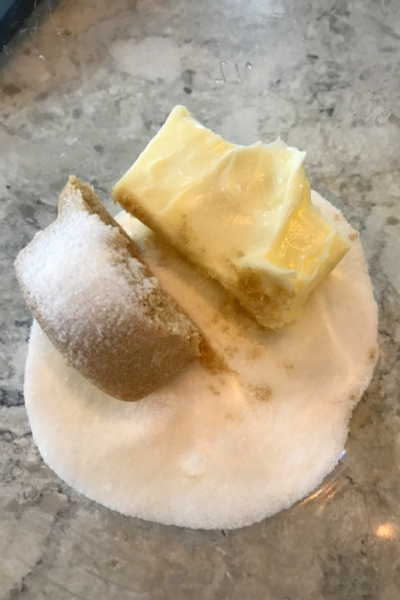 But there was absolutely no way that I even considered baking the bread in the oven on a hot summer day.
That is when I happened to walk past my Instant Pot and knew that it was the answer!
What You Need To Make Instant Pot Banana Bread
Banana bread can not be made directly in the liner of the Instant Pot. Attempting to do so will cause the bottom of the bread to burn.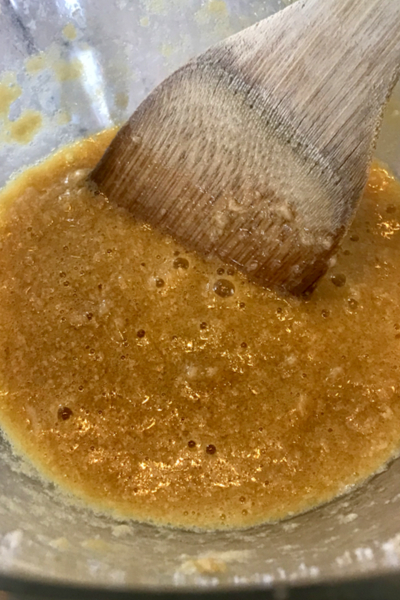 Therefore, in order for the bread to cook properly, you must use what the call the pot in pot method.
This simply means that the bread needs to be placed in a pan and placed on a trivet inside of the pressure cooker.
What Type of Pan Do You Need
There are a couple of options on what type of pan to use.
The first, and most popular choice, is to use a bundt pan. The circular shape, with the opening in the middle, allows the bread to cook evenly without worry of the center not getting done.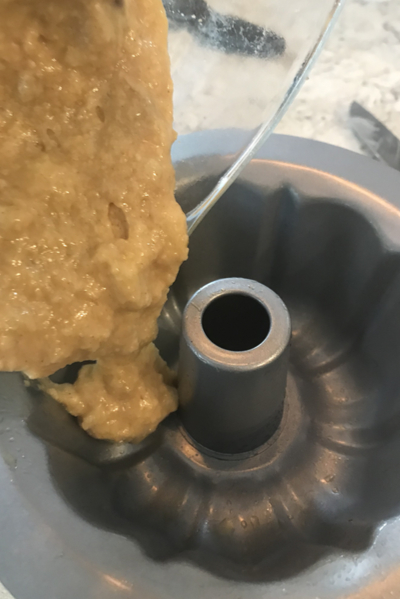 However, you could also use a thin, round cake pan or even a mini-loaf pan.
Although I prefer to use my mini-loaf pan for Instant Pot Meat Loaf, I prefer to use my bundt pan for banana bread.
What Size Pan For Instant Pot Banana Bread
Most Instant Pot Banana Bread Recipes that you find requires a 6 cup pan.
So when I finally opened the Food Network box that held my bundt pan I was shocked to see how small it was.
After measuring the capacity at a full 2.5 cups, I was unsure that I was even going to keep it. It seemed like it would only make enough banana bread for 2 people.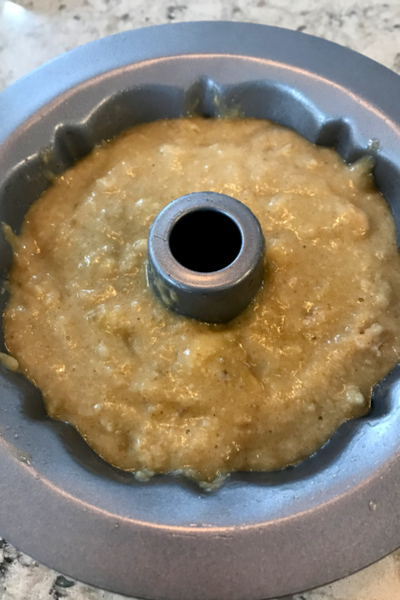 Thankfully, I decided to give it a try. I had bananas that were going to go bad and I didn't want them to go to waste.
So I adapted my original banana bread recipe to make about 2 cups of batter. I didn't fill the pan all the way to the top as I knew that the bread would rise during the cooking process.
Cover During Cooking
Next I had to cover the top of the bundt pan. I didn't want the extra moisture that builds up in the Instant Pot lid to drip into the batter.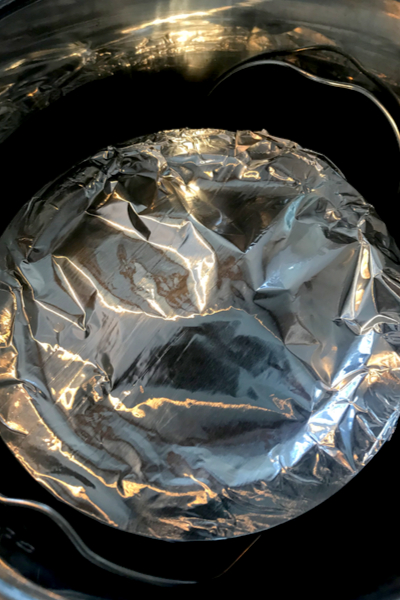 But don't worry, there is no need to purchase a special lid. Simply tear off a piece of aluminum foil and place it loosely on top.
You don't want the foil to be tight across the top of the pan. It needs to be slightly tented so the bread has room expand upwards.
Instant Pot Banana Bread Serving Size
Once the banana bread came out of the pan, I was happy with the size.
It was perfect for our family! Just enough for 6-8 servings.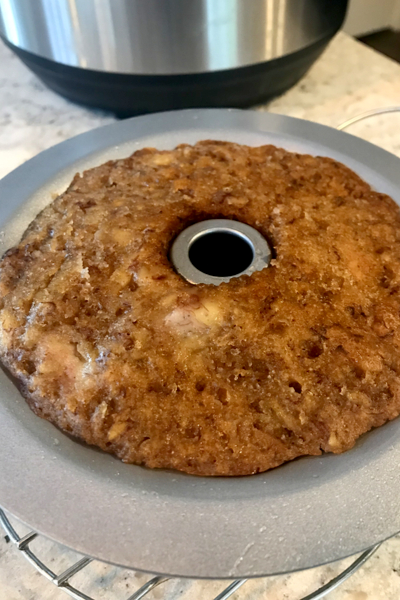 Now there was no worry of storing the bread for days, hoping someone would eat it before it went bad (or me eating too many pieces).
In addition, cooking it in the bundt pan made it look so pretty as compared to baking it in a loaf pan.
Now I am convinced that I will make banana bread in the Instant Pot all year long! And of course, I am thinking of adapting my Zucchini Bread recipe as well!

To receive our 3 Recipe Articles in your inbox each week, sign up for our free email list located in the middle of each recipe or email me at contact@makeyourmeals.com. You can also follow us on Facebook and Pinterest. This article may contain affiliate links where a small commission is paid if you purchase a product at no additional cost to you.
Instant Pot Banana Bread Recipe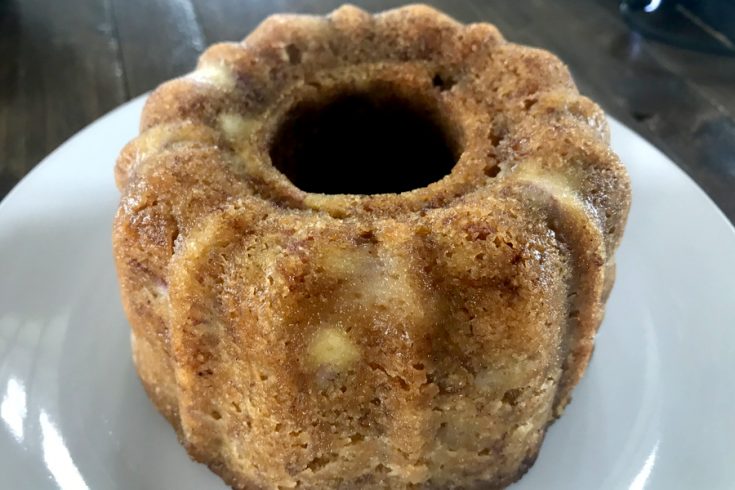 Moist and delicious banana bread made right in your Instant Pot or Pressure Cooker. The perfect way to make bread without heating up the kitchen.
Ingredients
2 small ripe bananas, mashed
1/4 cup butter, softened
1/4 cup brown sugar
1/4 cup granulated sugar
1 large egg, beaten
1/2 tsp vanilla extract
2 Tablespoons sour cream cup
1 cup all purpose flour
1/2 tsp baking soda
1/2 tsp baking powder
1/4 tsp cinnamon
1/4 tsp salt
Instructions
Add 1 cup of water to the inner liner of the pressure cooker.
Spray the cake pan with non-stick baking spray and set aside.
In a small mixing bowl, mash the ripe bananas using a fork, leaving some small chunks. Set aside.
In another small mixing bowl, use a hand mixer to cream the butter and brown sugar and granulated sugar together. Add the beaten egg and vanilla to the butter mixture. Mix well.
Stir the bananas and sour cream into the butter mixture and mix well.
In another bowl, whisk together the flour, baking soda, baking powder, cinnamon and salt.
Add the dry ingredients to the wet ingredients and gently stir by hand, just until incorporated. Do not overmix.
Spoon the batter into the bundt pan and cover with foil, slightly tenting the top to leave room for the bread to rise slightly.
Place the foil covered bundt pan on a trivet with handles and lower into the pressure cooker. Lock the lid and set the knob to the SEALING position.
Pressure Cook/Manual button on HIGH for 50 minutes for a bundt style pan.
After the cook time is finished, let the pot Natural Pressure release for 15 minutes. Release any remaining pressure by moving the knob to venting.
Using the trivet handles, carefully remove the trivet and bundt pan from the pressure cooker.
Carefully remove the foil, and let the banana bread sit for 10-15 minutes to cool. Invert the pan to release the bread onto a plate.
Notes
Serve either warm or cold. Store covered in a cool dry place or freeze by wrapping the bread in aluminum foil and then inserted into a sealed plastic bag/container.
Recipe provided by Make Your Meals
Nutrition Information:
Serving Size:
1 grams
Amount Per Serving:
Unsaturated Fat:

0g