If you have a few bananas that are getting a little too ripe, skip the banana bread and make this Banana Pudding Poke Cake instead.
I absolutely love baking (and eating) Banana Bread. However, over the last several weeks, we have made several loaves of traditional and Instant Pot Banana Bread.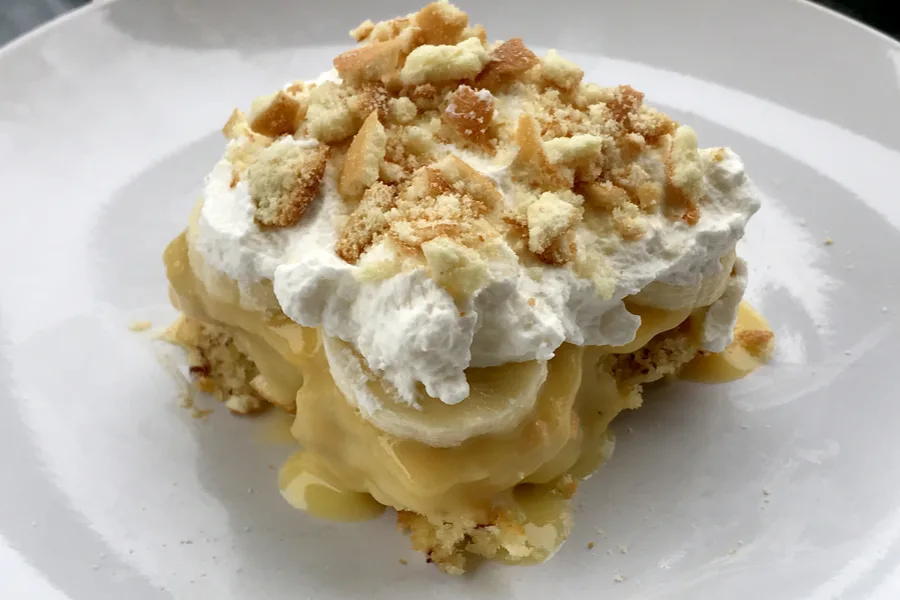 So this week, when we had more ripe bananas sitting on our counter, we knew that we had to make something different.
The first thing that we did was put a few ripe bananas in the freezer for smoothies. But we still had a few that were ripe and begging to be used. Plus, we had just received another bunch from the grocery store.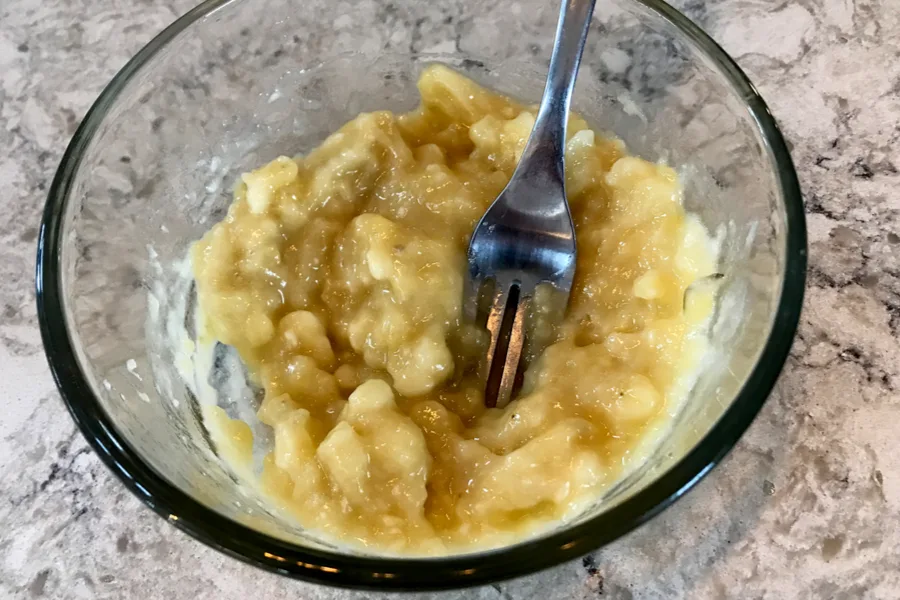 So instead of pulling out our loaf pan again, we decided that we would make a Banana Pudding Poke Cake instead!
Banana Pudding Poke Cake
Poke cakes became popular many years ago. Basically it is a cooked and cooled cake that has holes poked in the top. Then pudding is poured on the top surface and eventually flows down in the holes of the cake.
The cake is then put in the refrigerator. As the pudding sets up, it forms a layer on top which serves as an icing replacement.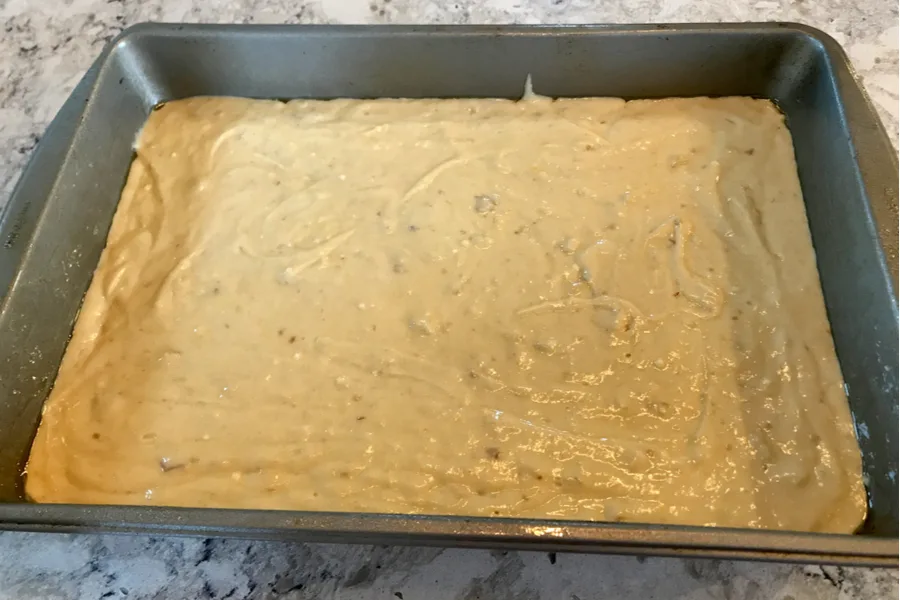 In sticking with that basic concept we decided to utilize the bananas to make a pudding poke cake like no other! And it was so good that we had to share how to make it!
First, use the ripe bananas as an additional ingredient in the standard box cake mix. This will turn your yellow cake into a banana cake!
Poke Holes In The Cooled Cake
Once the cake is cooked and completely cooled, use the handle of a wooden spoon to poke holes throughout the cake, about one inch apart.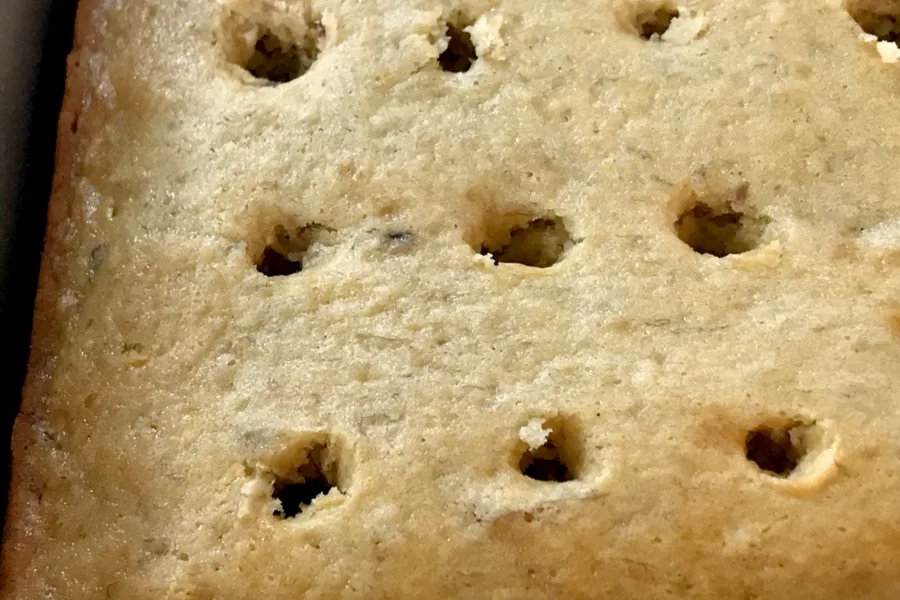 Next, whisk together the instant pudding mix with the milk. As soon as it is incorporated, quickly pour it over the top of the cake. Be sure to allow the pudding to flow down into each hole.
Now refrigerate the banana pudding poke cake for at least 30 minutes.
Once you are ready to serve the cake, make your whipped topping. In order to do this, use a mixer and whip the cream until soft peaks form.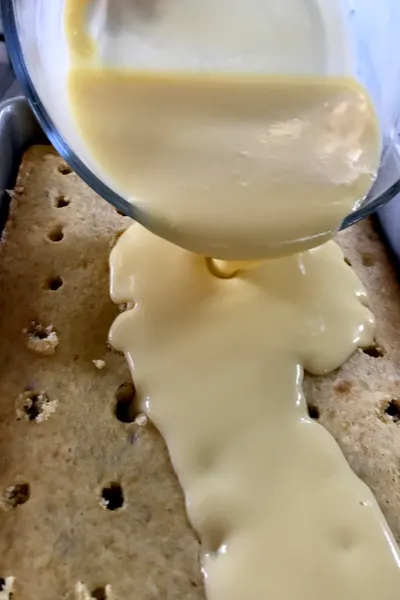 To check if you have soft peaks remove the beaters away from the cream. If there are peaks that form and the tops fall over, you are all set!
Add in the powdered sugar and vanilla and continue to beat until well mixed.
Serving Instructions
For this Banana Pudding Poke Cake, it is best to layer the toppings once your cake is already cut and ready to be served.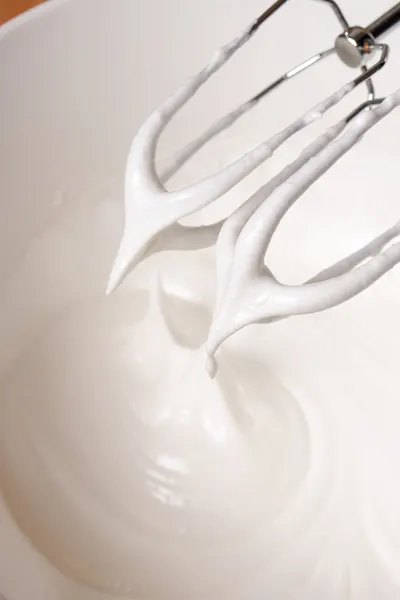 First, slice the unripe bananas and then place them on top of the pudding layer.
Next, spread your whipped topping on top. Be generous with your whipped topping. This is not the time for a thin layer!
Finally, crush the vanilla wafers in a resealable plastic bag and sprinkle them on top.
Enjoy!
Banana Pudding Poke Cake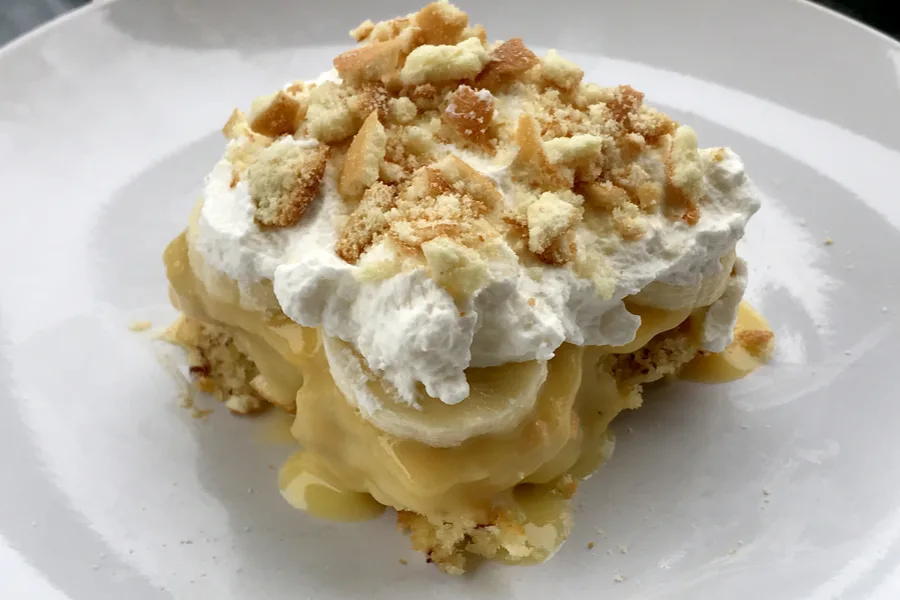 All the flavors of Banana Cream Pie but made into a delicious and easy to make layered cake.
Ingredients
1 box yellow cake mix
3/4 tsp baking soda
1 tsp baking powder
3 overripe bananas, mashed
3/4 cup water
1/4 cup oil or applesauce
3 eggs
Topping
1 5.1 ounce box vanilla or banana instant pudding mix
2 cups milk
1 cup vanilla wafers, crushed
3 bananas, sliced
2 cups whipping cream
1/2 cup powdered sugar
1/2 tsp vanilla
Instructions
Preheat oven to 350°F. Grease a 9 x 13 cake pan and set aside.
Combine all cake ingredients in a mixing bowl. Beat at medium speed for 2 minutes and then pour the batter in the prepared cake pan.
Bake in the preheated oven for 30-35 minutes or till a toothpick inserted in the middle comes out clean.
Allow the cake to cool completely, then use a round spoon handle to poke holes all over the cake about an inch apart.
Combine pudding mix and milk and whisk for 2 minutes. Quickly pour over the cake. Get as much pudding into the holes as you can. Cover cake and refrigerate for at least 30 minutes.
Place heavy cream in a large mixing bowl. Using a stand or hand mixer, whip cream till soft peaks form. Add powdered sugar and vanilla and beat till well mixed.
Place vanilla wafers in a bag and crush with a rolling pin. Set aside.
To serve, cut cake into slices. Top with sliced bananas, whipped cream, and crushed vanilla wafers.
Store the cake in the refrigerator
Notes
Do not add the toppings until you are ready to serve the cake. Recipe provided by Make Your Meals
Nutrition Information:
Serving Size:
1 grams
Amount Per Serving:
Unsaturated Fat:

0g