It's time for a new Instant Pot recipe and one of the most requested and most popular recipe is Instant Pot Roast Beef and Vegetables.
One of the main reasons that I purchased my Instant Pot was to make roast beef in a fraction of time that it took to make in my slow cooker.
I wanted it to have fall apart tenderness without losing the savory flavor of it being cooked all day long.
So when I read stories upon stories of other people making Instant Pot Roast Beef and it coming out dry and tough I was worried.
I was determined to recreate the moist and juicy, fall apart tender roast beef that I was familiar with.
This was difficult to do because I wasn't willing to waste cuts of beef in the process. My only option was to spend several weeks researching recipes and reading reviews on those recipes that others had trialed.
It was amazing what variations that you can find on the internet! The cook times ranged from 15 minutes to 90 minutes!
No wonder why everyone was confused!
There were some recipes that seared the meat prior to cooking and some that stated they would NEVER throw in vegetables at the same time as the beef.
I don't think that I found two recipes that were the exact same.
And after reading all of the reviews I think I was even more confused. The recipe was tough and chewy for one person, and the very next review the reader stated that the outcome was perfect!
I absorbed all the information, and went back to the basics of what I knew and found true in my own kitchen.
Tips for the perfect Instant Pot Roast Beef and Vegetables
First of all the thickness of the meat should be your first factor in determining cook time. The thicker the meat, the longer it will need to cook, regardless of how many pounds it is.
For instance, a roast that is one inch thick will require less cook time than a 2 inch cut of meat. I have found that for every increase in an inch of thickness, you need to increase your cook time by 10 minutes.
1 inch thick roast beef = 35 minutes cook time
2 inches thick roast beef = 45 minutes cook time
3 inches thick roast beef = 55 minutes cook time
As for the vegetables, there are a few guidelines that you will want to follow to make sure that your veggies don't turn to mush during the cooking process.
Use large 'baby' potatoes for this recipe. If you use standard russet potatoes cut in quarters, they will fall apart.
Keep the baby potatoes whole with the skins on. You will end up with nice, tender potatoes that hold together during the cooking process.
If you are wanting to add carrots, it is best to use standard garden carrots. You know the ones that are large and long with the greens on top.
First of all the flavor of garden carrots far outweigh those baby carrots that you buy in a bag. In addition, if you cut them in half, they can withstand being pressured cooked.
However, if you like your carrots super crunchy, then cook them after you remove the meat to allow it to rest. You can also add fresh green beans at this time.
Pressure cook them in the liquid from the Instant Pot Roast Beef for 1 minute on high pressure. Quick release the pressure and there you have it! Crunchy carrots and green beans cooked to perfection!
Check out the printable recipe below and all of our recipes and let me know what you think!
To receive our 3 Recipe Articles in your inbox each week, sign up for our free email list. You can also follow us on Facebook, Twitter, Pinterest, and Instagram. This article may contain affiliate links.
Yield: 6
Instant Pot Chuck Roast and Vegetables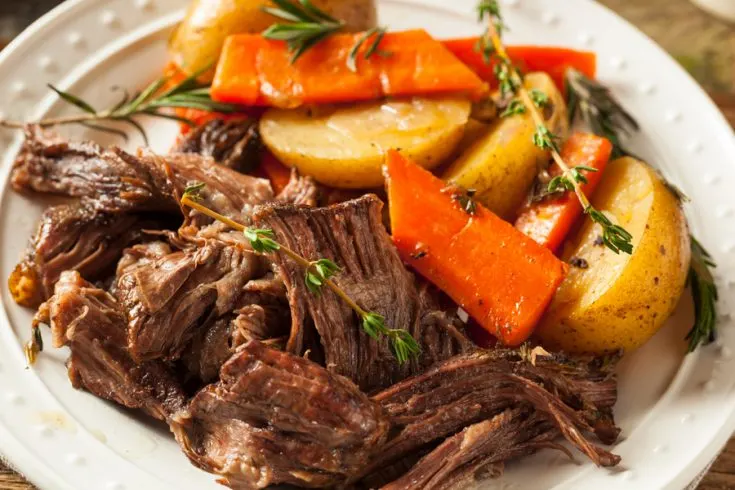 Tender chuck roast and vegetables all made together in the Instant Pot. A classic homemade meal made in a fraction of the time of a traditional slow cooker recipe.
Ingredients
2-3 lbs. beef chuck roast, 1-2 inch thickness
Salt and pepper, to taste
1 Tbsp. Italian seasoning
2 Tbsp. olive oil divided
2 Tbsp. Worcestershire sauce
2 cups beef broth
1 large onion, quartered
1 lb. large baby potatoes
3 large carrots, peeled and halved
1 bunch fresh green beans, optional
Instructions
Season pot roast with salt, pepper, and Italian seasoning on each side and set aside.
Add 2 Tbsp. Olive oil to Instant Pot and set to sauté.
When the display reads HOT, add pot roast and sear for 4-5 minutes on each side. Remove and set aside.
Turn Instant Pot Off/Cancel. Add beef broth to the pot and deglaze by scraping any bits off the bottom of the pot.
Return the roast to the pot and any extra juices from where the roast was resting. Add Worcestershire sauce to the meat.
Add veggies on top of the meat, distributing them evenly on top of the roast.
Place lid on Instant pot with valve in the sealed position.
Pressure cook/manual on high pressure for 35 minutes for 1 inch thick roast and 45 minutes for 2 inch thick roast.
Once time is up, let the pot natural release for at least 15 minutes, then perform a quick release of any remaining pressure.
Remove vegetables and roast from instant pot. Slice and serve.
Notes
**If you want to make green beans with this meal: add fresh picked green beans to the pot after you remove the meat and veggies. Set the Instant Pot on Pressure cook/manual for 1 minute and perform a quick release of pressure. **If roast is too large, you can cut it in sections and sear individually. Recipe provided by Make Your Meal
Nutrition Information:
Yield:
6
Serving Size:
1 grams
Amount Per Serving:
Unsaturated Fat:

0g