When someone asks us what is one recipe that you will only make in your air fryer, we always tell them Pork Chops!
That is because they turn out perfect every time. And best of all, there is very little preparation required and they can be on the table in less than 20 minutes.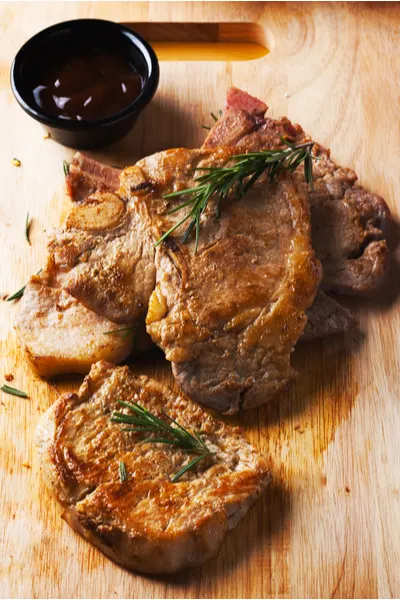 In fact, it has become one of our favorite weeknight meals.
When we walk in the door after a busy day we pull the pork chops out of the refrigerator and a little seasoning on them and throw them in the air fryer.
Then we go about our business until the pork chops need flipped half way through the cooking time.
And within minutes, dinner is ready! It really can't get much easier than that!
What Thickness of Pork Chops To Use When Air Frying
However, there are many different cuts of pork chops and they are not all treated equal.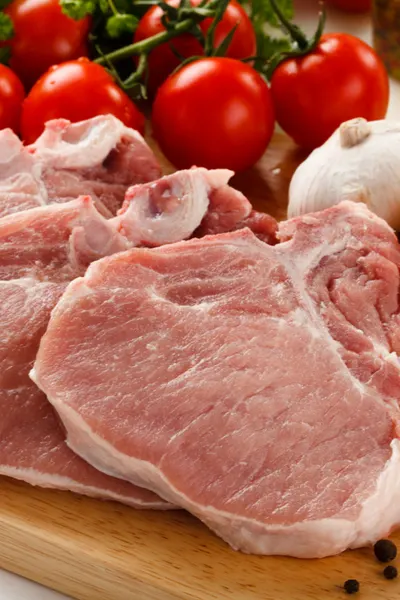 For instance, you can purchase super thin, boneless pork chops. Or your pork chops could be a thicker, bone-in cut that resembles a beef steak.
And of course, each one would require a different cooking time.
Therefore, just to clarify, we used standard, 1/2 inch thick bone-in pork chops as the guideline when we developed this recipe.
The cooking time in the recipe below will need to be adjusted if using thicker or thinner pork chops. If you have boneless pork chops on hand, try our favorite Air Fryer Boneless Pork Chops Recipe.
Bone-In or Boneless Pork Chops
Having bone in versus boneless pork chops will not affect the actual cooking time.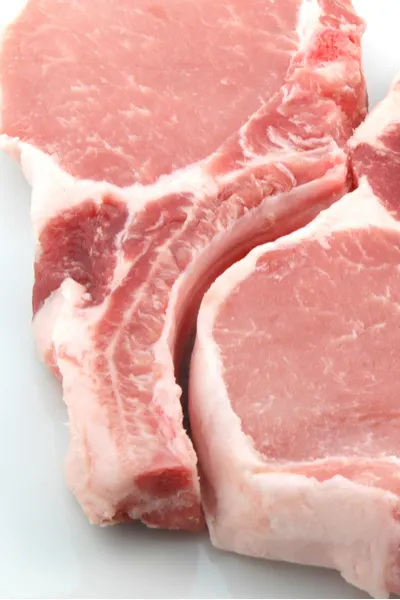 However, it dramatically changes the quality and taste of the air fryer pork chops.
As with any type of meat, having a bone in will provides more flavor once it is cooked.
Not to mention that it will also add moisture to the end product.
There is nothing worse than having a pork chop that is tough and difficult to chew.
That is why we always recommend cooking pork chops with the bone still attached.
How To Air Fry Pork Chops
So now that you know what cut of pork to use, it is time to discuss how to cook the pork chops in an air fryer.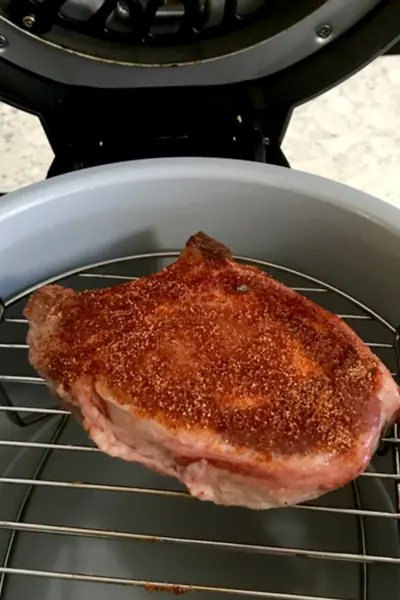 First of all, you want to season the pork chops. The recipe below provides you with our favorite pork chop seasoning.
The garlic powder gives the pork chops great flavor. And the smoked paprika provides that smoky taste as if they were grilled.
However, feel free to use whatever seasoning that you prefer. Even just a sprinkle of seasoning salt will add additional flavor to typically bland pork chops.
After you sprinkle the seasoning on both sides it is time to cook them in the air fryer.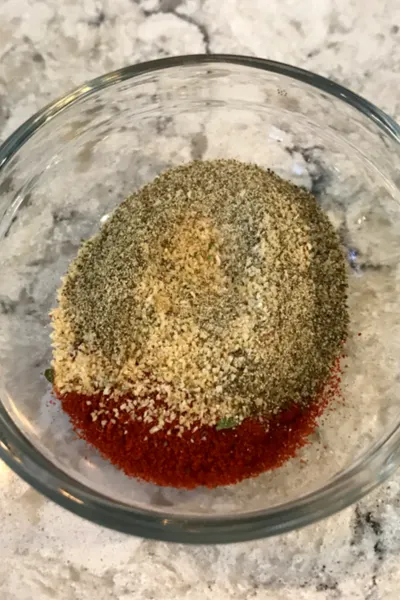 Place the pork chops in a single layer in the basket or rack of your air fryer. If you are using the Ninja Foodi brand, use the tall rack.
Just as a side note, in an effort to make clean up easier, I always brush a little oil on the rack/basket.
Close the air fryer and set the temperature and cook time. Now all that is left to do is to turn them at the half way point.
Check Internal Temperature
In order to make sure your pork chops are nice and juicy, it is important to not overcook them.
Letting them cook too long with make your meat tough and dry.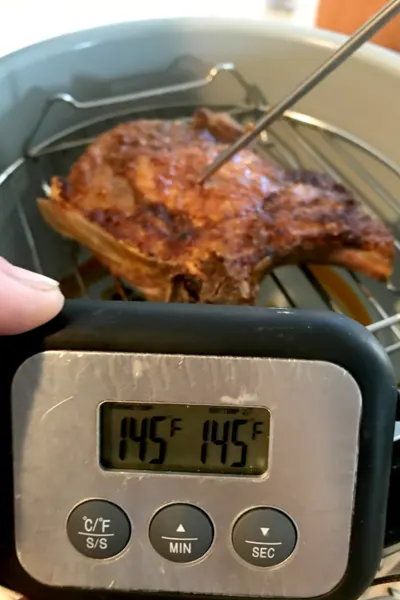 And the best way to ensure that your air fryer pork chops are cooked to the perfect temperature is by using a digital thermometer.
Simply place the probe of the thermometer in the center of the meatiest portion of your pork chop.
Then once the internal temperature reaches 145°F, remove them from the air fryer and let them rest.
The result…moist and delicious air fryer pork chops!
Suggested Side Dishes

To receive our 3 Recipe Articles in your inbox each week, sign up for our free email list located in the middle of each recipe or email me at contact@makeyourmeals.com. You can also follow us on Facebook and Pinterest. This article may contain affiliate links where a small commission is paid if you purchase a product at no additional cost to you.
Yield: 2
Air Fryer Pork Chops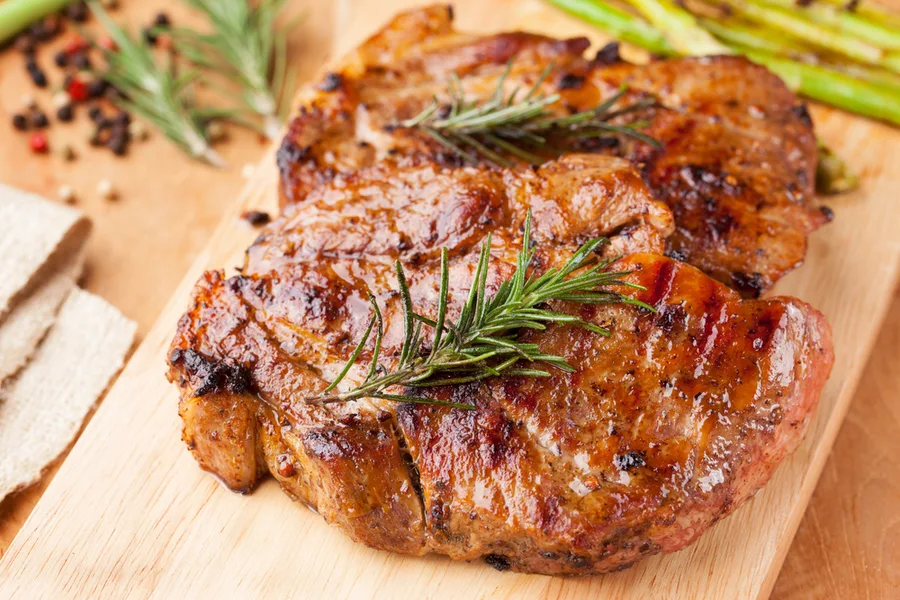 Moist and juicy pork chops cooked in the air fryer and ready to be on the table in under 20 minutes!
Ingredients
2 Bone-in Pork Chops, 1/2 inch thickness
1 teaspoon olive oil
Seasoning
1 teaspoon garlic powder
1 teaspoon smoked paprika
½ teaspoon salt
½ teaspoon black pepper
Instructions
Rub the oil on both sides of the pork chops.
In a small bowl add the seasoning ingredients and mix until incorporated. Season chops on both sides.
Place them in the air fryer basket or if using the Ninja Foodi, use the metal rack on the highest setting.
Air Fry/Crisp at 360°F for 14 minutes, flipping over at the half-way mark. *see note
Let rest for 3 minutes before serving.
Notes
The thickness of the pork chops will affect cooking time. Thinner pork chops require less time and thicker pork chops may require additional cooking time.
Recipe provided by Make Your Meals
Nutrition Information:
Yield:
2
Serving Size:
1 grams
Amount Per Serving:
Unsaturated Fat:

0g