Whenever we go out to our local Japanese steakhouse, we always order extra Yum Yum sauce to go with the Hibachi Steak and Chicken.
Yum Yum sauce is a slightly sweet sauce made with mayonnaise and spices that pairs perfectly with steak and chicken.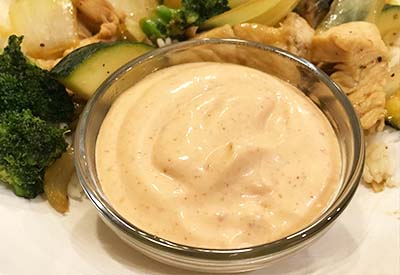 It is also known as Japanese white sauce in some restaurants. Quite honestly, this has always confused me, as every time that I have had it, it looks more pink than white.
When I made Hibachi Chicken at home (See Recipe for Hibachi Chicken), I would always be sure to buy a bottle of Yum Yum sauce. You can find it in the Asian aisle at most grocery stores.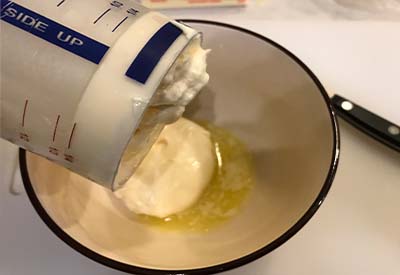 That was until I was forced to make my own Yum Yum sauce. You see, I was in the middle of making dinner when I realized that there was only a little left in the bottle.
I quickly looked at the ingredients label and decided to give a homemade version a try, minus the preservatives of course.
After a couple of attempts, I had made Yum Yum sauce that tasted just like our local restaurants.
The recipe that I use now is made with pure mayonnaise. I had attempted to make it with Miracle Whip spread and the taste definitely was not the same.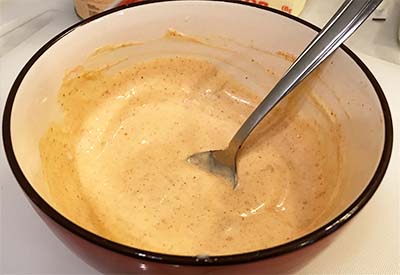 The addition of cayenne pepper helps balance the tart flavor of the mayonnaise and the sweetness of the sugar. Don't worry, it doesn't taste spicy at all.
However, if I know that I am serving it to those who like things a little hotter, I will add a little extra cayenne pepper.
And as for the paprika – don't be afraid to try smoked paprika in this recipe if you have it on hand. The smoky flavor adds an additional layer of depth to this recipe.
Check out the printable recipe below and all of our recipes and let me know what you think!
To receive our 3 Recipe Articles in your inbox each week, sign up for our free email list.
You can also follow us on Facebook, Twitter, Pinterest, and Instagram. This article may contain affiliate links.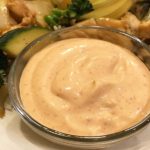 Print Recipe
Yum-Yum Sauce
Japanese steakhouse sauce served with steak, chicken, or as a spread on sandwiches and wraps.
Ingredients
1

teaspoon

tomato paste

1

tablespoon

melted butter

1/2

teaspoon

garlic powder

1/4

teaspoon

paprika

1 1/4

cups

mayonnaise

1

teaspoon

white sugar

1

pinch

cayenne pepper

1/4

cup

water
Instructions
Whisk all ingredients together until smooth.

Cover and refrigerate at least one hour but preferably overnight.
Notes
Recipe provided by Make Your Meals
Yum Yum Sauce Recipe – A Japanese Steakhouse Traditional Sauce